Dori Elizabeth Prange is an American professional inked wrestler famous for her ring name Ruby Riott formerly in WWE. She later signed with AEW (All Elite Wrestling) and where she performs under the ring name Ruby Soho.
Dori Prange worked as Heidi Lovelace in the World Wonder Ring Stardom, popularly known as "Stardom."
The superstar carries the world of punk rockers and rebels standing aloof at what she believes in.
Besides WWE, under the ring name Heidi Lovelace, she has competed on the independent circuit for promotions such as Shimmer Women Athletes, Shine Wrestling, Ohio Valley Wrestling (OVW), IWA Mid-South, and World Wonder Ring Stardom.
Riott made her video game debut in WWE 2K18 as a downloadable character and appeared in the succeeding titles WWE 2K19–20.
Before the dive into chaos and glory, the following table is listed with her general get-to-go facts.
Ruby Riott | Quick Facts
Full Name
Dori Elizabeth Prange
Date of Birth
January 9, 1991
Birth Place
Edwardsburg, Michigan, U.S
Ring Name
Heidi Lovelace
Ruby Riot
Ruby Riott
Religion
Christianity
Nationality
American
Ethnicity
White
Horoscope
Capricorn
Age
32 years old
Height
163 cm / 5 ft 4 in
Weight
122 lb / 55 kg
Hair Color
Dark Brown
Eye Color
Hazel Green
Build
Athletic
Father's Name
N/A
Mother's Name
N/A
Siblings
An elder brother, Joshua Kujawa
Education
High school
Body Measurements
32-22-30 inches
Marital status
Unmarried
Boyfriend
Jake Wayne
Profession
Wrestler
Trained by
Billy Roc
Ohio Valley Wrestling
WWE Performance Center
Affiliations
WWE, AEW (current)
Debut
2010
Net Worth
$1 million
Social Media
Instagram, Twitter
Merchandise
Cards, Poster
Last Update
March, 2023
Physical Attributes
Ruby Riott has a punk avatar with a bold rebel look. She is 1.63 m tall and weighs 122 lb, with tattoos all over her chest and arms.
She has an oval face, and her natural hair is dark brown, while her eyes are gorgeous hazel green.
Furthermore, she has an athletic build with a body measurement of 32-22-30 inches, and her bra cup size is 32B.
Ruby Riott | Early Life
Ruby Riott was born as Dori Elizabeth Prange in Edwardsburg, Michigan, U.S. She was born under the star sign of Capricorn on January 9, 1991. She grew up alongside her elder brother Joshua Kujawa.
However, there are no details concerning her parents and her early childhood. Also, there is not any information regarding her academic qualifications.
Ruby Riott | Wrestling Career
Independent Circuit (2010-2016)
In the beginning, Dori started her training with Billy Roc at his School of Roc in 2010. Following it, she made the foremost debut for Juggalo Championship Wrestling under the ring name Heidi Lovelace.
Also, for her first win, she defeated C.J. Lane at the Arena Chicks at the Gathering! Event.
Additionally, with her debut in Shimmer Women Athletes, Lovelace competed in Volume 51. She paired up with December in her tag-team match, losing to Pink Flash Kira and Sweet Cherrie.
Ohio Valley Wrestling
The Year 2012
Prange received a tryout in Ohio Valley Wrestling (OVW) in early 2012. On May 16, 2012, she had a tryout match against Taeler Hendrix and was defeated.
Following it, she debuted and entered the promotion on the May 23 episode of OVW episode 666. She entered the ring as Lovelace and was defeated by C.J. Lane.
Months later, on September 1, Lovelace won against Taeler Hendrix in a no-disqualifications match. On the same OVW's Saturday Night Special, she earns a future game against Taeler.
Again, at OVW Women's Championship on September 15, Lovelace defeated Hendrix during a live event in Elizabethtown, Kentucky.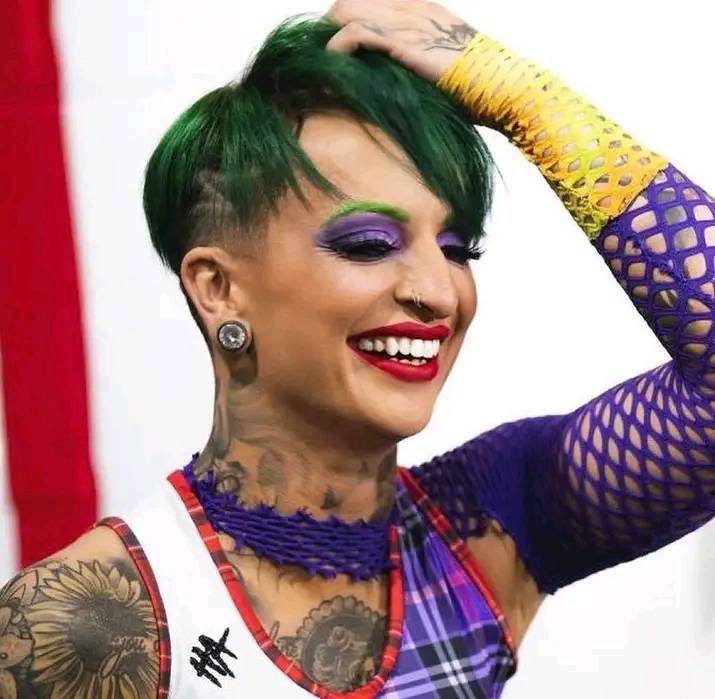 Afterward, Lovelace had a back-to-back win over Jessie Belle Smoothers, Epiphany, Josette Bynum, and Scarlett Bordeaux.
After that, on the November 14 episode of OVW episode 691, Lovelace played against Taryn Terrell, and Taeler Hendrix was a special guest referee. At that time, Taryn Terrell took the Women's Championship.
The Year 2013
During the year 2013, Lovelace was sending gifts to Hendrix as a secret admirer. Hendrix expected it to be either Dylan Bostic or Ryan Howe; however, Heidi announced it was her on the April 27 episode of OVW.
Likewise, Heidi expressed her feelings to Hendrix on the May 4 episode of OVW.
Right after it, upon hearing Trina has something in between with Hendrix, Lovelace challenged her to a match on the May 31 episode of OVW.
Following it, on the Women's Title, Saturday Night Special, Trina saved her title as she reversed Lovelace's defeat.
Shine Wrestling
The Year 2012
Heidi appeared in the three-way match with OVW wrestlers Sojourner Bolt and Taeler Hendrix at Shine Wrestling's Shine 2 event.
As the match ended, Bolt took away the victory. Similarly, in A singles match at Shine 5 on November 16, Lovelace was defeated by Sassy Stephie.
The Year 2013
Furthermore, at Shine 7 on February 22, Lovelace lost to Brittney Savage. Finally, in a six–women tag team match on May 24, she teamed up with Luscious Latasha and Solo Darling against Sojourner Bolt, Sassy Stephie, and Jessie Belle, thus losing.
Again, in a singles match at Shine 15, she was defeated by Mercedes Martinez.
The Year 2014
During Shine 16, on January 24, 2014, Lovelace became the new member of the "All-Star Squad" (ASS) faction run by Daffney.
In addition to that, her losing streak went away as she paired up with fellow ASS member Solo Darling called "The Buddy System." They claimed the victory against S-N-S Express (Sassy Stephie and Jessie Belle Smothers).
Chikara
The Year 2013
With Heidi's debut for Chikara on May 18, 2013, alongside Saturyne, she entered the 2013 Tag World Grand Prix. However, in the very first round, they got eliminated by Arik Cannon and Darin Corbin.
The Year 2014
On December 6, 2014, in the pre-show of the Tomorrow Never Dies iPPV, Lovelace bagged the Chikara Young Lions Cup with her victory against Missile Assault Ant in the finals of a tournament. She remained still with the title even in 2015.
The Year 2015
In 2015, Lovelace was drafted to Dasher Hatfield's team, named "Dasher's Dugout." The team also included Throwbacks teammate "Mr. Touchdown" Mark Angelosetti and then Chikara Grand Championship holder, Icarus.
Heidi took part in a season-long double round-robin event, the "Challenge of the Immortals" tournament.
Although their team led points, it was forfeited as "Mr. Touchdown" had been cheating late in the match.
Despite it, both Heidi and Dasher partook in the season-closing "Tourneo Cibernetico" 16-man match together.
The Year 2016
Lovelace claimed the title shot at the Chikara Grand Championship on Saturday, March 19, 2016. She had the match against fellow female wrestler Princess Kimber Lee in Gibsonville, North Carolina, at the Mid-Atlantic Sportatorium.
During the fight, Heidi came across neck damage due to the double-digit German suplexes she sustained over the course of the match. Not to mention, she has even fallen unconscious in many events.
Heidi had used the Chikara Special submission, which Kimber escaped and threw in her bow and arrow style submission that contorted Heidi.
World Wonder Ring Stardom
(2015)
On January 11, 2015, Heidi had her Japanese debut for the World Wonder Ring Stardom promotion.
She tagged with Act Yaskawa, and together, they defeated Hudson Envy and Kris Wolf in a tag-team match.
Later on January 15, Heidi, along with Yaskawa and Dragonite, were defeated by Envy, Wolf, and the stable's leader Kyoko Kimura in a six-woman tag team match. As a result, they were forced to join the villainous Monster-gun stable.
Their loss against Heisei-gun (Io Shirai, Mayu Iwatani, and Takumi Iroha) for the Artist of Stardom Championship on February 8.
Ruby Riott | WWE & NXT (2016)
Prange made her contract with WWE on December 15 and reported to the WWE Performance Center. On her first NXT live ring event on January 13, she lost against Daria Berenato.
First Half of 2017
On the March 22 episode of NXT, Prange now made their television debut with the ring name Ruby Riott.
After attacking Nikki Cross and the rest of Sanity, she made her mark alongside Tye Dillinger, No Way Jose, and Roderick Strong, leading them to the match. However, Riott's team lost the match on April 1 at NXT TakeOver: Orlando.
She was put up against Kimberly Frankel for her first singles match on the April 12 episode of NXT. Anyhow, she won the match even with Nikki Cross's attempted distraction.
Hence, the following week, Nikki Cross and Riott's brawl were set in a match, which too ended up as a brawl.
On the May 3 episode of NXT, Riott partook in the #1 contender's battle royal for Asuka's NXT Women's Championship.
During it, she successfully made it to the three; however, in the end, Asuka attacked her, Cross, and Ember Moon, resulting in a no-contest.
Considering it, a four-way match was settled between them for the championship at NXT TakeOver: Chicago.
However, Moon had to pull out due to her severe injury, and Asuka won the match as she pinned down Cross and Riott simultaneously.
Latter Half of 2017
On the October 18 episode of NXT, Riott had a triple threat qualifying match with Ember Moon and Sonya Deville.
Moon won the match thus, advancing to the NXT TakeOver: WarGames. After it, Riott had two matches with Sonya; one won by Riott and the other by Sonya.
The first match on the November 22 episode of NXT was the Riott's win. The second match on December 7 in a 'No Holds Barred match was Sonya's win, which was also the Riott's last match on the NXT.
The Riott Squad
The Year 2017
Riottt made her roster debut under the ring name Ruby Riott on the November 21, 2017, episode of SmackDown Live. She teamed alongside Liv Morgan and Sarah Logan and attacked both Becky Lynch and Naomi, turning heel.
They also interrupted SmackDown Women's Champion match against Charlotte Flair and Natalya, attacking them both.
The trio was now dubbed The Riott Squad, who made their first debut against Flair, Natalya, and Naomi in a six-woman tag team match and defeated them.
The Year 2018
Riott commenced 2018 with the inaugural women's Royal Rumble match on January 28, 2018, at the Royal Rumble event. She eliminated Becky Lynch and Vickie Guerrero and lasted 11:00 minutes before Nia Jax threw her out.
Riott then unsuccessfully challenged Flair for the SmackDown Women's Championship at Fastlane.
Following it in April, she remained unsuccessful at her first-ever WrestleMania Women's Battle Royal on the WrestleMania 34 kickoff show.
The same month on April 16, The Riott Squad was drafted to RAW at the 2018 Superstar Shake-Up. Later that night, the group attacked both Bayley and Sasha Banks during their match. Two weeks later, Riott made her first match on RAW after defeating Banks.
Again, Riott had her victory against Bayley during the Backlash Kickoff. In a Money in the Bank qualifying match against Banks and Ember Moon, Moon took the win the same night.
Before Riott was sidelined due to her knee injury, she lost in a Gauntlet Match on Raw's May 28 episode.
After her return from injury on Raw's August 6 episode, she helped Morgan and Logan defeat Bayley and Banks in a tag team match. In September, Riott had a feud with The Bella Twins and Ronda Rousey. Thus, a six-woman tag team match was done. The Riott lost.
Following it, the Riott Squad partook in their first-ever all-women's pay–per–view, Evolution.
They lost it to Bayley, Banks, and Natalya. Riott then got named the final member of Team Raw in the five–on–five-elimination match on the November 12 episode of Raw at Survivor Series.
During the same event kick-offs, Riott and Natalya fought in the locker room. Hence, the team captain Alexa Bliss replaced them with Banks and Bayley.
The Year 2019
Riott opened in 2019 with the participation in the second women's Royal Rumble match on January 27 at the Royal Rumble. Riott lasted 13:08, eliminated four competitors, and was thrown out by Bayley.
Following it, on February 17, Riott unsuccessfully challenged Ronda Rousey for the Raw Women's Championship at the Elimination Chamber pay-per-view. A night later, Riott again faced Ronda; however, she lost again by submission.
On April 7, Riott competed in the WrestleMania Women's Battle Royal but did not win the match during the WrestleMania 35 kick–off show.
On the 2019 WWE Superstar Shake-up, The Riott Team was disbanded after Morgan was moved to SmackDown Live. After this, Riott underwent shoulder surgery in May and August, respectively, for each shoulder to repair a bilateral injury.
Ruby Riott and Liv Morgan (2020)
After Riott returned from her injury, she attacked her former teammate Liv Morgan on Raw's February 3, 2020 episode. As a result, they two stood in a match with Sarah Logan as the special guest referee, and Liv won the game.
Riott too partook in the elimination chamber on March 8; she was eliminated by the eventual winner Shayna Baszler. After it, Riott lost to Morgan two times on April 20 and 27 episodes of Raw.
After that, Riott tried to console Morgan on the June 22 episode of Raw after Morgan won again. However, Morgan rejected her. Hence, Riott evoked Morgan by defending her from bullying from The IIconics.
On the July 13 episode of Raw, Riott allied with Bianca Belair and defeated The IIconics.
Afterward, on the August 3 episode of Raw, Riott apologized to Morgan and was interrupted by The IIconics. However, Morgan joined hands with Riott and claimed victory over The IIconics.
Even after it, they faced The IIconics two more times at Payback and on the August 31 episode of Raw for the #1 contenders for the WWE Women's Tag Team Championship. Thus, winning both games.
As part of the 2020 Draft in October, both Riott and Morgan were drafted to the SmackDown brand.
All Elite Wrestling (2021–present)
Ruby Riott left the WWE and signed for the AEW(All Elite Wrestling) with the new name Rubu Soho, making it public through her Instagram account.
On September 5, 2021, Prange made her AEW debut in the women's Casino Battle Royale match and won her debut match after eliminating Thunder Rosa.
She participated in the AEW TBS championship and the AEW Owen Hart Cup and lost both matches.
At All Out Zero Hour, Soho sustained a legit broken nose after being dropped on the top of her head mid-match, which could've caused a worse injury.
Thankfully, she has recovered now and is ready for another fight!
Ruby Riott | Championship and Accomplishments
Absolute Intense Wrestling (AIW) Women's Championship (1 time)
All American Wrestling (AAW) Heritage Championship (1 time)
A1 Alpha Male Championship (1 time)
World Heavyweight Championship (1 time)
Chikara Young Lions Cup XI (1 time)
Ohio Valley Wrestling (OVW) Women's Championship (1 time)
Ranked No. 20 of the top 50 female wrestlers in the PWI Female 50 (2016)
Ranked No. 12 in the top 30 female wrestlers (2018)
Revolution Championship Wrestling (RCW) Heavyweight Championship (1 time)
Shimmer Tag Team Championship (1 time) – with Evie
Ruby Riott Beyond Wrestling
The video game debuted in WWE 2K18 as a downloadable character and followed it in WWE 2K19 and WWE 2K20.
The upcoming title WWE 2K Battlegrounds has a downloadable character.
Net Worth
Ruby Riott's estimated net worth is around $ 1 million. She is getting a salary of approximately $80,000 annually from the WWE, but after paying the annual tax, Riott receives $60,696.
Additionally, she earns revenue from other sources like sponsorships and endorsements, which aren't yet disclosed.
Ruby Riott | Love life
Riott is known for her "NO-nonsense" attitude, and not everyone can stand upright against her. She is unmarried; however, Riott is currently in a relationship.
Ruby Riott's boyfriend is an independent wrestler, Jake Wayne. He appears in AAW wrestling in Illinois and is the current AAW Heritage Champion in his first reign.
Ruby Riott's 25 Tattoos
Riott has a beautiful tattoo-adorned body, and from it, we can say that she is an avid tattoo lover. Equally important, all 25 tattoos are not random, but each holds a deep meaning.
"Tattoos were another way for me to express myself. I remember the first time I saw Kat Von D; I saw how much amazing artwork she had all over her body, and I knew it was something that I could relate to and wanted to get into."
-Ruby Riott
Music Notes Tattoo
It is her first tattoo, which she got in a hole-in-the-wall tattoo shop in Mishawaka, Indiana. The music notes to the song her dad used to sing for her name, "What a Wonderful World" by Louis Armstrong.
'Bulldog and Metal fingers.'
The tattoo artist @rkamla did it. She shared getting inked on her Instagram story.
'Negative Portrait'
It is a lady's face on her left arm. The tattoo artist Amber Olsen of Enamored did it.
'Medussa' Tattoo
It covers the scar on her right shoulder. Her favorite tattoo artist, Amber Olsen, was also inked at Enamored Arts tattoo studio, in Mishawaka, Indiana. Sarah Logan, her former squad partner, gave her the idea, and it is the symbol of 'feminism.'
'Lotus'
It is on her right shoulder as a symbol of purity and peace.
'Skeleton Cameo'
It is the chest tattoo that is most famous among her fan base. The Tattoo Artist Rick Kamla inked it.
'She's gonna break soon' Tattoo.
It is her forearm tattoo that showcases a girl with a single tear. The tattoo artist, Oslen, did it. This tattoo is inspired by the song cover "She's Gonna Break Soon" by Less Than Jake, an American punk band from Gainesville, Florida.
'Date' Tattoo
It is the friendly tattoo For her, The Riott Squad. Liv Morgan, Ruby Riott, and Sarah Logan got a similar date, '11/21/17' tattooed on their bodies.
'She goes where the wind takes her Tattoo.
It is a colorful tattoo on her right bicep. The famous saying inspired it. It is from the movie Pocahontas, 'She goes where the wind takes her.'
'Dreamcatcher and Flower' Tattoo
She first had a dream catcher on her right bicep, then added the flower later, representing positivity.
'Firefly' Tattoo
On her outer right arm, she has a light firefly tattoo symbolizing light and illumination.
Flowers
Riott has various blossoming flowers on her right arm, which covers the whole sleeve.
Skull
It is inked in the inner side of her left thigh, and it represents courage.
'Hot Air Baloon' Tattoo
On her left thigh, it represents her wish to attend the famous hot air balloon festival.
'Purple flower and Banner' Tattoos
It is a purple-shaded five-leafed flower. It also has a banner saying 'everyone should stay.'
'Rose and Hourglass Tattoo'
It is on her left thigh to showcase the beauty of time in life.
Hand Tattoo
She has an intricate tribal design.
Eight-pointed Star Tattoo
It is in her inner biceps, which Portrays religious beliefs.
'Circular Mandala and Skull with Roses' Tattoo
It is in her kneecap and is done by artist @rkamla. It showcases peace and harmony.
Left Leg Tattoo
It consists of flowers, a dagger, a diamond, and an insect. They symbolize inner beauty.
Tribal Owl
Ruby Riott inked it on the left side of the stomach, which represents wisdom and intelligence.
'Sunflower and quote' Tattoo
Ruby has it in her upper right arm with a quote that says, 'you are my sunshine.' It is to symbolize happiness, good luck, and intelligence.
Three Dots Tattoo
Riott has it on her right thumb, which indicates freedom lovers.
Ruby Riott | Social Media
Ruby is very active on her social media platform and connects with every people. You can find her either on Instagram or Twitter, and the links are below.
Ruby Riott | Popularity Graph
Dori Prange is a popular name in the WWE and she has got fans around the globe.
The above graph demonstrates the total Google search interest in Ruby Soho in the last 12 months within the United States.
Ruby Riott FAQs
How did Dori Prange name herself Ruby Riott?
Prange loved a punk rock background. After being inspired by Rancid's song "Ruby Soho," she named herself Ruby Riott.
What is Ruby Riott's favorite band?
Ruby Riott's favorite band is the punk rock group, Rancid.
Is Ruby Riott released?
Ruby Riott was released on June 2, 2021, by Braun Strowman, Aleister Black, Lana, Buddy Murphy, and Santana Garrett.
Why did Ruby Riott change her name?
Ruby Soho (original name Dori Prange) went by the name of Heidi Lovelace during her stints with independent promotions and later went with Ruby Riott in NXT. Upon her main roster debut in WWE, the name was changed to Ruby Riott to circumvent any trademark issues.
Also, Read Sara Calaway Husband, Undertaker, Net Worth & Wiki>>>