Every happy human being has one thing in common, i.e., the ability to accept life's dynamicity. Sara Calaway has seen a lot of transition in her life, from massive fame received through her former husband to private life with no media reach.
The world knew Sara Calway as The Undertaker's wife in the early and mid-2000s. But she is no longer married to him.
She has, in fact, happily settled down with someone else. However, she is still identified as Calaway, which is Undertaker, aka Mark's last name.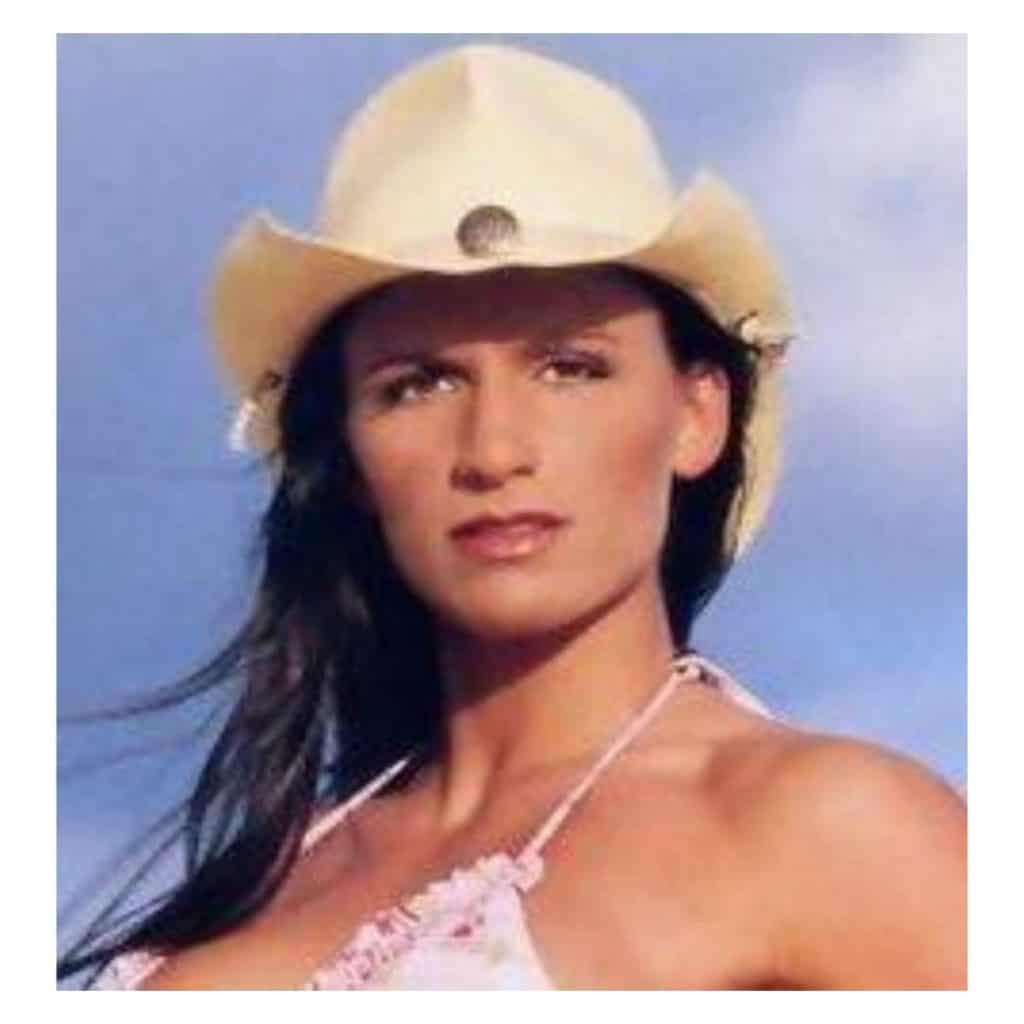 Sara Calway is a former American wrestling valet. She has worked as a one-time wrestler as well.
A beautiful female manager who does an attendant's job is known as a wrestling valet. American wrestling valets can make in-ring appearances as well.
She has worked as a wrestling valet for her former husband, The Undertaker. Moreover, she made several in-ring appearances with him.
Now, let's dive deep into Sara Calaway's personal and professional life, including everything from her first marriage and divorce to net worth and current husband.
Quick Facts About Sara Calaway
Full name
Sara Cherie Frank
Nickname
Sara
Birthdate
July 21, 1977
Birthplace
Long Beach, California, United States
Religion
Christian
Nationality
American
Ethnicity
Caucasian white
Horoscope
Cancer
Age
45 Years Old
Father's name
Carol Eugene Frank
Mother's name
Karen S. Frank
Marital status
Married
Husband
The Undertaker, aka Mark Calaway (m. July 21, 2000 – div. 2007)

Jason Schnuit (m. 2009)

Children
Two daughters (Chasey Calaway and Gracie Calaway)
Height
5 feet 10 inches (155.448 cm)
Body type
Athletic
Eye color
Light brown
Hair color
Dark brown
Profession
Wrestling valet; wrestler
Debut
2001
Active years
2001 and 2002
Affiliations
WWF/WWE
Worked for
The Undertaker; The Undertaker and Kane as a double tag team holder
Salary
Not known
Net worth
$200 thousand
Social media
Instagram, Twitter
Last Update
June, 2023
Sara Calaway – Early life, Family
Sara Cherie Frank, better known as Sara Calaway, was born on July 21, 1977, in California, United States of America. She was born to parents Carol Eugene Frank and Karen S. Frank. She grew up in Long Beach city of California.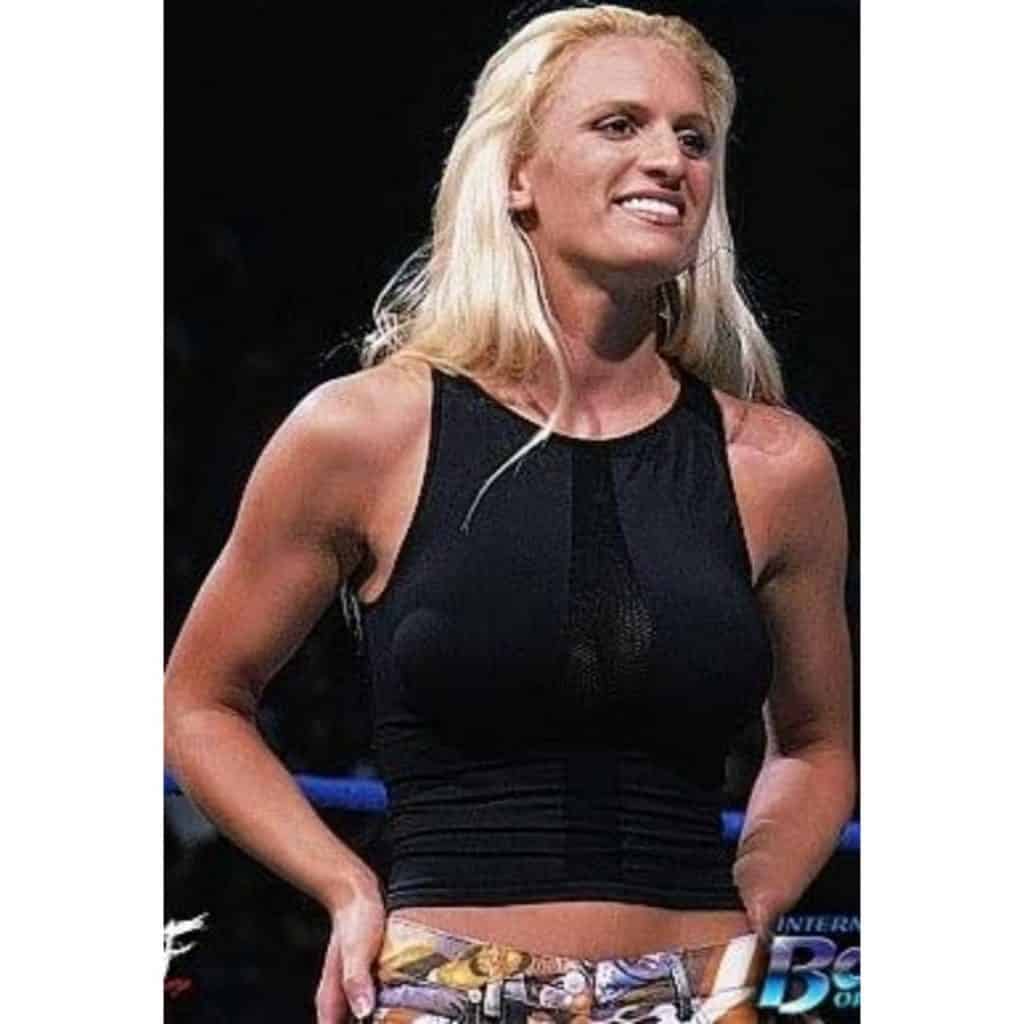 Even in her popular days in the wrestling industry, the California native did not disclose much information about her childhood and education.
You might be interested in reading: Tamina Snuka Bio: WWE, Net Worth, Affair, Kids, Insta Wiki.
Sara Calaway – career (WWE)
The WWE superstar Undertaker's former wife received her first big break from King of the Ring in 2001. King of the Ring is a professional wrestling pay-per-view event series run by World Wrestling Entertainment (WWE).
Besides, she participated as a wrestler in WWE Raw. Sara collaborated with Charly Caruso as a tag team partner for the feud.
Sara Calaway also appeared in WWE Unscripted in 2004, accompanying her former husband, Mark. It is a book published by WWE.
Besides, Sara worked as a manager for her former husband, Mark W. Calaway, aka The Undertaker. She further managed his tag team partner Kane (Glenn Thomas Jacobs) when Kane and The Undertaker collectively were the tag team champion.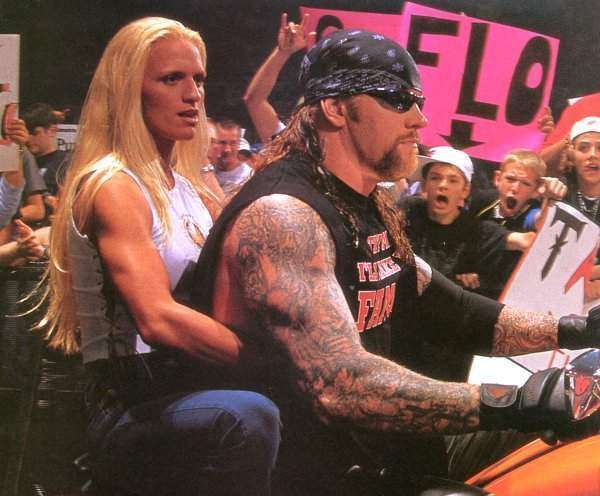 Side projects with WWE
Sara was associated with various WWE programs, in addition to being a valet. People saw her in WWE pay-per-view Network Event, Summer Slam, in 2001. Similarly, She was a member of the WWE tournament called WWE SmackDown Live from 2001-2002.
Further, Sara Calaway had participated in a short documentary, WWF Divas: Sex on the beach. In addition to that, she was a part of a sport-action film made on Undertaker, WWE: Undertaker – This Is My Yard.
Sara Calaway has a record of associations with WWE side projects such as Brothers of Destruction, WWE: Brock Lesnar: Here Comes the Pain, WWE: Allied Powers – The Greatest Tag Teams.
Stephanie McMahon Bio: Age, Height, Family, Career, Achievements, IG Wiki>>
Calaway couple and Diamond Dallas Page (Sara Calaway VS DDP)
A valet in wrestling is a supporting character paired with a wrestler for various reasons. It usually refers to a physically attractive woman accompanying a wrestler.
Being a Valet gave her a lot of fame and sponsorships. However, it also drew her many stalkers, especially those who had feuds with the Undertaker.
Let's take a look at the video of the Undertaker and his Valet Sara making an entrance.
Sara Calaway's most celebrated appearance in WWE is when fellow American professional wrestler Diamond Dallas Page stalked her.
He, in fact, filmed Sara without asking for her consent. He certainly did so to provoke The Undertaker. The stalker did not disclose his identity initially.
But when Diamond Dallas came forward taking the blame, he and Undertaker got into an ugly feud. However, the grudges ended on the WWE Raw episode of August 20, 2001.
Besides, Sara Calaway was used in storylines by WWE to inculcate The Undertaker's personal and family spheres.
Sara then vanished away for the rest of 2001. However, people saw her in 2002 for WWE side projects.
HOW IT STARTED
Diamond Page really wanted to tangle with The Undertaker, but Sara chose to take the thing into her own fingers.
As said earlier, Diamond did not bother about Sara, and he was apologetic about the stalking. After all, he only did it to make an impact and be "the biggest dog in the yard."
However, Sara summoned the newcomer for a match. It came as a shock cause Sara had never fought before. Fans were not influenced; Sara could take Diamond Page down.
But with the help of her husband, Mark, Sara was able to win over her stalker. This gave her even more recognition, and this time with respect.
This also gathered her sponsorships and interviews, and Sara created a name of her own.
Luke Lesnar Age, Height, Father, WWE, Wrestling, Net Worth, Hockey, Instagram>>
Sara Calaway – Former wife of The Undertaker
Sara married WWE superstar The Undertaker, aka Mark Williams Calaway, on June 21, 2000. They got married on the day of Sara's 23rd birthday. The California native then got popular as Sara Calaway.
The couple met in San Diego at an event. They started dating and eventually fell in love. Moreover, The Undertaker gets the credit for making Sara a well-known face in the WWE universe.
They were together for seven years. The couple never failed to express love towards each other while they were together. They had professional connections along with the conjugal ones, making their bond transparent and firmer.
While married, Sara shared a beautiful bond with Mark's parents, Late Frank Compton Calaway and Betty Catherine Truby.
Sara Calaway and Mark Calaway got divorced in 2007.
Mark was romantically involved with his current wife, Michelle McCool, since 2006, as per the rumors. Mark and Sara Calaway were still married then. Consequently, the reason behind their split has to be Mark's disloyalty if those rumors are truthful.
The Tattoo Sequence
People usually make tattoos of their loved ones. Likewise, The Undertaker had tattooed his former wife Sara Cherie Frank's name on his neck/across his throat.
This gesture by him shows how much he wanted Sara in their initial romance days. Nevertheless, after their divorce back in 2007, he decided to wrap up Sara's name from his body.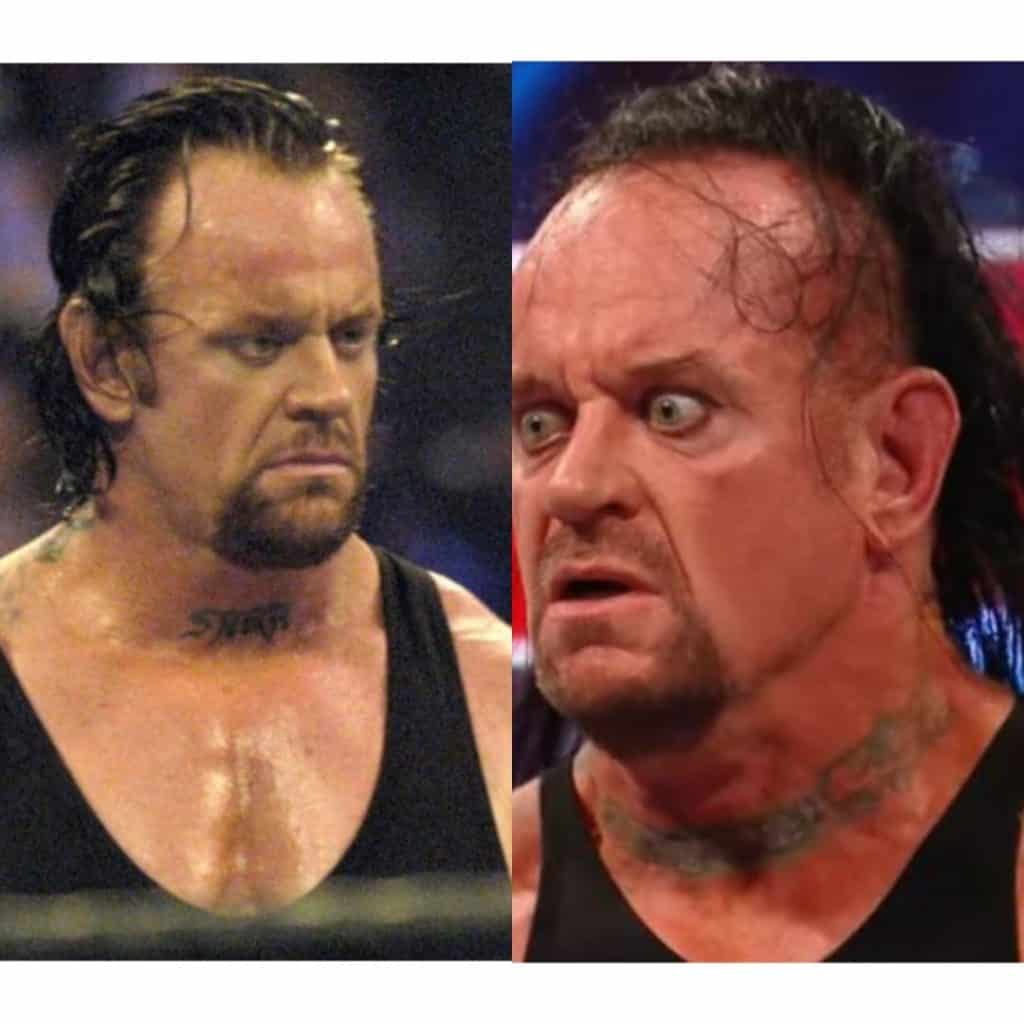 The WWE legend had inked 'Sara' as a marriage gift to his newly wedded wife. But he now has a chain design around his neck that covers Sara's name.
Besides, the term had four characters only, making the modification job easy for Mark Calaway.
You might also be interested in reading: Big Boss Man Bio: Personal life, Wrestling Career, Death & Wiki.
Daughters of Sara and Mark W. Calaway, aka The Undertaker
Mark and Sara have two adorable daughters, Chasey Calaway and Gracie Calaway. Chasey was born on November 21, 2002, while Gracie was born on May 15, 2005.
The Calaway girls share a beautiful bond with their stepmother Michelle McCool Calaway. They are, in fact, spotted together very often.
More about The Undertaker's wives
The Undertaker is a well-known face to everybody. Some have watched him wrestle, while others recognize him through stories and news based on him. In fact, he is one of the most loved WWE superstars.
The Undertaker has been married thrice. He first married in 1989 to Jodi Lynn Calaway. He was just 24 at the time of his first marriage. Eventually, the marriage didn't work, and the couple separated in 1999. They have a son together, Gunner.
The great wrestler fell in love again with Sara Cherie Frank. They tied the knot, but the marriage could not work after seven years.
The Undertaker is happily married to Michelle McCool for more than a decade now. The couple tied the knot in 2010.
You can read Sara Calaway's former husband, The Undertaker's bio at Undertaker Net Worth: Bio, Salary, Endorsements, House, Cars, Lifestyle.
'Save the animals fund' charity by Mark Calaway and Sara Calaway.
Mark W. Calaway and Sara Calaway, the perfect couple of once, committed to a project jointly outside WWE. Save the animals Fund at the Texas A&M College of Veterinary Medicine and Biomedical Sciences was the chosen project.
The project aims to accommodate the treatment of large-breed dogs financially. They initiated the project with goodwill, without a doubt. The project runs even today as per the sources.
Sara Calaway – Current husband
Sara Calaway is happily married to Jason Schuit. The couple tied the knot in 2009.
Jason Schnuit is an actor who has appeared in a few movies. His notable works are The Bounty Huntress, Close Enough to Touch, Hidden Passion, Anna Nicole Smith Exposed, and Final Examination.
He met with Sara Cherie Frank for the first time in 2008. Eventually, they fell in love and started dating. Likewise, the couple got engaged at the end of 2008.
Similarly, the couple officially got married in December 2007. However, their wedding was a secret ceremony in Sara's hometown, Long Beach, California.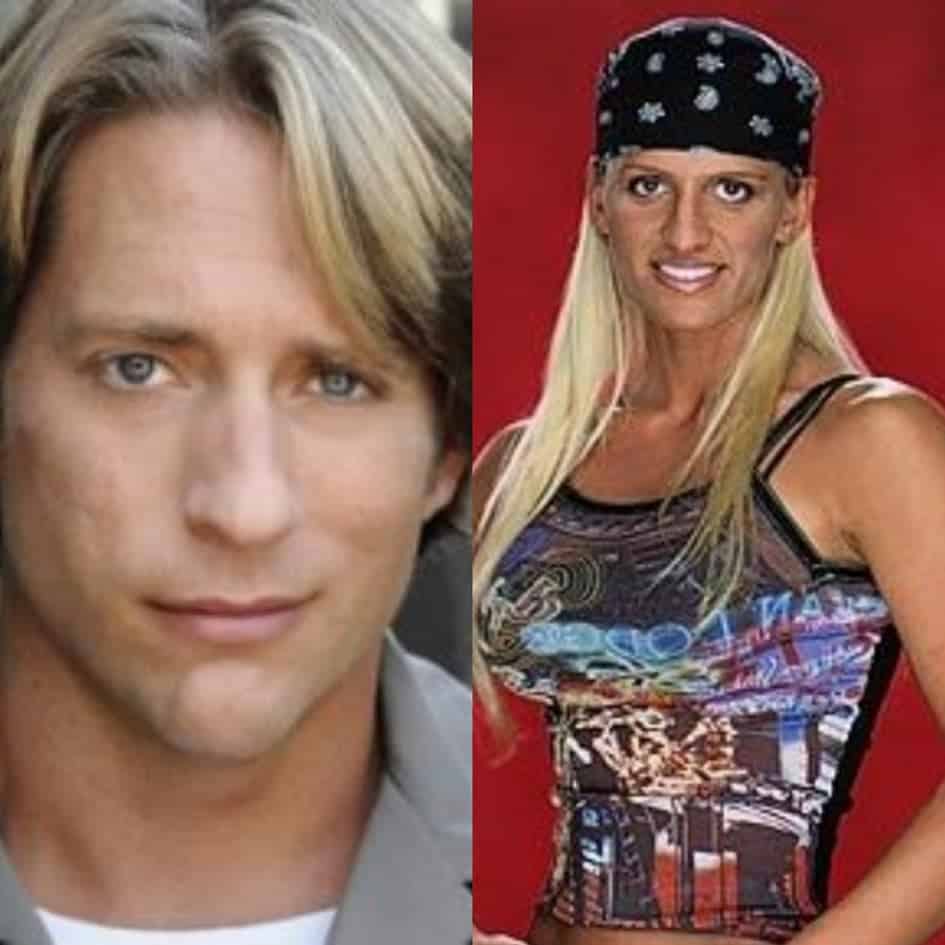 In addition to that, the couple lives a private life out of media access. They do not have children together as of now.
Sara Calaway – Salary and Net Worth
The former wrestling valet and one-time wrestler Sara Calaway made good money while associated with WWE. However, she never revealed her exact salary.
Sara's net worth is estimated to be $200 thousand.
Her former husband, on the other hand, had made and still makes whooping money. The Undertaker has a net worth of $17 million.
He earns not only from WWE but also from movies, collaborations, business investments, video games, and many other sources. As a result, he lives a very luxurious life with his wife, Michelle McCool.
Her current husband, Jason Schnuit, also has a net worth of $1 million. In conclusion, Sara Calaway is living a good and pretty luxurious life with her husband, Jason.
You can check Wikipedia for further details about Sara Calaway. Likewise, check the official website of IMDB for the summarized version.
Sara Calaway – Social Media Presence
Sara Calaway does not run social media accounts as of now. However, you can follow Sara Calaway via these hashtags.
Common Queries about Sara Calaway:
What happened to Undertaker's wife, Sara?
The Undertaker, aka Mark Williams Calaway and Sara Cherie Frank, got divorced in 2007. Hence, Sara is no longer The Undertaker's wife.
Sara is, in fact, fine and healthy. Moreover, she is happily married to an actor, Jason Schuit. The couple lives a private and joyous life.
What does Sara Calaway do now?
The former wrestling valet and one-time wrestler Sara Cherie Frank, popularly known as Sara Calaway, has not disclosed her current profession. Likewise, she has not indulged in any WWE projects lately.
When did Sara Calaway and Mark Calaway's divorce become official?
Sara Calaway and Mark Calaway's divorce received legitimacy on April 25, 2007. However, their marriage was facing grudges since 2006.