"Magic Markkanen" Lauri Elias Markkanen is a Finnish-born professional basketball player playing for the Cleveland Cavaliers of the NBA in the U.S.
Brewing with talent and passion, Lauri has come a long way and tried to leave his mark remarkably in the NBA.
Standing almost 7-feet tall, Markkanen's shooting skills is something to fear, and his opponents have a hard time blocking his shots.
Furthermore, Markkanen has been featured for his national team too. He has played for both the junior and senior national teams.
Here are some quick facts about Lauri Markkanen that you might want to know.
Quick Facts
| | |
| --- | --- |
| Full Name | Lauri Elias Markkanen |
| Date of Birth | May 22, 1997 |
| Age | 25 |
| Birth Place | Vantaa, Finland |
| Nickname | Magic Markkanen, The Finisher |
| Religion | Christian |
| Nationality | Finnish |
| Ethnicity | Finnish |
| Education | University of Arizona |
| Father's Name | Pekka Markkanen |
| Mother's Name | Riikka Ellonen |
| Siblings | 1 (Eero Markkanen) |
| Zodiac Sign | Gemini |
| Height | 6 feet 11 inches (211cm) |
| Weight | 240 lbs (109 kg) |
| Hair Color | Blonde |
| Eye Color | Black |
| Build | Athlete |
| Marital Status | Married |
| Wife | Verna Aho |
| Sexual Orientation | Straight |
| Profession | Basketball player |
| Professional Career Teams | Chicago Bulls, Cleveland Cavaliers |
| Position | Small forward/ Power forward |
| Drafted In | 2017 / Round: 1 / Pick: 7th Overall |
| League | NBA |
| Playing Career | 2014 – present |
| Net Worth | $3 million |
| Salary | $4,536,120 |
| Merch | Trading Card |
| Social Media | Twitter, Instagram |
| Last Update | November, 2022 |
Lauri Markkanen | Early Life, Family, and Education
Lauri Markkanen was born in Finland and grew up in Jyväskylä. He started playing basketball in his junior year for his local team HoNsU.
He was also featured in the Finnish second-tier league for the HBA-Märsky from 2014 to 2016.
Lauri was born to Pekka and Riikka Markkanen on 22 May 1997. His Father was also a basketball player from Finland.
He has one younger brother Eero Pekka Sakari Markkanen, who is also a sportsperson.
Eero plays professional football for Orange County, SC. It seems like sports runs in the blood of the Markkanen family.
Markkanen studied at the University of Arizona in Tucson, Arizona. Here he also played basketball for the Arizona Wildcats men's basketball team.
Lauri Markkanen

| Age, Height, and Weight

Lauri is 25 years old, standing tall at 6 feet and 11 inches, and weighing 109 kg.

His Body Mass Index (BMI) is 24, which is typical for him. Moreover, Markkanen's tall and lean body makes it easy for him to compete with the best players in the NBA.
Lauri Markkanen

| Basketball Career
College Career
After playing junior levels in Finland, Lauri joined the Arizona Wildcats on October 17, 2015. Unfortunately, he joined ahead of the 2016-17 season.
He signed officially for the Wildcats on November 11. ESPN.com tipped the Finnish youngster to be a candidate for the NBA draft.
The Wildcats gave him the number 10 jersey, the first player to wear since Mike Bibby.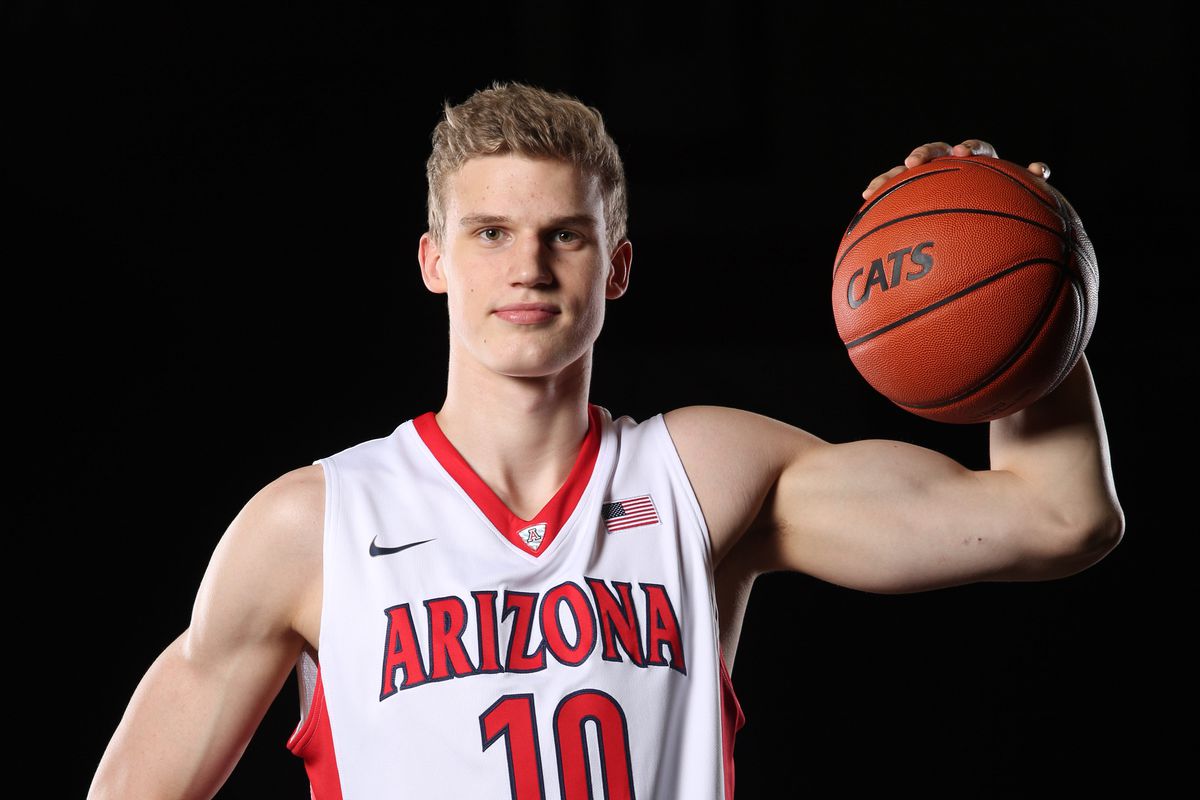 His tall figure helped him become a significant force for his team. And he was regarded as one of the best shooting 7-footer college basketball players by SB Nation.
He was named the Pac-12 Player of the Week and the Oscar Robertson National Player of the week in January 2017.
That was not the end of the rewards he received, and he was labeled to the pre-season Karl Malone Award Watchlist, Karl Malone Award Finalist, and Naismith Award Watchlist, Naismith.
Moreover, he was named to the Wooden Award watch list, Wooden Arad Midseason Top 25, Wayman Tisdale Award Midseason watch list, and Oscar Robertson Award Midseason watch list.
Markkanen also ranked in the top 15 for the John R. Wooden Award.
His first 30 points in a game came against fierce rivals Arizona State, which was his career-high.
The All-American team by the Associated Press, N.B.C. Sports, USA Today, and The Sporting News selected Markkanen to the third team All-American on March 6, 2017.
The Pac-12 also selected him for their first team.
In 2017 the Finnish player declared himself for the NBA draft. After this declaration, he announced to forgo his remaining three years of college with Arizona.
Furthermore, Markkanen was drafted by the Minnesota Timberwolves. He was the seventh pick in the first round of the draft.
Rookie Season
Markkanen officially signed with the bulls on July 5, 2017. He made his official debut in the NBA on October 19, 2017, and scored 17 points.
The 7-foot player made an NBA record in his first season as he became the first player to score the most 3-pointers in the first three games of their career.
Markkanen wanted to wear the number 24 jersey and requested former NBA player Brian Scalabrine to use his number, which Brian accepted.
He scored 24 points in a game against the Charlotte Hornets and 25 points two weeks later against the Cleveland Cavaliers.
In a win against the Indiana Pacers, Markkanen scored 32 points and 7 rebounds, his career-high.
He beat his career-high and got 33 points with a career-high 8 3-pointers in a brilliant win against the New York Knicks.
After Dirik Nowitzki, he was the second 7-foot player to score eight three-pointers in a game.
Read about the Top 10 NBA Champions In History>>
Lauri got his career-high three blocks in a game against the Los Angeles Lakers.
He scored 21 points against the Orlando Magic in February and 22 points against the Memphis Grizzlies in March.
Markkanen became the leading scorer among Finnish players playing in the NBA as he scored 17 points against the Milwaukee Bucks on January 28, 2018.
He surpassed Hanno Möttölä. He was named to the NBA All-Rookie First Team by the NBA on May 22, 2018.
His first season as a rookie with the Bulls finished with 7.5 rebounds, 15.2 points, and 14 double-doubles. He stood third behind Kyle Kuzma and Ben Simmons as a rookie.
Proceeding with Chicago Bulls
In his second season with the Chicago bulls, he missed the first 23 games as he suffered an elbow injury in the team's training camp.
However, he came back in a tough game against the Brooklyn Nets with career-high 19 rebounds.
In another game, the Bulls beat Brooklyn, in which Markkanen scored 31 points and had 18 rebounds.
On February 23, Markkanen scored his career-high 35 points and 15 rebounds when the Bulls beat the Boston Celtics.
After that, his season flowed smoothly as he again scored more than 30 points and 32 points and 17 rebounds, beating the Atlanta Hawks in March.
But unfortunately, The 7-foot player suffered health problems in a game against the Toronto Raptors on March 26.
Due to this, he was ruled out for the rest of the 2018-19 season, which was a major blow for him and his team.
However, Lauri played 52 games despite his injury and health problems. His records were still astonishing as he was the second-best player on the team with 18.7 points and first on the team with 9.0 rebounds.
He got 20 double-doubles, the best in the Bulls and the fourth-best in the NBA.
His third season with the Bulls went flying as he tied his career-high 35 points with 17 rebounds. However, his team lost the game with a point against the Charlotte Hornets.
In the game against the Hornets, the Chicago Bulls scored the most opening-day points since Michael Jordan in 1995.
Final Season
In 2021 Markkanen lost his starting position after introducing veteran big men Daniel Theis and Nikola Vučević.
They were brought to the Bulls team to fortify their frontcourt.
For the first time in his fourth season and the second time in his career of 194 games, Markkanen scored 13 points, six rebounds, and an assist.
Unfortunately, the Bulls lost the game 116-102 to the Golden State Warriors.
Markkanen started playing as the small forward as he was stripped of the first-team position and saw fewer minutes on the court.
As a result, he went with a zero score against the Memphis Grizzlies for the first time in his career on April 12.
Cleveland Cavaliers
After limited game time with the Chicago Bulls, Markkanen was acquired by the Cleveland Cavaliers on August 28, 2021.
The deal involved a three-team sign-and-trade involving the Portland Trail Blazers.
Junior National Team
In 2015, Markkanen featured for the first time for his nation with the Finnish U-18 national team. In addition, he played at the 2015 FIBA Europe Under-18 Championship.
He led his Under-18 team averaging 18.2 points per game in the summer of 2015.
In the 2016 FIBA Europe Under-18 Championship, Markkanen became the top scorer. He was also named to the All-Tournament Team with an average of 24.9 points per game.
Click here if you want to know about Danny Granger's Bio: Career & Net Worth>>
Senior National Team
In 2017 "The Finisher" debuted for the senior team at the EuroBasket. This tournament was partly held in his home country. Unfortunately, the Finnish squad reached just the round of 16.
Markkanen averaged 19.5 points with 5.7 rebounds over 6 games.
Lauri Markkanen | Wife, and Child
Moving ahead, let us look at the Finnish star's dating life.
Markkanen has kept his dating history private, and there is little information about his past partners.
According to reports, Lauri has been married to Verna Aho. They got married in 2017, but there is not much information about the couple and how they met.
But as per sources, they have known each other since high school, and Verna is a blogger and human rights, activist.
According to Lauri's Instagram post, the 7-foot giant has a little son, Alvar, who celebrated his 4th birthday on January 31.
Lauri Markkanen | Net Worth
The Finnish international basketball player has had a fairly successful career. He is just 25 years old and has an estimated net worth of $3 million as of 2022.
His yearly salary in the NBA is reported to be $4,536,120. Lauri inked a 4-year contract worth $67,470,906 with the Chicago Bulls, including $55,426,362 guaranteed, and a yearly average salary of $16,867,727
Social Media Presence
The 6 feet 11 inches tall player in height is active on social media, with more than 279k followers on Instagram and 275.6k followers on Twitter. But on Facebook, Lauri is not active.
Lauri mostly posts his basketball life on his social media pages and occasionally about his family.
Frequently Asked Questions (FAQs)
How do you pronounce Lauri Markkanen?
Lauri answered this question through his Twitter page. It's pronounced Lauri, like Mike Lowrey!
Can Lauri Markkanen play small forward?
Lauri Markkanen can play both powers forward and small forward for his team.