Lauri Elias Markkanen, "Magic Markkanen," is a Finnish professional basketball player who plays small/power forward for the Utah Jazz of the National Basketball Association (NBA).
Brewing with talent and passion, Lauri has come a long way and tried to leave his mark remarkably in the NBA.
Markkanen's shooting skill is something to fear, and his opponents have a hard time blocking his shots.
The small forward started his NBA career after the Minnesota Timberwolves selected him in the 2017 NBA draft.
However, he has not played with the Timberwolves so far, as he was traded to the Chicago Bulls on draft night.
Besides, he has also played for the Cleveland Cavaliers before joining the Jazz on September 1, 2022.
Markkanen has also featured for his national team and played for both the junior and senior national teams.
Here are some quick facts about Lauri Markkanen that you might want to know.
Quick Facts
| | |
| --- | --- |
| Full Name | Lauri Elias Markkanen |
| Date of Birth | May 22, 1997 |
| Age | 25 Years Old |
| Birth Place | Vantaa, Finland |
| Nickname | Magic Markkanen, The Finisher |
| Religion | Christian |
| Nationality | Finnish |
| Ethnicity | Finnish |
| Education | University of Arizona |
| Father's Name | Pekka Markkanen |
| Mother's Name | Riikka Ellonen |
| Siblings | 1 (Eero Markkanen) |
| Zodiac Sign | Gemini |
| Height | 7'0″/2.13 m/213 cm |
| Weight | 109 kg/240 lb. |
| Hair Color | Blonde |
| Eye Color | Black |
| Build | Athlete |
| Marital Status | Married |
| Wife | Verna Aho |
| Sexual Orientation | Straight |
| Profession | Basketball player |
| Professional Career Teams | Chicago Bulls, Cleveland Cavaliers, Utah Jazz |
| Position | Small forward / Power forward |
| Drafted In | 2017 / Round: 1 / Pick: 7th Overall |
| League | NBA |
| Playing Career | 2014 – present |
| Net Worth | $10 million |
| Salary | $16,475,454 |
| Merch | Trading Card |
| Social Media | Twitter, Instagram |
| Last Update | March 2023 |
Early Life, Family, And Education
Lauri Markkanen was born to Pekka and Rikka Markkanen on May 22, 1997, in Finland and grew up in Jyväskylä. His father was also a basketball player from Finland.
The NBA player has two brothers; Mikka, a former professional basketball player, and Eero Pekka Sakari Markkanen, a professional soccer player for a Finnish soccer team, Gnistan.
It seems like sports runs in the blood of the Markkanen family.
Lauri started playing basketball in his junior year for his local team, HoNsU. He also played in the Finnish second-tier league for the HBA-Märsky from 2014 to 2016.
Markkanen studied at the University of Arizona in Tucson, Arizona, where he also played basketball for the Arizona Wildcats men's basketball team.
Age, Height, and Weight
Lauri is 25 years old, who stands tall at 7 feet (2.13 meters), and weighs around 109 kg (240 pounds).
His Body Mass Index (BMI) is 24, which is a healthy weight range. Moreover, Markkanen's tall and lean body makes it easy for him to compete with the best players in the NBA.
Basketball Career
College Career
Having played for the local team in Finland, Lauri joined the Arizona Wildcats on October 17, 2015, ahead of the 2016-17 season.
He signed officially for the Wildcats on November 11. ESPN.com tipped the Finnish youngster to be a candidate for the NBA draft.
The Wildcats gave him the number 10 jersey, the first player to wear it since Mike Bibby.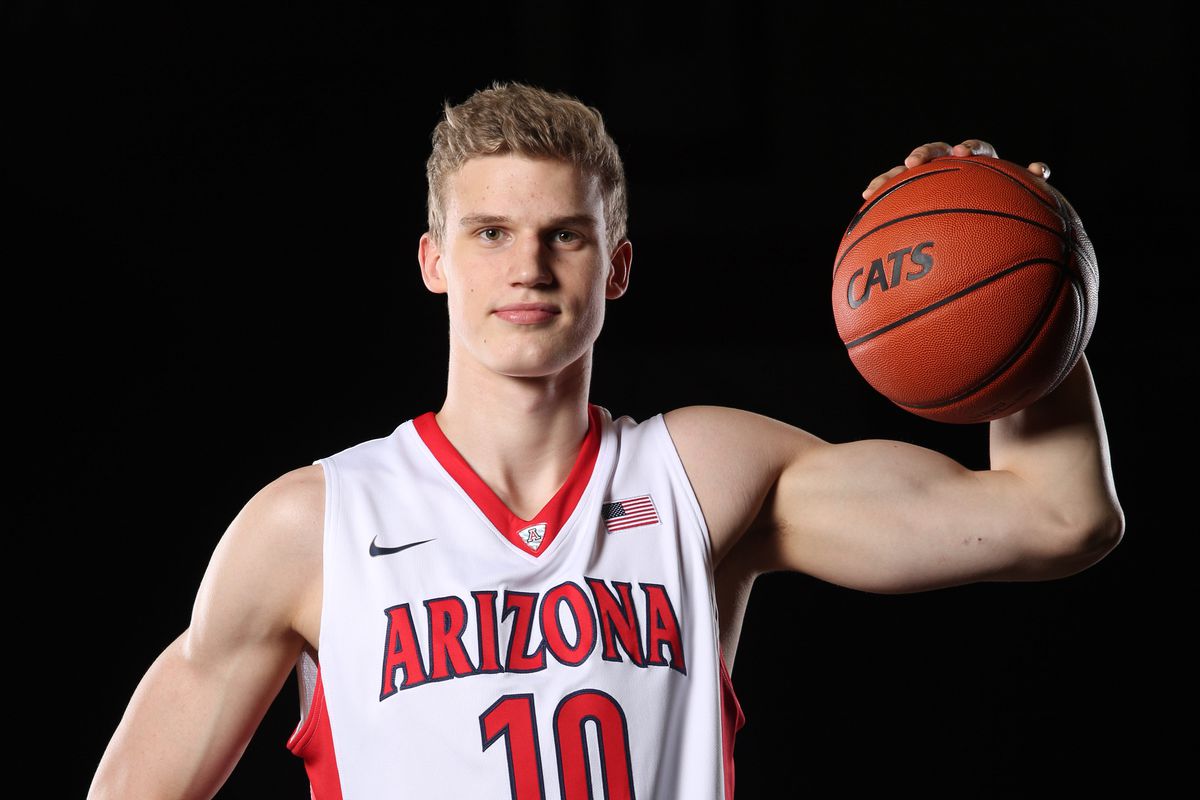 His tall stature helped him become a significant force for his team. And he was regarded as one of the best shooting college basketball players by SB Nation.
The small forward was named the Pac-12 Player of the Week and the Oscar Robertson National Player of the week in January 2017.
That was not the end of the rewards he received during his collegiate career, Markkanen was labeled to the pre-season Karl Malone Award Watchlist, Karl Malone Award Finalist, Naismith Award Watchlist, and Naismith Top 30 Finalist.
Moreover, he was named to the Wooden Award watch list, Wooden Award Midseason Top 25, Wayman Tisdale Award Midseason, and Oscar Robertson Award Midseason watch list.
Markkanen also ranked in the top 15 for the John R. Wooden Award.
He recorded a career-high 30 points in a game against fierce rivals Arizona State.
As a result of his exceptional performance, the small forward was named to the third team All-American team by the Associated Press, NBC Sports, USA Today, and the Sporting News on March 6, 2017.
Besides, he was a first-team All-Pac-12 selection, first-team All-Pac-12 Freshman team, and first-team All-Pac-12 team in Associated Press.
In 2017, the Finnish player declared himself for the NBA draft forgoing his remaining college eligibility.
In the 2017 NBA draft, Minnesota Timberwolves drafted Markkanen with the 7th overall pick. However, he was traded to the Chicago Bulls along with Zach LaVine and Kris Dunn for Jimmy Butler and the rights to Justin Patton.
Rookie Season
Markkanen officially signed with the bulls on July 5, 2017, and made his NBA debut on October 19, 2017, scoring 17 points.
The power forward became the first player to score the most 3-pointers in the first three games of their career, making an NBA record.
Markkanen asked Brian Scalabrine, a former NBA player, the permission to wear the number 24 and was allowed.
The Finnish player rocked the #24 jersey and scored 24 points in a game against the Charlotte Hornets.
In a win against the Indiana Pacers, Markkanen scored his then-career-high 32 points and 7 rebounds.
He countered his previous career-high 33 points with eight 3-pointers in double overtime 122-119 win against the New York Knicks.
After Dirk Nowitzki, he was the second 7-foot player to score eight three-pointers in a game.
Lauri recorded his then-career-high three blocks in a game against the Los Angeles Lakers.
He scored 21 points against the Orlando Magic in February and 22 points against the Memphis Grizzlies in March.
Markkanen became the leading scorer among Finnish players playing in the NBA, surpassing Hanno Möttölä, as he scored 17 points against the Milwaukee Bucks on January 28, 2018.
He was named to the NBA All-Rookie First Team by the NBA on May 22, 2018.
Markkanen finished his rookie season averaging 7.5 rebounds, 15.2 points with 14 double-doubles, which was the third-most behind Kyle Kuzma and Ben Simmons.
Proceeding With Chicago Bulls
In his second season with the bulls, he missed the first 23 games as he suffered an elbow injury in the team's training camp.
However, he came back in a tough game against the Brooklyn Nets, scoring a career-high 19 rebounds.
In another game, Markkanen scored 31 points and 18 rebounds in a win over the Brooklyn Nets.
On February 23, the small forward scored his then-career-high 35 points and 15 rebounds when the Bulls beat the Boston Celtics.
Similarly, Lauri scored 32 points and 17 rebounds, beating the Atlanta Hawks in March.
But unfortunately, Markkanen was ruled out for the remaining games after experiencing some health issues in a game against the Toronto Raptors on March 26.
In his second season, he played 52 games averaging 18.7 points, and 9 rebounds with 20 double-doubles, the fourth-best in the NBA that season.
Final Season
His third season started with him tying his then-career-high 35 points with 17 rebounds in a one-point loss to the Charlotte Hornets. This was the most opening-day point since Michael Jordan in 1995.
In 2021, Markkanen lost his starting position after the veterans Daniel Theis and Nikola Vučević joined the Bulls.
He scored 13 points, 6 rebounds, and an assist, coming off the bench for the first time during the season, in a 102-116 loss to the Golden State Warriors.
Markkanen started playing as the small forward in the second team and was limited to fewer playing minutes.
As a result, he went with a zero score against the Memphis Grizzlies for the first time in his career on April 12.
Cleveland Cavaliers
After limited game time with the Chicago Bulls, Markkanen was acquired by the Cleveland Cavaliers on August 28, 2021.
The deal involved a three-team sign-and-trade involving the Portland Trail Blazers. On March 18, 2022, he bagged 31 points, with 10 rebounds and 4 steals, in a 119-116 overtime win over the Nuggets.
Utah Jazz
Markkanen was traded to the Utah Jazz alongside Ochai Agbaji, Collin Sexton, three first picks, and two pick swaps, in exchange for Donovan Mitchell.
On January 2023, the Finnish player logged a career-high 49 points with 8 rebounds in a 131-114 win over the Houston Rockets.
He was named to his first ever NBA All-Star game as a reserve for the Western Conference on February 10, 2023, but was made a starter after the injury of Stephen Curry and Zion Williamson.
National Team
Markkanen made his international debut with the U-18 national team at the 2015 FIBA Europe U18 Championship and averaged 18.2 points per game.
In the 2016 FIBA Europe Under-20 Championship, Markkanen became the top scorer and was named to the All-Tournament Team.
In 2017 "The Finisher" debuted for the senior team at the EuroBasket. This tournament was partly held in his home country.
He averaged 19.5 points and 5.7 rebounds over 6 games. Unfortunately, the Finnish team's journey was halted in the round of 16.
Markkanen's second EuroBasket tournament was in 2022. He scored 43 points in a 94-86 win over Croatia, setting a new all-time record for a Finnish player at the EuroBasket.
However, their title journey came to an end after a loss to Spain in the quarterfinals.
Wife, And Child
Moving ahead, let us look at the Finnish star's dating life.
Markkanen has kept his dating history private, and there is little information regarding his past partners.
According to reports, Lauri has been married to Verna Aho since 2017, but there is not much information about the couple and how they met.
But as per sources, they have known each other since middle school, and Verna is a blogger and human rights activist.
The couple welcomed their first child, a son named Alvar, in 2018, and another child in 2020.
Net Worth
The Finnish basketball player has had a fairly successful career so far. He is just 25 years old and has an estimated net worth of $10 million as of 2023.
His salary with the Jazz is reported to be $16,475,454 and he is expected to earn more in his coming seasons.
Lauri inked a 4-year contract worth $67,470,906 with the Chicago Bulls, including $55,426,362 guaranteed, after his rookie scale contract expired on August 28, 2021.
Social Media Presence
The small forward is active on social media. Lauri's social media posts feature pictures of him with his teammates during the games, family, and some endorsements.
He is available on Instagram under the handle @laurimarkkanen and Twitter @MarkkanenLauri.
Instagram: 375k followers
Twitter: 120.1k followers
Popularity
Lauri Markkanen has gained a lot of fans through his impressive and record-breaking performances in the NBA.
The above graph gives brief information about the popularity of Lauri Markkanen based on Google searches in the United States over a year.
Frequently Asked Questions (FAQs)
How do you pronounce Lauri Markkanen? Lauri answered this question through his Twitter. It's pronounced Lauri, like Mike Lowrey! Can Lauri Markkanen play small forward? Lauri Markkanen can play both as a power forward and small forward for his team.
Lauri answered this question through his Twitter. It's pronounced Lauri, like Mike Lowrey.
Can Lauri Markkanen play small forward?
Lauri Markkanen can play both as a power forward and small forward for his team.