Russell Henley's wife, Teil Duncan, has established a successful career as an artist in South Carolina. Teil tied the knot with the American golfer in 2015.
Russell Henley keeps himself away from social media, but on the other hand, his wife is a star on it. She is nearing 100k followers on Instagram, and it's all because of her work as an artist.
The golf couple has certainly found the formula to lead a perfect balance of married life with kids and work. Along with raising three beautiful kids, Russell and Teil have successfully pursued their passion and dreams.
The Georgia native came close to winning his fifth PGA Tour at Wyndham Championship to be only outdone by Lucas Glover.
Henley had briefly taken the lead with a birdie after the play resumed. But he bogeyed the 18th, allowing Glover to par his way in the last four holes.
Russell Henley Wife, Teil Duncan, Is A Successful Artist
Russell Henley's wife, Teil Duncan, is an Auburn University graduate and has found success in the tough world of art.
Born and raised in Columbus, Georgia, Teil graduated from Auburn with a degree in art. On Instagram, Teil boasts 97.4k followers, posting pictures of her paintings inspired by light, movement, and surprising color combinations.
In an interview with Auburn University, Teil revealed her studio was currently at The Cigar Factory, a restored building in Charleston, South Carolina. It was Teil's eighth-grade teacher who saw the talent in her, which eventually made her pursue art as she grew old.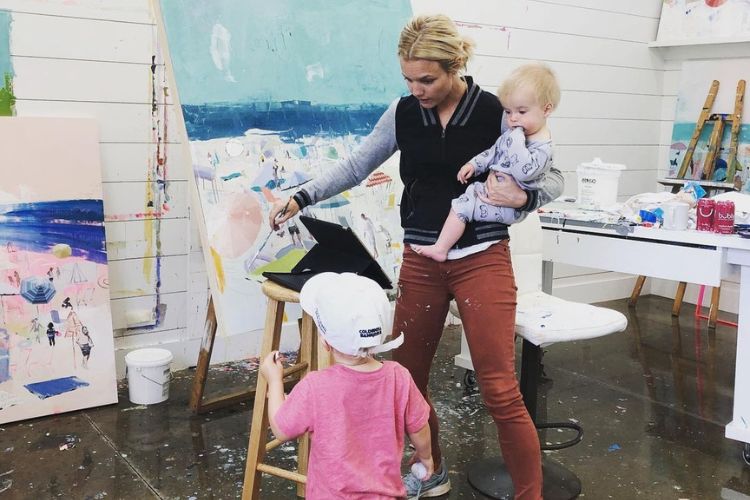 Teil did say that at first she had a hard time finding jobs, and she would work a few odd jobs here and there, but now it's certain that she can live off of her passion.
Throughout the years, Teil's various acrylic series have gained notoriety, and one of them is called Beaches. Currently, on her website, all the paintings related to the series are sold out, with most of them going for as high as $6.1k.
Previously, Teil shared that the talented American actress and producer Mindy Kaling also had placed one of her paintings from the Beach series in her office.
Along with being an artist, Teil is also an author. In 2019, she published a book called, "The Color Teil," which told the story of her artistic journey.
Recently, Teil also began selling candles in partnership with Charleston candlemaker, Candlefish.
Russell Henley, And Wife Teil Duncan Relationship
The talented individuals Russell Henley and Teil Duncan met for the first time at a wedding, a foreshadowing for the two.
The wedding was of Teil's sisters' to one of Russell's childhood friends. The couple quickly hit off after their first meeting, which led to their engagement in 2014 on the Pitt Street Bridge in Mount Pleasant, South Carolina.
Russell and Teil exchanged their vows a year later, on October 31, 2015, in South Carolina. And since their marriage, the couple has parented three kids.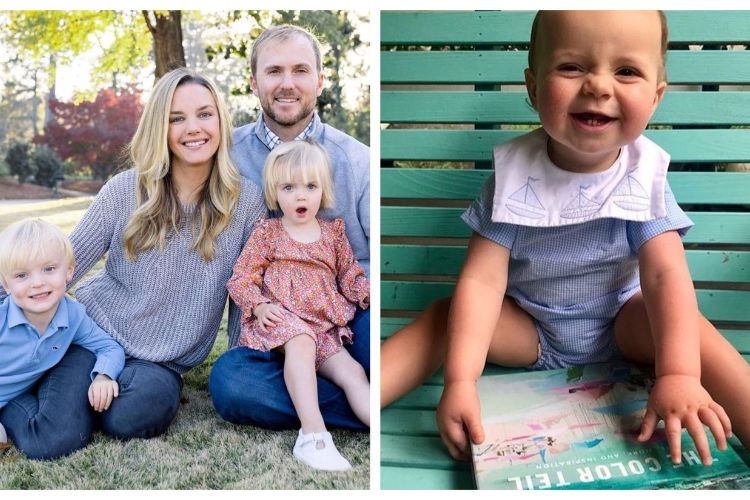 The couple's first child, Robert Russell Henley, was born on April 3, 2018. Teil shared two photos of the newborn, including a picture of Russell hugging his son.
A year after Robert's birth, the couple became parents for the second time. The golf couple welcomed their second child, a baby girl, Ruth Teil Henley, on June 17, 2019.
On her Instagram, Teil has shared photos depicting the story of many working moms. In one picture shared by Teil, she can be seen carrying Ruth in one hand, painting with another, and keeping an eye on Robert.
The couple's third child and the latest addition to the Henley family, Jane Edith Henley, was born on June 4, 2022. Teil shared a cute video of Ruth talking to her little sister to announce the birth of her newborn girl.
In recent years, the two older kids of Russell and Teil have been seen accompanying their mom to their dad's golf games. This year, Ruth and Robert were at the Masters' tournament rooting for their dad.