Parents play a vital role in their children's career development and career decision-making. It's not different in the case of Russell Wilson. His father, Harrison Benjamin Wilson III, is the reason why Russell Wilson is successful today in the NFL.
Benjamin Wilson III was his role model growing up. Likewise, Russell references his father's valuable lessons in most media sessions and interviews.
Wilson III was also a highly gifted athlete who played collegiate baseball and football at Dartmouth University. He was one of the few African American athletes that helped to start the first black fraternity in the university.
But, Russell's father passed away in 2010 due to diabetes complications one day after being drafted by Colorado.
Moving on, Russell Wilson signed a five-year contract with Denver on September 1, 2022.
For more information about Russell's father, career, net worth, and relationship, be sure to read the full article.
Russell Wilson Father | Quick Facts
| | |
| --- | --- |
| Full Name | Harrison Benjamin Wilson III |
| Date of Birth | 9th November 1954 |
| Date of Death | June 9, 2010 (55 years old) |
| Place of Birth | Richmond, Virginia |
| Gender | Male |
| Religion | Christianity |
| Nationality | American |
| Ethnicity | African-American |
| Education | Dartmouth College |
| Horoscope | Scorpio |
| Father's Name | Harrison B. Wilson |
| Mother's Name | Lucy Wilson |
| Siblings | Benjamin Wilson, John Wilson (brothers), Jennifer Wilson, April Woodard(sisters) |
| Grand Parents | Harrison Wilson Sr. (Grandfather) and Marguerie Ayers (Grandmother) |
| Body Measurement | Unavailable |
| Hair Colour | Black |
| Eye Colour | Black |
| Tattoo | No |
| Relationship | Married |
| Wife | Tammy Wilson |
| Children's | Harrison Wilson IV, Russell Wilson (son), Anna Wilson (daughter) |
| Daughter in Law | Merinda Wilson and Tressa Wilson |
| Profession | Lawyer |
| Collegiate Career | Football and Baseball player |
| Merch of Russell Wilson | Russell Wilson Jersey |
| Social Media | N/A |
| Last Update | June 2023 |
Harrison Wilson's III | Parents
Before going in-depth into Harrison Wilson III, let's find out who his father was.
Harrison Wilson III's father, Harrison Wilson Sr., was Jackson State University Head Coach between 1951 to 1960. He also served as the Department of Health and Physical Education chairman between 1960 to 1967.
Overall in his 16 years as a collegiate basketball coach, he finished his career with an amazing record of 340 wins and 72 losses.
His tenure helped the university to another stature in Southeastern Virginia after being Norfolk State University President in 1975.
During his retirement in 1997, the NSU administrative building was named after him to honor his contributions to the university.
Harrison Wilson was born on 9th November 1954 to supporting parents Harrison Wilson Jr. and Anna Wilson. After his mother died in late 1960 due to surgery issues, his father married Lucy Wilson, a former board member of Norfolk Public School.
He has 4 siblings, which include 2 sisters, Jennifer Wilson and April Woodard, and 2 brothers, Benjamin and John Wilson.
So, it is no surprise why Rusell Wilson is successful because he comes from a family that has inherited success for generations.
Harrison Wilson III | Background
After completing high school, Harrison Wilson III enrolled in Dartmouth University and was a football and baseball athlete.
He played as a wide receiver in football and an infielder in baseball. Wilson III was one of the few African athletes on campus and helped start the first black fraternity in the university.
During his time in college, he excelled both as a player and a student. Harison desired to play in the NFL after graduating from college but was cut short when he was accepted into the University of Virginia Law School in 1977.
Although he made it into San Diego Chargers preseason team, he failed to make it into their first team.
Harrison graduated from the University of Virginia in 1980 and worked as an attorney. He also served as the executive director for the Hard Road to Glory Sports Hall of Fame.
Harrison Wilson III had diabetes. Later, his illness became his death cause, and he passed away on 9th June 2010.
Harrison Wilson III | Wife
Harrison Wilson III is married to Tammy Wilson. Although not much is well-known regarding her past, she is a legal nurse consultant.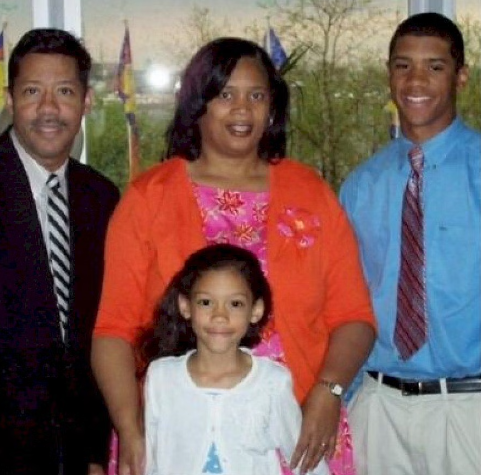 Tammy also played an important role in Russell Wilson's devotion to Christianity.
Harrison Wilson III | Children's
Harrison Wilson IV
The oldest child of Harrison Wilson III is Harrison Wilson IV. He was born in 1983 in the United States.
Like his brother and father, he played two sports in college. He was a basketball and football player at the University of Richmond.
Harrison is the reason behind his brother, Russell becoming a quarterback. He requested his brother to become a quarterback and threw balls toward him during training sessions.
Currently, he is the Co-founder and CEO of a medical device manufacturing brand called Limitless Minds.
Russell Wilson
Russell Wilson is the middle child of Harrison Wilson III. He was born on November 29, 1988, at The Christ Hospital in Cincinnati and grew up in Richmond, Virginia.
Wilson played collegiate football at North Carolina State University from 2008 to 2010 before transferring to the University of Wisconsin in 2011.
Later, Russell was selected by the Seattle Sea Hawks in the third round (75th overall) of the 2012 NFL Draft. He has been named to nine Pro Bowls and helped the Seahawks to two consecutive Super Bowls, winning Super Bowl XLVIII.
Harrison Wilson III's children (Source: Twitter)
Similarly, his 4-year contract extension worth $140 million with Seahawks in 2009 is the 4th richest contract in NFL history.
He finished all of his seasons with a winning record. Russell also holds the record for most wins by a quarterback, coming into 9 seasons with 98 wins.
The Seattle Seahawks traded Wilson to Denver Broncos on March 16, 2022. Later on September 1, 2022, he signed a five-year contract with Broncos worth $245 million.
He completed 29 of 42 passes for 340 yards and 1 touchdown in a 17-16 loss against his former team Seatle Seahawks.
2022 Season Stats:
| | | | |
| --- | --- | --- | --- |
| YDS | TD | INT | QBR |
| 3,241 | 13 | 10 | 36.9 |
Anna Wilson
Anna Wilson is the youngest child and only daughter of Harrison Wilson III. The 2016 Mc Donalds All-American Anna Wilson played her senior high school season with Bellevue High School.
In her final season, she averaged 15.3 PPG finishing the season undefeated. Later, she committed to Standford University, being ranked a 5-star prospect by ESPN.
Anna started every game in the Cardinal's journey to becoming NCAA champion in the fifth season. She also earned 2021 Pac 12- Defensive Player of the Season.
Furthermore, representing the USA, Anna won FIBA U-17 World Championship in 2014.
Just like his brother Anna also had a special bond with her father. Her brothers were usually out for practice. So, Anna took care of Harrison Wilson III most of the time. Her father died when she was just 12.
Likewise, Anna mentions her father's death taught her to "see the best in people when they're at their worst."
Harrison Wilson III | Daughter In Law
Harrison Wilson IIIs, youngest son Russell Wilson, is married to Ciara, a popular and influential American singer, dancer, actor, and model.
The couple married on 6th July 2016 in Peckforton Castle, England. In 2023, they celebrated their 6 years anniversary.
Ciara has already spent more than one and a half decades in the music industry selling over 7 million albums and 16 million singles globally.
Ciara is also well known for her dance, stage performance, and choreography, so she is known as the "Queen of Dance."
Grammy award winner Ciara has enjoyed an illustrious music career. Thanks to her style and beauty, she is also booming in the modeling industry.
She actively works in her husband's Why Not You Foundation, which Russell founded, being influenced by his father.
On the other hand, Wilson was first married to Ashton Meem in January 2012 and got divorced in April 2014.
Harrison Wilson IIIs oldest son Harrison Wilson IV is married to Courtenay Wilson. Unfortunately, she seems to be a private person, so not many details about her are found.
Harrison Wilson III | GrandChildrens
Altogether Harrison Wilson III has six grandchildren. His oldest son Harrison Wilson IV has three daughters.
Among them, Gracie Wilson (8 years) is the oldest, Nora Wils (5 years) is the middle one, and Mattie Wilson (3 years) is the youngest.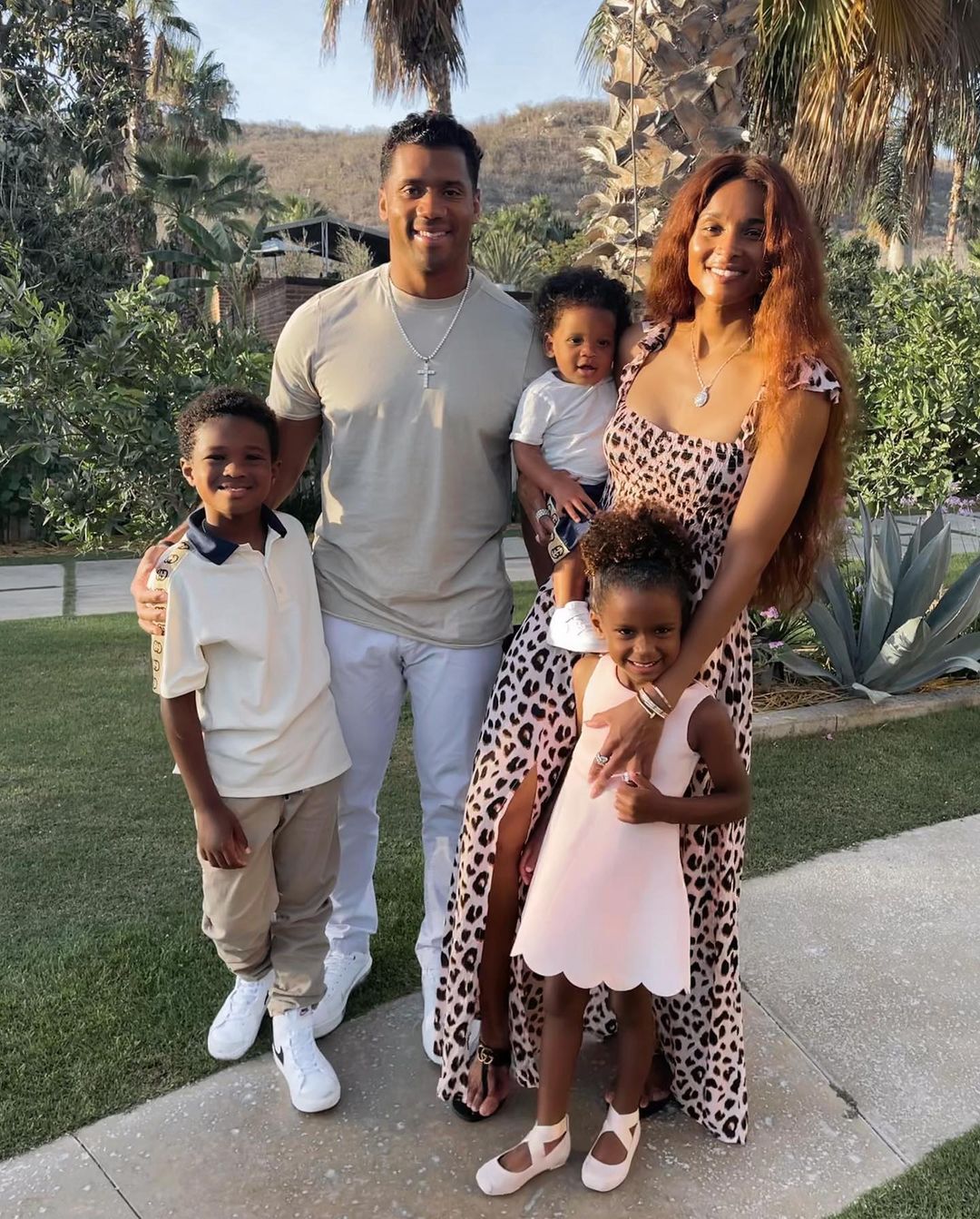 Likewise, his second child, Russell Wilson, has three children, including one of Russell's stepson Future Jr.
He and his wife Ciara welcomed a daughter named Sienna Princess on 28th April 2017.
Later on, 23rd July 2020, his son Harrison Win Wilson was born. The middle name, WIN, symbolizes Russell's success in the field.
Relationship Between Russell And His Father
Russell Wilson would not have had an illustrious NFL career and become the respected leader today without his father.
Harrison Wilson III was his child's great role model while growing up both on the field and in academics.
So, it is not a surprise why all of his children are standout players in their respective sports.
He would drive him to team football practice early at 6 am. Later while returning home, he used to quiz him on what happened.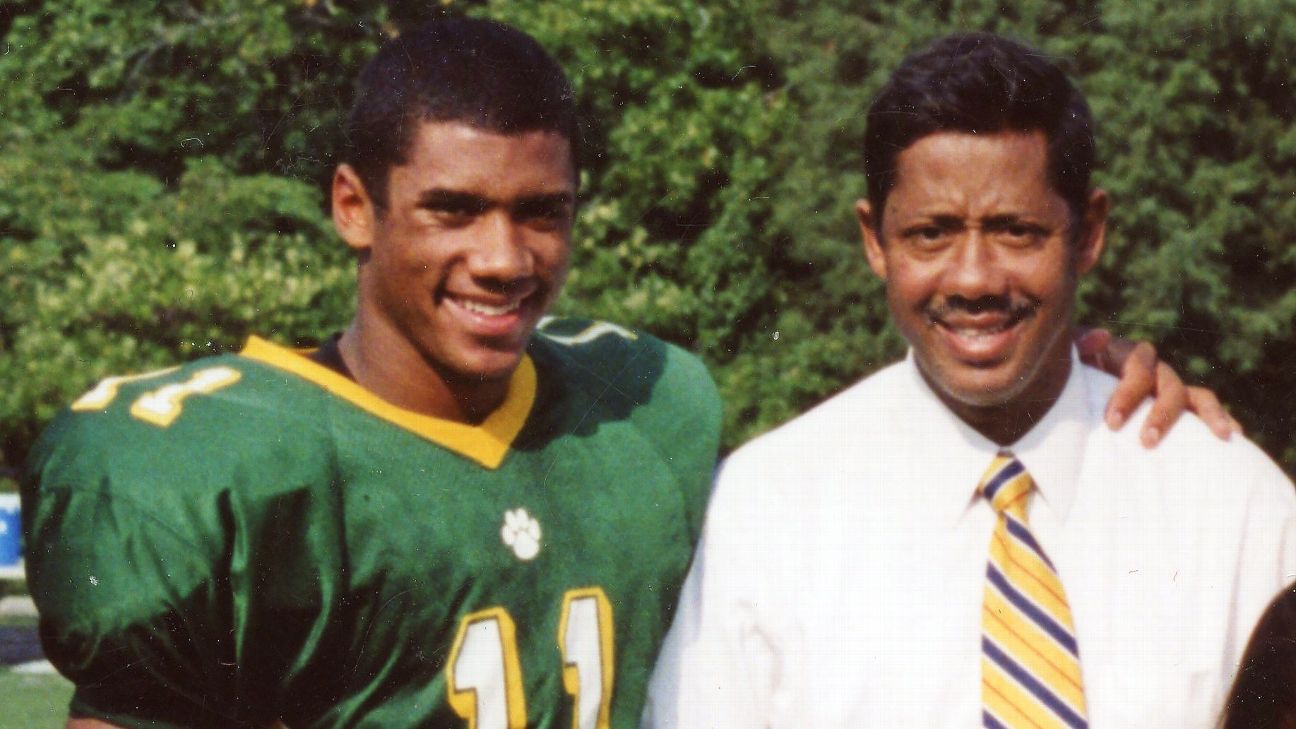 Harrison also pretended to be a football announcer, sometimes interviewing him.
His teaching did not go wasted as Russell emerged as outstanding football and baseball player.
Similarly, Russell writes downs the phases his father taught him on his athletic tape before every game. He regularly references his father's valuable life lessons in interviews and media sessions.
Lastly, Russell started his Why Not You Foundation, inspired by his father. Harrison Wilson III always asked him the question, "why not you."
Later, the "why not you" question became the center of who Russell is.
Frequently Asked Questions (FAQs)
When did Russell Wilson's father die?
Russell Wilson's father, Harrison Benjamin Wilson III, died on 9th June 2010. He passed away due to diabetes complications at 55 years old. He died the day after his son Wilson was drafted by Colorado Rockies after his junior year.
Was Russell Wilson's father an NFL player?
Russell Wilson's father, Harrison Benjamin Wilson III, was a collegiate football and baseball athlete at Dartmouth University. Although he was an NFL prospect, he did not try out for NFL after being accepted into the University of Virginia Law School.
Who are Russell Wilson's parents?
Russell Wilson is the second child and youngest son of Harrison Benjamin Wilson III and Lucy Wilson.