Every day is a struggle. No matter what you say, a new day brings a new boulder and for some players thriving each day is hard.
When we look up to someone and talk about them, it's always the ones in the peak, not some lesser-known. However, some players are meant to talk about, no matter how they perform, like Ryan Broekhoff.
To illustrate, Ryan Broekhoff has a hard career, being someone who is guarding the best players, and blocking shots.
Despite the known fact, Broekhoff has moved on and on with the same passion since 2009.
Moreover. he is an Australian man making his professional career in the National Basketball Association (NBA). To date, he has been featured for the teams like Beşiktaş Integral Forex, PBC Lokomotiv Kuban, and Dallas Mavericks.
Equally important, Broekhoff has appeared in many international arenas representing his country.
Quick Facts
Full Name

Ryan Broekhoff

Date of Birth
23 August 1990
Birth Place
Melbourne, Victoria
Nick Name
Rhyno, The Accountant
Religion
Christianity
Nationality
Australian
Ethnicity
White
Zodiac Sign
Virgo
Age
33 years old
Height
6'6″ (1.98 m)
Weight
215 lb (98 kg)
Hair Color
Brown
Eye Color
Brown
Build
Athletic
Father's Name
Wilm

Broekhoff

Mother's Name
Jo Toebelman
Siblings
Twin sisters, Melissa

Broekhoff

and Carlee Broekhoff
An older brother, Dan

Broekhoff

Education
The Peninsula School
Valparaiso Crusaders Men's Basketball
Marital Status
Married
Wife
Katie

Broekhoff

Kids
Jackson Broekhoff
Profession
Basketball player
Jersey Number
45
Affiliations
Beşiktaş Integral Forex
PBC Lokomotiv Kuban
Dallas Mavericks.
Active Years
2009-present
Net Worth
$5 million
Social Media
Instagram, Twitter
Last Update
December, 2023
Body Measurements
Ryan Broekhoff is a man with a lean and athletic body towering tall at 6 ft 6 inches (1.98 m) while maintaining his weight at 215 lb (98 kg). Additionally, Ryan hits the gym a few days a week, and on other days, he is at home with some light workouts.
As for his appearance, Broekhoff is a fair-skinned man with brown hair and brown eyes. Moreover, he has a light hint of a beard on his oval face.
Currently, Ryan's morning routine goes by jogging with his two dogs in their own place.
"I feel great eating a mostly vegan diet; more energetic and balanced, both physically and mentally."
-Ryan Broekhoff
Ryan Broekhoff | Early Life
Broekhoff was born on 23 August 1990 under Virgo's sun sign to his parents Jo Toebelman and Wilm Broekhoff.
Apparently, his birthplace is in Melbourne, Victoria, but he grew up in Frankston alongside his twin sisters Melissa Broekhoff and Carlee Broekhoff and an older brother Dan Broekhoff.
Back then, their twin sisters shared a room; however, Dan and Ryan got their own rooms. All in all, they used to reside in a two-story place near the beach, and Ryan Boekhoff was the youngest of all siblings.
Most of Ryan's childhood days were spent playing on the beach, and they even had their grandmother, Licia living with them. As for his family, his father, Wilm, was also an NBA player who rebounded the ball well.
Devale Ellis Bio: Net Worth, Career, Wife & Parents >>
"Mum did a wonderful job of raising us, four kids. Four kids take a lot of work, and she helped get us to school and sport. With cooking for us, too, we all lived with her for a while when mum went back to work. Mum was the one putting in all the time and driving involved in playing domestic and representative basketball. She did everything for us."
-Ryan Broekhoff
Academics
As a child, Ryan was a quiet and shy kid who lacked communication. During his school days as a 5th or 6th grader, they had to write down their ambitions and what they aspired to become.
That shy kid, though, didn't communicate but had his life figured out. To illustrate, he always had a dream to play for Australia in the Olympics, play in the NBA and play for the Geelong Cats in the AFL.
Furthermore, he was good with academics, and besides that, he was a fan of Michael Jordan, Dirk Nowitzki, and Dwyane Wade.
"I hadn't watched Michael Jordan in person, but I had the 'Ultimate Jordan' collection of his best games. He was the reason I was watching the NBA from a very early age. As for Dirk, I idolized him and had his jersey."
-Ryan Broekhoff
Moreover, when he was just 10 years old, he partook in the domestic league where he broke his wrist. Indeed, he continued playing, which came as a loss, though.
Back then, his under 16s Frankston coach, Neil Williams, nicknamed him 'Rowdy' just because he didn't communicate.
During his high school days, Broekhoff worked alongside coaches like Andrew Jacobson, Neil Williams, Shane Mathieson, and Heath Miller.
Valparaiso University
After graduation from The Peninsula School, Ryan played for the prestigious Australian Institute of Sport as a swingman from Frankston, Victoria.
As a result, young Ryan caught the attention of Valparaiso University assistant coach Chris Sparks, who offered him the scholarship offer.
Before going into Valparaiso as a freshman, Broekhoff starred at the U-19 championships, and as a freshman, he was in a support role.
However, his breakout only came during his sophomore year, where he stood as the starting line-up.
As a sophomore, Broekhoff recorded an average of 10.3 points and 5.2 rebounds per game.
The same year, he also led his team to the Horizon League in a three-point field goal percentage at 44.8%. In the meantime, he also stood at the conference in blocked shots with 1.1 per contest.
Advancing further, Broekhoff posted an average of 14.8 points, 8.6 rebounds, and 2.3 assists per game while still a junior in the Horizon League.
Altogether, he appeared as one of the top players in that league and led his team to the conference's regular-season title and a National Invitation Tournament bid.
Results
By the end of the league, Ryan Broekhoff claimed the Horizon League Player of the Year Award. Similarly, Associated Press gave him the honorable mention of the All-American.
Likewise, his college year came to an end with the stat of college-career high 15.7 points per game, an average of 7.3 rebounds, and 2.3 assists in 32.2 minutes per game.
He also headed the squad to a 26-7 record and the top seed in the Horizon League Tournament.
Altogether, he had also built a messed-up relationship with the coaching staff.
Not to mention his miracle shot in the last game for his team against Green Bay-Wisconsin. That was the buzzer-beater moment that led top seed Valparaiso to a 70-69 victory.
During the game, they were down with 2 in the semi-final, and that was when he threw the ball up the court to record 3.
Therewith, they even bagged the title game against Wright State and clinched an NCAA Tournament berth.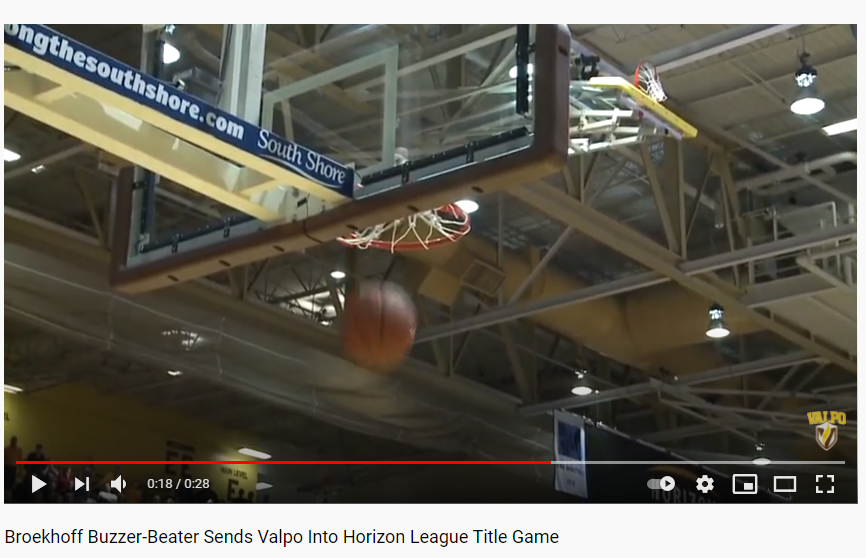 "The basketball program at Valparaiso was at the level I needed, challenging. Valpo took pride in its academics and had the course I was looking to take for my career post-basketball."
-Ryan Broekhoff
College Career Stats
The data is retrieved from sports reference.com
| | | | | | | | | | | |
| --- | --- | --- | --- | --- | --- | --- | --- | --- | --- | --- |
| Summary | G | PTS | TRB | AST | FG% | FG3% | FT% | Efg% | PER | WS |
| Career | 134 | 11.9 | 6.3 | 1.8 | 46.4 | 40.8 | 81.8 | 57.8 | 24.2 | 18.6 |
Ryan Broekhoff | Professional Career
Broekhoff did not have an instant career. To make his childhood dream in the NBA come true, he has to roam his way around before entering.
First, Broekhoff signed his deal with Beşiktaş Integral Forex, based in Turkey, after being undrafted in the 2013 NBA Draft. His foremost contract was only a year deal; hence, he extended his contract with them for the other year in the summer of 2014.
Jesse Marsch- Early Life, Career, Wife, Liverpool & Salary >>
Later, in 2015, Ryan got a small chance to feature in the Denver Nuggets for the 2015 NBA Summer League. After that, he left the Beşiktaş and signed in with the PBC Lokomotiv Kuban of the VTB United League.
This time his September 2015 contract was of three years. Altogether, he was still thriving for the NBA.
NBA Career
After years of searching, his opportunity knocked on his doors for the NBA. Dallas Mavericks sought him to join the team as they signed a two-year contract on 6 August 2018.
Dallas Mavericks
Ryan Broekhoff made his NBA debut on 17 October 2018 against the Phoenix Suns, where he posted 3 points in four minutes, which came as an unfortunate loss.
Following it, as a rookie in the team, Broekhoff had featured in a total of 42 games for a season. All in all, his shots were 41% from the three-point range.
Later, Broekhoff featured in 17 games the next season, where he posted 39% of the shots from three-point range shooting. Additionally, during his tenure in Dallas, he got to play alongside Dirk Nowitzki.
Overall, Dallas Mavericks waived him off on 11 February 2020 as they signed in Michael Kidd-Gilchrist.
Philadelphia 76ers
After leaving Mavericks, Broekhoff signed in to the Philadelphia 76ers on 27 June 2020. During his tenure, he was given two chances to make it to the main roster, which went in vain.
Consequently, his foremost attempt was in the summer before the 76ers traveled to Orlando, Florida, which was missed due to his COVID-19 related issues regarding his family.
At present, the 76ers have waived him off, and now, he stands as the free agent.
It was prior to the Sixers' first preseason matchup against their Eastern Conference rivals, the Boston Celtics. Thus, Broekhoff announced his condition with the 76ers on Twitter, taking a minute to thank them for the opportunities.
South East Melbourne Phoenix
Ryan was appointed to the South East Melbourne Phoenix on 18 February 2021 for the remainder of the 2020-21 NBL season.
He notched 7.5 points, 0.6 assists, and 3.5 rebounds per game. Recently, on 28 June 2021, He inked a two-way contract and settled down with Phoenix.
Ryan Broekhoff | International Career
Broekhoff has played in the international arena ever since his young days as he featured first in the 2009 FIBA Under-19 World Championship in Auckland, New Zealand.
Following it, he made his appearance at the 2011 Summer Universiade in Shenzhen, China.
Later, he made it to Australia's 2012 London Olympics and the 2013 Stanković Cup, and the World University Games team.
During the year 2013, Broekhoff bagged gold and silver medal and was also named the Boomers' 2013 FIBA Oceania Championship squad.
Moving further, Broekhoff starred in the 2014 FIBA Basketball World Cup in the starting line playing under the coach Andrej Lemanis.
The next year, he was again in the starting lineup for the 2015 FIBA Oceania Championship against New Zealand.
Likewise, he made it to the 2016 Rio Olympics, and as of 2020, nearing the next year, he is listed for the upcoming Tokyo Summer Olympics.
Opting out of the 2020 Tokyo Olympics, but why?
Ryan took his name back from the the Boomers' Olympic basketball selection camp due to mental health struggles.
As per sources, Ryan, along with Isaac Humphries, had the best chance to feature in Brian Goorjian's final team of 12 for the Tokyo Games.
He says, "My mental health is something I have struggled with for a long time, and I think it's important for me to put my hand up and admit when things aren't okay and that it is time to seek help."
Ryan Broekhoff | Achievements
All-EuroCup First Team (2018)
Associated Press honorable mention All-American (2012)
Horizon League Player of the Year (2012)
2× First-team All-Horizon League (2012 & 2013)
You might be interested in Devin Robinson Bio: Parents, NBA, Family, AFL>>>
Net worth
At present, the net worth of Ryan Broekhoff is not announced yet; however, he is earning an average annual salary of $5 million.
Additionally, Broekhoff is an avid reader and has involved himself in encouraging children to read.
"To be able to be a role model for kids and help them with something important like reading fills me with a sense of pride. Now I get to pass on my love to my little kid. He's more into eating the books at the stage, but I'm sure he'll grow into loving it."
-Ryan Broekhoff
Additionally, Ryan is also a wise saver and believes in storing his money for the future. That's exactly what a common man does for his family.
And the stock market is the place where he puts his money.
Ryan Broekhoff | Private Life
Broekhoff is a man committed to his family who is now a father and a husband too. The NBA player is married to his wife Katie, after years of dating since her college days.
Apparently, she has been with Ryan through his hard times traveling alongside Turkey and Russia.
Later, the duo took vows in Bali and had receptions in Australia and the US for extended family. Katie was adorned in a deep V-necked white gown while Ryan was in a white suit.
As of now, the couple lives happily together in an apartment near the arena and the practice facility.
They share that apartment with their miniature Australian Shepherd called Leo. Furthermore, they have a cute baby boy named Jackson to lighten their lives.
Ryan Broekhoff racked with Eye Injury
The basketball star Ryan was immediately sent to the hospital as he met an accident where he seriously injured his left eye after an unintended elbow hit from Bullets guard Nathan Sobey in round 16.
He also revealed that he might be wearing a faceguard as soon as he returns after the treatment. The player experienced blurred vision and needing on the eye.
The medical reports stated that Ryan had damaged his eye socket, and it might take a little time to heal how the eye can be protected and covered.
However, Ryan could not perform in Saturday's Throwdown against Melbourne United after the eye injury.
It was the latest setback for him, who was making a comeback after missing five games with a groin issue.
Ryan Broekhoff | FAQ
Why is Ryan Broekhoff called the Accountant?
Back in the days, Ryan Broekhoff used to dress as the tech bro from Silicon Valley; therefore, people gave him that nickname.
Has Ryan Broekhoff got any injuries?
In 2020, Ryan Broekhoff suffered a fracture of his left fibula's proximal head during the early gameplay.
Como Juega "How does he Play?"
Ryan never fails to make a significant impact whenever he is on the court. He can make the right plays and step into any role when offered.