Nowitzki is a former German professional basketball player and is now serving as a special advisor for the Dallas Mavericks of the National Basketball Association (NBA). He is the only person to play 21 seasons for a single NBA franchise.
Every basketball lover must be aware of Dirk Nowitzki because he is the player who helped the Dallas Mavericks to achieve many titles.
His extraordinary height and athletic family background made him choose basketball among many other sports, and he was able to gain a great name and fame in the NBA.
He was known for his unique agility on the court and his extraordinary height. In 2011, he helped the Dallas Mavericks to win their first NBA championship.
He was the first European player to participate in an All-Star Game and the first European player to win the NBA Most Valuable Player Award.
Nowitzki is also known as the highest-scoring foreign-born player in NBA history, and he was the first Mavericks player to be voted for an All-NBA Team.
In the same vein, Dirk became the first non-American player to win the Naismith Legacy Award on December 10, 2012.
After having an impressive career with the Mavericks, the team unveiled a 24-foot statue in December 2022 in honor of their #41.
Moreover, he also helped achieve tremendous heights for the German national team and a bronze medal at the 2002 FIBA World Championship.
Dirk Nowitzki | Quick facts
Full Name
Dirk Nowitzki
Gender
Male
Famous name
Dirk Werner Nowitzki
Nickname
Dirk Diggler
Dunking Deutschman
The German Wunderkind
The Germanator
Date of Birth
June 19, 1978
Age
44 Years Old
Residence
Dallas, Würzburg, Bavaria
Place of Birth
Würzburg, West Germany
Nationality
German
Current living city
Würzburg, Germany
Height
7'0″/2.13 m/213 cm
Weight
111 kg/ 245 lb.
Eye Color
Grey
Hair Color
Brown
Zodiac Sign
Gemini
Occupation
German professional basketball player
Drafted by
The Milwaukee Bucks (9 overall)
Position
Power Forward
Jersey Number
#41 (Mavericks)

#14 (National Team)

NBA Seasons
21 (15 Playoffs)
NBA Titles
1 Championship
All-Star
14 times
Net worth
$140 Million
Salary
$22.7 Million
Father's Name
Jorg Werner
Mother's Name
Helga Nowitzki
Marital Status
Yes
Married Year
2012
Wife Name
Jessica Olsson
Children
Malaika Nowitzki, Max Nowitzki, Morris Nowitzki
Sister
Silke Nowitzki
Ex-girlfriend
Sybille Gere dated for 10 years
School/ college
Röntgen High School Würzburg
Religion
Christianity
Ethnicity/Race
German
Team plays
Dallas Mavericks
Playing Career
1994-2019
Food Habit
Non-Veg
Social media
Twitter, Facebook, Instagram
Merch
Rookie Card, 2.5" Action Figure, Poster, and Canvas Arts
Last Update
June 2023
Dirk Nowitzki | Birth, Age, Education & Family
Dirk Nowitzki was born in Würzburg, Western Germany, on June 19, 1978. His parents were professional athletes and also wanted him to be an athlete.
His mother, Helga Nowitzki, was a professional basketball player, and his father, Jorg Werner, played handball for the German national team.
Dirk Nowitzki completed his elementary education at Röntgen High School in Würzburg. But there is no sufficient information available regarding his higher school and university-level education.
Nowitzki also has a sister named Silke Nowitzki, born on July 12, 1974. She is married to Roland Mayer. She's a retired German national basketball player and a former manager of her brother.
Dirk Nowitzki | Wife
Jessica Olsson was born on November 27, 1977, to her Kenyan mother and a Swedish father in Gavle, Sweden. She was fond of arts and sports, and her brothers (Martin Waikwa Olsson and Marcus Munuhe Olsson) played soccer.
Dirk married Jessica Olsson in 2012 in a traditional ceremony at Nanyuki first and later formally at his family's home in Dallas, Texas.
Their first encounter was at a charity event for the Sports for Education and Economic Development (SEED) project in February 2010. During that specific time, she was working at Dallas Art Gallery.
Since that snowy night, they both fell in love. And now they have three children; Malaika Nowitzki, Max Nowitzki, and Morris Nowitzki.
What Did Dirk Find In Jessica?
According to Dallas News and Dirk's statement, the duo connected intellectually. The duo was connected mentally, physically, and spiritually. Interestingly, a test was conducted at their wedding to know how well they knew each other.
Dirk had to find Jessica among five women who had all been covered up from head to toe, and guess what? Dirk found her out with the help of her height and scent.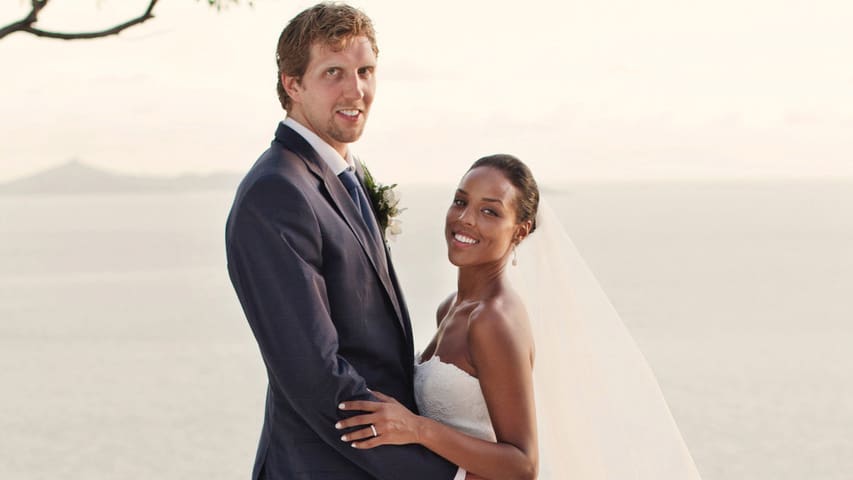 Also, the veteran basketball player mentioned that no one ever confronted him with racist comments about his wife.
"Growing up in Germany, and basketball, we've always grown up around all sorts of races. I played with the national team where half of my teammates were from Yugoslavia. Color or race for me never really mattered, and that's also the beauty of sports. You're a team. Same with marriage. You're a team," Dirk stated to the American news outlet.
Father Of Three, Dirk Nowitzki
Since a very young age, Dirk had this sheer longing to have kids and play around them.
Well, for the first time, when they held their first kid Malaika in their hand, they did not know how to react.
Yes, Dirk and Jessica were responsible as new parents, but at the same time, they were not fully prepared. Well, who is prepared enough? It's just a matter of time and practice.
Eventually, Max Nowitzki came into their life in 2014, and Morris Nopwitzki in 2016.
Dirk's sister Silke's kid Lenny loves shooting hoops with Uncle Dirk, and her daughter Layla loves playing around with Malaika.
Sometimes it's unbelievable to see a sports champ transforming into a complete full-time parent, a complete transformation – from breaking records to changing diapers.
Dirk Nowitzki | Nationality, Height, And Weight
Dirk is a retired German basketball player and holds German citizenship.
He stands tall at 7 feet (2.13 meters) and weighs around 111 kg (245 pounds), which perfectly fits his size.
Dirk Nowitzki | Early Life
Nowitzki and his sister Silke Nowitzki grew up together with their parents. He was always a tall boy, even at a young age, and he towered over his classmates.
Dirk was mainly interested in tennis and handball. However, he soon began playing basketball.
Dirk was noticed by a talented German basketball player, Holger Geschwindner, at the age of 15. After that, Geschwindner taught him three times a week with a focus on shooting and passing.
As a result, Nowitzki won a spot on the German DJK Würzburg basketball team at 16.
When Nowitzki had grown to a certain level, Geschwindner asked him if he wanted to remain in Germany or compete against the world's best players.
Nowitzki decided to stay and ramped up his training preparation for the regular sessions.
Nowitzki was in love with Sybille Gerer, a woman basketball player from his local DJK Würzburg club. Their relationship began in 1992 and lasted ten years until they parted ways in 2002.
Dirk Nowitzki | Professional career
Dirk Nowitzki is a renowned name in NBA and is considered one of the most talented and successful players.
He started his basketball career earlier at the age of 13. He played with DJK Wurzburg in a second-division German professional team at 16 due to his immense natural ability and performance.
Nowitzki first drew the attention of NBA scouts in 1998 when he scored 33 points in an exhibition game in San Antonio, Texas. He led a U19 team of international players to an upset victory over American high school stars.
He was picked by the Milwaukee Bucks 9th overall in 1998 NBA Draft. However, he was then transferred to the Dallas Mavericks.
Nowitzki was disappointed during his rookie season as he found it hard to get used to the NBA's level of play. However, he increased his scoring average in his second season and was selected for the All-Star Game in his fourth season.
He was also selected as the Eurostar European Basketball Player of the Year for five years continuously (2002 – 2006) and again in 2011 by the Italian sports newspaper Gazzetta Dello Sport.
Mavericks
Nowitzki joined the Mavericks in 1998. Then the franchise had not qualified for the playoffs for eight straight seasons.
However, in 2000–01, he helped Dallas succeed in 53 games and progress to the postseason. And for the Mavericks, that was the first of 11 straight 50-win seasons, one of the longest in league history.
He led Dallas to the team's first berth in the NBA finals of 2005–06, and in 2006–07, he scored 24.6 points per game, leading the league's best record. As a result, he won the 2007 NBA Most Valuable Player (MVP) award.
He continued his excellent performance, eventually leading the Mavericks to their first NBA title in 2011.
He scored his 26,947th career NBA point in November 2014 to dethrone Hakeem Olajuwon as the highest-scoring foreign-born player in NBA history.
Nowitzki received the NBA Most Valuable Player Award in 2007 and the NBA Finals Most Valuable Player Award in 2011 because of his scoring ability, agility, accurate outside shooting, and signature jumper shot.
In March 2017, he became only the seventh player in the league's history to score 30,000 career points.
| | | | | | | | | | | |
| --- | --- | --- | --- | --- | --- | --- | --- | --- | --- | --- |
| Teams | GP | GS | PTS | FGM | FGA | FG% | 3PM | 3PA | REB | BLK |
| Dallas Mavericks | 1522 | 1460 | 20.7 | 7.3 | 15.6 | 47.1 | 1.3 | 3.4 | 7.5 | 0.8 |
Dirk Nowitzki's Career Decline And National Team
One can't have the same success and pride all the time and their entire life. Likewise, Dirk's success on-court gradually declined over the years.
His team posted a 24–58 record in the 2017–18 season, and Nowitzki scored just an average of 12 points per game, which was his lowest scoring average since his rookie season.
His performance with Dallas worsened in 2018–19, leading to an average of 15 minutes of playtime and 7 points per game. Hence, Nowitzki decided to retire and announced his retirement at the end of the season.
His NBA career ended with 31,560 points scored, which was the sixth-highest total in league history.
Dirk joined Kareem Abdul-Jabbar, LeBron James, Karl Malone, Kobe Bryant, Michael Jordan, and Wilt Chamberlain as one of seven NBA history players to score 30,000 regular-season points.
Besides, Nowitzki led the German national basketball team in international play to a bronze medal at the 2002 FIBA World Championship and silver in EuroBasket 2005. He was the top scorer and MVP in both tournaments.
After Dirk retried, the German Basketball Federation (DBB) honored him by retiring his jersey number (#14) in September 2022, before EuroBasket 2022.
DBB also announced that they would hang a replica of Nowitzki's jersey at all future German men's home games.
Dirk Nowitzki | Retirement And Last Game
Nowitzki is the fifth player in NBA history to have lasted for more than 20 seasons. Dirk played his final home game, where he notched 30 points, pulled down eight rebounds, and the Mavs recorded a 120–109 victory over the Phoenix Suns on April 9.
The Mavericks declared his retirement in an emotional ceremony where Charles Barkley, Larry Bird, Shawn Kemp, Scottie Pippen, and Detlef Schrempf made their presence and gave a congratulatory speech for him.
Dirk was never sure of retiring. It was only when his lower body started giving him issues late in the season he gave a thought to retirement.
The owner of the Dallas Mavericks, Mark Cuban, had nothing to say but praise and fondness for him. "There are no words that I could possibly say to describe how I feel what you meant to this organization, but I can make you all kinds of promises," Cuban uttered.
Moreover, Mavs owner Mark Cuban made a promise to retire his number to honor him and put his biggest statue right in front of the arena. And to date, they share a great bond.
Following that, Dirk appeared for his last NBA game, notching a double-double with 20 points and 10 rebounds in a 105–94 fail to the Spurs.
As promised by the owner of the Mavericks, they unveiled a 24-foot statue with his signature one-leg fadeaway jumper of Dirk Nowitzki on December 26, 2022.
Dirk attended the ceremony with his son Max and several other Mavericks and Dallas coach. His former teammate, Jason Kidd, also showed his presence at the event.
Dirk Nowitzki | Injuries
Everything in life is not warm, welcoming, and rosy. Even Dirk had his share of struggles and gruesome injuries.
One of the most talked-about Dirk injuries was when he banged knees with San Antonio Spurs guard Manu Ginobli in the 2003 playoffs. The injury later caused a rift between Mark Cuban and head coach Don Nelson.
Nellie and Dirk did not agree on some stuff. While Dirk was all comfortable moving and playing, Nellie showed some disapproval of him doing the moves before Game 4. Cuban and the doctors supported Dirk, saying that he could play.
During the 2009-10 season, Nowitzki missed just one game after a crash with Houston's Carl Landry.
The incident was weird as the impact left pieces of Landry's teeth sunk into Nowitzki's elbow.
It took over 30 minutes for the Mavericks' medical team to remove the teeth fragments and clean the blood from the court.
Dirk later suffered knee pain in his 13th season in the NBA in a win against the Thunder. However, he returned in time to lead the team to the franchise's second finals but again, injuries struck him.
Dirk tore the extensor tendon in his left index finger, forcing him to wear a splint for the remainder of the series.
Besides these aforementioned injuries, he also suffered several injuries, illnesses, bumps, and bruises that were not openly disclosed in public.
Dirk Nowitzki | Achievements And Awards
In NBA
NBA Finals MVP: 2011
NBA Most Valuable Player: 2007
13× NBA All-Star: 2002–2012, 2014–2015
12× All-NBA Team: 2001–2012
4× First Team: 2005–2007, 2009
5× Second Team: 2002–2003, 2008, 2010–2011
3× Third Team: 2001, 2004, 2012
Three-Point Shootout Champion: 2006
NBA Shooting Stars champion: 2010
Ranked 7th in all-time-scoring
German National Basketball Team
FIBA World Championship 2002: MVP, Bronze Medal, Top point scorer throughout the tournament.
EuroBasket 2005: MVP, silver medal, top point scorer throughout the all-tournament team
FIBA World Championship 2006, 2001EuroBasket, EuroBasket 2007: top point scorer throughout the all-tournament team
Goldener Ehrenring (golden honorary ring) of the DBB (German Basketball Federation): 2007
The second highest point scorer in the history of EuroBasket.
Top scorer in German national basketball team history (2912 points at 141 international games)
Leader of the national German basketball team named Outstanding German Team of the Year: 2005
Other Achievements And highlights
German League MVP: 1999
6× Euroscar Player of the Year: 2002–2006, 2011
Won 2× FIBA Europe Player of the Year Award: 2005, 2011
Mr. Europa: 2005
Gained 5× All-Europeans Player of the Year: 2005–2008, 2011
German national flag bearer at the 2008 Summer Olympics in Beijing, China
Best NBA Player ESPY Award: 2011
Best Male Athlete ESPY Award: 2011
Outstanding Team ESPY Award with the Dallas Mavericks: 2011
Sports Illustrator NBA All-Decade Second Team (2000–2009)
Silbernes Lorbeerblatt: 2011
German Sports Personality of the Year in 2011
Dirk positioned 55 in SLAM Magazine's 500 greatest NBA players of all-time list in 2011
Naismith Legacy Award: 2012
Magic Johnson Award: 2014
Laureus Lifetime Achievement Award: 2020
Dirk Nowitzki | Net worth
Dirk Nowitzki is a retired, German-born professional basketball player with a $140 million net worth.
Nowitzki earned $25 million in salary alone during the 2016-17 season, making him the sixth-highest-paid NBA player of all time at that time.
Since his professional NBA career, he is only linked with the Mavericks. Throughout his career, he garnered around $251 million.
Dirk Nowitzki | Social Media Presence
Dirk Dirk Nowitzki is actively present on different social media platforms. He is available on Instagram under the handle @swish41, on Twitter @swish41, and on Facebook @Dirk Nowitzki.
Twitter: 3.4 million followers
What a day! Thanks so much @dallasmavs and @mcuban. I'm truly honored and humbled pic.twitter.com/KR21lvYGIP

— Dirk Nowitzki (@swish41) December 26, 2022
Facebook: 3m followers
Instagram: 1.1 million followers
Dirk Nowitzki | Popularity
Having played for 21 seasons for the Mavs, Dirk gained millions of fans and well-wishers from all around the globe.
The above graph shows the popularity of a former German NBA player based on Google searches in the United States over a year.
Dirk Nowitzki | FAQ
Who is the best friend of, Dirk Nowitzki?
Nowitzki has maintained close relations with his mentor, Holger Geschwindner, whom he considers his best friend.
Is Dirk Nowitzki a Hall of Famer?
Dirk Nowitzki has earned it all except getting a place in the Naismith Memorial Basketball Hall of Fame. He is a nominee for Hall's class of 2023.
What does Dirk Nowitzki do now?
The 44-year-old champ is now spending time with his family. So, he is doing things he was never able to do before.
Besides, he is also working as the special advisor for the Dallas Mavericks.