From an undrafted NFL player to a renowned safety, the former American footballer Ryan Clark proved himself with 13 successful NFL seasons. Throughout his career journey, Clark had his wife, Yonka Clark, as his support system.
The couple is going strong with more than 2 decades of relationship. From his college days to the parenthood of three kids, Yonka devoted herself to her husband & now to a family of their own.
Back in 2007, when the 2011 Pro Bowl was diagnosed with sickle cell (a blood disorder), his wife not only supported him but also motivated his low spirit.
After his retirement from NFL, Ryan is working as an NFL analyst. In 2022, along with his fellow former NFL stars Fred Taylor and Channing Crowder, he created The Pivot Podcast.
While Yonka herself didn't get directly into sports, it's not wrong to say that she is equally in it, though. On her Instagram posts, the proud mom shares the athletic achievements of her children- needless to say, it is full of family moments.
This article will look closely at Ryan Clark's wife, Yonka Clark, covering her family, relationship & much more!
Quick Facts
| | |
| --- | --- |
| Full Name | Yonka Triche Clark |
| Birthday | August 11, 1980 |
| Birth Place | Ama, Louisiana |
| Nick Name | Yonka |
| Religion | Christianity |
| Nationality | American |
| Age | 43 Years Old |
| Ethnicity | African-American |
| Mother's Name | N/A |
| Father's name | N/A |
| University | Louisiana State University |
| Marriage year | 2004 |
| Marital Status | Married |
| Husband | Ryan Clark |
| Children | Three (Jaden, Jordan, and Loghan Clark) |
| Husband's profession | Former NFL player |
| Tattoos | None |
| Net Worth | Under review |
| Husband's Net Worth | $6 Million |
| Social Media | Instagram |
| Last Update | November 2023 |
Who Is Ryan Clark's Wife, Yonka Clark?
Born Yonka Triche, she became famous as the wife of now-former NFL player Ryan Clark, who now works as an ESPN analyst.
Originally from Ama, Louisiana, Yonka was born on August 11, 1980, which makes her 43 years old.
In 2022, her husband Ryan threw her a lavish surprise party on her 40th birthday.
Despite growing up in a small town, she has always been surrounded by sports, as her town is known for producing NFL and WNBA players.
Not much about her early life or family background is known. Like her husband, Yonka Clark is also an attendant of the Louisiana State University- a year junior to him.
Rather than herself, Mrs. Clark prefers to post about her family on her social media. But this doesn't change the fact that she is a loving wife & a doting mother.
Ryan Clark & Yonka Clark Went From Friends To Lover
An adorable yet strong relationship running for more than 2 decades, many might think that the two had love at first sight. But, on the contrary, their first meet-up was not very friendly.
Ryan and Yonka first met in 2000 at a high school graduation outing for the latter's cousin.
Even if her friends were taking pictures with the hunky teenager Ryan & they were trying to talk to him, Yonka thought nothing special of him but a show-off guy.
A bitter first-impression!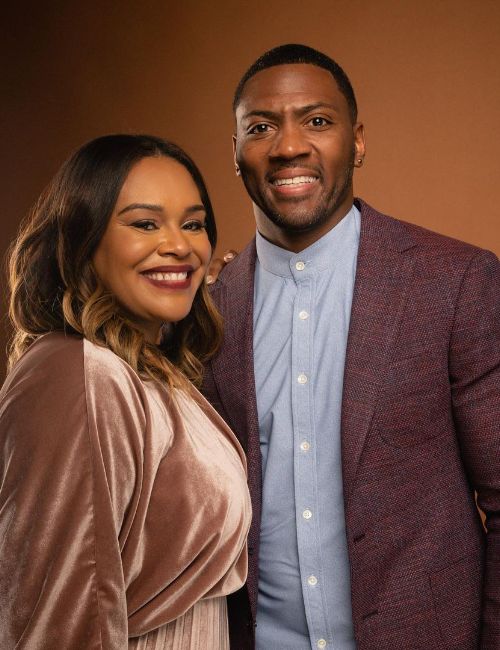 But fate led them to a meeting once again; when Clark was at Lousiana State University as a college footballer, he met Yonka again, who was with her friends & she would pretend to be familiar with him.
Then, Yonka Clark would also join Lousiana State University as a one-year junior to Ryan. They became friends instantly & began dating later.
When Did Ryan Clark And Yonka Clark Marry?
After dating for a couple of years, the then-Redskins player proposed to Yonka on Valentine's Day of 2004. In an Instagram post on February 14, 2019, she wished Ryan their 15 years of engagement.
Following 5 months of engagement, they married on July 9, 2004, confirmed via an Instagram post in 2021, when they celebrated their 17th wedding anniversary.
Together, Ryan and Yonka Clark shares three children: two sons, Jaden & Jordan, and a daughter Loghan. Here are the details on their kids.
Eldest Child, Daughter Jaden Clark
Jaden Clark is the eldest of three to former NFL players Ryan and Yonka Clark. She was born on January 26, 1999.
She has a track record of utilizing her superior communication, collaboration, time management, and organizational skills to build consensus across various fields.
Clark graduated with a Bachelor's degree in Communication and Media Studies & a minor in African and African American Studies from Louisiana State University in 2021.
Then in August 2022, she enrolled at the University of San Francisco to pursue a Master of Arts in Professional Communication, with graduation due in December 2023.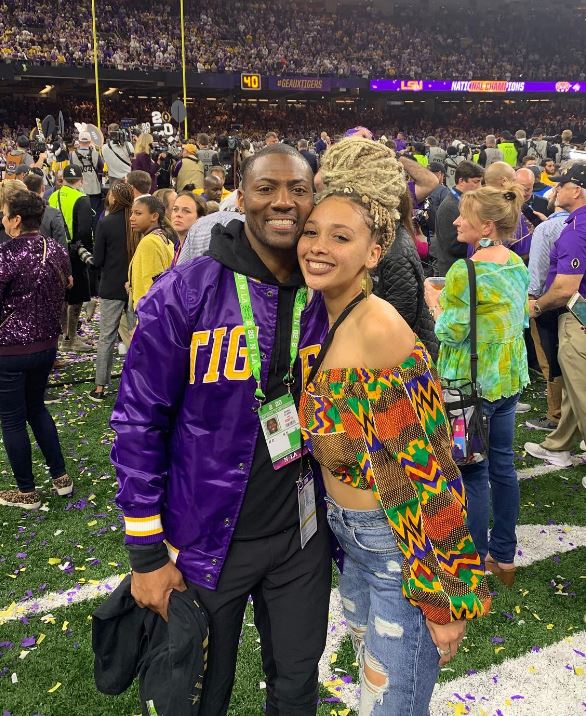 According to her LinkedIn profile, Jaden works as a social media consultant at Astronomers for Planet Earth (July 2020- Now).
As a consultant, she identified social media trends and developments to influence IR and analyzed social media campaigns and activities for effectiveness.
Moreover, she was a part-time social media manager at Face First with Ryan Clark, powered by DB Precision, from 2021 to 2022.
From January 2020 to May 2021, Jaden served as a seasonal co-host for LSUnow.com (formerly LSUReveille.com).
She is in a relationship with Marcellus Moore, a track athlete at The University of Texas at Austin (class of 2023).
Son Jordan Clark Is A College Football Player
Jordan Clark is the junior defensive back for the Arizona State Sun Devils. Having joined at Arizona in 2020, he is making a name for himself on the field. He was born on April 22, 2001.
Born as the second child and the only son of his parents, Jordan has inherited his father Ryan Clark's tenacity and drive.
Jordan made 5 solo tackles in his first season with the Sun Devils. He continued to improve in his sophomore season, registering 11 solo tackles and 5 assists, along with 2 passes defended.
But it was in his junior year that Clark truly shined. He recorded 19 solo tackles and 2 assists, along with 2 interceptions and 4 passes defended.
Likewise, the player also returned one of his interceptions for a touchdown, solidifying his role as a playmaker on the Sun Devils' defense.
Jordan continued his strong performance in his senior year, recording 36 solo tackles and 11 assists, along with 4 passes defended, 2 interceptions, and 1 interception touchdown. He was a key contributor to the Sun Devils' defense and helped the team achieve a successful season.
Off the field, Clark is a dedicated student and a leader among his teammates. With his strong work ethic and natural talent, he has the potential to follow in his father's footsteps and make a splash in the NFL.
Loghan Clark Is The Youngest Daughter
Loghan Clark, the youngest daughter of Ryan Clark and Yonka Clark, was born on January 8, 2005.
Despite being a celebrity child, unlike her brother and sister, not much is known about Loghan.
She is a 2023 graduate of Parkview Baptist High School & played volleyball on the girls' varsity team throughout her schooling.
Reportedly, Loghan has sickle cell anemia, just like her father Ryan. It is a genetic blood disorder that affects the shape of red blood cells. The disease can cause severe pain and complications.
Her dad Ryan Clark was diagnosed with a trait of sickle cell in 2007 that cut short his 2007 NFL season. He lost 30 pounds.
In 2008, he returned to the Steelers, regaining his health.
After Ryan lost his 27-year-old sister-in-law due to sickle cell anemia, he founded Ryan Clark's Cure League with assistance from the University of Pittsburgh Medical Center.
The foundation aims to raise money for research, critical care, and awareness of the disease.
Brief About Ryan Clark | Career & Achievements
Born on October 12, 1979, Ryan Clark grew up in Marrero, Louisiana, where he attended Archbishop Shaw High School & graduated in 1997.
A Louisiana State alumnus, Clark started in 36 consecutive games for the LSU Tigers & led them to a Sugar Bowl victory on January 1, 2002.
Ryan entered the NFL as an undrafted free agent in 2002, signing with the New York Giants. He also played for the Washington Redskins and Pittsburgh Steelers before returning to the Redskins in 2014.
During his time with the Steelers, Clark was a key member of the team's defense and helped the team win Super Bowl XLIII in 2008.
The player also earned a Pro Bowl selection in 2011, joining the AFC rosters: Von Miller, Tom Brady, Ben Roethlisberger, and Dwight Freeney, among others.
View this post on Instagram
On February 18, 2015, Clark announced his retirement from the NFL. He signed a one-day contract with the Pittsburgh Steelers to ensure he retired as a Steeler.
In his post-NFL career, Ryan signed as an NFL analyst for ESPN in March 2015, & appeared in programs like NFL Live, SportsCenter, Get Up!, and First Take.
In July 2021, Clark and former UFC heavyweight and light heavyweight champion Daniel Cormier began hosting the weekly MMA podcast DC & RC on ESPN.
In 2022, he created The Pivot Podcast with his fellow former NFL stars, Fred Taylor and Channing Crowder.
Ryan Clark Wife | Lesser Known Facts
Yonka's approach to being an NFL wife was different than most women's. She did not like the title "NFL wife" because she was not married to the NFL; she was married to Ryan.
Her favorite place to visit is Puerto Rico. Yonka loves the place's food, music, colors, vibrancy, and spirit.
Yonka's first car was a 1998 white Dodge Neon. The Dodge Neon is a compact car produced by Dodge from 1994 to 2005. It was well known for its fuel efficiency and affordable price.
Net Worth Of Yonka Clark
Clark has kept her profession & net worth detail under wraps. But as the wife of a successful NFL star-turned-analyst, she enjoys a luxurious lifestyle.
Clark's lone estimated net worth could be around $200,000. On the other, her husband, Ryan Clark, owns a $6 million net worth from his successful career as a professional football player and NFL analyst.
Through 13 NFL seasons, Ryan made a total of $23.591 million which includes $16.26 million from salary only.
His notable NFL contracts with the Steelers were a four-year $7 million contract (signed on March 14, 2006) and a four-year $14 million extension (on March 9, 2010).
In his last season (2014-15) before NFL retirement, Ryan earned $955,000 in base salary from his one-year $1 million contract with Washington Redskins.
Frequently Asked Questions
What teams did Ryan Clark play for during his NFL career?
During his NFL career, Ryan Clark played for the Washington Football Team, the Pittsburgh Steelers, and the New York Giants.
Is Ryan Clark still involved in the NFL?
After Clark retired from NFL playing career, he became an NFL analyst for ESPN in 2015.
Are Ryan and his wife involved in charity work?
Ryan Clark and his wife, Yonka, has been involved in various charity work. The couple has been supporting programs that help underprivileged children and families in Pittsburgh. Likewise, they have been working with organizations supporting people with sickle cell anemia.