Saquon Rasul Quevis Barkley is the full name of Saquon Barkley. He is a football running back for the New York Giants of NFL in America. He spends his three seasons playing college football at Penn State and totaled 5557 all-purpose yards.
Moreover, Saquon Barkley has also gained attention from the nation and finished fourth in Heisman Trophy Voting, getting 304 votes. He has also received numerous national and Big Ten Conference awards and recognition. He was also awarded AP NFL Offensive Rookie of the Year and included the first team PFWA All-Rookie Team.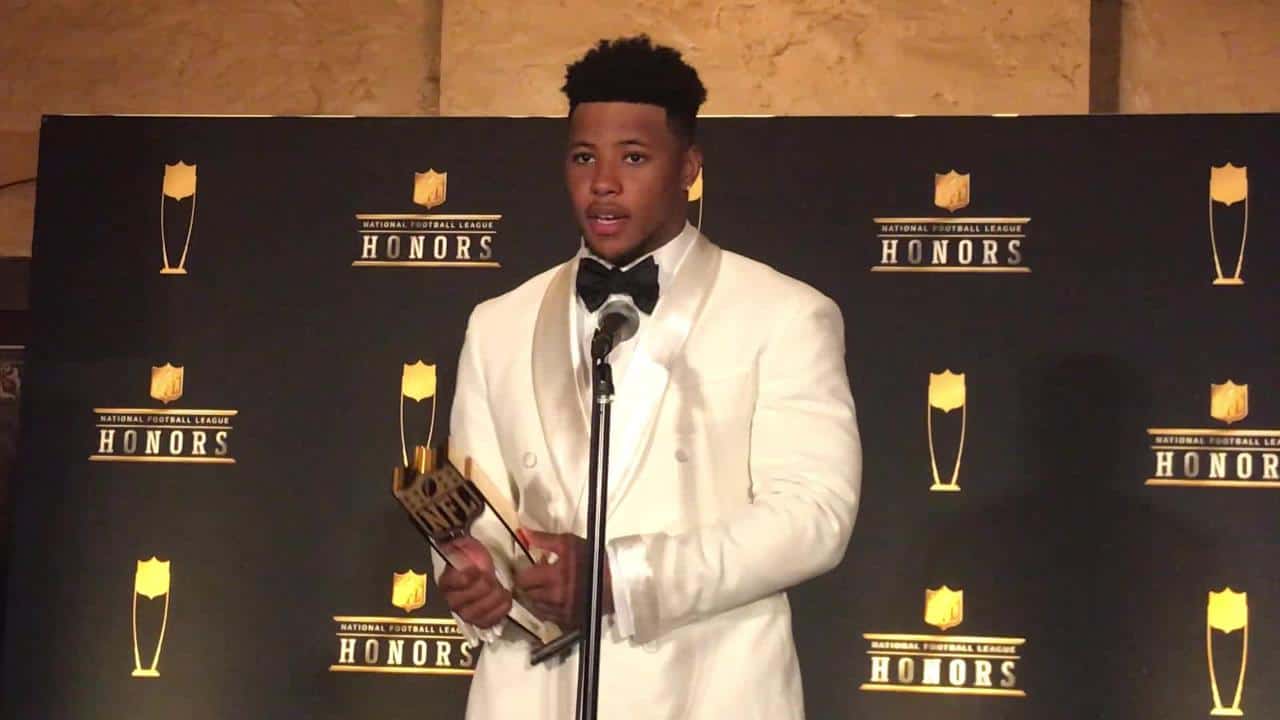 Saquon Barkley had contributed a lot to football and his industry. Here are a few of his quotes that will help you to succeed.
"Sometimes in life, you have to make a selfish decision and do what's best for you."― Saquon Barkley
"Perfection is impossible, but you don't stop aiming for it."― Saquon Barkley
"Nothing is given to you. Everything is earned. You have to have that mindset that you have to work every single day. Learn every single day."― Saquon Barkley
"Every day is Father's Day to me when I'm with her: when I'll be able to hold my daughter and see her grow and see her smile. That's Father's Day to me every day."― Saquon Barkley
"High school, going into my junior year, I kind of had the idea I was going to be the starting running back. I was a little smaller, so I decided to gain weight and try to get faster. I wasn't a fan of the weight room. I thought just the God-given talent would take you where you needed to go. Now I understand that you need hard work."― Saquon Barkley
"No matter what, you got to come in, and you got to continue to work, continue to have that mindset to get better every single day."― Saquon Barkley
"I just have to continue to attack practice and get better."― Saquon Barkley
"My mindset is to go out there and be confident, believe in yourself, visualizing success and visualizing plays you're gonna make in games."― Saquon Barkley
9th of 99 Saquon Barkley Quotes
"My goal is to attack every single day and get better every single day. The rest of the stuff will take care of itself."― Saquon Barkley
"I love talking about football, and obviously I love playing football, but you may not be able to play football forever, but you can talk about it for a long time."― Saquon Barkley
"Sometimes you just got to settle back and relax and be like, 'All right, Saquon, chill. You know what you're doing. Just do the little stuff.' The little stuff will get you there."― Saquon Barkley
"I'm very confident in myself, and sometimes that hurts me."― Saquon Barkley
"Every day is Father's Day for me to my father. And hopefully, I can do the right things for my daughter where she thinks the same."― Saquon Barkley
"Everyone will have struggles, but I am willing to learn, and I am coachable."― Saquon Barkley
"I never want to be like somebody but be my own person, but follow along those lines like a Matt Millen, Michael Strahan. There's so many players that have transitioned to being an anchor or a broadcaster, and it kind of just goes hand-in-hand."― Saquon Barkley
"Any team that's drafting me, you're going to get the same person. You're going to get a competitor, a guy who's passionate about the game and, even though I'm a rookie, a guy who will try to be a leader to the best of my ability."― Saquon Barkley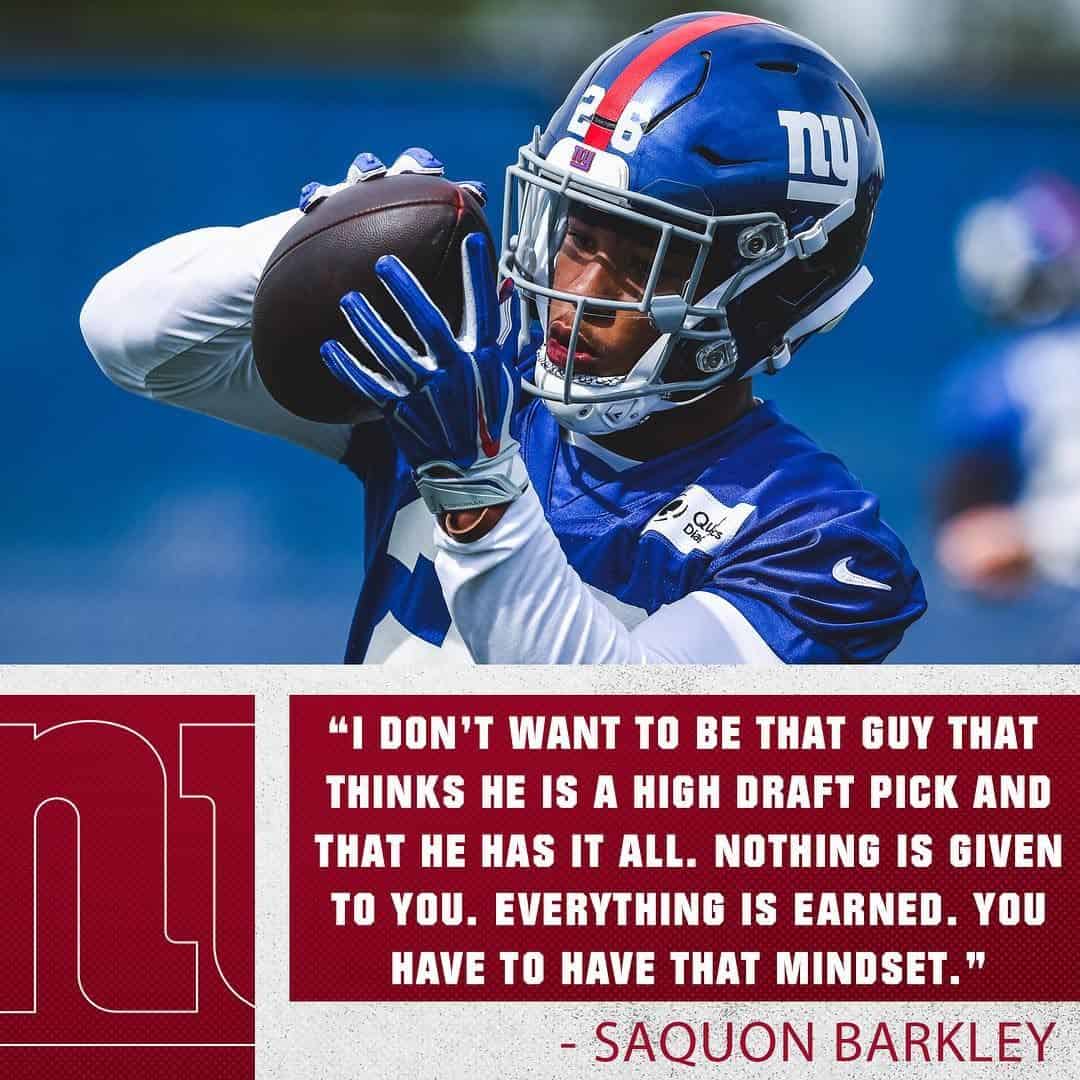 "It starts with myself. I have to believe in myself and set expectations for myself, set goals for myself, and continue to work for those goals every day."― Saquon Barkley
"I have to believe in myself, set goals for myself, set expectations for myself, and continue to work for those goals every single day."― Saquon Barkley
"From my freshman year to my junior year, I've increased my receptions every year."― Saquon Barkley
"I kind of think the rookie wall is all in your mind, to be completely honest."― Saquon Barkley
"My family has been through so much and made so many sacrifices for my brothers and sisters."― Saquon Barkley
"What do I love about my body? I would say, probably, my legs."― Saquon Barkley
"You want to be part of something like that, that's something bigger than yourself, that's something you leave a legacy of being part of something special."― Saquon Barkley
"Andrew Luck is a great quarterback."― Saquon Barkley
"I'm big on watching film, and sometimes it hurts myself because I over-calculate things, or I overthink sometimes."― Saquon Barkley
"You can only control what you can control."― Saquon Barkley
27th of 99 Saquon Barkley Quotes
"I told my mom, 'I'm gonna buy you a house one day.' I was 2 or 3 years old. I know it sounds crazy, but I did."― Saquon Barkley
"I hate losing."― Saquon Barkley
"I wanted to go down as one of the best running backs to ever play at Penn State."― Saquon Barkley
"I want to be known as a guy who breaks tackles; that's the whole objective of the game."― Saquon Barkley
"A lot of people think a running back is just a guy who lowers his shoulder and runs people over, and that's not my game."― Saquon Barkley
"I get a lot of compliments about my legs."― Saquon Barkley
"Being 230 pounds, a lot of people don't think you can move the way I need to move, so that is just all the hard work I put into my legs and working on my speed and my legs."― Saquon Barkley
"I'm honored to be compared to some great running backs, but I try to block that out and be myself."― Saquon Barkley
"I play video games; I watch Netflix."― Saquon Barkley
"I was a New York Jets fan growing up. My dad said I used to sit there at a very young age and watch football with him and tell him, 'I'm going to play for that team one day.'"― Saquon Barkley
"I'm very confident in myself."― Saquon Barkley
"Whether the ball is on the 99-yard line or the 1-yard line, I'm going to find a way to get into the end zone."― Saquon Barkley
"I can do it all. I can go over the top, or I can beat you with speed. I can beat you with some wiggle, or I can run through you."― Saquon Barkley
"You break down the tape of the top five backs, all those guys can catch the ball out the backfield. They're special with the ball in hand. Something I strive to be."― Saquon Barkley
41th of 99 Saquon Barkley Quotes
"I want to be one of the best."― Saquon Barkley
"The spotlight, attention, all that doesn't really matter. You go home to your daughter, even after a loss when you're upset and you don't want to talk to anybody. You see her crack that smile, and it changes your day."― Saquon Barkley
"There will be times when I mess up. I'm human, but I want to be a role model for the good things I do and the bad things I do. And the times I do make mistakes, learn from those mistakes."― Saquon Barkley
"Any team that wants to draft me is a blessing to me."― Saquon Barkley
"I've never wanted to be like anybody. That's something that my dad taught me growing up: 'Never want to be like someone; be the next you.' But I am a fan of the game, I'm a fan of the position, and I watch everyone."― Saquon Barkley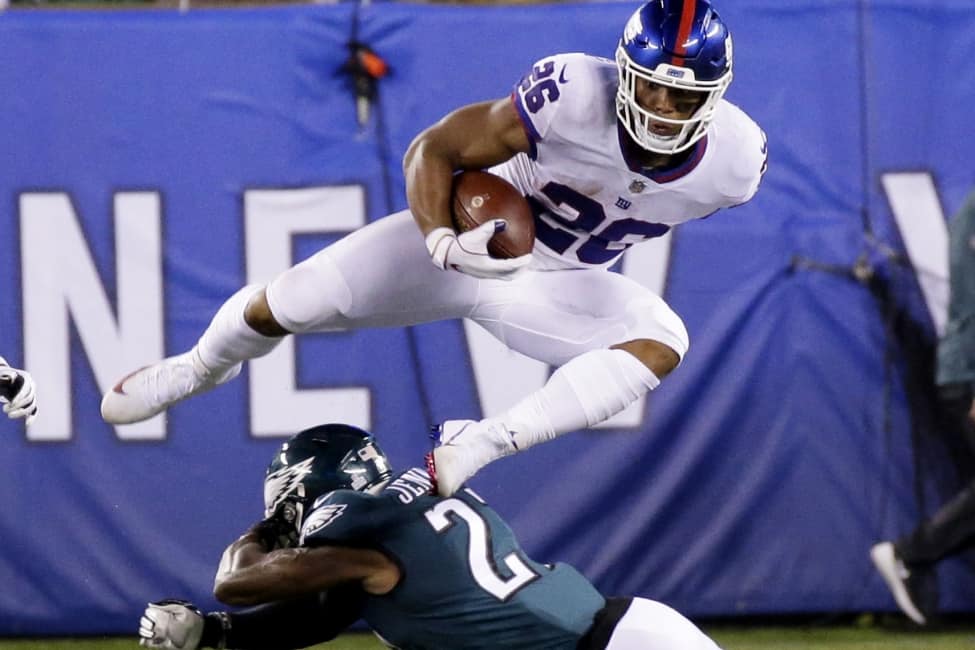 "I'm a New York Giant, playing football. I've been wanting to do this since I was a little kid, to play in the NFL."― Saquon Barkley
"There will be plays where you've got to just lower your shoulder and get 1 yard."― Saquon Barkley
"Sometimes you watch yourself, and you think, 'Oh, wow.'"― Saquon Barkley
"I view myself as more than a running back."― Saquon Barkley
"I'm a guy that is willing to do whatever it is for the team, whether it is a kick returner, whether it be a punt returner, whether it be running down on kickoffs, whether it's line up in the slot, whether it's run a dummy play, fake play."― Saquon Barkley
"I want to be an athlete. I'm not just a running back. I play the running back position."― Saquon Barkley
"I want to be an all-around back and all-around player."― Saquon Barkley
"I definitely respect Kamara's game. He's a different type of player. He can catch the ball out of the backfield. He can run in between the tackles. Pretty much a do-it-all back."― Saquon Barkley
"Everyone loves to praise me on my character, which I'm so thankful for. But that's a true testament speaking to my parents, how they raised me."― Saquon Barkley
"It only matters how many wins you get, and we've got to figure out how to continue to get those wins."― Saquon Barkley
56th of 99 Saquon Barkley Quotes
"I'm not a numbers type of guy who says I need this many yards, this many touchdowns."― Saquon Barkley
"I'll be eager to definitely be in the mix of kickoff return. I did it in college. I was able to help my team out in college in that area."― Saquon Barkley
"Getting 1,000 yards in the NFL is an amazing accomplishment, and being the first rookie ever for the Giants to do that is even a bigger one. It's big because even though my name might go in the record book, it's not just myself – it's the offensive line play and the guys in the running back room, all those guys have been a tremendous help."― Saquon Barkley
"I want to go down as one of the best, and that's not just going to happen in one day."― Saquon Barkley
"I want to be great."― Saquon Barkley
"It's not always going to be there; every play is not going to be a 40-yard gain. You just have to take what they give you. When the opportunity comes, you have to split it and make them pay for it."― Saquon Barkley
"Something like Stephen A. Smith – I love what he does. I'd love to do something like that."― Saquon Barkley
"Curtis Martin is as humble as heck. He's one of the greatest running backs to ever play – over 14,000 career rushing yards – and a lot of people don't speak about that."― Saquon Barkley
"You never know what can happen in the draft."― Saquon Barkley
"From watching the draft and following the NFL closely, anything can happen in the draft. But to me, it's not where I get drafted that matters to me, to be completely honest."― Saquon Barkley
"You come out every single day, and you want to be perfect. When I mean 'perfect,' not mean a 'perfect player,' but you want to try to go through practice without drops."― Saquon Barkley
"I fumbled my senior year in the playoffs. It just annoyed me."― Saquon Barkley
"I'm pretty sure I probably will fumble again in my life. I don't want to, but you want to try to do everything possible not to."― Saquon Barkley
"I'm not naive. It's football. You're going to make mistakes."― Saquon Barkley
"I don't care if I'm drafted one, five, 72, or last pick. I'm going to come in with my head low, ready to work, and that is not going to change me. That's why, whatever team drafts me, you're going to get the same person, the guy that is going to be a competitor, a guy that is passionate about the game."― Saquon Barkley
70th of 99 Saquon Barkley Quotes
"I learned that you're going to be tested in the NFL. There's going to be highs, there's going to be lows. You got to stay poised through it all."― Saquon Barkley
"I'm not all about winning rushing titles, or 'Me, Me, Me,' but I do believe that I want to be a great player in this league, and I want to go down as one of the best to play in this league, and that's something you got to do."― Saquon Barkley
"I wasn't a big Sam Darnold fan after they beat us in the Rose Bowl game my sophomore year, but that's just a competitive thing. We joke around about that all the time. I got to know him a little more."― Saquon Barkley
"Obviously, I have to continue to get better with the mental part of the game."― Saquon Barkley
"I know a lot of people try and set expectations for me. No offense to you guys, but I set my own expectations."― Saquon Barkley
28 Motivating Walter Payton Quotes
"I don't want to be that guy that thinks he is a high draft pick and that he has it all."― Saquon Barkley
"If the run game's not working, you'll most likely succeed in the pass game, and even if there's a game where the run game and the pass game's not working, you've got to find a way to continue to win. You can't get too caught up in one play. You can't get too caught up one quarter or one drive."― Saquon Barkley
"I am tough on myself. It's just how I am. I hold myself to a standard."― Saquon Barkley
"I feel like I've matured in that area too, taking what the defense gives you, not trying to make too much. If it's two, just stick your head in there, and drive to get the two."― Saquon Barkley
80th of 99 Saquon Barkley Quotes
"I'm a student of the game, and any time you take more reps in a game, it's going to prepare you more."― Saquon Barkley
"I feel like I'm a very athletic back, and I'm capable of doing more than one thing."― Saquon Barkley
"My dad is a fan of football, too, and did a good job of making me understand the history of football."― Saquon Barkley
"When I look at the great athletes, I think of the Kobes and the LeBrons and the Tom Bradys of the world, obviously they take rests and recover, but they also continue to work, too. Working out and keeping up with that, with your conditioning, is another part of health and keeping your longevity throughout the years."― Saquon Barkley
"Try to be one of the first people in here, work your butt off in the weight room, asking questions, try to prepare yourself like a pro, like a vet. Stuff like that is what sits well with your team."― Saquon Barkley
"I have this mindset and mentality every time I touch the score, and I really truly believe that. It's something I try to do a little too much."― Saquon Barkley
38 Bobby Orr Quotes that will inspire you
"I think the face of the franchise is kind of how you take it. I know that's been said about me, and that's been said about me at Penn State. But, I think it's kind of how you view it. I really never viewed myself as that. If that comes along with the things that I'm doing, then so be it."― Saquon Barkley
"The more success you have, the more attention and the more spotlight comes to your name."― Saquon Barkley
"I think, personally, I learn really quick."― Saquon Barkley
"If I follow the media and everyone that tries to set expectations for me because I'm a high draft pick, if I follow that, I will never become a great player."― Saquon Barkley
30 Famous Barry Sanders Quotes for success
"I hope to make an impact not only on the field, in the community, in the locker room. But on the field, catching the ball, returns, running the ball, getting the tough gritty yards, being able to make those special plays and being a great teammate, that's what I hope to have."― Saquon Barkley
"The first hit in a game is the thing that knocks everything out; whether you're nervous, you're over-thinking stuff, it definitely helps."― Saquon Barkley
92nd of 99 Saquon Barkley Quotes
"There's going to be wear and tear on your body; that's just the nature of the sport, no matter if you're a rookie or if you're 10 years deep in the league."― Saquon Barkley
"Every part of my game has room to improve, and that's a challenge that I'm willing to accept. That's a challenge I will continue to get better at."― Saquon Barkley
"In my mind, every time I touch the ball, I believe I have the ability to score with the help of my teammates."― Saquon Barkley
"The more carries you get, the better you see the field, see the way that the defense is playing you."― Saquon Barkley
"When the time is right, I'll start making investments and try to flip my money."― Saquon Barkley
"You look at the years that the Giants have been successful, it really wasn't just one star that got it done."― Saquon Barkley
"I honestly think Derek Jeter could run for mayor in New York, and if not win, get really close, just the way he handled himself."― Saquon Barkley
"I believe that my impact is being a threat on the field, being a versatile player on the field that you have to counter, whether it be running the ball, catching the ball out of the backfield, special teams, line up in the slot."― Saquon Barkley