Sean Brady is not a new name among MMA fans. However, he is still in the early phase of his UFC career and is a budding prospect.
While looking at his professional record, we found that it stands as 13-0. That's really impressive for a beginner.
He is an American citizen from the city of Philadelphia, Pennsylvania, USA. His love for MMA is boundless, resulting in him being a pro-MMA fighter.
Not to mention, Sean also holds a Black belt in Brazilian jiu-jitsu.
The American MMA fighter has been involved in the MMA scene for more than half a decade since making his professional MMA debut in 2014.
He fights out of Philadelphia, Pennsylvania. The UFC fighter fights in the Welterweight division.
Moreover, Sean was titled one of the top prospects for UFC. He made his octagon debut on October 18, 2019.
Before going into the mixed martial fighter's age, height, career, girlfriend, height, net worth, and social media, here are some quick facts about him.
Quick Facts
Full Name

Sean Thomas Brady

Birth Date

November 23, 1992

Age

30 Years Old

Place of Birth

Philadelphia, Pennsylvania, USA

Nickname

N/A

Nationality

American

Ethnicity

White

Profession

MMA Fighter

Fighting Division

WelterWeight

Octagon Debut

October 18, 2019

Fighting out of

Philadelphia, Pennsylvania

Education

Swenson Arts and Technology High School

Father's Name

N/A

Mother's Name

N/A

Siblings

N/A

Girlfriend

Kristen Green

Height

178 cm

Weight

170 lbs

Birth Sign

Sagittarius

Eye Color

N/A

Hair Color

Black

Social Media

Instagram

,

Twitter

Net Worth

$0.2 million

Last Update
January, 2023
Sean Brady | Early Life, Family, and Education
The MMA Fighter was born on November 23, 1992. He was born and raised in Philadelphia, Pennsylvania. Brady's birth sign is Sagittarius, and he celebrates his birthday on November 23 every year.
Although his parent's identity is known, his personal life has been kept low-key. Similarly, details about his siblings are also not public yet.
This may be because he does not want to reveal his personal details publicly yet.
On May 11, 2020, Sean posted a throwback picture to wish his mother Happy Mother's Day.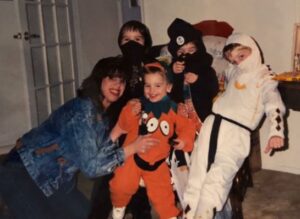 Looking at his early school, The MMA fighter wanted to be an auto mechanic. As a result of which, Sean went to high school at Swenson Arts and Technology High school.
At the same time, he started training muay Thai and later picked Brazilian jiu-jitsu.
Sean Brady | Height, Weight, and Age
The American is30 years old as of now. He has an extremely fit body, which fits perfectly for a fighter.
He weighs 170 lbs, which is (77kg), and stands 178 cm tall. Sean has an ideal weight to be a Welterweight MMA fighter and can fight in the Welterweight class with a weight between 156-170 lbs.
Talking about his physical appearance, he is a tall young boy. Most of his body part is covered by tattoos.
He has a back tattoo and also has leg tattoos on his feet. The tattoo mostly represents devil signs.
Therefore, we can see that he follows a strict diet and believes in clean food. He has blue eyes and dark brown hair.
Eric Butterbean Bio: Net Worth, Larry Holmes, Record, Wife, MMA Wiki
Sean Brady | Career
The American MMA fighter started his pro career back in 2014. He started training muay Thai and Brazilian jiu-jitsu back when he was in high school.
He trained out of Webb Fitness, located at 130 Washington Street Norwell, and MMA at Renzo Gracie Philly, a Martial Arts School.
With amazing dedication and training, Sean was rewarded with a Black belt in Brazilian jiu-jitsu.
During his amateur seasons, he had a record of 5-0. In 2014, Brady made his pro debut and held 10-0 at the pro level.
CFFC
Similarly, for most of his career, he fought for Cage Fury Fighting Championship(CFFC). For those who are not aware of CFFC, let us explain it to you.
Cage Fury Fighting Championships is an American mixed martial arts promotion primarily operating in the Northeastern United States.
He has won the CFFC title in 2017 and has also been able to defend the title twice. One of the highlights of his title defense was a win against the previous TUF winner Colton Smith.
The American Professional MMA fighter has previously fought at LFA, and Shogun fights too. Brady won the Welterweight title by defeating Mike Jones.
Later, with a fourth-round knockout, he defeated Taj Abdul Hakim to defend his Welterweight title.
UFC
Subsequently, after an impressive spell at the pro level, he was offered a UFC contract. Sean was labeled as one of the top prospects for UFC. He made his octagon debut on October 18, 2019.
Furthermore, after getting his call for UFC, he was to fight in his hometown of Philadelphia, but that didn't go according to plans and was later postponed to October 18, 2019, in Boston.
For such a talented and motivated Bardy, the court is just a stepping stone to achieving his dreams. Sean is a motivated, dedicated fighter with a positive mindset.
The American faced Court McGee, a UFC veteran, on his debut. Eventually, he won his debut fight via unanimous decision.
Later, on February 29, 2019, he fought Ismail Naurdiev and won the fight via unanimous decision.
On the third fight of his UFC career, he faced Christian Aguilera on August 29, 2020. Sean won the fight in the second round via guillotine choke.
Likewise, on March 6, 2021, at UFC 259 he fought with Jake Matthews. He won the fight via submission in round 3.
After that Brady is scheduled to fight with Kevin Lee on July 10, 2021.
Montana De La Rosa: MMA, Career, Family & Net Worth
Sean Brady |
Achievements and Records
Performance of the Night.

2nd the title defense for cffc MMA
2020 August Submission of the Month
Cage Fury FC Welterweight Championship
Fights Stats
Professional record breakdown
14 matches
14 wins
0 losses
By knockout
3
0
By submission
4
0
By decision
7
0
Sean Brady | Relationships
Sean Brady's personal life has been kept very much private. However, one thing that everyone knows is how much he loves his girlfriend.
His past relationships are not on the table. However, we do know about his present girlfriend.
His love for her is not unknown and he clearly shows it publicly through his social media posts.
Kristen Green, the girlfriend of Sean Brady, has been with him for a long time now. Even though they are not married yet, they have been together for more than six years.
They started dating before 2014; at that time, Sean was not a Pro MMA fighter.
She has been his no1 supporter and has supported his fights every time. Their love for each other is boundless and unconditional.
On his birthday, she posted a picture of them together, with a cute caption.
On the other hand, Green's socials are private, whereas Brady is not afraid to flash his love for her through his Instagram posts.
Kristen Green is also one of the biggest supporters of Brady. She is always together and can be seen making her attendance in almost all of his fights.
Sean Brady | Salary and Net Worth
Brady made his UFC debut just in 2019. Most of his earnings have come from his pro career and the UFC contract.
His major income sources are from UFC salary, brand promotions, special jury bonuses, and other sponsorships.
Sean's estimated net worth is around $0.2 million. Also, UFC fighters, on average, make around $140,000 a year.
Therefore, we can assume that Brady lives a good, contented life with his girlfriend. He is sponsored by brands like Pure Potent CBD, bodybuilding.com, and eat clean bro.
Sean Brady | Social Media
The UFC fighter is very much active on his social media handles. He regularly posts on Instagram and also regularly uploads stories on the same.
Twitter is the other social platform he is involved in.
Instagram – 34.7k Followers
Twitter – 5k Followers
Some FAQs
When is Sean scheduled to fight with Duke Lacrosse?
There is no specific scheduled date for the fight between Brady and Lacrosse. However there is a high possibility that we can see these 2 fighters in the same ring anytime soon.
Is Sean Married?
Sean is not married. He is in a love relationship with his girlfriend Kristen Green and they might get married soon.