Sean Grande, with more than three decades as a sports commentator, has extensive expertise in covering every sport- majorly basketball, football, hockey, and MMA.
Better known as the 'voice of Boston Celtics', Grande covers NBA games for Boston Celtics ever since he joined in September 2001.
A graduate of Boston University, Sean's broadcasting career began in the early 1990s, working for various television and radio stations in Boston.
On December 2, 2008, he became the third man in NBA history to announce 1,000 NBA games before turning 40 years old.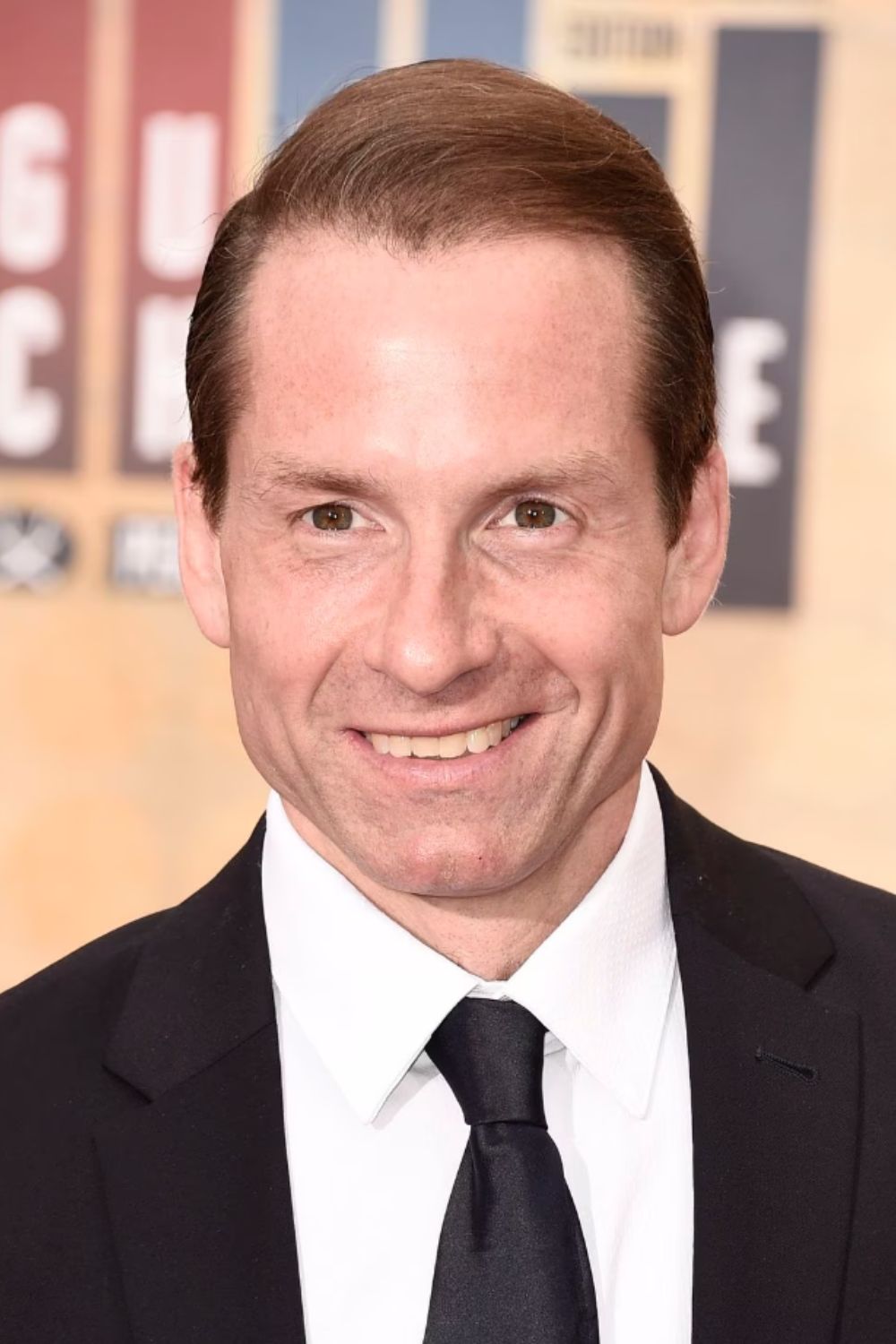 The three-time New England Emmy nominee has a blissful marital life too; his wife is none other than Dana Jacobson, a CBS News host & correspondent.
The duo met for the first time in 2010 and would marry nine years later, in 2019.
In this article, you can learn about Sean Grande's early life, career, relationship, net worth, and many more.
Quick Facts
| | |
| --- | --- |
| Full Name | Sean David Grande |
| Known As | Sean Grande |
| Birth Date | December 11, 1971 |
| Age | 51 Years Old |
| Birth Place | New York City, New York |
| Nationality | American |
| Education | Boston University |
| Father's Name | N/A |
| Mother's Name | N/A |
| Marital Status | Married |
| Wife's Name | Dana Jacobson |
| Children | One |
| Height | 5 feet 8 inches/ 1.77m/ 177 cm |
| Weight | 71 kg/ 156 lbs |
| Zodiac Sign | Sagittarius |
| Profession | Sports Commentator |
| Annual Average Salary | $400K |
| Net Worth | $1 Million-$3 Million |
| Social Media | Facebook, LinkedIn, Twitter |
| Last Update | March 2023 |
Early Life & Education
Sean David Grande was born on December 11, 1971, in New York City, New York. As of now, he is 51 years old.
He enrolled at Boston University in 1989 and graduated with a degree in Broadcast Journalism in 1993.
The American sportscaster talks very less about his parents & early life in the media.
Reportedly, his father, whom he describes as overweight & a heavy smoker, died at the age of 43.
Grande recalls being in 10th grade when a police officer arrived Sunday night to inform his family about the heartbreaking news.
Grande learned a valuable lesson after his father's passing, causing him to prioritize his health.
Despite being overweight in his youth, he now exercises to maintain his physical well-being.
Although Grande's favorite childhood team was the New York Knicks, he is now widely recognized as the voice of the Boston Celtics.
How Grande's Broadcasting Career Began?
Sean Grande's broadcasting career began as an undergraduate at Boston University. For seven seasons, he called for Terrier hockey, football, and basketball at WABU-TV and WBUR-FM.
When he graduated from the University, they opened a television station, which he considers a stroke of luck in his career.
In 1996, Sean became the voice of the Eagles football and hockey radio network at Boston College.
While at Boston-based radio station WEEI (from 1991 to 1998), Grande even became their sports director in the final three years.
NBA Sportscasting Debut & The 'Voice Of The Boston Celtics'
In August 1998, he went to join as an announcer for the NBA team Minnesota Timberwolves; being the youngest NBA announcer at 28.
There, he worked for three years until 2001.
After that, Grande was a play-by-play announcer for regional college football at ABC Sports for a year (2000-2001), joining the likes of Keith Jackson and Brent Musburger.
In 2001, Grande returned to Boston and has since provided play-by-play coverage for all Boston Celtics games alongside analyst Cedric Maxwell.
Thus, it has earned him the name of the voice of the Boston Celtics.
On December 2, 2009, he became the third person in NBA history to call 1,000 NBA games before turning 40.
Other Broadcasting Ventures
Sean joined Westwood One as a broadcaster in March 2003 and worked there for 13 years until 2016.
From July 2015 to November 2018, Grande served as the lead play-by-play voice of Spike Sports to call for Bellator MMA, the world's second-largest mixed martial arts promotion.
Moreover, Grande has served as a broadcaster for companies such as ESPN (2018-19), Fox Sports (2017-18), and CBS Sports Network (2014-17).
The Dynamic Duo Of Sean Grande and Cedric Maxwell
During every Boston Celtics radio broadcast, Grande performs the play-by-play coverage while accompanied by analyst Cedric Maxwell, known as the duo of "Grande and Max."
In 2021, "Grande and Max" surpassed the iconic duo of Mike Gorman and Tom Heinsohn by becoming the pair who have called the most games in the history of the Celtics.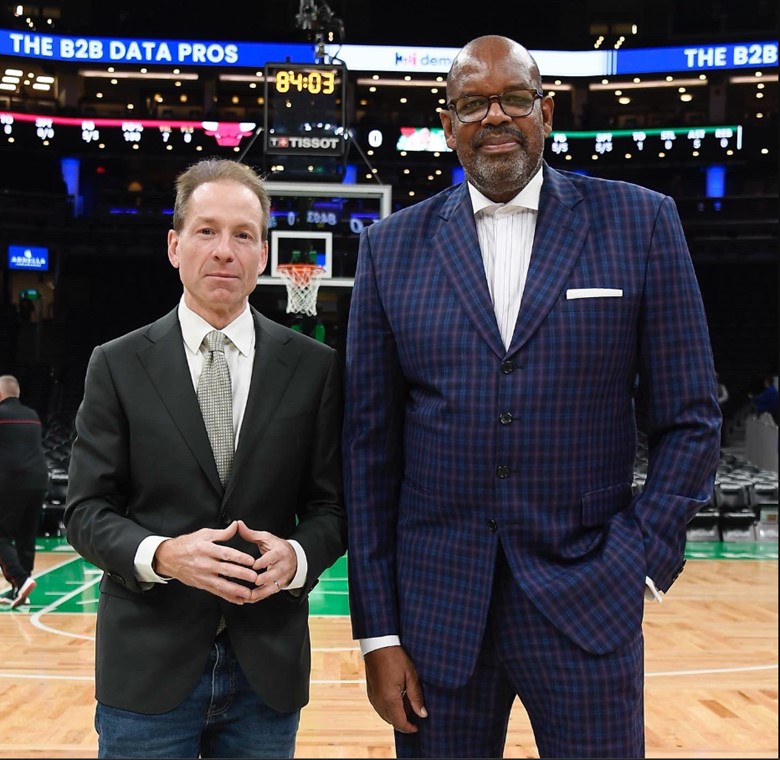 Grande and Maxwell, with different backgrounds and careers, have a unique bond both on and off the air.
They enjoy having fun together, whether it's playing catchphrases or bantering about various topics such as new-school vs. old-school NBA, race, politics, and whatever comes to mind.
Despite their differences, they work well together, and Grande credits their chemistry to TNT's "Inside the NBA."
Grande recalled their unusual dynamic, especially when they first started working together. He was into Jay-Z, while Maxwell, an African-American former player, enjoyed James Taylor.
Their relationship is also personally meaningful to Grande. The last game Grande watched with his father was the 1984 NBA Finals Game 7, also known as the "Cedric Maxwell game," which featured players like Kareem Abdul-Jabbar, Magic Johnson, and Larry Bird.
The Celtics defeated the Lakers with a score of 111-102, in which Maxwell led the team to victory with an impressive performance of 24 points, eight rebounds, and eight assists.
Relationship With Wife Dana Jacobson
Sean Grande and Dana Jacobson married in New York on September 28, 2019, after a year of engagement.
The couple's engagement was announced on-air when Gayle King, the host of CBS This Morning, broke the news on October 11, 2018.
Dana Jacobson (born on November 5, 1971), is a graduate of the University of Michigan & works as a host and correspondent for CBS News.
Jacobson also serves as an anchor and reporter for CBS Sports and CBS Sports Network.
They first met in around 2010 when Jacobson was the host of the ESPN talk show First Take. But it was only in 2017 that the two began dating.
According to Jacobson, it was one lunch that forever changed her life for the better.
Do They Share Any Kids?
Sean and Dana are yet to have a biological child of their own.
But the Boston Celtics broadcaster is the father of a son named Jack (born in October 2011) from his previous relationship with a lady named Lori.
Dana Jacobson seems on good terms with Jack & often shares pictures with him. In her wedding day photographs, she wrote a heartfelt message in her Instagram post,
"Marrying the love of my life and becoming a stepmom to a love in my life I never knew possible AND getting to do the things I love to earn a living."
The family of three lives in Cambridge, Massachusetts.
Social Media Presence
Sean Grande is on Facebook, LinkedIn, and Twitter, but he mostly uses Twitter, where he currently has 55.5k followers as of this writing.
On Twitter, he frequently posts about NBA statistics and the latest news of the league.
Net Worth & Earnings
The 1.77 m tall sportscaster is professionally active for more than three decades. So, it is obvious that with such experience & expertise, he makes a decent income.
As of 2023, Sean Grande has an estimated net worth in the range of $1-$3 million.
All the credit goes to his broadcasting career- specifically his 22-year-long journey as the voice of the NBA team Boston Celtics.
The average annual salary of NBA announcers generally ranges from $80,000 to $100,000.
And for the likes of veterans like Grande, the pay scale could be significantly higher with an alleged $400,000 annually.
Interesting Facts
In 1998, upon joining Minnesota, Sean Grande became the NBA's youngest announcer at 28 years old.
His commentary during the Florida Citrus Bowl on ABC on January 1, 2001, reached over ten million households.
In the 2001 movie "Joe Somebody," he made his first appearance in a major motion picture with a brief cameo as himself.
Additionally, Grande's commentary on Ricky Davis' buzzer-beater in November 2005 was featured in the soundtrack of HBO's The Sopranos' final season premiere in 2006.
Sean Grande & his baby mama Lori (mother of his son Jack) were never married. On October 16, 2020, Sean's confirmed via a Facebook post that he won the legal battle for custody of his son after five years of acrimony.
Popularity Graph
The graph below shows the number of searches of Sean Grande over the past twelve months.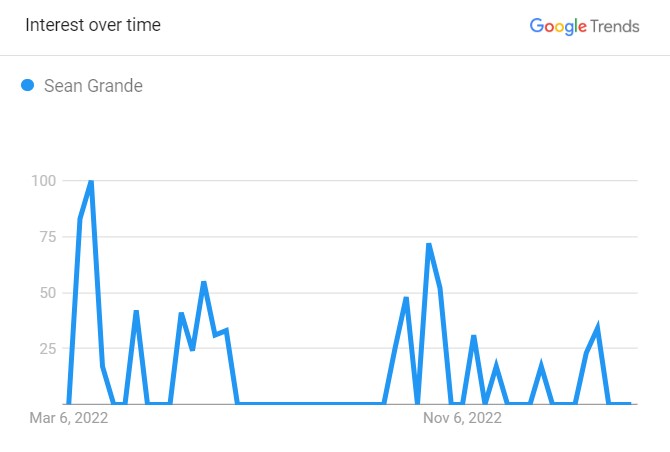 Frequently Asked Questions
Who is Sean Grande's wife?
Grande's wife is Dana Jacobson, a host & correspondent for CBS News, who formerly worked in ESPN's First Take. She currently co-hosts CBS This Morning.
Does Sean Grande have a son?
Yes, Sean has a son named Jack from his previous relationship with his then-lover Lori. They were never married.