Seimone Augustus is a professional basketball player who ruled the game with her energy and commitment.
Feminism and women's empowerment follows the world every day. But this woman right here lets her actions follow the world around.
Basketball is a world-class game, where this lady exhibits her role with perfection and doesn't let the class diminish. This lady is, in fact, a perfectionist; she is "Seimone Augustus."
"I know there are expectations, but I don't let them affect my game. I just play basketball."
Well, today, we will be disclosing more about Seimone's professional life in this article.
Likewise, we will also talk about her early life, family, net worth, personal life, and many more. So let's ponder on her journey and learn about where she started and how she's been so far.
Quick Facts
| | |
| --- | --- |
| Full Name | Seimone Delicia Augustus |
| Birth Date | April 30, 1984 |
| Birth Place | Baton Rouge, Louisiana |
| Nickname | Seimone |
| Religion | Unknown |
| Nationality | American |
| Ethnicity | Mixed (African American) |
| Education | Louisiana State University |
| Horoscope | Taurus |
| Father's Name | Seymore Augustus |
| Mother's Name | Kim Augustus |
| Siblings | Unknown |
| Age | 39 Years Old |
| Height | 6 ft (1.83 m) |
| Weight | 79 kg (174 lb) |
| Sexual Orientation | Lesbian |
| Hair Color | Dark Brown |
| Eye Color | Brown |
| Body Measurement | Unknown |
| Build | Athletic |
| Marital Status | Married |
| Wife | LaTaya Varner |
| Children | None |
| Profession | Basketball player |
| Net Worth | $2.2 million |
| Current Residence | Los Angeles Spark |
| Merch | Trading Card |
| Affiliations | WNBA (Women's National Basketball Association) |
| Active Since | 2006 – present |
| Social Media | Facebook, Instagram, Twitter |
| Last Update | June 2023 |
Seimone Augustus | Early Life, Family & Education
This dexterous lady was born in Baton Rouge, Louisiana, to parents Seymore Augustus and Kim Augustus. She is an only child, and she was adored and cared for the most by her parents.
Moreover, Seimone's father, Seymore, had been a track star back in high school and Basketball always attracted him. Seimone grew up looking at her dad playing basketball.
When did Seimone Augustus Start Playing Basketball?
Seimone started playing basketball as a toddler, and soon, she learned her dad's patent dribbling skill. Seimone was doing all of these at the age of three. By the age of five, her remarkable skills were visible to her father.
Seimone, at the age of three, could compete with the boys of age five. Gradually, she polished her game to professionalism. She completed her graduation from Lousiana State University in 2006.
Skylar Diggins-Smith is an American basketball player. She is a four-time WNBA All-Star and two times All-WNBA First Team honoree. Click to continue reading!
How Old is Seimone Augustus?
Having born on April 30, 1984, makes Seimone 39 years at the moment. Also, her star sign happens to be Taurus. And from what we know, they are known for being talented, smart, and honest.
Likewise, Steele stands at an astounding height of 6 ft (1.83 m) and weighs around 79 kg (174 lb). Besides, Seimone maintains regular exercise and eats healthy balanced foods to keep her body active and fit.
Similarly, Augustus has long dark brown hair and stunning brown eyes that look beautiful with her wide broad smile.
On the Rise
Seimone is a woman with intense dedication, courage, and commitment. She is a complete definition of diligence and versatility—a woman who can own the entire game with her talent.
Seimone started to shine with her potential at the age of five. She is a woman who has always been dreaming of touching the cliffs.
Basketball became her everything. She passionately drove her way, and yet she succeeded.
In the year 1998, this woman entered Capitol as a freshman. She was an upright student. She was on the rise immediately, and as a result, her career started hereafter.
Professional Career and Achievements
People recognized Seimone as a top student in Capitol. Soon, she started playing as a player. Her energy in the game, the way she owned the game, was admired by her coach, Alvin Stewart.
She is a pro at stealing the limelight. Once, Sports Illustrated for Women ran a feature on her back when she was going through a challenging phase of life.
But, the magazine returned all the limelight to the woman after the feature. The magazine wrote, "Is Seimone the next Michael Jordan?."
People soon acknowledged Seimone as a national celebrity. As a result, she perceived so much appreciation and attention. Seimone is a four-time champion. She has perfectly owned those games with her remarkable skills.
Awards
The basketball star has been a part of many state-level championships, tournaments, and many more. Let's have a look at the awards or titles she won.
In 2006, she won two awards, the WNBA All-Rookie Team and the WNBA Rookie of the Year Award.
From 2006-2007, she won the Wade Trophy, Naismith Women's College Player of the Year, and John R. Wooden Award.
Similarly, in the year 2011, she won the WNBA Most Valuable Player Award, and in the year 2012, she won the All-WNBA Team Award.
After participating in 375 WNBA games, she won three Olympic gold medals and one Finals MVP award.
This woman right here has proved herself as a WNBA champion four times (2011, 2013, 2015, 2017). She is the pride of the women's basketball team and the pride of the entire basketball association.
Seimone Augustus | Racial Profiling
Seimone is a woman who belongs to the black ethnicity. And being black itself is a controversy in many places.
Once, Augustus went to the Minnesota mall. As a normal customer, she shopped for herself, paid, and was about to persuade.
Before she could leave, a police officer stopped her and made a theft accusation. The officer also asked her to show the license plates. The player really got hurt and devastated by the incident.
Later, that day Seimone made a tweet saying, "I didn't know you can only drive Minnesota cars to a Minnesota mall," read one of Augustus' tweets, and if not, you must be stealing or doing something illegal."
The officer didn't stop the whites while checking. He stopped Augustus and her fellow mate Monica Wright who too was black. This became a huge controversy about racism. Hence, this news created a fuss back then.
Everyone had different stories to deliver. This was definitely not justifiable, says the rumors. Seimone just ignored the fuss and concentrated on her work.
Why did Seimone Augustus Leave the Lynx?
WNBA veteran guard Seimone Augustus took less money to decide last month to sign as a free agent with the Los Angeles Sparks instead of delaying with the Minnesota Lynx, with whom she'd spent 14 seasons.
"It's been two weeks, and I'm still crying," Augustus mentioned in an Instagram video. She sounded really devastated and anxious.
She talked about being criticized and insulted by people. This was the art she was highly frustrated with.
Seimone spoke up, saying that some part of her was still confused and frustrated. She mentioned that everything happens for a reason and everyone has to learn to accept the fact.
Today, the decision might look bad, but it can have a positive side too. This was the emotional statement she made out of disappointment. None of her colleagues or coach from Lynx reacted to the video.
This was a big disappointment to Seimone. Soon, one of her coaches, namely Glen Taylor, responded.
He expressed his gratitude towards Seimone. Taylor thanked her for serving Lynx for so long and further added, saying she has had a huge impact on Lynx.
Los Angeles Sparks
After leaving Lynx, Seimone joined the Los Angeles Sparks. She took a departure from Minnesota and joined its rival in Los Angeles.
This decision of hers affected the Lynx a lot, but in the end, they accepted it. After Seimone entered L.A. Sparks, she was strongly criticized by people back then. She joined Los Angeles somewhere around August.
Seimone is giving her best at the L.A., too, and is considered an astonishing player there. All the members are thankful and appreciate her for joining them. Because at the end of the day, Augustus is still a remarkable player.
No matter where she plays, she gives her 100% and performs her best. Hence, Seimone is the same wonderful woman she used to be in Lynx. The only difference today is that her surroundings altered.
Lexie Brown, the WNBA player serves as a guard for the Minnesota Lynx. She is single and her net worth is unknown. Find more about the Lynx player!
Personal Life
Lynx star Augustus's sexual orientation is lesbian. She loves her wife a lot but she has faced a lot of problems regarding this.
There was a time when Minnesota was against gay marriage. Marrying same-sex was banned.
Seimone was not at all happy with it and was strongly against the decision. Augustus stated that it was the perfect time for her to use her platform and speak up for the general public.
She further added, saying that no one should ever be ashamed of their sexual preferences.
"I just never understood why someone else's love life and who they love and who they choose to be with affects so many other people's lives," Augustus said. "Is it a scare of gay people are going to be running around, and everyone's going to turn gay?"
Seimone mentioned that if she can use her voice, that will be her position's biggest use. She spoke up regarding this topic and soon married the love of her life, Lataya Varner, in 2015.
The WNBA player proposed to Lataya at the Miami beach and soon exchanged their vows in Hawai in front of 15 guests.
Seimone's parents have been highly supportive of her. Though all her colleagues and family members supported her, Minnesota wasn't happy with her decision. People judged her awfully and insulted her too.
Many critics surrounded her with awful comments and threw hate on her. But the queen kept her head up and faced all of these insults.
However, they separated in 2018 and the reason is still unknown.
Seimone Augustus | Net Worth, Cars & Income
According to reports, Augustus has accumulated a net worth of around $7 million. Seimone loves muscle cars, and Chevys and Impalas are her favorite. She mentioned,
"I like the power that it has, the body style. I like big cars, and Impalas tend to be big, fast cars, and it fulfills my need as far as the speed and the body,"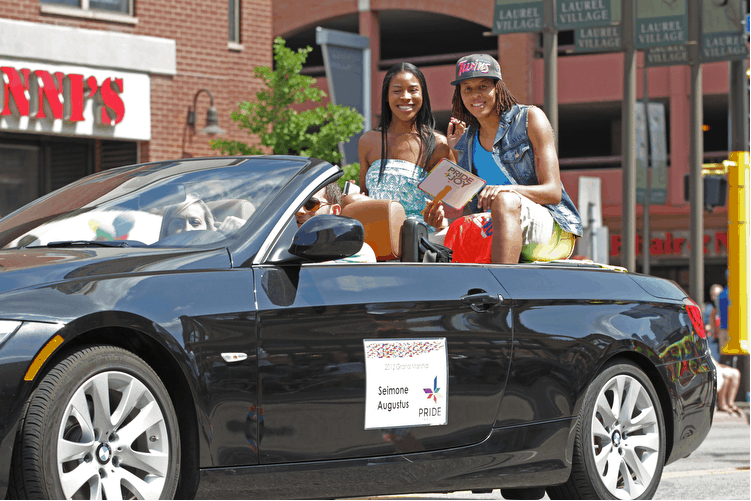 Augustus loves to drive Impala SS in the summertime in Louisiana. Moreover, she also has three other cars there.
Her favorite pass of time is driving with her wife, Lataya Varner. The car she owns today has always been her dream car.
Social Media Presence:
Facebook: 107K followers (As of June 2022)
Instagram: 86.2k followers (As of June 2022)
Twitter: 55.9k followers (As of June 2022)
FAQs
How much does Seimone Augustus make playing overseas?
According to sources, WNBA players are reported to be earning around $106,000- $600,000 while playing overseas.
How much is Seimone's salary?
Her current salary is around $110,000. She is one of the highest demanded players in the WNBA.