Servando Carrasco is an American footballer who plays as a midfielder for the Fort Lauderdale CF in USL League One (USL1). He is one of the emerging football players in the USA.
Carrasco is an established defensive midfielder in US football. Also, his fans praise him for playing with one of the greatest players, Zlatan Ibrahimovic.
Servando is a recognized star footballer because of his wife, Alex Morgan, who captains the US women's football team. Moreover, people also recognize Servando and Alex as half of the USA's power couple.
Before we discuss his life, let's dive in for Carrasco's quick facts:
Quick Facts
| | |
| --- | --- |
| Full Name | Servando Carrasco |
| Birth Date | August 13, 1988 |
| Birth Place | Coronado, California, United States |
| Nick Name | Servando |
| Religion | Christianity |
| Nationality | American |
| Ethnicity | North American |
| Education | Completed Degree from University of California, Berkley |
| Horoscope | Leo |
| Father's Name | Servando Carrasco Sr. |
| Mother's Name | Gloria Carrasco |
| Siblings | One; Vivian Carrasco |
| Age | 34 Years Old |
| Height | 5 feet 10 inches |
| Weight | 77 Kilograms |
| Hair Color | Dark Black |
| Eye Color | Light Brown |
| Build | Athletic |
| Profession | USL League One Player |
| Jersey Number | 6 |
| Total number of Career Goals | 15 Goals |
| Sexual Orientation | Straight |
| Marital Status | Married |
| Wife's Name | Alex Morgan |
| Kids | One; a daughter |
| Net Worth | $1.3 Million |
| Social Media | Instagram account |
| Merch | Jersey |
| Last Update | November, 2022 |
Servando Carrasco | Early Life, Family, and Education
Carrasco was born on August 13, 1988, to Servando Carrasco Sr. and Gloria Carrasco. He was born in his hometown Coronado, California. There are no details about Carrasco's father and his employment.
However, his mother, Gloria, survived breast cancer two-time. People describe her as an iron lady. In an interview with the media, Carrasco said that her mother is the most significant source of inspiration for him.
Carrasco has a younger sister, Vivian. Rumors claim that she is currently studying in her hometown. But it's sad to say there is no known information about Vivian.
Carrasco's family moved to Tijuana, Mexico, after his birth. But after seven years, they went back to the United States. Servando joined St. Augustine High School and finished his intermediate schooling.
Similarly, when he was in college, Servando started to play soccer for the local football team. He did good for the team, so he got a scholarship. In 2007, the University of California invited him to attend football classes.
How old is Servando Carrasco ? Age, Height, and Body Measurements
Servando Carrasco is currently 32 years old and is in the middle of his footballing career. Despite being 32 years old, he is one of the most active players in the USL1 league.
He has a height of 5ft and 10 inches. Furthermore, his body is well maintained and in good shape. Carrasco has no complaints about his health.
Servando weighs 77 kg. He does not look lean because of his muscular body. However, his weight is sufficient according to his height, according to the dieticians.
Carrasco is also a tattoo lover. He likes to have tattoos on his body. In Carrasco's left hand, over his biceps, there is a significant artistic tattoo.
Servando Carrasco | Career
Carrasco has had a very astonishing career so far. He has dedicated his entire life to football. That's why he has been successful.
However, he also had ups and downs during his football career. Let's discuss his career here:
High School and College Career
Carrasco started to play football at a very young age. In his early teenage, Carrasco joined the local teams. Also, he played for St. Augustine school's football team.
Are you enjoying this article? Try the next one about another footballer: Luis Antonio Valencia Bio- Age, Height, Career, Net Worth.
However, their entrance to his professional career started at the college level. He was 19 years old when he got the scholarship to study football at the University of California.
While playing for the University, Carrasco was successful in establishing several records. He was honored for the Pac-10-All-Academic team.
Carrasco is only one player at the University of California to assist seven goals.
He played for four years at the University. Carrasco scored 13 goals. Despite playing as a defender, it is one of the highest numbers for a player.
Professional Career
After playing for many years for the University of California, different MLS teams approached him. However, on January 13, 2011, the Seattle Sounders FC drafted him on their list.
Moreover, Carrasco signed the contract and started to play with the Sounders FC. On March 21, 2011, he played his debut match for the Sounders against New York Red Bulls.
But Carrasco was unable to score for the club for two years. In 2013, he scored his first goal against the Vancouver Whitecaps FC. The match was turned into a penalty kick, and Carrasco was able to score a goal.
Despite having a kickstart career in the Sounders FC, the club traded him to Houston Dynamo in 2013. He spent a year playing with the Houston Dynamo. Servando played thirteen matches and did not score any goals.
MSL SuperDraft and Aftermath
In 2014, the club traded him again to Sporting Kansas City. However, Carrasco got selected in the 2015 MSL SuperDraft. And then, Orlando City SC made a contract with him for two years.
Likewise, Carrasco scored his second MLS career goal for New York Red Bulls. But after the match, Orlando City SC denied renewing his contract. So Carrasco had to move again.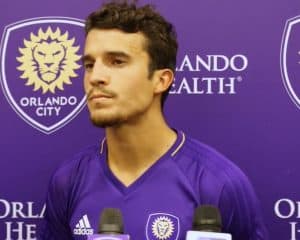 On December 21, 2017, LA Galaxy sealed a contract with him. It was a special moment in his life because Carrasco was going to play with Swedish legend Zlatan Ibrahimovic.
Despite playing 35 matches, he was unable to score a goal. But being a defensive midfielder, it is hard to score. That's why people do not criticize Carrasco for his playing technique.
Moreover, after the 2019 season, Carrasco moved to the Fort Lauderdale CF. He has played 12 games in the league. Carrasco has not netted any goals, and there are no assists records available.
Servando Carrasco | Career Stats
LA GALAXY
Major League Soccer(MLS)
Year
Matches
Goals
Assists
2019
17
0
0
2018
19
0
2
ORLANDO CITY
Major League Soccer(MLS)
Year
Matches
Goals
Assists
2017
15
1
0
2016
31
0
5
2015
12
0
1
SPORTING KC
Major League Soccer(MLS)
Year
Matches
Goals
Assists
2015
9
0
0
HOUSTON DYNAMO
Year
Matches
Goals
Assists
2014
16
0
0
Who is Servando Carrasco married to? Personal Life, Wife, and Children
Servando Carrasco is happily married to his wife, Alex Morgan. Interestingly, Alex is an American professional soccer player for the Orlando Pride of the National Women's Soccer League. It is the highest division of women's professional soccer in the United States.
Carrasco and Alex Morgan during their college days. Alex was playing for the University of California's team. Similarly, Carrasco was also playing there. The couple continued to meet together even though they were apart. Likewise, they started dating in 2007.
However, they did not disclose their relationship until 2013. Carrasco and Morgan decided to marry on December 31, 2014.
on mAY 7, 2020, Alex Morgan gave birth to a baby girl.
Exactly three days before Mother's day, she was blessed with a baby girl. Morgan gave birth to her daughter. Carrasco announced that his life was complete now.
Morgan was afraid of giving birth without Carrasco, so they decided not to go to the hospital due to the coronavirus pandemic.
How much does Servando Carrasco make a year? Net Worth and income
Carrasco has played for six clubs in his professional career. He has had significant signings and was paid a tremendous amount of money. Servando's annual salary is around $70k per year.
Adding his assets, Carrasco's net worth sum $1.3 million.
However, he is not alone in earning in the house. Alex Morgan earns more than Carrasco. She currently plays for Tottenham Hotspur Women FC in the United Kingdom. She is the captain of the U.S. women's football team. Her net worth sums whopping $3 million.
Social Media Presence:
Servando Carrasco only has Instagram among numerous social networking sites. He has around 95.4k followers. He often shares photos with his lovely wife and adorable daughter.
Likewise, Carrasco's wife, Alex Morgan, also uploads pictures of their daily activities on her Instagram account and Twitter account.
Some FAQs:
What team does Servando Carrasco play for?
Servando Carrasco currently plays for American professional soccer club Fort Lauderdale CF in the midfielder position.
What nationality is Servando Carrasco?
Carrasco holds American Nationality and belongs to Mexican descent.
How did Alex Morgan and Servando Carrasco meet?
In 2007, Morgan and Carrasco were playing for UC Berkley's team. At that time, they met with each other.
Was Servando Carrasco born in Mexico?
No, Carrasco was not born in Mexico. He was born in the United States, but he spent most of his early childhood growing up in the Mexican city of Tijuana.
What do Alex Morgan and Servando Carrasco like to do in their free time?
Alex Morgan and Servando Carrasco like to spend time with their daughter in their free time. Likewise, they also love to travel, meditate and cook delicious food.
Where does Servando Carrasco live?
Carrasco currently lives in Orlando city with his family.