Shai Gilgeous-Alexander is a well-known Canadian professional basketball player for the National Basketball Association's (NBA) Oklahoma City Thunder.
The point guard of the Thunder has traveled from Canada to Tennessee, Kentucky to Los Angeles, and now to Oklahoma City.
He's had to prove himself at every step of the way, begging for opportunities from teams that never gave them to him in the first place. For the first time, he has a team eager to hand him the keys.
Prior to the NBA season's suspension, the Oklahoma City Thunder had established themselves as one of the most well-balanced teams and a difficult matchup every night.
Among the reasons for this are Shai Gilgeous Alexander's strong sophomore season, in which he established himself as one of the league's most promising young guards.
In this article, we will cover everything there's about SGA. However, before getting into details, we will look at the quick facts about him.
Quick Facts
Full Name
Shaivonte Aician Gilgeous-Alexander
Known As
Shai Gilgeous-Alexander and SGA
Nickname
SGA
Birth Date
July 12, 1998
Birthplace
Toronto, Ontario
Residence
Not Available
Religion
Christianity
Nationality
Canadian
Ethnicity
Not Available
Education
St. Thomas More, Sir Allan MacNab, Hamilton Heights Christian Academy, and Kentucky (2017–2018)
Zodiac Sign
Cancer
Father's Name

Vaughn Alexander

Mother's Name

Charmaine Gilgeous

Siblings
Thomasi Gilgeous-Alexander (brother)
Age
24 years old
Height
6'6″
Weight
180 lb (82 kg)
Eye Color
Brown
Hair Color
Black
Body Type
Athletic
Profession
Basketball Player
Marital Status
In a relationship
Girlfriend
Hailey Summers
Children
None
Active since
2018–present
Teams

Los Angeles Clippers
Oklahoma City Thunder

Achievements

NBA All-Rookie Second Team (2019)
Second-team All-SEC (2018)
SEC All-Freshman Team (2018)
SEC Tournament MVP (2018)

Net Worth
$5 million
NBA Draft Pick
2018 / Round: 1 / Pick: 11th overall
Position
Point Guard & Shooting Guard
League
NBA
Merch
Notebook
Social Media
Instagram, Twitter
Last Update
May 2023
Early Life
SGA knew he needed to leave home in order for his basketball dreams to come true. So, at the age of 16, he left his hometown of Ontario in search of a place that would expose him to college coaches.
He'd enrolled at Hamilton Heights Christian Academy in Chattanooga, Tennessee, and he'd persuaded his cousin, Nickeil Alexander-Walker, to accompany him.
The player arrived at Hamilton as a junior with only one scholarship offer from Binghamton. There were outlines of the player he would one day become. He was always tall for a security guard.
Florida coach Mike White offered him a scholarship months after he arrived in America.
Shai accepted a high-major offer out of desperation, but he still desired more. Kentucky had always been his ideal school. When he was de-committed from Florida, he contacted Kentucky before Kentucky could contact him.
Early Career
High School Career
Shai did not make the St. Thomas More junior team in grade 9 and instead played on the school's midget squad while growing up in Hamilton.
He was named team MVP and won the city championship for midget boys. After that, he went to Sir Allan MacNab Secondary School before enrolling in Hamilton Heights Christian Academy in Chattanooga, Tennessee, in 2015.
He attended the Basketball Without Borders Camp in early 2016. Gilgeous-Alexander, a four-star recruit (according to ESPN), initially committed to Florida before reopening his recruitment in October 2016.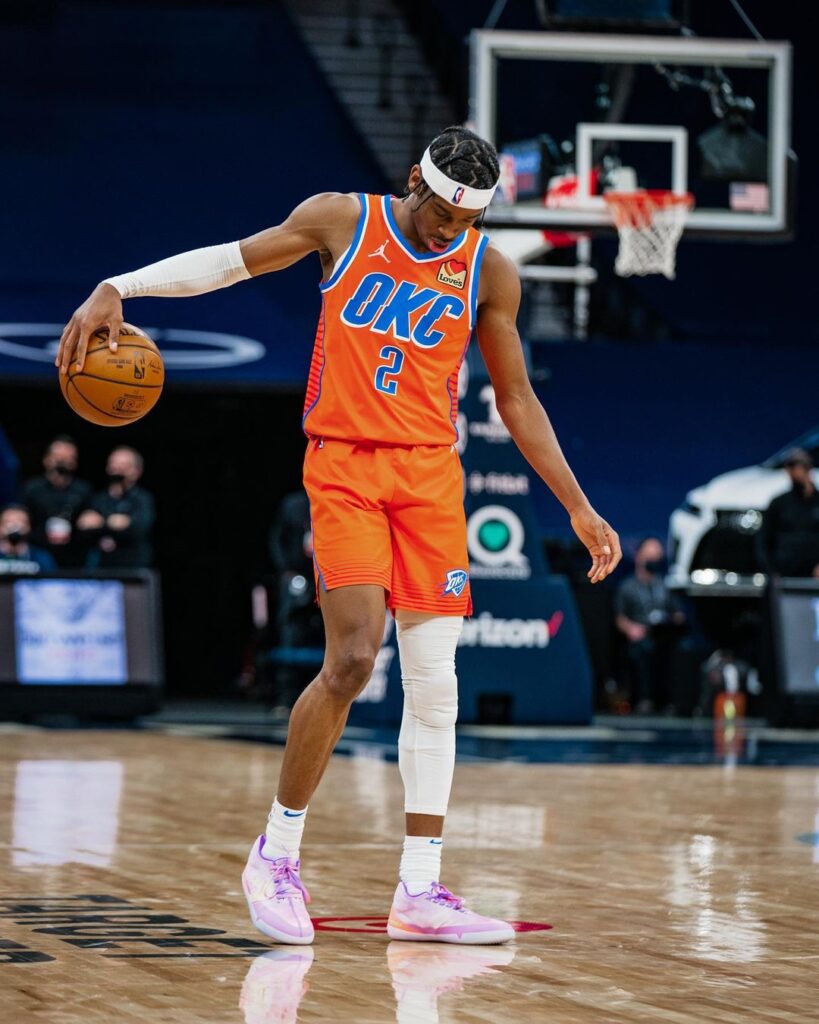 Kentucky, Kansas, Syracuse, Texas, and UNLV were his final five schools. He announced his intention to play college basketball at Kentucky the following month.
He scored eleven points in 21:24 minutes of action for the World Select Team at the 2017 Nike Hoop Summit.
College Career
Shai Gilgeous-Alexander began the 2017-18 season as a reserve, trailing freshman point guard Quade Green, but he still averaged more than 30 minutes per game.
Alexander exploded against Louisville in December after a tough loss to UCLA, scoring 24 points, grabbing five rebounds, four assists, and securing three steals.
He was a steady contributor for a "struggling" UK team that went on a four-game losing streak during the season. Kentucky lost in the Sweet 16 to Kansas State after playing really good basketball in the first two rounds against Davidson and Buffalo.
Gilgeous-final Alexander's college basketball performance was a missed three-point attempt at the buzzer. He declared for the 2018 NBA Draft on April 9, 2018.
Professional Career
Gilgeous-Alexander's NBA career began much like it did in prep school and the NCAA, on the bench, after being drafted 11th overall by the Charlotte Hornets and traded to the Clippers on draft night.
Furthermore, the 6'6″ tall player set a season-high with 24 points in a 127–131 loss to the Portland Trail Blazers on December 17, 2018.
The athlete tied his season-high of 24 points against the Golden State Warriors on January 18, 2019. Eleven days later, he was named to the World Team, which will represent Canada in the 2019 Rising Stars Challenge.
On October 8, 2019, Shai made his Oklahoma City Thunder preseason debut against the Dallas Mavericks.
On December 18, he scored 18 points and hit a game-winning three-pointer at the buzzer to lift the Thunder to a 104–103 victory over his former team, the Los Angeles Clippers.
Moreover, he recorded his second career triple-double four days later with 27 points, 11 rebounds, and 12 assists in a 108–94 win over the Denver Nuggets.
You might like to read about; David Andersen: Career, Net Worth & More>>
Age, Height & Weight
Shai was born on July 12, 1998.
The six-foot-six monster of a point guard with a six-foot-11.5-inch wingspan plays a brand of basketball that appears to be more suited to the grinding and bruising NBA of the 1990s and early 2000s. Likewise, he weighs 82 kg.
He is the polar opposite of the modern NBA player in many ways. He's not particularly athletic. In addition, he's not interested in using a flashy handle to set up a deep three, preferring the analytically maligned mid-range instead.
Everything about his game appears to be from another era, right down to the short shorts he wears.
Shai Gilgeous- Alexander: Parents
Vaughn Alexander and Charmaine Gilgeous gave birth to the NBA player in Toronto.
Charmaine Gilgeous, his mother, represented Antigua and Barbuda in the 400-meter dash at the 1992 Olympics.
Furthermore, Shai got his first taste of the NBA while watching the Bosh-and-Calderon Raptors from the nosebleed section of the Air Canada Centre.
In addition, he learned the fundamentals from his father while shooting on a garage-mounted net in the family driveway.
Siblings
Thomasi Gilgeous-Alexander, Alexander's younger brother, plays college basketball for the Evansville Purple Aces. Nickeil Alexander-Walker, his younger cousin, is an NBA player for the Utah Jazz.
The two consider themselves brothers and keep in touch constantly, but Vaughn taught them both as kids not to give an inch when they played one-on-one.
Alexander-Walker believes his cousin's competitiveness stems from those games. Their childhood friendship has endured as the two have grown into professional players in the league.
The cousins chose to finish high school at Hamilton Heights Christian Academy in Chattanooga, Tennessee, where they were also roommates, living at coach Zach Ferrell's house for two years.
Shai and Alexander-Walker faced off against each other as NBA players for the first time in 2019 when the Thunder hosted the Pelicans at Chesapeake Energy Arena. As kids growing up 40 miles away in Canada, they imagined this moment.
While Alexander-Walker's mother worked two jobs as a single parent, it was Vaughn Alexander who acted as a father figure in his life.
Shai Gilgeous-Alexander: Net Worth
Shai Gilgeous-Alexander's net worth is estimated to be $5 million.
On August 3, 2021, Shai and the Oklahoma City Thunder agreed to a 5-year, $172 million rookie extension that will be upgraded to a 5-year, $207 million Rookie Max extension if he is named to an All-NBA Team.
According to Spotrac, Gilgeous-base Alexander's salary in 2021-22 will be $5,495,532, with a cap hit of $5,495,532 and a dead cap value of $5,495,532.
Since entering the league in 2018, Shai has been a Nike-sponsored athlete, and Converse has been a Nike subsidiary since 2003.
Moreover, in his first Converse commercial, the Hamilton, ON native credited his upbringing for his rise to become one of the league's brightest young stars.
Converse has been worn by some of the game's most influential names, including Julius Erving in the 1970s, Larry Bird and Magic Johnson in the 1980s, and Dwyane Wade during his historic title run in 2006.
Now, the player is attempting to carry the torch as the next great to represent the iconic brand, and he's doing so in an inspiring manner.
Shai Gilgeous-Alexander: Girlfriend
The 24 year old is in a relationship with Hailey Summers. The couple hasn't been shy about flaunting themselves on their social media accounts.
Hailey is a Canadian soccer player who currently plays for the University of Albany. She is a graduate of St. Mary Catholic Secondary School in Ontario, Canada.
Hailey assisted her high school in winning several city championships in soccer and football. She did, in fact, play basketball in high school and won some city championships.
She did, however, continue to enjoy soccer after high school. Hailey currently plays for the University of Albany's Women's Soccer team as a defender.
In 2017, she appeared in 17 games for UAlbany's soccer team, recording one assist. The following year, she made 23 appearances, including 22 starts.
She was named to the USC Scholar All-Atlantic Second Team, America East All-Conference First Team, and America East All-Academic teams during the 2020-21 season. Hailey is very active on social media and frequently posts photos with Shai.
How did Shai & Hailey Summers Meet?
Shai and Hailey have been dating since 2016, when they were both in high school.
Hailey attended St. Mary's, while Shai attended St. Thomas Moore Catholic Secondary School. On August 23, 2021, they had been together for five years.
While Shai has been transferred twice in such a short period of time, one person has been with him for years: Hailey Summers, his girlfriend.
Despite being traded twice in his career and having to relocate from Los Angeles to Oklahoma, Shai has found time to meet his love.
Furthermore, the couple has shared a number of photos of themselves on social media, and they look adorable together.
Don't miss out; Joe Alexander: Injuries, Career & Leagues>>
Social Media
Shai Gilgeous-Alexander is known for his bizarre looks on his social media.
He is well-known for his daring fashion sense. His pregame attire was unusual as he arrived at the Paycom Center dressed as one of the characters from the popular e-game 'Among Us.'
Shai knows how to entertain his fans and followers. If you want to follow him on social media, below is the link;
FAQs
What is Shai Gilgeous-Alexander known for?
Shai, one of the NBA's rising young stars, has emerged as one of the best players from the highly talented 2018 NBA Draft. Among his rookie class, he ranks in the top five in total assists and points and in the top ten in total rebounds.
Is Shai a good defender?
If he can keep up his shooting numbers, Shai will be among the NBA's elite while also being a good enough defender to lead the Thunder.
Also, read about; Paul Millsap: Career, NBA & Net Worth>>