Shawn Kemp, aka "Reign Man," is a former professional basketball player who played in the NBA for 14 seasons with four teams. The six-time NBA All-Star, along with fame, also amassed a boatload of money from his professional career to lead a comfortable life and provide for his family. Shawn Kemp's net worth as of June 2023 is a staggering $5 million.
The Indiana native, Shawn, was drafted 17th overall in the first round of the 1989 NBA Draft by the Seattle Supersonics.
He spent his entire 14 seasons with the teams such as Supersonics, Trail Blazers, Magic, and Cavaliers.
Besides his NBA fame, Shawn is also known for blowing practically all his career earnings on legal issues and poor personal decisions.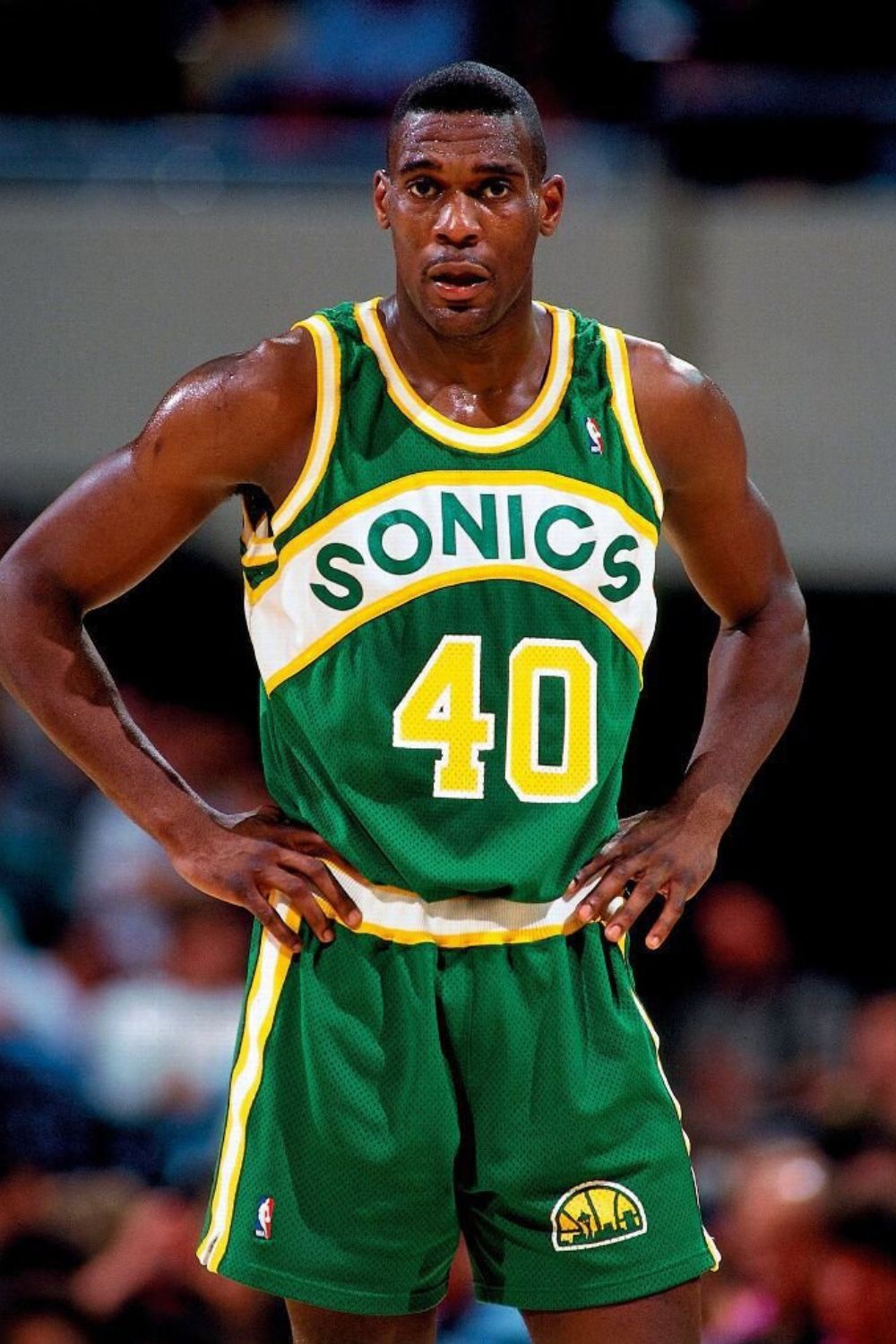 Some sources have listed him on their list of the richest NBA players we went broke.
There are a lot of intriguing details about the former NBA superstar, so please stick with us till the end of the article.
We've tried to cover Shawn's legal issues, career earnings, contract, family issues, and many more in the article.
Before you hop on to the details, check out the facts table below.
Shawn Kemp | Quick Facts
Full Name
Shawn Travis Kemp Sr.
Known As
Shawn Kemp
Nickname
Reign Man
Birthdate
November 26, 1969
Age
53 Years Old
Birthplace
Elkhart, Indiana, United States
Current Residence
Seattle (Former), United States
Father's Name
Not Known
Mother's Name
Barbara Kemp
Sibling
Not Known
Nationality
American
Marital Status
Married
Spouse
Marvina Kemp (m. 2001-Present)
Children
Seven Children (Shawn Kemp Jr., Jamon Kemp)
Religion
Christian
Height
6 ft. 10 in/2.08 m/208 cm
Weight
280 lb./127 kg
Hair Color
Black
Eye Color
Black
Ethnicity
Afro-American
Zodiac Sign
Sagittarius
Profession
Former NBA Player & Businessman
School
Concord High School
College
Trinity Valley Community College
Net Worth
$5 Million
Achievements, Awards & Honors
6X NBA All-Star

McDonald's All-American

3X All-NBA Second Team

First-team Parade All-American

NBA Stats
Points: 15,347

Rebounds: 8,834

Blocks: 1,279

Social Media
Instagram, Twitter
Merch
Signed Seattle Green Basketball Jersey, Signed Funko Pop
Last Update
June 2023
Shawn Kemp | Early Life & Education
The six-time NBA All-Star Shawn Kemp was born on November 26, 1969, in Elkhart, Indiana, United States, to his mother, Barbara Kemp.
His father's and siblings' details remain to this day.
Kemp went to Concord High School in Elkhart, Indiana, and on the first day of the prestigious B/C All-Star Camp, he shocked everyone after he outplayed highly appreciated prep star, Terry Mills.
He was a four-year varsity starter and was considered one of the top four or five players nationally in his senior year.
He finished his high school career as the school's all-time leading scorer.
During his senior year, Shawn signed a national letter of intent to play for the Kentucky Wildcats men's basketball team at the University of Kentucky.
However, he failed to score the minimum 700 on SAT (Scholastic Aptitude Test) and was forced to miss his first year under the NCAA's Proposition 48 rules.
He later decided to attend Kentucky and play for the university's team.
Nonetheless, Kemp left the team in November 1988 after he was accused of pawning gold chains reportedly stolen from the son of head coach Eddie Sutton, Sean Sutton.
Sean did not press charges, but this led Shawn to take a transfer to Trinity Valley Community College in Athens, Texas.
Kemp did not play at TVCC, and after a semester, the 19-year-old Shawn declared for the NBA Draft.
Shawn Kemp | Age, Height & Weight
The former power forward, Shawn Kemp, is 53 years old as of 2023.
As a November 26 born, his zodiac sign is Sagittarius, known for being optimistic, honest, fair-minded, and hilarious.
He stands 2.08 meters tall and weighs around 280 lbs.
Shawn Kemp | Career
The 19 years old Shawn Kemp was drafted by the Seattle Supersonics in the first round of the 1989 NBA Draft.
Despite his extreme athletics, his teammate Xavier McDaniel had to mentor him heavily in his first season in Seattle.
However, it did not take long for Kemp to hone his skills and propel him to stardom.
He played for the Supersonics up until 1997 and was part of the trade sending him to the Cavaliers.
Kemp played just three seasons with the Cavs but recorded his career-high numbers for points per game in the 1997–98 season and led the team to the NBA Playoffs.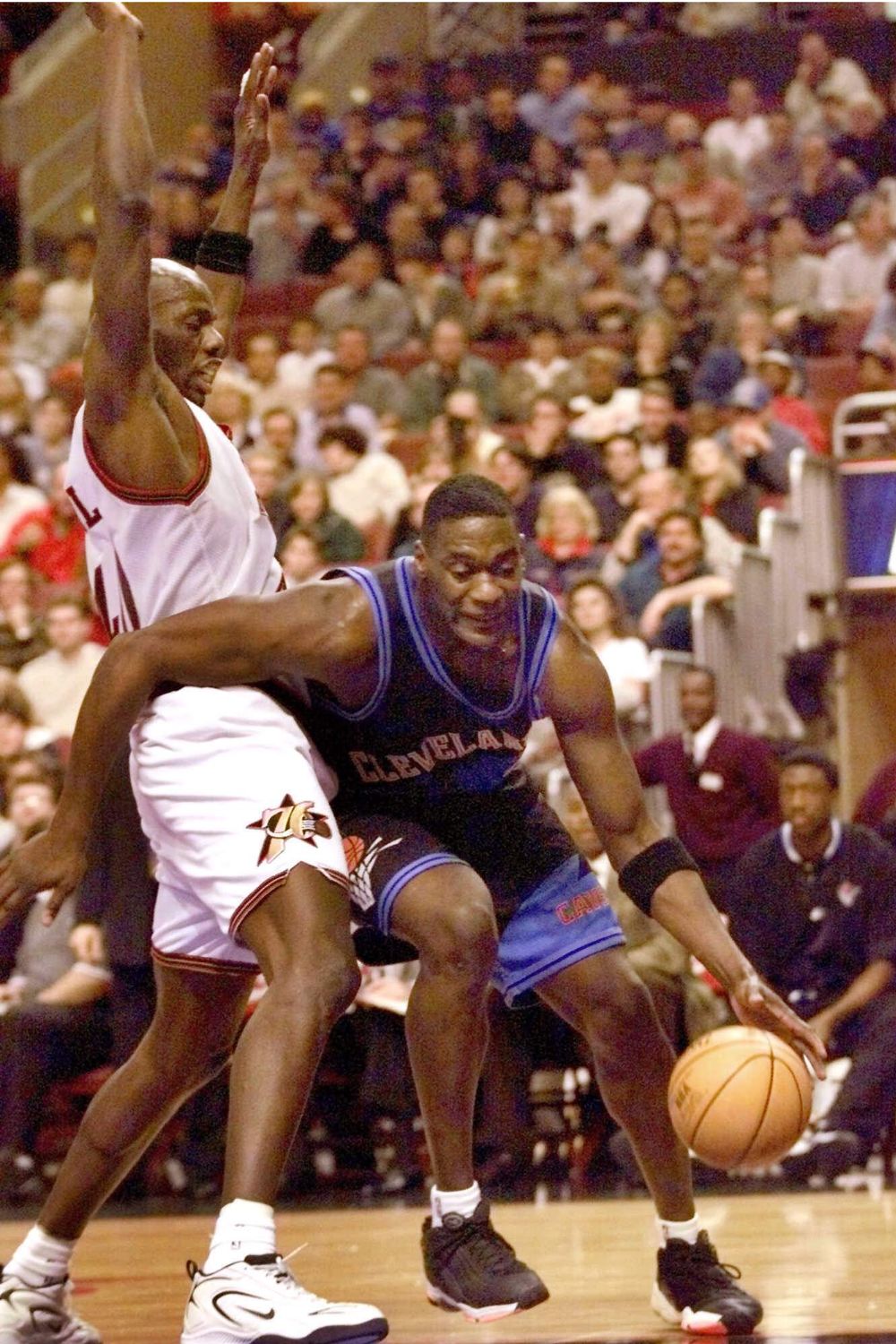 After the 1999-2000 season, he was traded to the Trail Blazers.
However, with the Trail Blazers, he could not perform well because of his weight.
His first season with the team ended early as he entered drug rehabilitation.
Prior to the 2002–03 season, Blazers waived Kemp.
In 2002, he was signed by the Orlando Magic as a free agent.
Shawn Kemp | Net Worth & Earnings
As of 2023, Shawn Kemp's net worth is estimated to be around $5 million.
He used to be the richest NBA player at some point but, unfortunately, lost almost his entire possessions to some bad personal choices and legal issues.
Over the course of his professional NBA career, he made over $90 million just in NBA salaries. This figure does not even include millions more he made from brand deals, most notably from shoe deals with Reebok.
During the 1990-91 season, Kemp earned around $350,000 from the Supersonics, which eventually hiked to $3.3 million during his last season, i.e., the 1996-97 NBA season.
Similarly, the first year with the Cavs brought Shawn $8.6 million in salary.
This figure topped $10 million in the 1999-20 season.
Kemp's real payday came after he was traded to the Trail Blazers following the 1999 season.
His most lucrative years with the Trail Blazers began with $11.72 million in annual earnings during the 2000-01 season.
During the time of his retirement in the 2002 season, he was pocketing a cool $14.94 million annually.
House
Kemp owned a Maple Valley, Wash, mansion, which he purchased in the year of his retirement for $2.6 million.
He listed the house in the market in 2018 for $3.7 million initially but later chopped the price and listed it back at $2.5 million.
Reebok Endorsement, Kamikaze & Lawsuit
In 1994, Seattle Supersonics power forward Shawn was enjoying superstardom.
And with an increased portfolio came increased attention from different brands and marketing execs.
At the time, the signature sneaker concept was expanding rapidly, and Reebok thought the high-flying NBA All-Star on their roster could make a huge difference in their sales.
Decisions were made, and the concept of Kamikaze was born.
The following year in 1993, Reebok dropped the Mobius Collection, which came out in exclusively black and white offerings and Kamikaze 2 was one of them, along with the Shaqnosis, the Big Hurt, and the Blast.
Lawsuit
Power Forward Shawn Kemp was in a five-year $11.2 million contract with the Reebok sneakers. However, in September 2000, he filed a suit against the company seeking $4.1 million in damages.
He claimed that the company canceled his contract two years early.
However, Reebok said that Kemp had violated the terms of his contract when he made critical remarks to a newspaper reporter.
Kemp told a reporter that basketball sneakers just aren't what they used to be, that today's sneakers are throwaways.
He also told that his all-time favorite pair was made by Reebok's rival, Nike.
However, the following year Kemp dropped his lawsuit.
The agreement was reached just two hours after a US District Court began deliberating the case.
And according to Reebok's spokesperson Kemp also agreed to pay an undisclosed amount to settle a countersuit filed by the company.
He owed more than $1 million in advance royalties as per Reebok's suit.
Shawn Kemp | Legal Issues & Family
Legal Issues
As mentioned before, Shawn Kemp lost his money in bad personal choices and legal issues.
He has been arrested multiple times over the years for weapons, drugs, and other charges.
In April 2005, Shawn was detained in Shoreline, Washington, for drug possession.
He was with another man, and both were found with 60 grams of marijuana, a small amount of cocaine, and a semi-automatic weapon.
Similarly, on July 21, 2006, he was again arrested for marijuana possession in Houston, Texas.
Family
The retired power forward was known as a notorious womanizer by the critics for his irresponsible marriages as he fathers seven children from six different women.
His son Jamon played basketball at Southeastern Louisiana University, and his eldest son Shawn Kemp Jr. played at the University of Washington.
Shawn's first wife, Marvena L. Kemp, was born on February 19, 1967. They married on July 4, 2001, and were blessed with three children.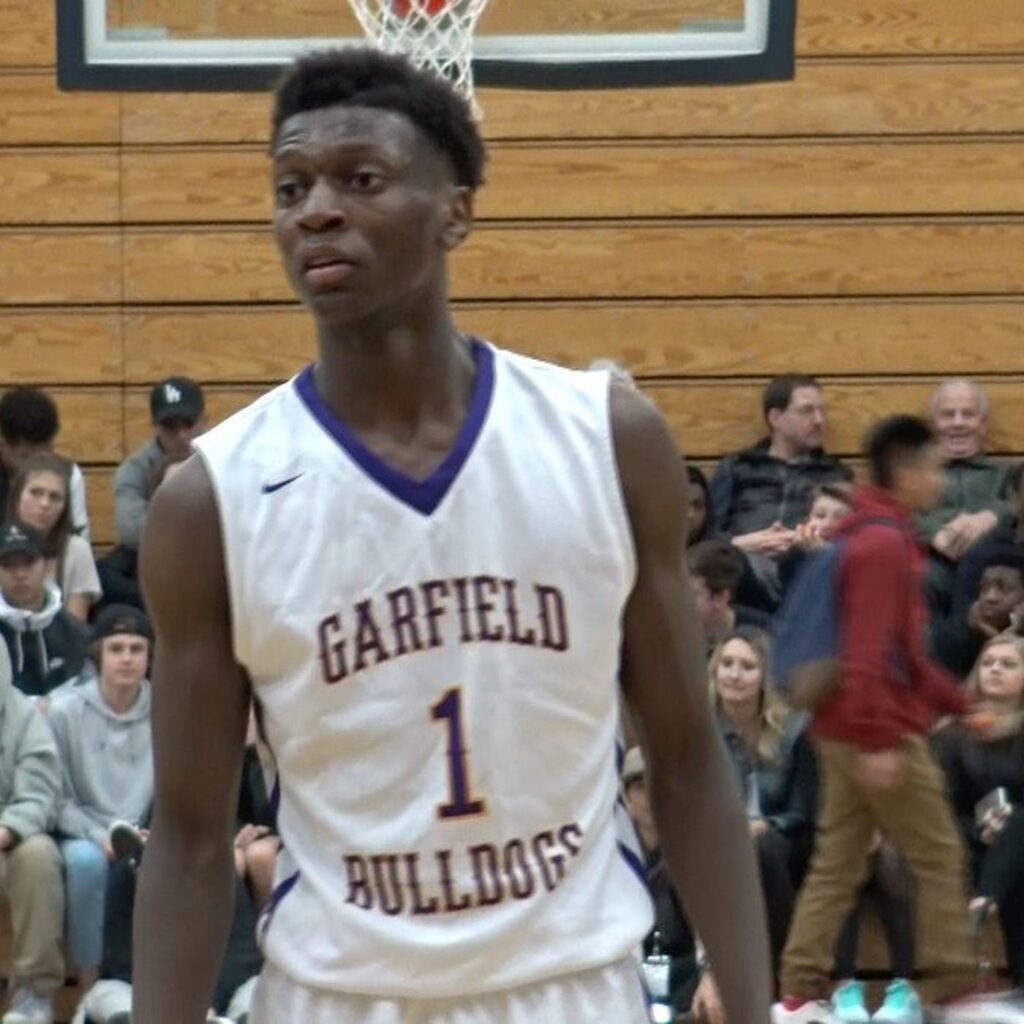 Despite his cheating, his wife Marvena forgave Kemp and supported him during his difficult times.
Well, Kemp's achievements are well known, but his wife's are not so less. Marvena served as a co-director of the NCAA-sanctioned Northwest College Summer League alongside Cliff Brown.
Also, she has organized several pro-am basketball competitions.
Aside from Marvena, his other spouse's identity remains ambiguous.
Businesses
Shawn Kemp once owned a sports bar named Oskar's Kitchen in Lower Queen Anne, Seattle.
It was shuttered down in 2015.
He currently owns a part of Amber's Kitchen on 1st Avenue in Seattle. Similarly, he also owns a controlling interest in several other Seattle locations.
In 2022, he opened a cannabis dispensary in Seattle named Shawn Kemp's Cannabis, along with Matt Schoenlein ad Ramsey Hamide.
The grand opening of the dispensary was attended by Shawn's former teammate Gary Payton.
Unknown Facts
A photo of Shawn dunking over basketball legend Hakeem Olajuwon appears on the cover of NBA Jam Extreme.
After Shawn's second NBA season, he got the nickname Regin Man after Seattle SuperSonics' announcer Kevin Calabro saw a picture with the name and thought it fitting to add to his broadcasts.
During the playoff game against the Warriors in 1992, Shawn dunked over Alton Lister, which became known as The Lister Blister.
Frequently Asked Questions (FAQS)
What was Shawn Kemp known for?
The six-time All-Star and three times All-NBA second team Shawn Kemp was known as a furious dunker during his active playing days.
Some of his most notable dunks include his dunking over Hakeem Olajuwon and the Warriors center Alton Lister.
Is Shawn Kemp a Hall of Famer?
Well, to be honest, Kemp was a Hall of Fame dunker but not a player.
He would have been a Hall of Famer if it was not for his weight issues and addiction.