Nordin Amrabat, the elder brother of Sofyan Amrabat, pursues the same career as him, sharing a common passion for soccer. The two brothers dominate the soccer world with their athletic and charming personalities.
It's exciting to look up to and follow in the footsteps of a member of one's family member.
The Amrabat brothers help each other to improve and excel in their professional careers. The two have a close bond, aspiring and encouraging one another.
While his brother, Nordin, has accomplished significant success, Sofyan has also made his name in soccer.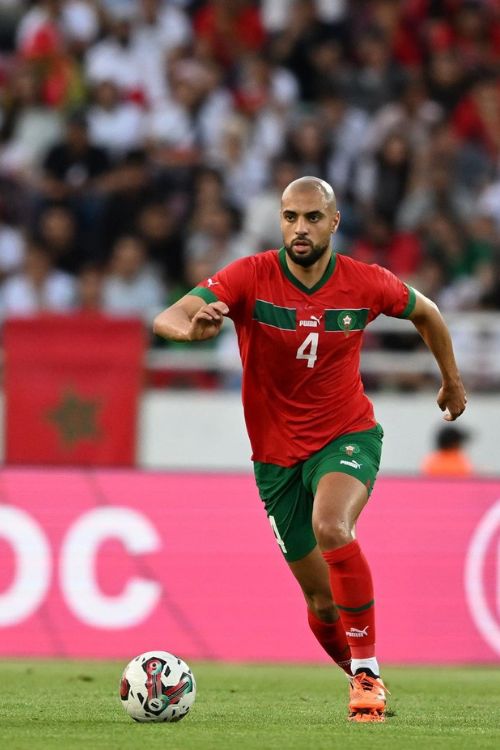 The 27-year-old professional soccer player, Sofyan Amrabat, plays for the Series A club Fiorentina.
After his first-team debut with Utrecht in 2014, he spent one season at Feyenoord. Then, he moved to join two other clubs- Club Brugge (2018-2020) and Hellas Verona (on loan).
Since 2020, Sofyan has been playing with his current team, Fiorentina, making over 80 appearances for the club.
The Dutch-born previously represented the Netherlands under-15 level before switching to Morocco's youth national team in 2013.
Moreover, Sofyan has been a member of the Morocco national team since 2017, qualifying in the 2018 and 2022 FIFA World Cup.
Sofyan Amrabat Brother
Having someone who shares your interest and mentors you in your career is undoubtedly a blessing.
Sofyan Amrabat experiences the blessing of his older brother, Nordin Amrabat, a fellow soccer player.
Born to their parents, Mohammed Amrabat and his wife, Sofyan and Nordin, grew up in Huizen, Netherlands.
Nordin (b. March 31, 1987) is over 9 years older than his younger brother Sofyan (b. August 21, 1996).
Nordin Amrabat, brother of Sofyan Amrabat, is also a professional soccer player who plays as a winger for the Greek Super League club AEK Athens.
Nordin began his soccer journey with the Omniworld in 2006, and since then, he has played with a few other clubs.
His most notable achievement include winning the 2018-19 Saudi Professional League, scoring five goals, and registering the most assists.
Internationally, he represented the Morocco national team at two Africa Cup of Nations tournaments and the 2012 Olympics.
As Nordin is from an athletic background, it would not be wrong to state that Sofyan has followed in his footsteps.
Sofyan Amrabat Net Worth
As a professional player, Sodyan Amrabat has undoubtedly earned a hefty sum of money throughout his playing career.
Amrabat has accumulated an approximate net worth of about $3.8 million as of 2023.
With his current team, Fiorentina, Sofyan has signed a four-year contract, expiring on June 30, 2024.
Sofyan has not disclosed the exact value of the contract, although it must earn him a considerable amount of money.
According to sources, he will earn a gross salary of €1,920,000 ($2,130,000) for the 2023-2024 season, or €36,923 ($394,000) per week.
Likewise, the market value of the player is €30.00 million ($33.23 million).
Moreover, the player holds endorsement deals with various brands, adding to his wealth.
Nevertheless, still in his early career, the 27-year-old athlete will undoubtedly earn more in the upcoming years.
[Rumors: The premier league giant Manchester United is looking forward to making their midfield strong by signing the Moroccan player in the 2023 summer transfer window]