American running back football player Sony Michel is the most popular and renowned name in sports. Currently, he is affiliated with Los Angeles Rams in National Football League.
With several rises and falls in his career, this man has proved that hard work and patience can lead a person to be a better version of himself.
So, in this article, we are discussing all the areas that cover Sony Michel.
From his early childhood to his football career and personal life. Read through the article to know more about this football player.
Before that, let's see some quick facts.
Quick Facts
Full Name
Sony Michel
Birth Date
February 17, 1995
Birth Place
Orlando, Florida, United States
Nick Name
Unknown
Religion
Christianity
Nationality
American
Ethnicity
Unknown
Education
American Heritage School
University of Georgia
Horoscope
Aquarius
Father's Name
Jean Michel
Mother's Name
Marie Michel
Siblings
2
Age
28 Years Old
Height
5′11″ (1.80m)
Status
Active
Sexual Orientation
Straight
Hair Color
Black
Eye Color
Black
Body Measurement
Unknown
Figure
Unknown
Weight
98kg (215 lb)
Married
No
Girlfriend
No
Profession
Football Player
Position
Running Back
Jersey No
25
Net Worth
$5.6 Million
Affiliations
NFL
Social Media
Instagram, Twitter
Merch
Trading Cards
Last Update
June, 2023
Sony Michel | Early Life, Family, and Education
Born on February 17, 1995, Sony Michel is a famous American football player who stands in the running back position.
He was born to Jean Michel and Marie Michel and spent his childhood in Florida. His family member also consists of half-sister Lamise and brother Marken, who is also a professional football player.
Michel is the son of Haitian immigrants. His parents met in 1991, and Sony's older brother Marken was born in 1995.
Jean and Marie immigrated to the U.S for a better life and future for their children.
Likewise, Sony started his schooling at American Heritage High School in Plantation, Florida.
He started playing football and competed in various track and field events. Soon after high school, he joined the University of Georgia.
Sony Michel | Collegiate & Professional Career
Michel started his career at a very early age. He started playing football at the school level. At the beginning of his eighth grade, Michel rushed for 1,833 yards and made 24 touchdowns.
With intense hard work for three years, he rushed for 4,758 yards and registered 63 touchdowns.
At the same time, Rivals.com rated him as a five–star recruit, where he ranked as the third-best running back and 13th-best player overall. It is a massive achievement at such an early age. Isn't it?
Similarly, after joining the University, he continued his football career and participated in various tournaments. During his first year at University, he got to play eight games.
But due to his fractured shoulder, he could not play five more games. However, he recorded five rushing touchdowns for 410 yards on 64 carries.
In the year 2015, he entered as a backup to Nick Chubb. When Chubb was injured, he joined the field as a starter and ran for 145 yards.
In October 2017, he had a breakout year, finishing with 1,227 rushing yards (156 carriers), only 118 yards fewer than Chubb's 1,345 (223 carriers).
Michel was named Rose Bowl Offensive MVP because of his excellent New Year's Day performance. It was George's first-ever College Football Playoff game. Additionally, he rushed for 181 yards and recorded three touchdowns.
Dan Marino Bio: Age, Career, Net Worth, Family, Foundation, IG Wiki >>
Sony Michel | Professional Career
In the first round of the 2018 NFL Draft, Michel was selected by the New England Patriots with the 31st overall pick. In the same year, he was chosen as the third running back.
Unfortunately, he had to miss the entire preseason and the season–opener against the Houston Texans. He suffered from a knee injury in training camp.
With six touchdowns and 931 rushing yards, and seven receptions for 50 yards, he completed his debut year.
Similarly, in the 2019 season, he succeeded with 912 rushing yards, seven touchdowns, and 12 receptions for 94 yards. At the beginning of the year, Michel faced Miami Dolphins and rushed 21 times, covering 83 yards.
With 91 yards and a touchdown against Washington Redskins he led the team into a 33-7 road victory. After that, Michel rushed with 42 yards and three touchdowns in a 33-0 shutout road victory.
During the early season of 2020, Michel had off-season foot surgery, and he was listed on PUP (Physically Unable to perform)at the beginning of his training camp on August 2, 2020.
Everyone predicted that the Patriots are running back, and Sony Michel could play a prominent role this year. It was because New England's offense would require his services after the departure of Tom Brady.
But Michel was not ready to play in Week 1. The patriots activated him from the PUP list on August 26, 2020.
Kyle Sloter Age, College, Stats, Football, Vikings, Highlights, Net Worth, Instagram >>
Move to Los Angeles Rams
On August 25, 2021, Michel was traded to the other NFL powerhouse, Los Angeles Rams. He was exchanged for the fifth and sixth-round pick in the 2022 NFL Draft.
As of now, he dons the Rams' blue jersey with number 25 on the field.
Sony Michel | Injury
It is undeniable that injuries are part of the game. During high school, Michel suffered an ACL injury.
Likewise, in 2014, Michel went through a fractured shoulder blade. Due to this, he missed five-game at the University of Georgia.
However, Michel himself had been his greater strength and inspiration. During his interview, he said,
"Every day is a work in progress. At the starting phase of the season , You're never going to realize and feel like you're at the best shape. So for me, I am just pushing myself to work and get better."
Furthermore, in 2018, he suffered knee surgery during the training period. He missed the whole preseason and season opener match against Houston Texans.
Due to the surgical operation of the foot injury, Michel started the offseason at a slower pace.
As a result, the running back had to miss the first eight days of training camp. Due to this reason, Damien Harris (backup running back) was able to shine at the end of the month.
Sony Michel | Highlights, Awards, and Achievements
Michel is honored with many achievements and awards throughout his life, with a considerable contribution to his football career.
In 2013, he was also named first-team All-USA. The same year he was named Colorado Gatorade Player of the Year and even called a semifinalist for the 2014 U.S. Army Player of the Year.
Sony was named SEC freshman of the week in the year 2014. Similarly, in 2017, he won SEC Championship. In 2018, he won the Rose Bowl Championship and received the Rose Bowl Game MVP accolade.
However, Michel's most significant achievements are when he was declared one of the most playoff rushing touchdowns. He played as a rookie and broke the NFL record.
He succeeded by scoring five between the conference and the divisional championship games.
By carrying 18 times for a game-leading 94 yards, he scored the only touchdown in Super Bowl LII against Los Angeles Rams on February 3, 2019.
Ed Marinaro Age, Young, Wife, Family, Football, Acting, Net Worth >>
Sony Michel | College And Career Stats
College Stats
Games
Rushing
Receiving
Att
Yds
Avg
Lng
TD
Rec
Yds
Avg
Lng
TD
Career
47
590
3,613
6.1
75
33
64
621
9.7
48
6
Learn more about his injury report and recruiting on CBS Sports and 247 Sports.
Age, Height, and Physical Appearance
Michel is 28 years old and stands at 5 feet 11 inches. This NFL player's weight is about 98kg. He holds American citizenship and belongs to the African-American ethnicity.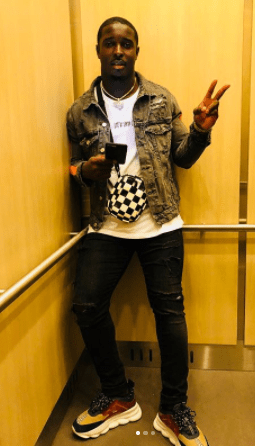 Recent news revealed that he had gained massive weight after foot surgery. In like manner, he has an ab-clad body.
Being a football player comes with its perk, as the running back may not look the part but is physically imposing.
Sony Michel | Personal Life
According to sources, Michel doesn't seem to have a girlfriend. It's so because he hadn't officially announced his relationship nor posted any pictures.
In 2016, it was revealed that he had a girlfriend named Anise Davis. They were supposed to be dating during their early college days.
Not only this, but he once explained to local reporters his girlfriend took him to the hospital when he got to broke his arm in an ATV accident.
With a short review of her social media, many family members of Michel follow her, even if Michel's account (@flyguy2stackz) doesn't. Recently, in May 2019, Anise gave birth to a beautiful daughter.
The fact is, it's still not clear whether the baby is Sony's or not. It's not possible to determine if these couples are still together or not fully.
Nonetheless, like most celebrities, who seek to keep their personal life private, the same is true with Sony Michel.
Brill Garrett Age, Parents, Married, Husband, Children, Football, Instagram >>
Sony Michel | Family
Sony's parents worked hard a lot during their early days. He is much inspired by the sacrifices that his mom and dad made for him.
His parents' dreams came true when the Patriots drafted Sony. Recently, Michel surprised his parents with a thank-you gift. He gifted his mom and dad with a new car.
Also, he had bought them with some of the funds from the NFL rookie contract. The gift shows the latest example of Michel being a Damn Good Dawg.
How much is Michel worth? Net Worth and Salary
Sony's primary income source is as a football player. Previously, his net worth was around $100,000 to $1 million.
Despite the ups and downs in his career, Michel didn't stop playing football. Today he is one of the successful players with a net worth of $5.56 million.
This achievement is enormous in such a short period. Looking at this, we can predict that the Patriots running back is living a luxurious life.
Furthermore, we do not have news about Michel's income source besides football. Maybe we'll uncover more of it in the future.
Sony Michel | Social Media Presence
Michel is currently active on Instagram and Twitter. He shares the most important events of his life on these platforms.
Instagram – 407 thousand followers
Twitter – 131.4 thousand followers
Sony Michel | FAQs
What is Sony Michel's Madden 21 rating?
The Pats' running back's overall Madden 21 rating is 80.
Is Sony Michel a free agent?
No, Michel is not a free agent. Currently, he is signed with the Los Angeles Rams.