Stacey Dales is a former WNBA player and a reporter for the NFL Network. Dales was born in Collingwood and raised in Brockville. She is as charismatic as always and strives to do more.
Initially starting as one of the best female basketball players in the U.S, Stacey Dales had to retire early due to an infection in her hands.
While many others would have succumbed to depression, Dales not only held herself during those tough times but also established herself as one of the top female sports correspondents in the nation.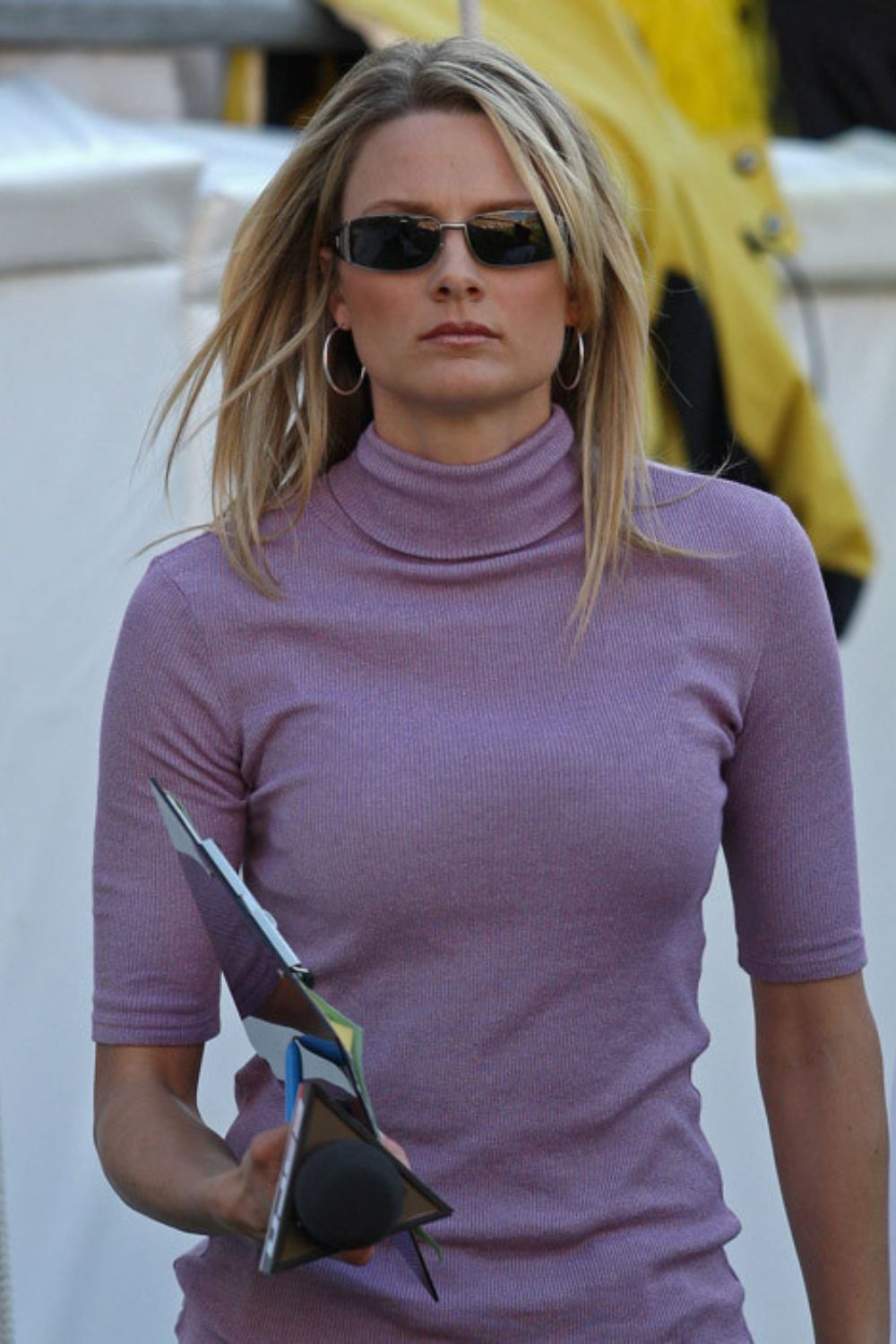 Furthermore, the 44-year-old is in her 11th year with the NFL Network as their host and reporter, which further tells you the successful transition of her career.
Thus, we here at Playersbio have written this article to enlighten our dear readers on Dales life.
We have also provided details on her net worth, salary, age, height, family, marriage, and social media. So without further ado, let's get started.
Quick Facts
| | |
| --- | --- |
| Full Name | Stacy Dales |
| Birth Date | September 5, 1979 |
| Birth Place | Collingwood, Ontario, Canada |
| Nick Name | Not available |
| Religion | Christian |
| Nationality | Canadian |
| Ethnicity | White |
| Education | University of Oklahoma |
| Horoscope | Virgo |
| Father's Name | Jim Dales |
| Mother's Name | Heather Dales |
| Siblings | Not available |
| Age | 44 Years Old |
| Height | 6'0″ (1.83 m) |
| Weight | 155 lb (70 kg) |
| Hair Color | Blonde |
| Eye Color | Blue |
| Body Measurement | 34-26-36 inches |
| Build | Hour-Glass |
| Married | Yes (Previously) |
| Boyfriends | No |
| Former Spouse | Chris Schuman |
| Profession | Sports Journalism |
| Position | Tv Show Host & Correspondent |
| Net Worth | $1.5 million |
| Former Franchises | Washington Mystics, Chicago Sky |
| TV Affiliations | NFL Network, Fox Sports, ESPN, N.B.C. Universal Sports |
| Social Media | Instagram, Twitter |
| Last Update | November, 2023 |
Stacey Dales | Family, Early Life & Education
Stacey Dales was born to her parents, Heather Dales and Jim Dales, on September 5, 1979, in Collingwood, Ontario.
View this post on Instagram
Although Stacey was born in Collingwood, she spent a considerable part of her childhood in Brockville.
Furthermore, from very early on, young Dales was very keen on both football and basketball. Ultimately, she chose to play basketball, as it was her first love.

Young Stacey Dales (Source: Instagram)
Thereafter, the Ontario native attended the Thousand Islands Secondary High School.
During her time with the TISS Pirates women's basketball team, Stacey led the team to three consecutive Ontario 'AA' high school girls basketball championships in 1994, 1995, and 1996.
Stacey Dales | Career
Having graduated from high school as one of the best players in the nation, many colleges around the U.S wanted the services of Stacey. But, ultimately, it was the University of Oklahoma that landed the young prodigy.
To say the least, Stacey had one hell of a college career, which saw her become Big 12 Conference Player of the Year consecutively in 2001 and 2002.
Additionally, she was also named the first-team All-American in 2001 and 2002, along with being the Big 12 all-time career assist leader (764) to date.
Furthermore, the 44-year-old was also the all-sports Academic All-American of the Year in 2002.
Thus, having amassed incredible performances throughout her high school and college journey, many WNBA teams wanted to get their hands on the 6 feet shooting guard.
WNBA Career
Everyone who followed women's college basketball knew that Stacy was one of the best players in the 2002 WNBA Draft.
Thus, as expected, the Ontario native was selected as the third overall pick by the Washington Mystics in the draft. With that, Dales also became the highest pick ever for a Canadian.
Thus, expectations were high for Stacey to transfer her college form into the big league. Staying true to her hype, the 6 feet point guard performed exceedingly well as she made her first All-Star appearance in her rookie year.
After that, she played in WNBA for another year before retiring in 2004 due to Raynaud's Phenomenon, which affects the hands.
Although it was hard for Stacey to decide, she also had to look after herself and her future.
Contrarily, Dales made a comeback just one year later, which shocked many fans and analysts.
Nevertheless, everyone knew of the 6 feet point guard's talents. So, in the expansion draft of 2006, Stacey joined the Chicago Sky and stayed with the franchise for two years.
After that, the 44-year old's hands gave out as she retired for the second and final time in her playing career in 2008.
Since then, Dales has never played professionally anywhere. Instead, she works as a host and correspondent with the NFL network.
However, Stacey did get inducted into Brockville's Hall of Fame in 2016 for her outstanding contributions to women's basketball.
Kia Nurse Bio: Instagram, Australia, Salary, Contract, Career Wiki >>
Television Career
Soon after graduating from college, not only did Stacey play professionally in the WNBA, but she also worked as a sideline reporter and analyst covering college basketball for ESPN.
Thus, when the 44-year old's early retirement happened in 2008, she already had an alternate profession as a replacement.
Subsequently, Dales spent the next four years with ESPN, learning and developing into her new full-time profession.
In fact, the Ontario native became the first female to work as an in-studio men's basketball analyst at ESPN.
Hence, having gained immense popularity with ESPN, NFL Network came calling to hire Stacey as their host and national correspondent.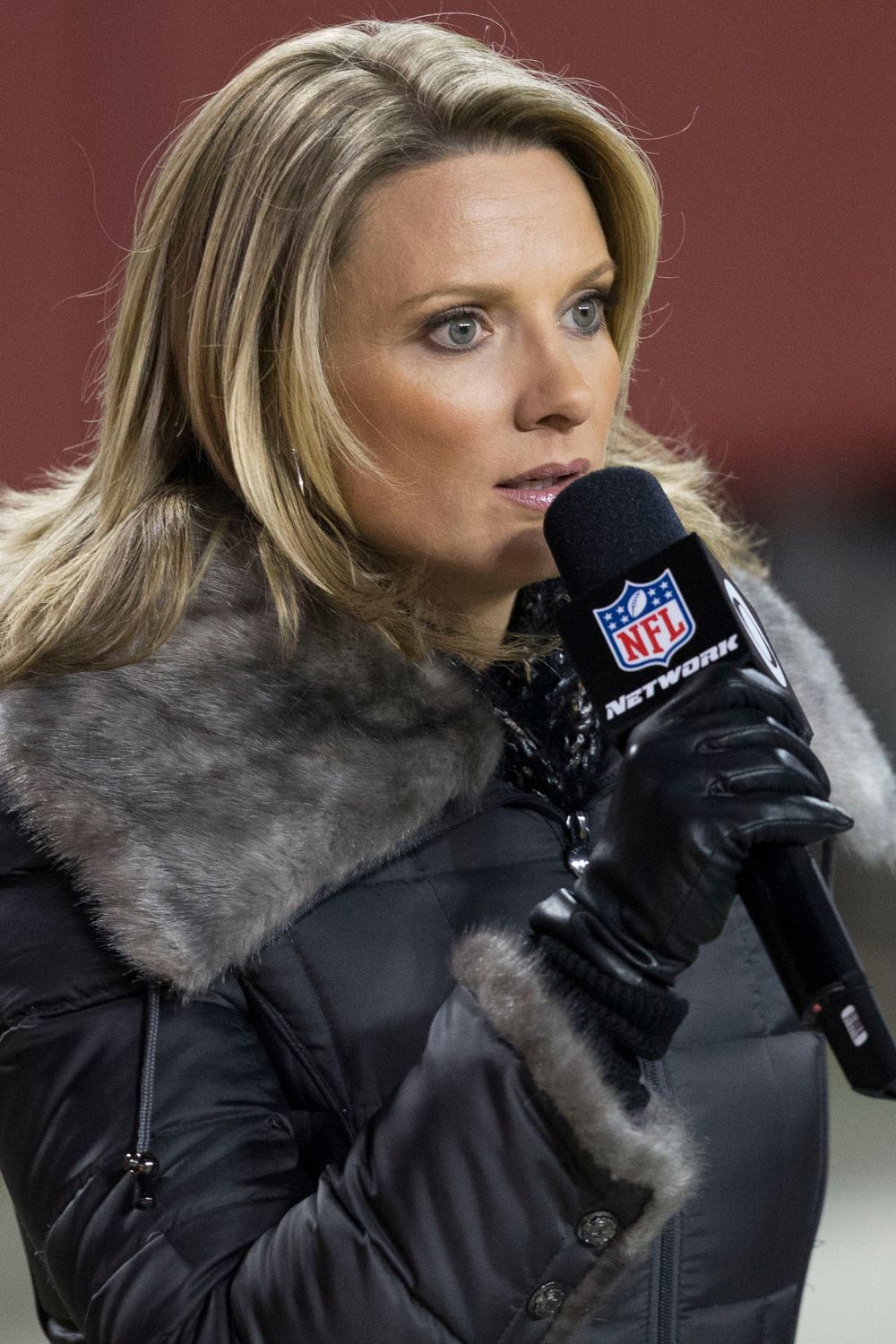 Subsequently, the former point guard took the opportunity, and the rest is history because Dales is entering her 11th year with the network.
Furthermore, the 44-year-old also worked as a correspondent for N.B.C. Universal Sports during the 2010 Winter Olympics.
Stacey also worked as a sideline reporter covering primetime NBA and NFL games for TNT and CBS, respectively.
In 2018 and 2019, Dales was hired by Phillips 66 as their brand ambassador and spokesperson due to her fame and well-respected image.
Simultaneously, Stacey also received a job offer to work for Fox Sports as their color analyst for women's college basketball for the 2018-19 season.
Stacey Dales | College Stats And WNBA Stats
| | | | | | | | | | | |
| --- | --- | --- | --- | --- | --- | --- | --- | --- | --- | --- |
| Year | GP | Points | FG% | 3P% | FT% | RPG | APG | SPG | BPG | PPG |
| Career | 132 | 1920 | 44.4 | 34.8 | 68.7 | 5.5 | 5.8 | 1.9 | 0.3 | 14.5 |
| | | | | | | | | | | |
| --- | --- | --- | --- | --- | --- | --- | --- | --- | --- | --- |
| Year | GP | PTS | FG% | 3P% | FT% | eFG% | TRB | AST | WS | PER |
| WNBA Career | 150 | 9.2 | 38.0 | 34.8 | 73.9 | 47.6 | 2.2 | 2.7 | 6.3 | 13.3 |
Stacey Dales | Age, Height & Body Measurements
Having been born in the year 1979 makes Stacey's age 44 years in 2023. Furthermore, the 6 feet blonde was born on the 5th of September, which makes her horoscope Virgo.
And, regarding her nationality, Dales was born in Ontario, which makes her Canadian.
Moving on, Stacey stands at exactly 6 feet, which is quite tall for a woman. Likewise, back in the day, the Ontario native used her height to its maximum when she played in the WNBA.
However, now that Dales is retired, her height might not be that much of a factor.
Furthermore, the 44-year-old weighs 155 lb (70 kg), with her body measurements being a near-perfect 34 inches on the breast, 24 inches on the waist, and 36 inches on the buttocks.
Ansu Fati Bio: Stats, Career, Salary, Net Worth, Nationality Wiki >>
Stacey Dales Bio | Net Worth & Salary
As of 2022, Dales has a net worth of $2 million accrued mainly from her playing career in the WNBA and then as a Fox Sports, CBS, NBC, and ESPN reporter.
Moreover, the 44-year-old has been involved in professional sports for nearly two decades. Thus, her net worth is much deserved.
Furthermore, Stacey is currently earning around $100,000 per year, working as an NFL reporter and host for the NFL Network.
Likewise, because this is her 11th season with the network, we feel that the NFL Network should increase the pay for this skilled and experienced reporter, much deserved.
Stacey Dales | Marriage & Relationships
Talking about Stacey's personal life, she was once a married woman. To explain, the 44-year-old blonde bombshell married her longtime boyfriend, Chris Schuman.
Furthermore, the couple tied the knot on April 13, 2002, soon after graduating from college.
But, unfortunately, the pair could not sustain their relationship due to unspecified circumstances. As a result, Stacey divorced her husband and has not been in a relationship since. At least that's what she's portraying.
Nevertheless, judging by Dales's beautiful looks and charming personality, we have no doubts that she can find her right soulmate this time around.
Pets
Stacey owns two dogs and loves them very much, as we can see in her one Instagram post.
View this post on Instagram
Stacey Dales | Social Media Presence
Instagram: 41.2 thousand followers
Twitter: 234.7 thousand followers
The Search Graph
Stacey after retiring stepped into more fame and is a well-known celebrity, as people have been searching for her throughout the year, at an escalated pace, which in itself tells the tale of her popularity.
Facts To Know
Stacy appeared in several films and did the voice for Nickelodeon animated series NFL Rush Zones.
She has an impressive WNBA record.
Her brother also went to pro basketball too.
She was considered the highest Canadian player in selection for the draft.
Stacey Dales | FAQs
Where is Stacey Dales from?
The information on the internet available about Stacey says she is from Collingwood, Ontario, Canada.