Remember the name Ansu fati, because he will become one of the world's best players in five years. Most of us still live in our parent's house at 18 years but not the talented Barcelona winger.
At such a tender age, Fati has broken many records, which even the great Lionel Messi couldn't in his first season for the club. Therefore, it is safe to say that the expectations for wonder Kids are sky-high.
So without wasting a single minute, let's look at what the youngster has achieved in his first professional season, along with his salary, net worth, statistics, family, and lifestyle.
Let's get started with some quick facts first.
Quick Facts about Ansu Fati
Full Name
Anssumane Fati Vieira
Popular As
Ansu Fati
Birthdate
31 October 2002
Age
20 years old
Birthplace
Bissau, Guinea-Bissau
Father's Name
Bori Fati
Mother's Name
Lurdes Fati
Siblings
Brahimi Fati

Miguel Fati

Djucu Fati

Djeny Fati

Height
5'8″ (1.72 m)
Profession
Football Player
Position
Forward/Winger
Clubs
Barcelona, Sevilla
Net Worth
$2 million (estimated)
Jersey Number
31
Social Media
Instagram, Twitter
Merch
Jersey, Boots
Last Update
June, 2023
Ansu Fati – Early Life & Career
The early life of Fati was nothing like the luxurious life he is living now. His father, Bori Fati, who himself was an ex-footballer, decided to emigrate to Portugal.
From there, Bori decided to go to Marinaleda, where he worked as a taxi driver. After a while, Fati Sr. decided to move to Herera, where Ansu learned to play football.
A lesser-known fact is that Fati nearly joined the Real Madrid youth academy. However, the lure of Barcelona and its world-famous La Masia academy triumphed in the end.
The Barcelona winger's quality was there to see for everyone, even before he reached ten years old. Before joining the famed La Masia, Fati developed his skills at the youth teams of Herrera and Sevilla.
But when Barcelona came calling in 2012 for the services of then-10-year-old Ansu, it was an opportunity too good to turn down.
Getting the chance to play in the same academy as the great Lionel Messi must have been a significant draw for the youngster.
He performed exceedingly well during his time with the youth team impressing the bosses of Camp Nou.
As a result, Ansu was promoted straight to the first team this year without making a single appearance for the Barcelona B team's reserves.
Ansu Fati – Career & Stats (Club & International)
The talented Guinea-born winger began his professional career on 24 July 2019 when he signed his first contract with Barcelona. The deal will keep Fati at the Catalan club until 2022.
Ansu was always a top prospect from the day he joined the famed La Masia academy. Barca's youth academy has produced superstars such as Xavi Hernandez, Andres Iniesta, Carles Puyol, Gerard Pique, Cesc Fabregas, etc.
However, the best product of La Masia certainly has to be probably the best player of all time, Lionel Messi. Therefore, when Ansu made his debut against Real Betis, expectations were high for the 16-year-old.
If you are interested in buying Fatu's jerseys, click here.>>
In doing so, the talented winger became the second-youngest player to debut for the club at just 16 years and 298 days.
Let's take a moment here and try to remember what we were doing at his age. I certainly hadn't figured out what I was going to do, and I'm pretty sure most of you guys didn't as well.
Going back to the matter at hand, Ansu's first season at Barcelona has not even finished, and the kid already has broken several records.
One such record is that Fati became the youngest-ever goal-scorer for the Catalan club when he scored in a 2-2 draw against Osasuna at the tender age of 16 years and 304 days.
On top of that, the La Masia product became the youngest player in the history of La Liga to score and assist in the same match. What's even more fascinating is that it was his first-ever start for the club.
Fati broke another record when he became Barcelona's youngest player to feature in the UEFA Champions League against Borussia Dortmund.
Later on, the La Masia product became the competition's youngest-ever goal-scorer at 17 years and 40 days. Not only did the winger break the record, but he scored the winning goal against Inter Milan.
The kid has broken several records at such a young age, so why not one more right? Well, I am pleased to tell you that Ansu did break another record when he scored a brace in a 2-1 win over Levante.
Subsequently, he became the youngest player in the history of La Liga to score two goals in a single game. To date, Fati has scored five times and assisted one time in his 21 appearances.
I don't think that even the great Lionel Messi broke that many records in his first season for the Barcelona senior team. So, this goes on to show the talent and ability that this kid has.
I think that he will become one of the best players in 4-5 years. What do you guys think? Let me know in the comments.
International Career: Where is Ansu Fati from?
As surprising as it may sound, the Barcelona winger was actually born in Guinea-Bissau, but he did not represent his birth nation at any level.
Consequently, the Spanish Football Federation jumped at the opportunity to grant the winger Spanish citizenship to play for the Spanish national team.
Any country would love to have a player like Fati in their ranks. It should come as no surprise when the La Masia product was granted Spanish Citizenship on 20 September 2019.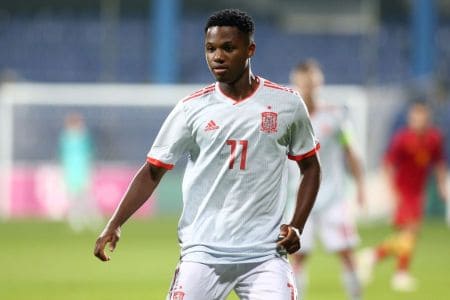 The Barcelona winger has not made any senior team appearance, mainly because he is only 17 years old. Also, this is Fati's first season as a professional.
If you are interested in buying soccer boots, click here>>
However, Ansu has played for the Spanish U-21 team making his debut against Montenegro. At the time of writing, Fati has played only two games for the Spain U-21 side.
Ansu Fati – Football Card
Here's a picture of Fati's football card: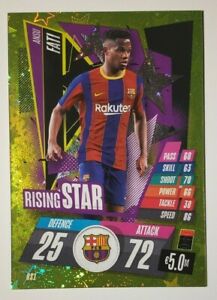 Ansu Fati – Injury
Fati suffered from a torn meniscus in his left knee in November 2020. He was expected to have an operation for the injury and was assumed to return in March.
However, the recovery process went too slow, and further investigation regarding the injury was done.
Operation
Fati has now been exposed to several surgeries for the injury. He initially had an operation to fix his internal meniscus. He then again underwent a second operation.
The setback again occurred in January, and Fati had to have a third operation then. This time it was a revision arthroscopy in his left knee.
Ansu Fati consulted various experts regarding what would work best for him. He even went to Lyon to collect a second opinion.
Experts regard the meniscus as a very important part of the knee. It works as a cushion to prevent the bones from rubbing against each other. It protects the bones during movement.
Physiotherapist Lluís Puig says that Fati's case is not atypical or unexpected. Similar cases can happen to people at times.
He was of the opinion that Fati's options were either to continue to opt for regenerative treatment or go for a meniscectomy which is the surgical removal of a part of the meniscus.
Recovery
Fati has been exposed to regenerative biological treatment so that his recovery would expedite.
Barcelona expects him to recover and return soon to the football field.
Ansu Fati – Net Worth
The exact details of Fati's net worth are still unclear because his contract with Barcelona is not made public.
Upon signing the contract, Ansu has a release clause of €170 million. As a result, his net worth is around €2 million due to his new contract.
If there ever was an example of a player's value to the club, then this is it. At just 17 years of age and in his first professional season, Barcelona has put a €170 million price tag on his head if any club wants to sign Fati.
What is Ansu Fati's salary?
The La Masia product will earn a reported €1 million per year due to his new contract with the club. However, there is a catch as Fati will only receive that sum if he cements his spot in the first team.
If Ansu doesn't and plays for the Barcelona B team, he will only be paid €300,000 per year. Judging by his performances to date, I am sure that the talented 17-year-old earns the big bucks at the Catalan club.
Endorsements & Sponsorship deals
Having a superstar represent your brand is always good for business. Likewise, Nike has got many superstar athletes endorsing their brand.
However, they made a huge mistake by not signing a young Stephen Curry when he was not that popular.
This decision still haunts the American sportswear giants because Curry subsequently signed for Under Armour.
With Steph's celebrity status, Under Armour has grown worldwide as they have reported massive growth in sales.
Therefore, to avoid the same mistake, Nike decided to sign Ansu Fati as a brand ambassador for its new product, Nike Mercurial Superfly VII Elite.
The contract's exact details are not made public, but I am confident that Fati is earning in the millions.
Click Ansu Fati – Transfer Markt to see his player profile.
Ansu Fati – Lifestyle & Family
Most of us would have been studying and working at a low-paying job at 17 years but not Ansu Fati. The Barcelona winger is living the life king-size. He is already a millionaire at just 17 years of age and thus lives life accordingly.
Ansu loves his family just as much as he loves football. The young kid is exceptionally mature for his age and is the chief provider for his family.
The talented winger spends most of his time with his family, including his father, Bori Fati, mother, Lurdes Fati. The 17-year-old has two brothers, Brahimi Fati and Miguel Fati, along with his two sisters, Djeny Fati and Djucu Fati.
The Fati bunch is one big loving family, and I hope to continue to share this strong bond. No matter how much money one earns, all that matters is your family and your loved ones at the end of the day.
Ansu Fati – What is Ansu Fati's religion?
Fati is a Christian by religion. The reason is that the area where he was born had a majority of Christians.
Ansu Fati – Haircut
Fati is quite popular for his dope haircuts. Here's a picture of him getting his fabulous haircut:
Ansu Fati – Documentary
Henrik Lehmann, on his YouTube channel, has uploaded a documentary made on the life of Ansu Khati. The documentary is titled 'Ansu Fati – Teenage Sensation.'
It covers the story of Ansu Fati's football career. It has included everything from Fati's first steps as a child prodigy to the time he broke record after record for the Spanish national team and Barcelona.
The documentary has more than 3.3 million views on youtube as of May 2021.
Social Media Presence: Ansu Fati Instagram
Instagram: 3 million followers
Twitter: 88,000 followers
Common Queries about Ansu Fati
How much is Ansu Fati's speed?
Ansu Fati's speed sprint is 87.
Who is Ansu Fati's agent?
Jorge Mended works as Ansu Fati's agent.