Steve Novak, aka "Novakaine," is an American former basketball athlete of the NBA and sports analyst of Fox Sports Wisconsin.
Novak's professional career as a basketball athlete began after the Houston Rockets selected him during the 2006 NBA Draft.
Since then, Novak has played in the NBA for around eleven years. He has represented various famous teams like Houston Rockets, Los Angeles Clippers, Dallas Mavericks, San Antonio Spurs, New York Knicks, etc.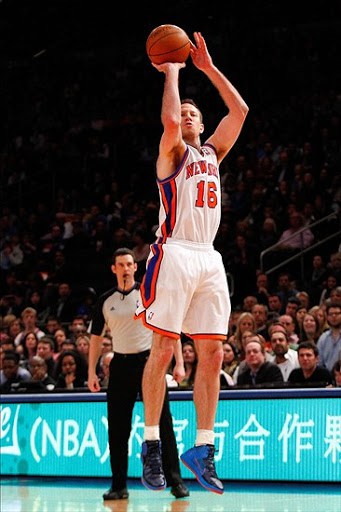 Moreover, Steve is famous for holding the career mark for three-point field goals of 354 at Marquette University and as the third best athlete of the NCAA Division I with 68 consecutive free throws.
Furthermore, let's get to know more about the famous basketball vagabond Steve Novak. First, let's look into some of Novakaine's quick facts.
Steve Novak | Quick Facts
Full Name
Steven Michael Novak
Birth Date
June 13, 1983
Age
39 Years Old
Birth Place
Libertyville, Illinois
Nickname
Novakaine
Religion
Not Available
Nationality
American
Education
Brown Deer Middle/High School, Marquette University
Horoscope
Gemini
Father's Name
Michael Novak
Mother's Name
Jeanne Novak
Siblings
Chris Novak, Andrea Novak, Maggie Novak
Height
6'10" (2.08 m)
Weight
225 lbs (102 kgs)
Build
Athletic
Shoe Size
Not Available
Eye Color
Blue
Hair Color
Brown
Marital Status
Married
Spouse
Christina Novak
Children
Two
Profession
Former Basketball Player, Basketball Analyst
Draft
2006
Number
20, 21, 23, 16, 6
Position
Power Forward, Small Forward
Former Teams
Houston Rockets
Rio Grande Valley Vipers
Los Angeles Clippers
Dallas Mavericks
Reno Bighorns
Sab Antonio Spurs
New York Knicks
Toronto Raptors
Utah Jazz
Oklahoma City Thunder
Milwaukee Bucks
Net Worth
$21 million
Awards and Achievements
First Team All-Big East- 2006
C-USA Sixth Man of the Year- 2003
Fourth Team Parade All-American- 2003
C-USA All-Freshman Team-2003
Social Media
Twitter
Merch
Rockets Basketball Card, New York Knicks Card, Game Used NBA Shorts, Autographed Poster
Last Update
April, 2023
Steve Novak | Early Life, Family & Education
Former basketball athlete Steve Novak was born on June 13, 1983, in Libertyville, Illinois, to his proud parents, Michael Novak and Jeanne Novak.
Steve's father, Michael, was the athletic director of the high school that Steve graduated from. His father was also his coach during his high school years.
Growing up, Steve loved to go to the gym with his father and learn how to play basketball with him.
Moreover, Steve has three siblings named Chris Novak, Andrea Novak, and Maggie Novak, who are also active in sports.
According to Marquettewire.org, Steve and his brother Chris both played on the same high school basketball team. Moreover, for college, the Novak brothers chose different colleges and faced each other many times in court.
Steve stated-
"We're both very competitive; I think once the ball is tossed up, it's going to be a game of basketball and not a bunch of brotherly love out there."
You can check out the full article here, The Brothers Novak.
Furthermore, according to Steve's birthdate, he falls in the sun sign of Leo. Leos are mostly known for their charismatic and inclusive personality.
Age, Height, and Body Measurements
How old is Steve Novak?
Moreover, Steve turned [calculate years datestring="06/13/1983″] Years Old in 2023.
What is Steve Novak's height?
Novak possesses an athletic build, and he stands at the height and weight of 6'10" (2.08 m) and 225 lbs (102 kgs), respectively.
Likewise, Novak has blue-colored eyes and brown-colored hair.
Education
Moving on to Steve's educational background, he attended Brown Deer High School in Brown Deer, Wisconsin.
Likewise, for college, Steve went to a private Jesuit Research University in Milwaukee, Wisconsin, called Marquette University, where he graduated with a bachelor's degree in Communication Studies.
Steve Novak | Career and Profession
Before moving on to Steve Novak's professional career, let's look into his high school and college career first.
High School Career
During Steve's high school playing career, he played as a forward, and as a junior in high school, his average was 3.4 blocked shots, 12.0 rebounds, and 22.2 points per game.
Similarly, during Novak's senior year, his average was 10.4 rebounds, 5.0 assists, and 20.6 points per game.
Throughout Steve's high school career, he won four varsity letters, an award given to the students for excellence in school activities.
Moreover, in 2002, Steve won the Wisconsin High School Boys' Basketball Player of the Year honors.
Likewise, because of Novak's impressive stats, Scout.com considered Steve a four-star recruit. Likewise, in 2002 he made it to the #17 small forward and the #62 player in the nation list.
College Career
Furthermore, Steve commenced his college basketball career at Marquette University in 2002–2003.
During the 2002-03 season, he played in 33 games and had an average of 6.7 points per game. In college, he wore jersey number 20.
Also, Novak shot at 50.5% from the three-point line, and as a freshman, Steve played in the Final Four, besides future NBA players Travis Diener and Dwyane Wade.
Moreover, during the 2003–2004 season, Steve started in 29 of the 32 games. His average was 4.6 rebounds and 12.5 points per game, and he shot 91.2% from the free-throw line.
Likewise, in the 2004–2005 season, Steve started 29 of the 31 games where he increased his average to 13.5 points per game, and he was the third member on the team with 4.1 rebounds per game.
Nonetheless, Novak's had his career's overall improvement during the 2005–2006 season.
He directed the team in points per game with a 17.5 average. Additionally, Steve shot 97.4% from the foul line and recorded an average of 5.9 rebounds per game.
While representing Marquette, Steve's top performance was against Notre Dame during Marquette's inaugural Big East contest.
He recorded 16-rebounds, 41-points, and a game-winning 18-foot jumper in 1.1 seconds left to complete a 28-point effort in a 67–65 win.
Moreover, Steve competed and won the ESPN college three-point shooting contest held at Hinkle Field House in Indianapolis, Indiana, in March 2006.
College Stats
| | | | | | | | | | | | |
| --- | --- | --- | --- | --- | --- | --- | --- | --- | --- | --- | --- |
| Year | GP | GS | MPG | FG% | 3P% | FT% | RPG | APG | SPG | BPG | PPG |
| Career | 126 | 89 | 27.0 | .456 | .461 | .931 | 4.2 | 1.0 | .5 | .1 | 12.4 |
Georges Niang Bio: Stats, Contract, Net Worth & Girlfriend >>
Professional Career
Houston Rockets
As per Steve's impressive stats in college, on June 28, 2006, the Houston Rockets drafted him during the 2006 NBA draft as the 32nd overall pick.
He recorded an average of 0.7 rebounds and 1.5 points in 5.5 minutes per game in his rookie season while representing the Rockets.
However, during the Houston Rocket's playoff, he was not present and active.
Likewise, in the 2007–2008 season, the Rockets assigned Steve to an NBA Development League team called the Rio Grande Valley Vipers and represented them for a month.
Later, the Rockets called Novak back to the main team on December 16, 2007.
Moreover, during the 2008 season, Steve recorded a game-winning 3-pointer with 2.5 seconds left in an 89–87 win while playing against Sacramento Kings and kept the Houston Rockets' memorable 22-game winning streak active.
The three-pointer score was his only basket during the overall game.
Los Angeles Clippers
The Houston Rockets traded Steve to Los Angeles Clippers in exchange for a second-round draft pick of the 2011 NBA Draft on August 6, 2008.
While representing the Clippers, one of his major highlight games was playing against the New Jersey Nets, where he hit a 3-pointer at the buzzer on March 15, 2009.
Dallas Mavericks
After representing Dallas for the 2009 season, Steve signed a one-year deal with the Dallas Mavericks as a free agent.
Thus, the Mavericks released Novak after his contract expired on January 5, 2011.
San Antonio Spurs
After representing Dallas Mavericks for a season, Steve was acquired by the NBA Development League team called the Reno Bighorns on February 4, 2011.
However, after three days with the Bighorns, the San Antonio Spurs called Steve for a 10-day contract. Likewise, on February 22, 2011, he signed another 10-day contract with the Spurs.
Moreover, after Novak's two 10-day contracts, the Spurs signed him for the rest of the season on March 4, 2011.
New York Knicks
Furthermore, the New York Knicks signed Steve with a $1.4 million contract on December 21, 2011.
During the end of the 20011-2012 NBA season, he led the league with a 47.2% percentage in 3-point. Steve tied with Kevin Durant in the third position in the 3-point shots category, which was 133.
Likewise, Novak became an unrestricted free agent at the end of the season, and on July 9, 2012, he signed a four-year contract extension worth $15 million with the Knicks.
While representing the Knicks, Novak accumulated a large fanbase.
Novak also acquired his nickname "Novakaine" by Walt Frazier during his time representing the Knicks. Steve's nickname is after the drug named Novocain.
Moreover, during the 2012-2013 All-Star Weekend, Steve competed in the Foot Locker Three-Point Contest.
Novak's turnover percentage of 2.63 turnovers performed per 100 plays during the 2012–2013 season was the lowest single-season turnover percentage in league history.
The NBA started recording individual turnovers after the 1977–1978 season.
Toronto Raptors
The Knicks traded Steve, a future first-round draft pick, Quentin Richardson, two future second-round draft picks, and Marcus Camby in exchange for Andrea Bargnani to Toronto Raptors on July 10, 2013.
When the trade took place, the Raptors President and General Manager of Basketball Operation, Masai Ujiri, stated –
"We collectively decided that a fresh start for both parties was the best way to move forward, and we wish Bargnani all the best."
Utah Jazz/
Oklahoma City Thunder
Moreover, The Toronto Raptors traded Steve and the 2017 second-round draft pick for Diante Garrett to Utah Jazz on July 10, 2014.
Furthermore, after representing the Utah Jazz for the 2014 season, the Jazz traded Steve to the Oklahoma City Thunder during the three-team deal involving another NBA team, the Detroit Pistons.
Later, the Thunders traded Steve, two second-round draft picks, and D.J. Augustin with cash considerations in exchange for Randy Foye to Denver Nuggets on February 18, 2016.
However, the Denver Nuggets waived Novak out from the team the next day.
Dario Saric Bio: Early Life, Stats, Contract & Salary >>
Milwaukee Bucks
After the Nuggets waived Novak off the team, the Milwaukee Bucks signed Steve on February 22, 2016.
Novak played in three games while representing the Bucks, but he sustained a left knee injury while playing against the Detroit Pistons on February 27, 2016, which led the Bucks to rule Steve out for the remaining season.
Moreover, the Bucks re-signed Steve on August 29, 2016, for another season, and the team waived him after his contract expiration on February 2, 2017.
Post-Retirement Career
After playing in the NBA for eleven seasons, Novak joined the NBA's broadcasting training camp called Sportscaster U to polish his broadcasting interests and skills.
Moreover, after Novak completed his courses at the Sportscaster U Bucks' President Peter Feigin proposed him a role on the Bucks' broadcasting team.
Likewise, the Milwaukee Bucks announced that Steve would be joining as a pre-game and post-game analyst for Milwaukee Bucks broadcasts on FOX Sports Wisconsin on September 20, 2017.
Similarly, at times, Steve also commentates for the Bucks' NBA G League team, Wisconsin Herd.
Steve Novak | Awards and Accomplishments
Basketball Player of the Year: Gatorade Wisconsin High School Boys – (2001–2002)
Conference USA All-Freshman Team- (2002–2003)
NIT All-Star Team- 2004
Conference USA Sixth Man of the Year- (2002–2003)
All-Big East Conference First Team Unanimous Selection- (2005–2006)
NCAA 3-Point Shootout Winner- (2005–2006)
Number 20 retired at Brown Deer High School- (2005–2006)
Marquette Career Mark for three-point field goals- 354
Third best with 68 consecutive free throws in NCAA Division I history
Led the NBA in three-point field-goal percentage (2011–2012)
Steve Novak | Net Worth
Steve has been playing in the NBA professionally for around eleven years, and undoubtedly he has earned a fair amount of earnings throughout his career.
Looking back at Steve's career as a professional basketball athlete, his salary while representing the Houston Rockets ranged from $600 thousand to $700 thousand.
Likewise, Novak's salary while playing for the Los Angeles Clippers was around $850 thousand. Similarly, while representing Dallas Mavericks and San Antonio Spurs, his salary was about $350 thousand.
Furthermore, with the New York Knicks and Toronto Raptors, his salary was around $4 million.
Lastly, the last three seasons' salary before retiring ranged from approximately $400 thousand– $3 million while representing Oklahoma City Thunder, Denver Nuggets, and Milwaukee Bucks.
Thus, after summing up all of Novak's career earnings, we can state that-
The presumable net worth of Steve Novak falls around $21 million.
Steve Novak | Wife and Children
Steve is married to Christina Novak. Reportedly, the couple were from the same University and started dating after Steve participated in the Final Four.
Moreover, Steve proposed to Christina at the Chicago White Sox game, and they eventually got married in July 2007.
Likewise, Steve and Christina have two children together. Besides, their children's information is not available from any sources.
Talking more on it, Steve Novak is a hardcore decorated when it comes to Halloween special as he is doing new things each year. Back in 2020, Steve decorated his Dallas house with the bloodied scene of dummies hanging from the roof and littering the front sidewalk.
Well, he used a zombie projector and 20 gallons of fake blood. As viral as his decorations got, his neighbors also called the police on him several times.
Steve Novak | Social Media Presence
Twitter– 125.2k followers
Common Queries about Steve Novak
Can Steve Novak dunk?
Yes, Steve Novak can dunk. However, he has not done so in any of his official games throughout his career.
Does Steve Novak run a shooting camp?
Yes, the power forward runs a shooting camp.
Did Steve Novak go to Boise State University?
No, the basketballer went to Marquette University.
Where is Steven Novak's Halloween house?
The Steve Novak Halloween house is in East Dallas. However, it is not related to the basketballer at all. In fact, it is a different Steve Novak who is a full-time artist.
Has Steve Novak worked at Morgan Stanley?
No, the athlete has not worked at the investment banking company Morgan Stanley.
Where does Steve Novak live?
Currently, Steve Novak lives in Oconomowoc, Wisconsin, as he works at the FOX Sports Wisconsin for Milwaukee Bucks.