Marcus Camby's name is well-known among NBA fans. The legendary 1996 Draft's second pick made his mark in the league with his defensive ability.
Camby started his career in 1996 and retired in 2013. He was awarded Defensive Player of the Year during the 2006–07 NBA season.
The basketball player has earned plenty of awards and honors, including NBA All-Rookie First Team, Consensus first-team All-American, Atlantic 10 Player of the Year, National college player of the year, and so on.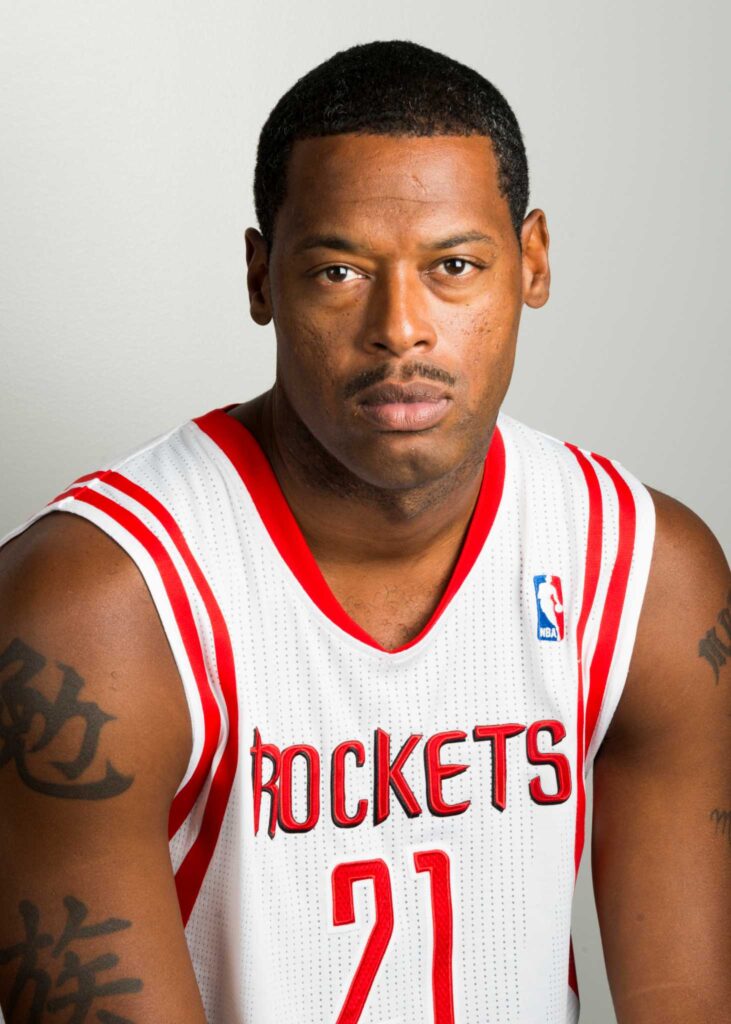 The basketball player is best remembered for his time with the New York Knicks and Denver Nuggets.
In this article, we will uncover the personal as well as professional life of Marcus Camby. But before that, let's have a look at his quick facts.
Quick Facts
Full Name
Marcus Dion Camby
Name
Marcus Camby
Nick Name
Marcus
Date of Birth
22 March 1974
Age
49 years old
Birth Place
Hartford, Connecticut, United States
Nationality
American
Ethnicity
African-American
Zodiac Sign
Aries
Height
211 cm (6′9″)
Weight
107 kg/236
Hair Color
Black
Eye Color
Black
Father's Name
Ames Manderville
Mother's Name
Janice Camby
Siblings
Mia Camby & Monica Camby
School
Conard High School
High School
Hartford Public High School
Education
University graduate
University
UMass
Marital Status
Divorced
Ex-wife
Eva Camby
Children
Milan Camby, Maya Camby
Profession
Professional Basketball Player
Position
Center
Leagues
National Basketball Association (NBA)
NBA Draft
Second overall in the first round of the 1996 NBA draft by the Toronto Raptors
Debut Year
1996
Retirement
2013
Teams

Toronto Raptors (1996–1998)
New York Knicks (1998–2002)
Denver Nuggets (2002–2008)
Los Angeles Clippers (2008–2010)
Portland Trail Blazers (2010–2012)
Houston Rockets (2012)
New York Knicks (2012–2013)

Honors
No. 21 retired by UMass Minutemen
Awards and achievements

NBA All-Rookie First Team (1997)
National college player of the year (1996)
Consensus first-team All-American (1996)
Atlantic 10 Player of the Year (1996)

Net Worth
$60 million
Social Media

Twitter

Merch
Card
Last Update
May 2023
Early Life
On March 22, 1974, Marcus Camby was born in Hartford, Connecticut. He was born to his father, Ames Manderville, and his mother, Janice Camby.
Camby has two sisters, Mia Camby and Monica Camby.
Marcus was good with basketball from a young age. He was the proficient player in his high school Соnrаd Ніgh Ѕсhооl іn Wеѕt Наrtfоrd.
Later, he transferred to Наrtfоrd Рublіс Ѕсhооl. He dеmоnѕtrаted hіѕ іnсrеdіblе ѕkіllѕ іn bаѕkеtbаll there and became the high school basketball star.
Marcus Camby | College Career
Marcus Camby is one of the most accomplished players in University of Massachusetts Amherst (UMass) history. Camby is regarded as one of the best basketball players in UMass.
Camby was selected Naismith National Player of the Year in 1996. Furthermore, he was voted consensus first-team All-American after averaging 20.5 points per game.
You may also like reading about: Sedale Threatt Bio | NBA, Jail, Wife, Son & Net Worth>>>
In 2004, Camby was chosen to the ESPN Silver Anniversary All-Time Atlantic 10 Team.
During his three years at UMass, he was a two-time NABC All-District selection and a two-time Atlantic 10 First-Team selection.
Marcus Camby | Professional Career
Camby debuted as a rookie monster representing the Raptors. He scored 37 points and grabbed eight rebounds in a 90–79 defeat to the Atlanta Hawks in his debut game.
Thus, he was awarded NBA All-Rookie First Team as a rookie
Camby was transferred to the New York Knicks in a trade. Camby played a key role in the Knicks' run to the NBA finals, averaging doubles in the series' last three games.
The New York Knicks made history by becoming the first eighth-seeded club to reach the NBA Finals. They were, however, unable to win the championship.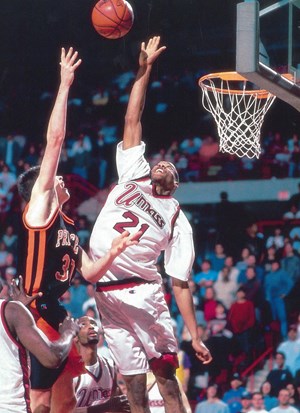 The Knicks, on the other hand, realized how valuable Camby was to the team. However, Camby was sidelined for most of the 2001–02 season, and the Knicks struggled to a 30–52 record and missed the playoffs without him.
Later, Camby was traded to Denver Nuggets in exchange for Antonio McDyess.
Denver Nuggets
Camby maintained his enthusiasm despite being traded to the Denver Nuggets and continued to give his best throughout the game. He was value added to the team and led to several victories.
Finally, Camby's efforts were noticed, and he was named NBA Defensive Player of the Year for the 2006-07 season. It was Camby's first award in his career.
Furthermore, he received the actual award from NBA commissioner David Stern during a pregame ceremony at the Nugget's first home 2006–07 playoff game.
Camby established himself as one of the finest defensive players and centers in the NBA during the 2007–08 season.
He was the fourth player since 1990 to have a game with at least 20 points, 20 rebounds, six assists, and six blocks.
Camby became only the third player since blocked shots became an official NBA stat in 1973–74 to have at least 24 rebounds and 11 blocks in a game.
He got his second triple-double of the 2007–08 NBA season on March 16, 2008, when he scored 13 points, 15 rebounds, and ten assists in a historic 168–116 victory.
Los Angeles Clippers
Camby was dealt with the Los Angeles Clippers on July 15, 2008, in exchange for the opportunity to swap second-round draft selections in the 2010 NBA draft.
Camby expressed dissatisfaction with his trade from the Nuggets, claiming that he was made the scapegoat for his lack of postseason success.
He began the 2008–09 NBA season as a power forward for the Los Angeles Clippers, subsequently moving to the starting center position.
Camby had a career-high 27 rebounds, 19 points, two assists, one steal, and four blocks on December 17, 2008.
Other Teams
On February 16, 2010, Camby was transferred to the Portland Trail Blazers. However, Camby was crucial in earning a playoff berth as the sixth seed in the Western Conference and signed a two-year contract extension with the Blazers.
But, at the deadline of the contract, Camby was traded to the Houston Rockets and then to the New York Knicks after a few months.
He missed most of the 2012–13 season with a left foot injury, appearing in only 24 games and professionally retiring as a basketball player in 2013.
Enjoy reading about: Jaxson Hayes: NBA, Domestic Violence & Net Worth>>>
Awards and Achievements
NBA Defensive Player of the Year Award (2006)

Two times NBA All-Defensive First Team (2007, 2008)

Two times NBA All-Defensive Second Team (2004, 2005)

NBA All-Rookie First Team (1996)

John R. Wooden Award (1996)

Oscar Robertson Trophy (1996)

Associated Press First-Team All-American (1996)

UPI First-Team All-American (1996)

Basketball Weekly First-Team All-American (1996)

NCAA East Regional Most Outstanding Player (1996)

Three-time All-Atlantic 10 First Team (1994, 1995, 1996)

Atlantic 10 Freshman of the Year (1994)

New Haven Register All-State Team (1993)
Marcus Camby | Controversy
A man named Troy Crooms broke into Camby's family home and kidnapped the center's mother and two sisters as hostages. Crooms, who already had a criminal record, didn't just break into this residence by chance.
He was the ex-boyfriend of Monica, one of Camby's sisters. Terry would tie the three ladies and hold them at knifepoint, injuring Monica Camby.
Fortunately, they could contact 911 and notify the police of the kidnapping. Marcus was informed right away and rushed to the spot in the middle of the night.
Crooms refused to speak to the cops and demanded Marcus come in, presumably to demand money in return for the safety of his family.
On the other hand, Marcus was not allowed near the police station for his protection. Crooms ultimately surrendered after eight hours of negotiating and drama, and everyone could leave the residence.
Monica was rushed to the hospital with terrible wounds and cuts, but fortunately, it was not life-threatening. Crooms was charged with multiple offenses and received an 18-year sentence.
In the end, everything was solved, but the incident had left Marcus Camby with a huge emotional scar.
Marcus Camby | Wife and Divorce
Marcus Camby had kept his personal life private. He had been married to Eva Camby with two children, Milan and Maya Camby but kept his personal life lowkey from the media.
But, in 2018, a woman named Noemi Valdez sued Marcus for neglecting his child. The news blew up and stirred major controversy.
Later, Marcus and Noemi Valdez, their daughter Makiah, negotiated a custody and child support arrangement. He spends $4,000 a month and sees his daughter twice a month for three-hour sessions.
But, things were about to get bitter as just months after it was revealed that he fathered a hidden love child, his decade-long wife, Eva Camby, filed for divorce.
The couple reached a deal to settle their divorce, agreeing to pay his ex-wife $4.1 million and $15k a month in support.
Marcus Camby | Net Worth
Саmbу hаѕ аn еѕtіmаtеd nеt wоrth оf $60 mіllіоn. Не earned this net worth from hіѕ ѕuссеѕѕful саrееr аѕ а рrоfеѕѕіоnаl bаѕkеtbаll рlауеr.
He signed his rookie contract with Toronto Raptors worth $8,397,240. He then signed a five-year contract with the New York Knicks worth $32,300,000.
Similarly, he signed a six-year contract worth $55,000,000 with Denver Nuggets. Similarly, Marcus has earned millions of net worth from his salary as an NBA player.
Get on: Jusuf Nurkic Bio: Salary, Relationship & NBA>>>
Apart from this, Саmbу аlѕо mаkеѕ mоnеу thrоugh brаnd еndоrѕеmеntѕ, ѕроnѕоrѕhірѕ, mеdіа арреаrаnсеѕ, аnd lіvе еvеntѕ.
Social Media
Marcus Camby is a private person and doesn't like sharing his personal life on social media. However, he has Twitter, where he occasionally tweets his thoughts and updates.
You can follow Camby on his Twitter account and join 93.3 K followers (as of Feb 2022).
Frequently Asked Questions (FAQs)
Is Marcus Camby still in the NBA?
No, he retired in 2013 after the seasonal-ending injury. In 2013, Marcus was traded to Houston Rockets. However, he was released by the Rockets on October 28, 2013. Then, he retired professionally as an NBA player.
Who was in the draft class of Marcus Camby?
Camby was in the iconic 1996 draft class. Marcus was in the same draft class as Allen Iverson, Kobe Bryant, Ray Allen, and Steve Nash.