Hailey Van Lith brother, Tanner Van Lith, is a former collegiate baseball player. Tanner has a degree in Business Information Systems.
The only sibling of Hailey Van Lith, Tanner is an older brother to the star basketball player. Born and raised in Wenatchee, Washington, Hailey and Tanner were raised by an athletic dad in Corey Van Lith.
Their mom, Jessica, does not come from an athletic background but was supportive of her kids' athletic careers. The mother of two is an interior designer.
One of the big names in the collegiate scene in Women's Basketball, Hailey's recent move to champions LSU has caused a stir in the market.
A point guard, Hailey is one of the most marketable collegiate athletes. The LSU Tigers' newest signing is a big fan of Kyrie Irving and hopes she can bring the same form to LSU.
Hailey Van Lith Brother Tanner Van Lith Is A Graduate Of GCU
Hailey Van Lith's big brother, Tanner Van Lith, graduated from GCU in 2022 with a degree in Business Information and Cybersecurity.
A graduate of Cashmere High School, Tanner Van Lith joined Big Bend Community College to further his higher studies. At Big Bend, Tanner was one of the players on the baseball team and later graduated with a double degree.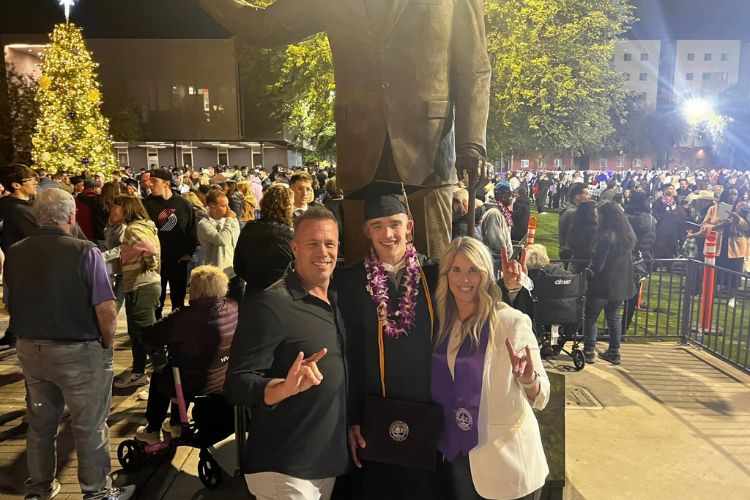 Tanner was the captain of the Big Bend Baseball Team for two years and earned a degree in arts and sciences and another in business.
At Big Bend, Tanner maintained a CGPA of 3.66 and later joined Grand Canyon University to earn his degree in BIS with a minor in Cybersecurity.
His latest work was at The Six Training Facility in 2020 as a web designer. He joined them as a social media marketing manager and only worked for ten months.
He is available on Twitter with the username @TVL2121 and is seen dedicating most of the tweets to his younger sister and her on-field success.
Hailey Van Lith Parents: Corey And Jessica Van Lith
Hailey Van Lith's parents, Corey and Jessica Van Lith are business partners along with being life partners.
Corey Van Lith is a former basketball player, having previously played for the University of Puget. He was also a basketball coach for Wenatchee Panther's 9-and-under boy's team.
Her parents are co-owners of a custom home-building business, Van Lith Developments and Excavation, which began after Jessica left her previous job.
The mother of two was previously involved in retail management. On Facebook, Jessica has shared several family pictures, including that of her son and daughter.
Van Lith Family Were Close With Kobe Bryant
The Van Lith family had a tight-knit relationship with the basketball legend Kobe Bryant. In 2020, Kobe, with his daughter, Gigi, passed away in a helicopter accident.
Kobe and Corey connected on the topic of raising girls and training them. Bryant was a big fan of Hailey and wanted his daughter to have a role model.
It was the summer of 2019 that brought the two families close. Kobe had watched Hailey star for Team USA u-19 team in Thailand and came in contact with her.
A bit baffled that one of the greatest players to grace the sport called her, Hailey asked Bryant why her. Black Mamba replied that he saw his work ethic in her, which made him reach out.
Hailey shared an emotional tribute post on her Instagram after Kobe and Gigi's demise. Last year before the match with South Carolina, Hailey talked about Kobe and his impact on her game, which she said would last forever.