We have done quite a few articles on the best and great female tennis players, and today we are looking at some of the hottest female tennis players.
Tennis players are known for their incredible physiques. Some of the most good-looking athletes in the world are tennis players. Therefore, today we have compiled a list of ten of the hottest-looking female tennis players.
But first, let us ask your opinion on who is the hottest female tennis player. Stick with us to see if your choice matches ours!
While these players are blessed with good genes, their incredible physiques result from their strict diets and grueling workout routines. It takes great discipline and hard work, for which we must give them credit.
The female tennis players on our list have won the hearts of tennis fans all over the world with their outstanding skills and exquisite looks.
So let us look at ten of these hottest female tennis players without further ado!
Quick Overview
Let us look at the overall rankings before we dive into the details.
| | |
| --- | --- |
| Player Name | Nationality |
| 10. Maria Kirilenko | Russia |
| 9. Sloane Stephens | United States |
| 8. Sania Mirza | India |
| 7. Aryna Sabalenka | Belarus |
| 6. Ana Ivanovic | Serbia |
| 5. Fanny Stollar | Hungary |
| 4. Camila Giorgi | Italy |
| 3. Maria Sharapova | Russia |
| 2. Emma Radacanu | United Kingdom |
| 1. Eugenie Bouchard | Canada |
Ten Hottest Female Tennis Players
We have compiled our list with references from trusted sites like SportsVirsa, TheAthleticBuild, etc.
10. Maria Kirilenko
Starting our list at number 10, we have former Russian professional tennis player Maria Kirilenko. The 36 year-old player made her professional tennis debut in 2002, participating in the WTA events.
Before her professional career, Kirilenko was a junior tennis player. The same year, she made her professional debut; she won the Canadian Open and U.S. Open junior tournaments.
After her debut, her breakthrough year was in 2004. However, as Kirilenko was rising in her ranks, a back injury caused her setback. She successfully recovered and became a top-ten player in singles and doubles.
During her career, Kirilenko won six WTA singles titles. Likewise, she won twelve doubles titles and reached the singles quarterfinals of three Grand Slams at the 2010 Australian Open, 2012 Wimbledon Championships, and 2012 London Olympics.
Given her success and appeal, in 2006, Kirilenko was the face of Adidas tennis gear for three years. Similarly, she modeled for the 2009 Sports Illustrated Swimsuit Edition in a pictorial entitled "Volley of the Dolls."
There have been many great female tennis players, and we were curious to know who are the greatest female tennis players. Click here to find out!
9. Sloane Stephens
Sloane Stephens is a 30 year-old professional tennis player and the ninth hottest female tennis player on our list. She made her professional debut in the tennis world in the 2007 ITF Women's Circuit.
Stephens was born into an athletic family, and she started playing tennis at age nine. At age 13, she began competing in low-level events. Then, two years later, she made a breakthrough at the U.S. Open in 2008.
Stephens reached her first doubles final at a Grand Slam during the event. Her breakthrough after her professional debut was at the Australian Open in 2013.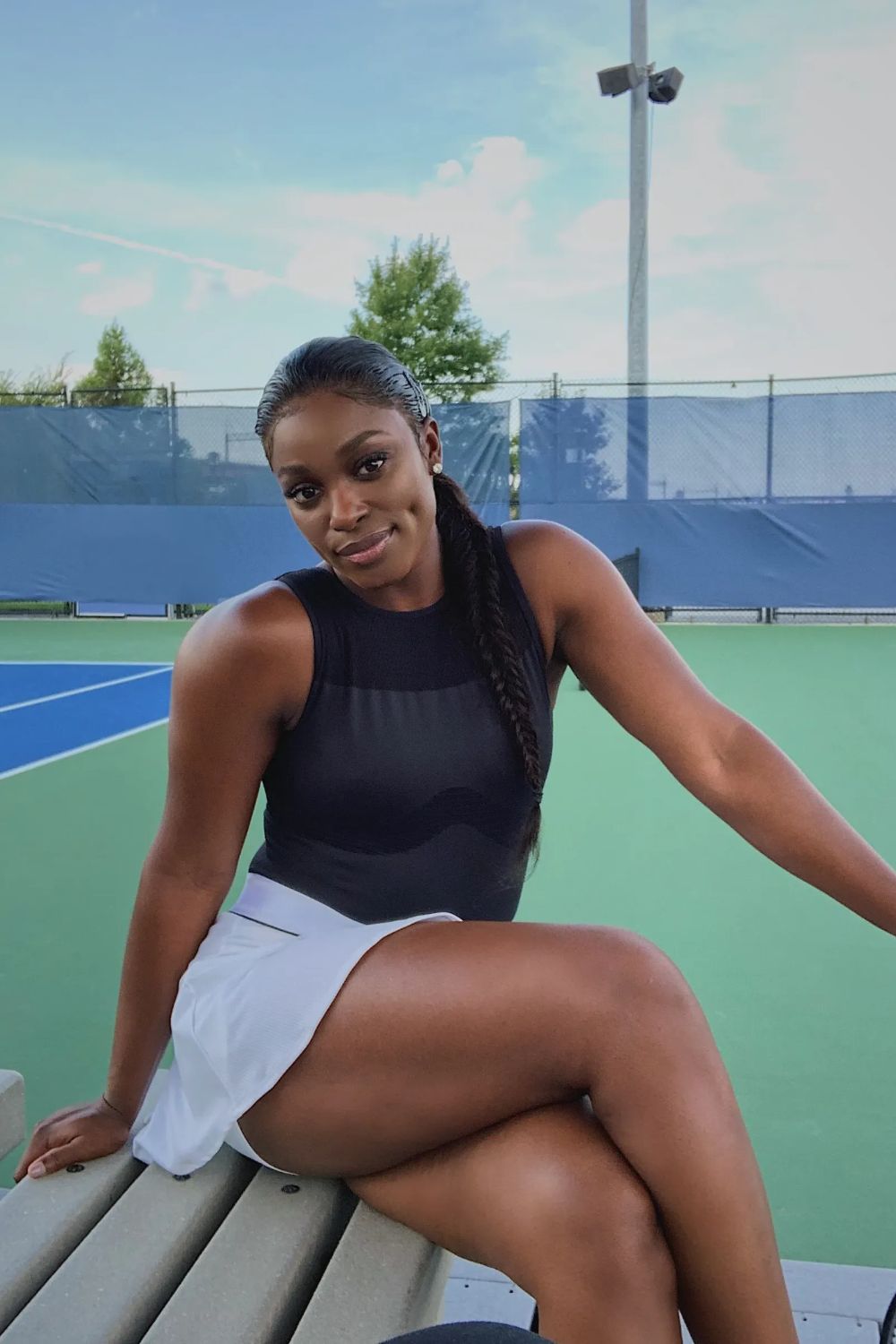 In 2017, she won the U.S. Open Champion and achieved her career-best rank of No. 3 in the world after the 2018 Wimbledon.
Similarly, in 2018, Stephens also won her first Premier Mandatory title, reaching a second Grand Slam singles final at the French Open.
To date, Stephens has won seven WTA singles titles. Throughout her career, she has been the face of several brands, including Under Armour, Mercedes-Benz, American Express, Time Warner Cable, and many more.
8. Sania Mirza
The 36 year-old Sania Mirza is a professional tennis player who is a former doubles world No.1. She is one of the only Indian female tennis players to be ranked within the top 100 in singles.
At the early age of six, Mirza started playing tennis. Trained by her father, she made her professional debut in 2003. During her junior year, she won ten singles and thirteen doubles titles.
Since her professional debut, she has recorded wins over notable female tennis players like former world No.1s Martina Hingis, Dinara Safina, and Victoria Azarenka. Her career-highest ranking of world No. 27 was in mid-2007.
Mirza took retirement from singles in 2013. From 2003 to 2013, she was ranked Indian No. 1 in singles by the Women's Tennis Association. In the 2016 Time edition, she was named among the 100 Most Influential People in the World.
Her tennis skills and gorgeous look have won over many. She has the most won WTA double titles on tour than any other active player. In 2013, Mirza was appointed as the UN Women's Goodwill Ambassador.
7. Aryna Sabalenka
On number 7, we have the Belarusian beauty and professional tennis player Aryna Sabalenka. She is 25 year old and rose to prominence in 2017 after leading the Belarus Fed Cup team and finishing as a runner-up.
Well-known for her aggressive playing style, Sabalenka picked up playing tennis by chance. She started her junior career by competing on the U-14 and U-16 Tennis Europe Tours on the ITF Junior Circuit.
Her professional debut was in 2012 on the ITF Women's Circuit.
Since then, she has won ten singles and six doubles titles. Similarly, her career-high rank by WTA is world No. 2 in singles and world No. 1 in doubles.
In the 2021 Australian Open, she won Grand Slam doubles titles with her partner Elise Mertens.
Since starting her professional career, Sabalenka has had an endorsement deal with Nike for apparel and shoes. Likewise, she also has an endorsement deal with Wilson for their range of racquets.
6. Ana Ivanovic
Ana Ivanovic is a 35 year-old former tennis player. She is a former world No. 1 tennis player who won fifteen WTA Tour singles titles and one Grand Slam title during her professional playing career.
Ivanovic played junior tennis before her professional career. She rose to prominence in 2004 at the Zurich Open. In addition to being qualified, Venus Williams managed to beat her by a narrow margin.
The Serbian beauty is well-known for her impressive forehand and aggressive playing style. Ivanovic reached the world's No. 1 rank in 2008 after winning the French Open.
In 2011, Time named her among the "30 Legends of Women's Tennis: Past, Present, and Future." Similarly, reporter Matthew Cronin included her in the "Top 100 Greatest Players Ever."
Ivanovic has been included as a character in various tennis video games like Smash Court Tennis 3, Virtua Tennis 2009, Grand Slam Tennis, etc. She retired from the sport in December 2016.
Hey Tennis Fan! Rooting for your favorite player. Here we present you with the best tennis players of all time. Click here to read more!
5. Fanny Stollar
Our fifth hottest female tennis player is 24 year-old Hungarian tennis player, Fanny Stollar. The young player started playing tennis at the early age of three.
Stollar's first notable win was in 2015 when she won the Wimbledon girls' doubles title with her partner Dalma Galfi. Similarly, she also participated in the WTA Tour event in Charleston in 2018.
Her biggest double title game was at the 2018 Hungarian Ladies Open, where Stollar partnered with Spanish player Georgina Garcia Perez to grab the win. She has won two doubles titles on the WTA Tour.
Likewise, Stollar has won one doubles title on the WTA Challenger Tour, one singles title, and eleven doubles on the ITF Women's Circuit. Her career-high ranking in the world was No. 114, which she achieved on November 19, 2018.
Stollar's incredible physique and gorgeous look have made her one of the hottest female tennis players.
4. Camila Giorgi
Camila Giorgi is a 31 year-old professional tennis player and our number 4 pick. She made her professional tennis debut in 2006 at a $10k tournament and reached two semi-finals.
Giorgi was just five years old when she picked up a tennis racquet. She made the final rounds of the Nike Junior Tour in November 2005. Similarly, she reached the finals of the Sey Department Cup held in the Czech Republic during her junior career.
After her professional debut, Giorgi rose to prominence in 2007. The following year, she started participating in several tournaments in France. In May 2008, she qualified for a major tournament circuit for the first time.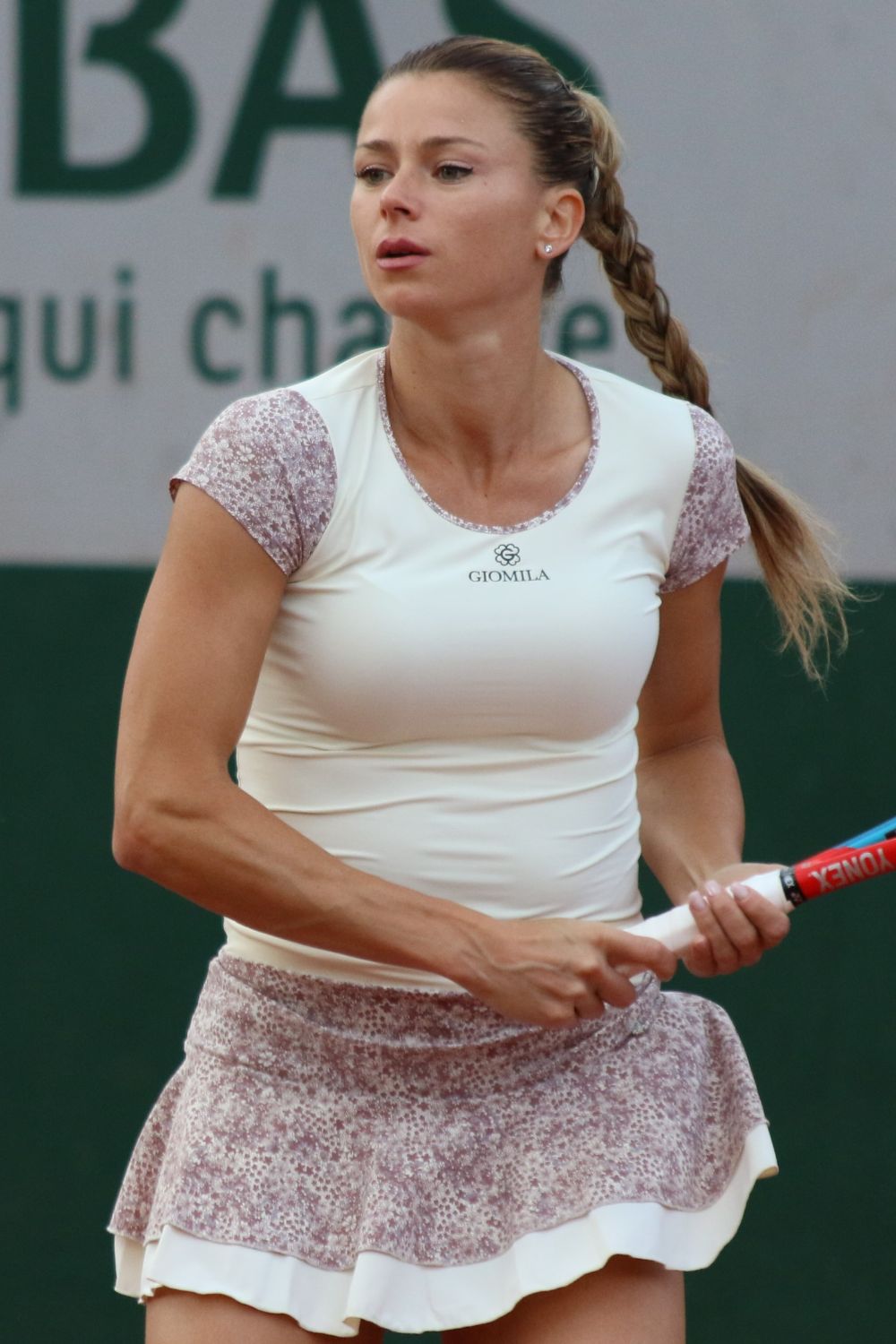 In 2009, Giorgi won her first ITF title, and at the 2011 Wimbledon Championships, she made her Grand Slam and main-draw debut. Her hard-hitting playing style had made her one of the hardest hitters of the ball on tour.
Giorgi's most notable wins were at the 2013 U.S. Open, Indian Wells Open, and Eastbourne International. On October 22, 2018, she recorded a career-high singles ranking of world No. 26.
Currently, Giorgi is the number one Italian female tennis player. She formerly had a sponsor deal with Babolat racquets and, since 2021, has been endorsing the Yonex VCORE 100 brand.
3. Maria Sharapova
We are down to the top 3 hottest female tennis players. On number 3, we have the former world No. 1 tennis player, 36 year-old Maria Sharapova.
Starting her junior career in November 2000, Sharapova made her professional debut in 2003. The following year, she bagged a Wimbledon, which grabbed a lot of attention, and thus slowly climbed the ranks.
On August 22, 2005, Sharapova became world No. 1 at age 18. The achievement made her the first Russian woman to top the singles rankings. Similarly, she is the only Russian female tennis player to win the career Grand Slam.
At the 2012 London Olympics, Sharapova won silver in women's singles.
Likewise, she has also won five major titles, two French Open, an Australian Open, Wimbledon, and U.S. Open.
Sharapova is a well-known tennis player. Her achievements and good looks have landed her several modeling assignments, including in the Sports Illustrated Swimsuit Issue. In addition, she has been the face of many advertisements and fashion houses.
2. Emma Raducanu
Born in Toronto, Canada, we have a British professional tennis player, Emma Radacanu, on the second number of our list. She is a 20 year-old player who made her ITF debut at the Nike Junior International held in Liverpool at age 13.
After winning the ITF U-18 tournament eight days after her ITF debut, Radacanu became the youngest player to win the tournament title.
Similarly, she also won the Yonex ITF Hamburg and ITF Oslo Open Grade-4 events in her junior career.
Radacanu won many other junior titles before making her professional debut in the ITF Women's circuit in 2018. In 2021, she became the first singles qualifier in the Open Era to win a Grand Slam title.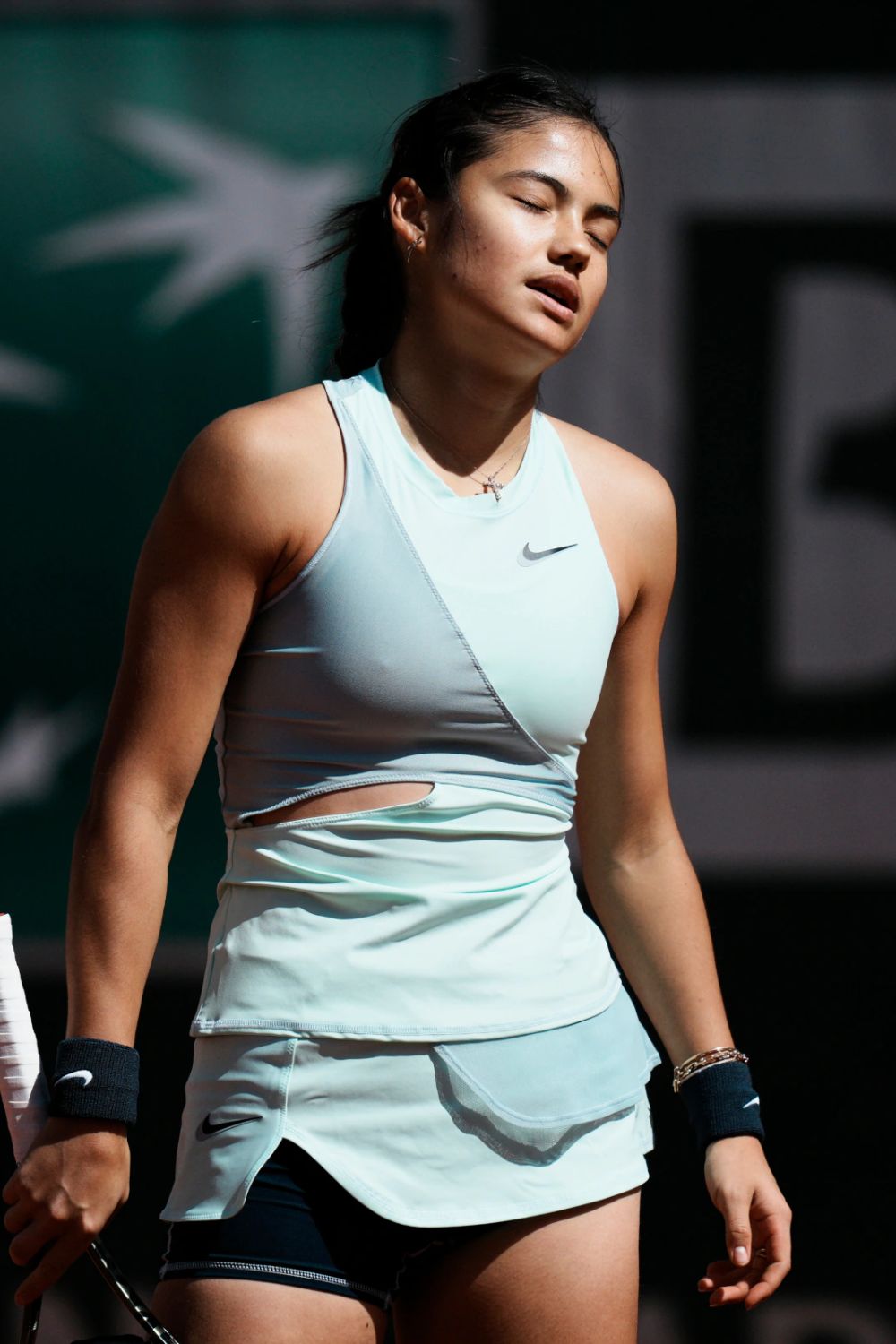 After the Grand Slam win, Radacanu became the first British woman to win the Grand Slam singles title since Virginia Wade's win in the 1977 Wimbledon Championships. On July 11, 2022, she reached her career-high rank of world No. 10.
The young tennis player has garnered a lot of attention and interest. As a result, she also has endorsement deals with luxury brands like Dior, Tiffany & Co., Porsche, and other brands like Nike, British Airways, etc.
1. Eugenie Bouchard
And the title for the number 1 hottest female tennis player goes to 29 year-old Eugenie Bouchard. She is the first Canada-born player to represent the country at Wimbledon Championships.
At age five, Bouchard started playing tennis. She was also a member of Tennis Canada's National Training Centre in Montreal.
In 2005, she made her professional debut at the Open Super 12.
Following her debut, Bouchard participated in the ITF tournaments in Costa Rica and won all the singles and doubles titles. Similarly, she also captured all Canadian ITF singles titles in 2008.
After she won the 2012 Wimbledon girls' tournament title, Bouchard was named WTA Newcomer of the Year at the end of the 2013 WTA Tour.
At the 2014 Wimbledon Championships, she reached the finals and finished as a runner-up.
Bouchard reached a career-high ranking of No. 5 in the 2014 season and was the first Canadian player to rank top 5 in the singles format.
Given her popularity, she has had sponsorship deals with Coca-Cola, Aviva Canada, Yonex racquets, New Balance, etc.
Conclusion
These tennis players have won over fans worldwide with their skills and appealing looks. Many of these female tennis players have also ventured into the world of modeling, thanks to their gorgeous looks. Maria Sharapova is an excellent example.
We admit many more gorgeous tennis players have not made it into our list. But we hope you enjoyed our list.
So which of these female tennis players deserves the number one spot for the hottest female tennis player? Do let us know!
We know how excellent tennis matches can be. But do you know what the best tennis matches of all time look like? Click here to find out!