Of all the incredibly crafted athletes, if I plunge back into the days, I surely can't miss out on the legendary goalie, Terry Sawchuk. Speaking of Sawchuk gives off a melancholy melody yet filled with brilliance.
I believe every generation that has come and that is yet to come will keep Sawchuk in the palms of their hands and keep him alive forever and ever.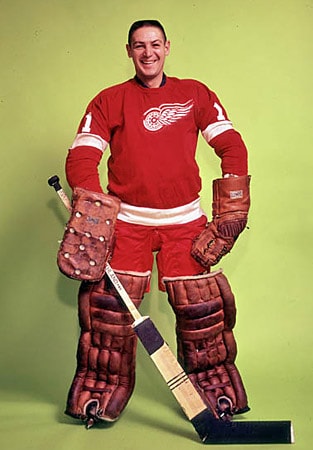 Furthermore, he showcased his professionalism in the Detroit Red Wings, Boston Bruins, Toronto Maple Leafs, Los Angeles Kings, and the New York Rangers.
He is a four-time Stanley Cup winner, the Vezina Trophy for the year's best goalie.
"The day they put me on the net, I had a good game. I've stayed there ever since."
During his career, Terry established himself as the all-time leader among NHL goaltenders with 447 wins and 103 shutouts.
Sawchuk was the rage, the sea's calm demeanor who flaunted every time with his physical injuries in the sport full of toughs.
Quick Facts
Full Name
Terrance Gordon Sawchuk
Date of Birth
December 28, 1929
Birth Place
Winnipeg, Manitoba, Canada
Nick Name
"Ukey" or "The Uke"
Religion
Christianity
Nationality
Canadian
Ethnicity
White
Zodiac Sign
Capricorn
Death Date
May 31, 1970
Height
5 ft 11 in (180 cm)
Weight
195 lb (88 kg)
Hair Color
Black
Eye Color
Black
Build
Athletic
Father's Name
Louis Sawchuk
Mother's Name
Anne Sawchuk
Siblings
Two brothers, Mike Sawchuk and Roger Sawchuk
Education
Not Available
Marital Status
Married
Wife
Patricia Ann Bowman Morey (m. 1953-1969)
Kids
Total of Seven kids (including a son, Jerry Sawchuk)
A grandson, Jon Sawchuk
Profession
An ice hockey player
Net Worth
$5 million (approx)
Position
Detroit Red Wings
Boston Bruins
Toronto Maple Leafs
Los Angeles Kings
New York Rangers
Merchandise
Rookie Card, Autograph
Active Years
1949–1970
Last Update
March, 2023
Terry Sawchuk | Early Life
Terrance Gordon Sawchuk shortly Terry Sawchuk was born on December 28, 1929, under Capricorn's sun sign. Terry was the third of four sons and an adopted daughter of Anne Sawchuk and Louis Sawchuk.
Family
As we ponder the athlete's early life, he has tragic points that pierce someone. To illustrate, Sawchuk was first born in the North End of Winnipeg and later moved to Winnipeg, Manitoba, Canada.
Back then, the section they moved into the east Bowman Avenue was the working-class Ukraine section.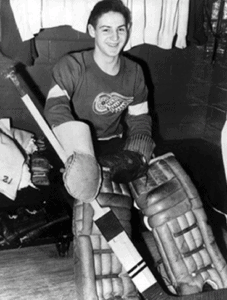 Additionally, his Father was a young boy who shifted to Canada from Galicia, Austria–Hungary (now Ukraine), and started working as a tinsmith. However, his mother, Anne, was simply a homemaker.
Furthermore, the foremost tragedy that struck the household was the second son, Roger's death due to scarlet fever (pneumonia).
As Terry was still a baby, he may not have had an enormous impact; however, his oldest brother Mike's death left him shaken.
"He used to take me out in Dad's car and let me drive. We played cards together all the time. I missed him for a long time afterward."
As in detail, Mike was an aspiring baseball player, and Terry, who was ten during that time, idolized his older brother. Altogether, his brother died of a heart attack. He was seventeen at that time.
Junior Career
After his brother's death, coming out of grievance was hard for the young Terry; however, he had moved into his life.
When he was twelve, Terry injured his right elbow during a rugby game; however, he kept the fact hidden from his parents.
Indeed, children shouldn't be filled with fears because let's look into the day when Terry had the injury.
Not wanting to get punished and the fear within made him hide the fact, which later resulted in limited mobility. Not only this, but it also ended him having his right arm shorter than the left.
The simple yet big mistake made him regret his whole career as it bothered his gameplay in every way possible.
Speaking of his career, Sawchuk commenced playing in a local league after gaining a good friend's goalie equipment.
Alongside his gameplay, Sawchuk also worked in a sheet-metal company installing vents over bakery ovens.
Consequently, Terry Sawchuk was athletic since he entered the field and was highly sought even as an amateur.
In addition, he was signed into the Detroit Red Wings with an amateur contract and went to play for the junior team in Galt, Ontario, in 1946.
All in all, 1946 was also when he advanced to grade eleventh. However, regarding the sources, Terry did not graduate from high school.
He tried various sports, such as baseball, during his tenure as he starred in the infield and the outfield.
By the end, Terry Sawchuk posted the league's batting title, where he was part of the Elmwood Giants in the Manitoba Senior AA League.
Terry Sawchuk | Professional Career
Detroit Red Wings
In 1847, Detroit Red Wings signed in Sawchuk, and the responsibility was fast returned by him after claiming the Rookie of the Year in both the U.S. and American Hockey Leagues.
Alongside goalie Harry Lumley's injury, Sawchuk took the position in hand and posted his debut for the team against Boston.
Before Lumley retired to the team, Sawchuk had already covered seven games where he had recorded 103 shutouts.
Altogether, as he showed promises for the team, the Red Wings traded Lumley to the Chicago Black Hawks.
Advancing further, in just a five-year tenure, Sawchuk led his team to the Stanley Cups three times, where he bagged the Calder Memorial Trophy.
He had three Vezina Trophies and became the top rookie selected as the All-Star five times.
Equally important, as a rookie, Sawchuk maintained fifty-six shutouts and had his goals-against average (GAA) under 2 while being selected as the outstanding rookie in the USHL in 1948 and the AHL in 1949.
Later, the 1951-52 season was far better after losing his weight as instructed by the Detroit general manager Jack Adams.
As good things are followed by the bad, he soon struggles to gain weight, eventually making him sulky and impacting his personality.
Injuries | What happened to Terry Sawchuk's face?
Sawchuk played alongside his pain as there was no replacement goalie. Eventually, he had three operations on his right elbow and an appendectomy.
Apart from this, he was already suffering from cuts and bruises, a broken foot, a collapsed lung, ruptured discs in his back, and severed tendons in his hand.
Following it, Sawchuk suffered from games due to his crippling anxiety and injuries. What's more, saddening is his injuries that didn't just finish here.
Furthermore, Sawchuk faced lordosis (abnormal inward curvature of the lumbar spine) due to the years of crouching in the net.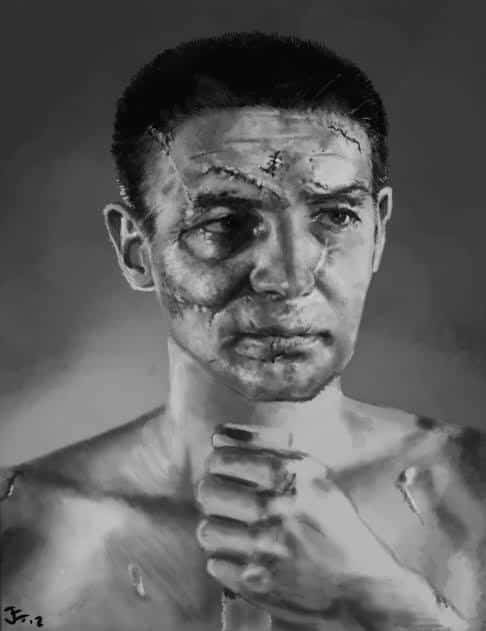 As the foremost face protection helmet for ice hockey came in 1959, Sawchuk only got to wear it in 1962.
Therefore, by that time, Sawchuk had 400 stitches on his face, which included three stitches in his right eye.
When a makeup artist for Life Magazine was asked to apply stitches and scars on Sawchuk's face for demonstration, they couldn't find more space.
Now, you can imagine how bad that would have been!
Boston Bruins
"(Glenn) Hall is more advanced now than Sawchuk when he joined us, and all the players insist Glenn has been NHL material for the past year.
One of them was a case of trading, and Sawchuk is the established player. Consequently, he brought a better offer.
When did the Detroit Redwings trade away Terry Sawchuk?
Detroit Red Wings traded Terry Sawchuk to the Boston Bruins in June 1955 to have a capable younger goaltender, Glenn Hall, in the minor leagues.
No doubt, Terry Sawchuk was devasted with the statement and purpose but unwilling to back it up.
Back then, Boston wasn't as good as Detroit; however, Terry tried his best; however, he ended the fifth after missing the playoff season.
"Everybody in Boston has been wonderful to me. I'll always give them my best."
Similarly, he reached the third position in the next season before ending up with mononucleosis.
As we all know, Sawchuk has been physically poor since his early days; thus, he feared his health was hampering him and the Boston team.
In addition, Sawchuk announced about leaving the team, hoping to return to Detroit.
However, he publicly announced his early retirement in 1957, which bought him might backlash. Most people and newspapers labeled him as the 'quitter.'
Return to Detroit
Amidst the heated public situation, the Detroits traded Johnny Bucyk to Boston for Sawchuk and Glenn Hall to Chicago.
With it, the Detroit manager Adams stated Sawchuk to be the best goalie, to which Sawchuk replied he wouldn't want to play for any team other than Detroit.
Altogether, Sawchuk was the second All-star that season while the Detroit team finished last.
Having these, the history repeats itself when Detroit waived Sawchuk when they had another promising young goalie, Roger Crozier.
Toronto Maple Leafs
The Toronto Maple Leafs reacted quickly to sign Sawchuk for their team, where he played alongside Johnny Bower.
After bagging the Vezina Trophy, the duo took the game by storm and led the team to the 1967 Stanley Cup.
Playing alongside Bower, Sawchuk also posted his one hundredth career shutout in March against the Black Hawks.
During the Stanley Cup games, Sawchuk recorded 40 shots in a 3-1 victory over the Montreal Canadiens.
Los Angeles Kings | W
hat year did Terry Sawchuk play for the Los Angeles
In the June 1967 expansion draft, the Leafs left Sawchuk and were picked up by the Los Angeles Kings. However, he was again traded to Detroit.
"Last season was not all I hoped for. I had some good games, but I had some bad games. But I figure I have one more year left and plan to make it a good one. It wouldn't be in Los Angeles."
-Terry Sawchuk
New York Rangers
After playing for numerous teams, Terry Sawchuk ended the last season of his NHL career with the New York Rangers.
During his tenure with the team, Sawchuk started six games where he also had his 103rd shutout against the Pittsburgh Penguins. His last appearance on NHL grounds was on April 14 for the playoff games.
Terry Sawchuk | Highlights, Achievements, and Awards
Popularly known as the 'legendary goalie,' Terry Sawchuk has set the boundary for goalkeepers to date. By the end of his career, Sawchuk had featured 501 games with 115 shutouts and 447 wins.
His number 1 jersey also retired from the Red Wings with his retirement. He is the Lester Patrick Trophy's claimer who was also elected to the Hall of Fame.
Altogether, you can still read his steps through the book 'Shutout: The Legend of Terry Sawchuk by sports author Brian Kendal.
Not only a single book, but you can also find him in the book called 'Sawchuk: The troubles and triumphs of the World's Greatest Goalie' by David Dupuis or 'Night Work: The Sawchuk Poems' by Randall Maggs.
You can also find him on a Canadian postage stamp or in the movie 'Goalie' released in 2019.
Well, his legend story doesn't have enough ink and paper to come in, so every single word that comes alongside is hard to write.
However, even to date, many athletes chose the number 30 jersey, which was the jersey of Sawchuk in the Maple Leafs, after leaving jersey number 24.
USHL Rookie of the Year (1948)
AHL Rookie of the Year (1949)
Calder Memorial Trophy (1951 winner)
NHL All-Star Game (1950-1956, 1959, 1963, 1964, and 1968)
NHL Second All-Star Team (1954, 1955, 1959, and 1963)
Vezina Trophy (1952, 1953, 1955, and 1965 winner)
Stanley Cup championships (1952, 1954, 1955, and 1967)
Lester Patrick Trophy (1971 winner)
Honored Member of the Manitoba Hockey Hall of Fame
NHL First All-Star Team (1951-1953)
Terry Sawchuk | Career Stats
| | | | | | | | | | | | | |
| --- | --- | --- | --- | --- | --- | --- | --- | --- | --- | --- | --- | --- |
| Season | GP | GS | W | L | T | OT | SA | GA | GAA | SV% | SO | MIN |
| NHL Career | 971 | 955 | 445 | 336 | 171 | — | — | 2,385 | 2.50 | — | 1.03 | 57,156 |
Watch Terry Sawchuk's interview on Youtube.
Net Worth
Terry Sawchuk is estimated to have a net worth of approximately $5 million. Altogether, he earned a salary of $40,000 during his time in the Los Angeles Kings.
Terry Sawchuk | Personal Life
Sawchuk has been struggling his whole life; ever since his birth, tragedy has struck his life in one form.
Thus, he found himself in the despair of anxiety and depression. Back in the day, Terry Sawchuk was a married man to Patricia Ann Bowman Morey.
The duo married through a simple court procedure on August 6, 1953, and shared seven kids.
However, their relationship did not go healthily as Morey divorced Sawchuk in 1969 after years of endurance.
To illustrate, Sawchuk was involved in alcoholism, and verbal and physical abuse, due to which Morey had threatened Sawchuk for divorce many times. Apart from it, he also had impregnated a Toronto girlfriend in 1967.
Terry Sawchuk Death | How did Terry Sawchuk die?
With years and years of struggle throughout his life, Terry Sawchuk took his last breath on May 31, 1970, at 40. Let me rewind time a bit.
After the divorce and 1969 gameplay, Sawchuk fought with his Rangers teammate Ron Stewart.
As per the source, they were both drunk and fought over the new house's expenses in Long Island, New York, which they had rented together. After the fight, Sawchuk suffered internal injuries that required surgery.
Therefore, he was taken to the Long Beach Memorial Hospital, where they performed surgery to remove his gallbladder.
Following it, Sawchuk again had another surgery at New York Hospital Manhattan for his damaged liver.
All in all, it was during the second surgery that Sawchuk died of pulmonary embolism. After thoroughly investigating the cause and the case, Nassau County grand jury stated it to be an accidental death.
Some FAQs:
What position did Terry Sawchuk play?
Terry Sawchuk was a National Hockey League (NHL) professional ice hockey player. He used to play in the goaltender position.
How many years did Terry Sawchuk play for Toronto Maple Leafs?
Terry Sawchuk played for the Toronto Maple Leafs for three years, from 1964 to 1967.
Where was Terry Sawchuk buried?
Terry Sawchuk was buried in Mount Hope Cemetery Pontiac, Oakland County, Michigan, USA.