Several Basketball leagues are played around the world. But millions of people watch the National Basketball Association (NBA). When it comes to coaching the NBA, Terry Stotts is one of the few coaches to achieve the heights.
Terry Stotts is a former award-winning Basketball player and current head coach of the Portland Trail Blazers. Stotts is a renowned celebrity coach and has completed 400 career victories.
Stotts has helped his teams to grab different prestigious awards. In 2011, Dallas Maverick won the NBA with his coaching. Also, Stotts has won the Academic All-American award two times.
Terry is a celebrated coach in the NBA. People love his appearance, style, and dashing looks. However, he does not frequently appear in the media.
Likewise, Stotts tries to hide his personal life from his professional life.
Before we know his full biography, let's have a look at the quick facts:
Terry Stotts | Quick Facts
| | |
| --- | --- |
| Full Name | Terry Linn Stotts |
| Birth Date | November 25, 1957 |
| Birth Place | Cedar Falls, Iowa, United States |
| Nick Name | Terry |
| Religion | Christianity |
| Nationality | American |
| Ethnicity | White |
| Education | Completed Masters Degree from the University of Oklahoma |
| Horoscope | Sagittarius |
| Father's Name | Frank Stotts |
| Mother's Name | Jayne Phelps |
| Siblings | Audrey Stotts, Arlyn Stotts, Mark Stotts |
| Age | 65 Years Old |
| Height | 6 feet 8 inches |
| Weight | 100 Kilograms |
| Hair Color | Light Brown |
| Eye Color | Light Brown |
| Build | Athletic |
| Profession | NBA Coach |
| Coach of the Year Awards | 1 Time |
| Active Years in NBA | 18 Years |
| Sexual Orientation | Straight |
| Marital Status | Married |
| Wife's Name | Jan Stotts |
| Kids | Information Not Available |
| Net Worth | $40 Million |
| Social Media | Not Available |
| Merch | Books, Autographed Items |
| Last Update | June, 2023 |
Early Life, Parents, and Education
Terry [Linn] Stotts was born on November 25, 1957, in Cedar Falls, Iowa, United States. He was born to Frank Scotts and Jayne Phelps. Stotts spent his childhood in Iowa and completed his primary schooling.
Stott learned Basketball from his father. In an interview with the Portland Tribune, Terry said that his father coached for a high school in the Midwest. Also, after promotion, Frank coached for the University of Guam while Stotts was a child.
Terry's mother, Jayne Phelps, loves Basketball since her childhood. Jayne said she do not watch Basketball because her son is a coach. However, Jayne is a Portland Blazers fan, and she frequently visits to see her son's coaching.
Education
Stotts's family moved to different places due to his father's employment. He had to change various schools in Illinois, Guam, Wisconsin, and Indiana.
Read this: David Fizdale Age, Height, Wife, Coaching Record, Bulls, Contract, Net Worth.
At first, Stotts joined the primary school in Iowa. After that, he joined the high school Bloomington High School North. Stotts graduated from there in 1976.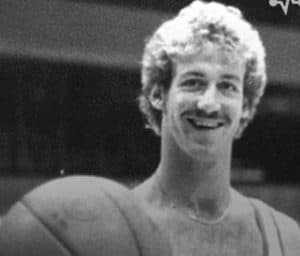 During his high school period, Stotts joined the college Basketball team. In 1976, the high school included him on Indiana All-Star Team.
Stotts completed his Bachelor's in Zoology in 1986. And he completed a master's in Business Administration from the University of Oklahoma in 1988.
Terry Stotts | Age, Height, and Weight
Terry Stotts is currently 65 Years Old and is on the verge of retirement. However, he is fit and perfect to coach for five more years, which he told with ESPN during an interview.
Stotts have a massive height of 6ft and 8 inches. As a Basketball player, his height was the best advantage because of the height playing Basketball was easy for Stotts in the past days.
Terry currently weighs about 100 kg. Although he is a sexagenarian, he is perfectly healthy and has no underlying medical conditions. That's why we can see Terry hopping around in the court.
Terry Stotts | Professional Career
Stotts started to play amateur Basketball leagues from his high school. However, he learned Basketball from childhood. After learning his father's coaching skills, Terry implemented those skills on him.
Terry is one of the few students in America to obtain the Academic All-American scholarship program two times. The grant commission allowed him to learn to play Basketball and enter into the professional league with the fellowship.
He played for the University of Oklahoma for junior and senior seasons. After showing his skills, he got invited to play for different teams. But in the 1980 NBA draft, Stott's name also got enlisted.
Playing Career
Terry played for the Continental Basketball Association (CBA) team Montana Golden Nuggets. The 1980 draft for the NBA didn't work. That's why he took his chance on the CBA.
Read this: Julian Edelman Bio: Age, Career, Net Worth, Instagram, Wife Wiki.
Stotts played two years in Basketball's minor league, CBA. After that, he decided to move out of America. Stotts moved to Spain to play the major league of Basketball from CB Estudiantes.
Till 1990, Terry represented seven teams as a professional Basketball player. But in 1991, he decided to do coaching. So he retired as a player and joined as an assistant coach for the Albany Patroons.
Coaching Career
Stotts started to do coaching from the Tier-2 league, known as Continental Basketball Association. He signed a contract with Albany Patroons for one year.
During his tenure, the team was successful for a 50-6 record. It was the all-time CBA best record for the team. Moreover, he did an excellent job of coaching the Platoons.
For several years, Stotts coached numerous CBA teams. His popularity grew stronger. That's why Stotts decided to move into the NBA.
Finally, in 2002, the Atlanta Hawks signed a contract with his hiring as their head coach. It was an unforgettable moment for Terry because, for the first time, he got appointed as the head coach.
Are you enjoying the articles? Read more: Magic Johnson – Net Worth, Height, Stats & Rings.
For three years, Stotts coached the Hawks. During his contract, he was successful in gaining a 52-85 record for the team. It is the best record that Stotts achieved while staying with the Hawks.
Downs and Ups of Stotts
In 2005, he decided to become an assistant coach and continue his career. Stotts joined Milwaukee Bucks for two years. Later on, he got fired because of some issues.
However, after various difficulties, Terry's luck spun. In 2011 – with his assistance coaching, the Dallas Mavericks won the NBA title. Also, Stotts was praised for his coaching for the Mavericks.
Furthermore, after becoming champion, Stotts's destiny got opened. The Portland Trail Blazers signed an agreement with him. In 2012, he joined the team. Till now, he is working for the Blazers.
The Trail Blazers are not successful in gaining an NBA title during his coaching career. Still, Stotts is trying his best. This year, the Blazers remained in the fourth position.
Terry Stotts and George Karl
As we all know, George Karl was the one who helped Terry on his feet and who coached him further in the games. The duo did hit the limelight back in 2016 when they had a say against one other.
To elaborate, Karl had just launched his new book "Furious George," and during its promotion with the New York Magazine, he had a say for Portland Trail Blazers guard Damian Lillard. Talking about the new generation's player, he had depicted the reason for Trails' fall as due to Lillard.
Concerning that topic, during another interview with Stotts, he was asked to give his opinion on that topic. Indeed, Stotts didn't play his cool; he gave the clear message that no one comes for his teammates with respect to his coach.
Infact, he had the fiery words, stating that Karl had no idea who Lillard was as he hasn't coached. Thus, he had no right to comment on it. Therewith, indeed, Stotts has a crystal clear line that no one messes with his near ones.
Terry Stotts | Achievements
Stotts is yet today known as one of the notable figures in the NBA. Apparently, we can say that he is the one which left everyone in awe when he did the opposite of what everyone expected when they thought he would never make it big.
To date, he has added years of experience in his portfolio that enhances him even more. Furthermore, his working approach is more systematic than the instinctive one. Not to mention his high standards of gameplay.
As a player, he has achieved All-Big Eight in 1980 and Academic All-American two times in 1979, 1980. Moving on as a coach, he has had 494 wins and 466 losses. To date, he has bagged Western Conference Coach of the Month seven times.
Altogether, as an assistant coach, he has been part of the 2011 NBA Champion.
Terry Stotts | Personal Life, Wife, and Kids
Stotts is a married man. He married Jan Stotts in 1988. The couple dated together for several years before tying their knots together.
Stotts is a compassionate man. He doesn't like to share his personal life with the media. Because of that, there is no information available about his wife or children.
It's sad to say; people don't know what Jan Stotts does or is doing. However, some sources claim that Jan is a charity donor and dog lover. She frequently visits the charities in the hometown.
The couple is living happily together and enjoying their life. There are no rumors about Terry and Jan's divorce. So we can understand their relationship has no downfall.
Like to read more? Gene Keady Bio: Wife, Hall of Fame, Net Worth, Coaching Career Wiki
With a little information about his wife, it is tough to say that the couple has kids. There is nothing to claim. Without any hard shreds of evidence, it will be unjust to say things about their personal life.
Terry Stotts | Salary, Net Worth
Stotts earns $5 million per year as his salary. He is one of the most expensive coaches in the NBA. However, by paying a considerable amount of taxes, Stotts still manages to collect.
Adding his assets, Stott's net worth sums $6 million.
Although Terry earns a fair amount in a year, his wife Jan spends it on charities. But they are living a great life with wealth.
Social Media Presence
But Terry Stotts does not use any social media account.
It's sad to say that there is nothing from Terry in the tech world. Neither his wife uses social media. However, there can be secret accounts that have not been discovered yet.
Some Queries about Terry Stotts
Where does Terry Stotts live now?
Stotts currently resides in Portland, Oregon. He has a big mansion.
Why Stotts wear a bow tie?
Terry Stotts wore a bow tie during a match because he wanted to honor his video coordinator Jon Yim.
How tall is Terry Stotts?
Stotts is 2.03 meters tall, which is more than an average American.
Why did Terry Stotts and Doc Rivers were yelling at each other?
Well, it's actually an old story that dates back to 2015. Apparent, the Blazers and Clippers were playing a match when the Clippers' players were standing in front of their bench and possibly on the court. Thus, seeing it, Stotts yelled for it; however, Rivers yelled at Stotts instead. Therefore, as you see, they had words screamed at each other.