The greatest power forward of all time in the NBA as considered by most NBA fans, Tim Duncan is an American professional basketball coach and former player.
Currently, he serves as an assistant coach for NBA's San Antonio Spurs, where he had spent his entire career as a player.
Starting as a swimmer, he wanted to pursue a career in swimming. But the wish was ruined by a hurricane that destroyed the only available Olympic-sized pool in his hometown.
Consequently, Tim began his basketball journey from his high school days and today reached the summit as one of the greatest players in NBA history.
The 15-time NBA All-Star's career is quite an aspiring success story. He has made a lot of fans attracting them with his outstanding style of play and leadership.
However, most of his fans may not know many facts about his personal and professional life. If you are one of those, you have chosen a great article, to begin with. Let's go!
Quick Facts
Full Name
Timothy Theodore Duncan
Birth Date
April 25, 1976
Birth Place
Saint Croix, U.S. Virgin Islands
Nickname
Timmy, The Big Fundamental
Religion
Christianity
Nationality
American
Ethnicity
Black
Education
Saint Dunstan's Episcopal
Wake Forest University
Horoscope
Taurus
Father's Name
William Duncan
Mother's Name
Ione Duncan
Siblings
Two Sisters and a Brother
Sisters
Cheryl Duncan
Tricia Duncan
Brothers
Scott Duncan
Age
46 Years Old
Height
6 feet 11 inches (211 cm)
Weight
113 kg (250 lbs)
Shoe Size
16
Build
Athletic
Favorite Food
Steak & Shrimp
Eye color
Dark Brown
Hair Color
Black
Profession
Basketball Coach
Basketball Player (former)
Playing Position
Center / Power forward
Active years (Senior Career)
1997-2016 (player)
2019-present (coach)
Team
San Antonio Spurs
Sexual Orientation
Straight
Marital Status
Unmarried (In a relationship)
Girlfriend's Name
Vanessa Macias (2013-present)
Favorite Music
Rap & Reggae
Net Worth
$130 million
Salary
$10 million
Social Media
Instagram (apparently)
Merch
Jersey, Rookie Cards, Posters
Last Update
February, 2023
Tim Duncan: Family and Education
Duncan was born in Saint Croix, U.S. Virgin Islands. His mother, Ione, was a professional midwife, and his father, William, was a bricklayer.
The youngest of four siblings had two sisters, Cheryl and Tricia, and a brother, Scott.
Cheryl is a nurse who was initially a swimmer. At the same time, Tricia represented the U.S. Virgin Islands at the 1988 Summer Olympics for swimming. Scott is a film director and cinematographer.
The siblings had to face the grief of their mother's death due to breast cancer a day before Tim's 14th birthday.
Tim graduated from St. Dunstan's Episcopal High School. Later, he attended Wake Forest University for higher studies.
Tim Duncan: Early Life and Swimming
In his school days, Tim aimed to reach Olympic-level at swimming just like his sister. He was quite brilliant in swimming and stood out in the 50, 100, and 400 meters freestyle.
Unfortunately, the dream of representing the nation in the 1992 Olympics could not come true as Hurricane Hugo destroyed the single Olympic-sized swimming pool there. Besides, he did not swim in the ocean because of the fear of sharks.
At this instant, his brother-in-law encouraged him to pursue a career in basketball. Because of his tall build, he felt awkward at the time. But he overcame that in no time during his school days.
Tim Duncan: College Career
Duncan joined Wake Forest University, where he led the Demon Deacons to a 20-11 win-loss record in his first year.
Despite the interests of the Los Angeles Lakers, Duncan was determined to continue his education until graduation.
The Deacons won the Atlantic Coast Conference Championship in the 1994-95 season and the 1995-96 season.
Duncan proved to be the key player in both seasons' campaigns, winning ACC Defensive Player of the Year on both occasions.
The three-time NABC Defensive Player of the Year finished his senior season in the 1996-97 NCAA season with third Defensive Player of the Season and second ACC Player of the Season.
To sum up his college career, Duncan finished as the all-time leading rebounder in NCAA history, an all-time leading shot-blocker in ACC history, with a 97-31 win-loss record.
Tim Duncan: Professional Career
Duncan was included in the 1997 NBA draft by the San Antonio Spurs. He paired with David Robinson, popularly known as "Twin Towers." Earning good impressions from the beginning, Duncan was voted to the 1998 NBA All-Star Game by coaches.
Duncan started in all 82 regular-season games in his first season. Everyone was lauding his performances and toughness, including his coach and peers.
In his second season, he again made it to the All-NBA and All-Defense First Teams with an average of 21.7 points, 11.4 rebounds, 2.4 assists, and 2.5 blocks.
NBA Championships
Duncan helped the Spurs to win their first-ever NBA championship in 1999 with a 4-1 win against the Cinderella-story New York Knicks in the finals.
He was the Finals MVP. I've got Tim and you don't. That's the difference.
However, the Spurs had to bow out from the Championships three seasons in a row.
Eventually, in the 2002-2003 season, they won it with an 88-77 defeat against the New Jersey Nets in Game 6. Duncan recorded a quadruple-double in the game to be the NBA Finals MVP.
The Spurs' Leader
After the prior captain Robinson retired before the 2003-04 season, Duncan became the team's new leader. With him, the team reached the Western Conference Semifinals, where they lost to Los Angeles Lakers.
The next season, the Spurs reached the NBA playoffs. With 25 points and 11 rebounds, Duncan played a vital role in the defeat against the Detroit Pistons in Game 7.
The victory earned the spurs their third NBA championship and Duncan his third NBA Finals MVP.
However, for most of the 2005-06 season, Duncan was out due to plantar fasciitis. This was why he had a lousy record of 18.6 points, 11.0 rebounds, 3.2 assists, and 2.0 blocks per game in the season.
But he improved the next season, started the 2007 NBA All-Star Game. Also, he led the team to their fourth NBA Championships with a comfortable 4-0 against the Cleveland Cavaliers in the Finals. In contrast, Duncan didn't win the Finals MVP.
Bad games
Duncan played one of his worst playoff games in 2008 against the New Orleans Hornets. With their captain recording only 5 points and three rebounds, the Spurs were defeated 101-82. The same season Spurs lost the NBA championship to Los Angeles Lakers.
The 2008-09 season turned out even worse to the Spurs. Duncan's performance declined as he was diagnosed with chronic knee tendinosis. Consequently, the Spurs were thrown out from the first round of the playoffs.
1000th NBA game
After eleven games of the 2010-11 season, Tim went to the Spurs' record book as an all-time leading point scorer, and most games were played.
Some days later, he played his 1000th NBA game against Portland Trail Blazers. He had a 703-293 win-loss record of reaching there.
Contract Renewal in 2012
Duncan signed a contract extension with the Spurs in July 2012. With the team's 58-24 record in the 2012-13 season, Duncan returned to the All-Star and the All-NBA First Team. However, they could not win the Championship this season too.
Championship in each of 3 Decades
The glory days returned to the Spurs in the 2013-2014 season. They ended the season with the league-best of 62 wins. Significantly, they won the NBA Finals 4-1 against Miami Heat.
This made Duncan one of only two players ever to win Championship in each of three different decades.
Late Playing Career
In April 2015, Duncan played his 1330th game. Later, in July, he extended his contract for two years. Duncan had his 954th victory with one team, an NBA record, against the New York Knicks in November.
For the first time in his career against the Houston Rockets, he was scoreless, ending his streak of 1359 games scoring at least one point.
Duncan retired from the NBA on July 11, 2016, after 19-seasons with the Spurs. The club retired his No. 21 jerseys.
Tim Duncan: Coaching Career
Duncan rejoined the Spurs as an assistant coach in July 2019. He had a 104-103 win against the Charlotte Hornets on his debut as an acting head coach on March 3, 2020.
Tim Duncan: National Team
Duncan led the national team to qualify for the 2000 Olympics with a 10-0 finish in 1999. However, he missed out on the Olympics with a knee injury.
Later, after the 2004 Olympics, including Duncan, the U.S. Basketball team returned with only a bronze medal with a three-game loss.
Tim Duncan: Honors and Achievements
The five-time NBA Champion was NBA Finals MVP three times. He was the ACC Male Athlete of the Year and was honored by the House of Representatives in his college days.
The Rookie of the Year 1998 has been awarded "player of the year 1997" awards from the United States Basketball Writers Association, National Association of Basketball Coaches, and Sporting News.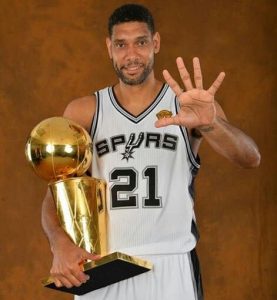 Duncan has been on NBA All-Star Teams, All-NBA Teams, and All-Defensive Teams 15 times. Notably, he is the only NBA history player on All-NBA and All-Defensive teams in his first thirteen seasons.
The 2002's IBM Player Award and Sporting News MVP Award winner was ranked 8th in Slam magazine's list of the top 50 NBA players of all time. Sporting Illustrated titled him as the NBA Player of the Decade 2000s.
His induction into the Naismith Memorial Basketball Hall of Fame and Kobe Bryant and Kevin Garnett is scheduled for May 2021.
Tim Duncan: Wife and Children
In July 2001, Tim married Amy Sherrill. They had a daughter, Sydney, and a son, Draven. The couple divorced in 2013.
After that, Duncan has been in a relationship with Vanessa Macias for a long time. They have had a daughter, Quill.
Tim Duncan: Net Worth and Salary
After a 19-year outstanding career with the San Antonio Spurs, Duncan is an assistant coach in the same club. Records suggest that he earned over $20 million in a season at the peak of his career.
Tim Duncan's Net worth as of 2023 is approximately $130 million.
Duncan makes a sum of around $10 million a year currently earned of his coaching duty at the Spurs and other endorsements.
He has run the Tim Duncan Foundation since 2001. Duncan received $7.5 million after he sued his former investment advisor for fraud that caused him to lose $20 million.
Net Worth of Tim Duncan in Different Currencies
Here is the net worth of Tim Duncan in different currencies, including the cryptocurrency and Euro
Currency
Net Worth
Euro
€

109,987,150

Pound Sterling
£

93,908,750

Australian Dollar
A$

176,230,600

Canadian Dollar
C$

164,536,450

Indian Rupee
₹

9,565,549,500

BitCoin
฿

2,771
Tim Duncan: Social Media Presence
Tim Duncan apparently has an Instagram page that posts the picture of him hanging out. However, it is still unknown whether he uses this or not. Duncan is not a user of any other social media account.
@squatchandcox : 1962 followers
Tim Duncan: FAQs
Who is Tim Duncan's greatest inspiration in life?
Tim Duncan calls his late mother, Ione, the greatest inspiration in his life. He says he has never forgotten the nursery rhyme "Good, Better, Best. Never let it rest / Until your Good is Better, and your Better is your Best" that his mother taught.
Why is Tim Duncan "The Big Fundamental"?
The name "The Big Fundamental" came for Tim Duncan because of his "boring" simple but effective style of play. Sports Illustrated called him a "quiet, boring MVP" in 1999.
How many games did Tim Duncan play for the U.S. National basketball team?
Tim Duncan has played 40 games representing his nation. He was included in five U.S. Basketball teams.
Does Tim Duncan have Back Tattoo?
The Professional basketball coach has a massive tattoo on his back.
What is the Jersey Number of Duncan?
Duncan wears the Jersey number of 21.
Does Tim Duncan like Michael Jordan?
In a Dan Patrik show, Tim confessed that he did not like Michael Jordan.