Drew Pomeranz is a well-known name in the baseball world. He is a professional pitcher for the San Diego Padres of Major League Baseball (MLB).
He was an MLB All-Star in 2016 and a World Series champion with the Red Sox in 2018. People also like calling him the nickname "Big Smooth."
We shall talk about all the teams he has played for and unfolds all his life events right here.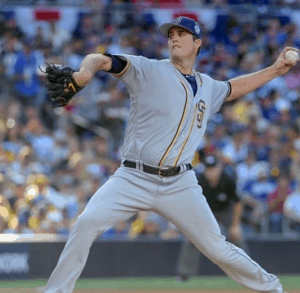 But before that, let's dive into quick facts about this pitcher, Drew Pomeranz.
Quick Facts | Drew Pomeranz
| | |
| --- | --- |
| Full Name | Thomas Andrew Pomeranz |
| Birth Date | November 22, 1988 |
| Birth Place | Collierville, Tennessee |
| Nick Name | Big Smooth |
| Religion | Christian |
| Nationality | American |
| Ethnicity | White |
| Education | University of Mississippi |
| Horoscope | Sagittarius |
| Father'sName | Mike Pomeranz |
| Mother'sName | Not known |
| Siblings | (older brother) Stu Pomeranz |
| Age | 34 Years Old |
| Height | 1.98m (6 ft 4 in) |
| Weight | 109kg (240 lb) |
| Win-loss record | 47-58 |
| Earned run average | 3.98 |
| Strikeouts | 853 |
| Build | Athlete |
| Marital Status | Married ( Carolyn Esserman) |
| Children | Expecting their first child in February 2021 |
| Awards | World Series Champion (2018), All-Star (2016) |
| Position | Pitcher |
| Profession | MLB player |
| Net Worth | $34 million |
| Salary | $8,500,000 |
| Currently Plays for | San Diego Padres |
| Jersey Number | 15 |
| Active Since | 2011- present |
| Social Media | Facebook, Twitter, Instagram |
| Merch | Autographed Items |
| Last Update | March, 2023 |
Drew Pomeranz | Early Life
Drew Pomeranz was born on November 22, 1988, in Collierville, Tennessee. He is the son of Mike Pomeranz and the great-grandson of Garland Buckeye. We are still unaware of his mother's name, though.
He also has an older brother Stu Pomeranz, who was also a baseball pitcher. We shall also brief a few things about his family in the following sub-section.
As a child, Drew always remained highly jovial and got influenced by his father, Mike, and started outgrowing his love for baseball.
Family and Siblings
Talking about his father, Mike, he was a pitcher and a shortstop at Richmond High School. He had a membership in the inaugural Indiana All-Stars team. He stays there in Tennessee now.
During his time with the Red Devils, the team got victory over three sectionals. However, he also received a scholarship to play at the University of Mississippi. Before that, he used to stay there with his family in his hometown, "Richmond."
Mike used to play basketball there and considered the game everything on Friday and Saturday nights in the wintertime.
Drews's brother, Stuart Michael Pomeranz, four years older than him, used to play baseball for Baltimore Orioles and was drafted in 2012.
Unfortunately, he got a strain on his back and had to undergo surgery in 2012. Morosely, the surgery was not successful, and since then, he has never pitched again.
Moreover, his great-grandfather, Garland Buckeye, is a former professional football and baseball player.
Drew Pomeranz| Early Career
Drew desired to play baseball for his college "The University of Mississippi," even though the Texas Rangers had already drafted him in the 12th round of the 2007 Major League Baseball draft.
The former Sox player also got scholarships from Tennessee, Memphis, and Mississippi State and was hired by LSU and Alabama.
He performed for the United States Collegiate National Team. Furthermore, the pitcher made a win to the 2009 World Baseball Challenge, tossing a one-hitter in the championship game against the German national baseball team.
Drew accomplished the competition with a 4–1 record and a 1.75 earned run average (ERA) while heading the team with 48 strikeouts.
In 2010, he got awarded Cellular South Ferriss Trophy: which is now called the C Spire Ferriss Trophy. The trophy is categorized as to award for Mississippi's top collegiate baseball player annually.
Drew Pomeranz | Professional Career
Cleveland Indians
Drew was already drafted by the Texas Rangers in 2007, but he played for his college. Following that, the lucky and hardworking mascot got redrafted by the Cleveland Indians in the first round of the 2010 MLB draft.
The deal with Indianas got him a significant signing bonus amount of $2.65 million. He was regarded as one of the top 50 prospects in baseball in 2011.
Colorado Rockies
On July 31, 2011, Pomeranz and Alex White, Joe Gardner, and Matt McBride were transferred to Colorado Rockies in Ubaldo Jiménez's place.
He proved his official career debut when he pitched five scoreless innings and knotted the game against the Cincinnati Reds. He had his four starts, ending 1–2 with a 5.40 ERA.
Pomeranz made his first career home run on May 7, 2012. After that, he brushed off the entire season between AAA and the Rockies rotation, making 22 starts for them despite scoring a 2-9 record.
Pomeranz played in AAA and appeared only in 8 games, four starts for the Rockies.
Oakland Athletics
In Brett Anderson's place, Pomeranz got traded to Oakland Athletics along with Chris Jensen on December 10, 2013.
He then played for nine games, making 1-1 with a 1.98 ERA in 13.2 innings. However, he did not lose his motive to Oakland's three 5-inning starts of shutout ball before.
Unluckily, he fractured his non-throwing hand by punching a wooden chair; before that, he attempted eight starts, going 4–3 with a 3.21 ERA, striking out 37 in 42 innings against the Rangers.
Following that injury, Pomeranz got detained. He was called by the other teams like Sacramento River Cats, and Beloit Snappers for a restart.
He had a career-low point of 2.35 ERA in 20 games for the first time and ten starts for the A's (Oakland Athletics).
Pomeranz managed to buckle up, and he came back for the 2015 season playing nine games and raising his ERA from the previous season.
He played his career-high 53 games, recording three saves and logging in 86 innings.
San Diego Pardes
Furthermore, Pomeranz got traded to the San Diego Padres for Marc Rzepczynski and Yonder Alonso. It was heard that Andy Green, the manager of Pardes, was the one to offer him the post.
He recorded a 2.47 ERA and headed the NL with a .184 batting average in the first half.
Later, he got titled to play in the 2016 MLB All-Star Game.
Boston Red Sox
Following the 2016 MLB All-Star Game, Pomeranz got traded to Boston Red Sox for Anderson Espinoza, where he pitched to a 4.59 ERA.
And scoring a 3–5, recorded 71 strikeouts, started 13 games, and 24 walks in 14 regular-season appearances.
For the 2017 season, he appeared in his first start on April 20 and made a record of 1–3 with a 6.81 ERA by the end of May.
He was back as a relief pitcher on July 24 as the Bostons placed him on the disabled list due to the tendon disorder.
Pomeranz stayed with the Bostons for the season, making a 2–6 with a 6.08 ERA in 26 games and 11 stars.
Moreover, he won the World Series Champion for the first time, but he did not pitch for the team against the Los Angeles Dodgers in the five games.
Pomeranz had also invited his parents to see baseball's biggest stage for the World Series Championship.
His father said in an interview, "We flew up there for the Tuesday game, and he says, 'Guess what? I'm on the roster.' He didn't end up throwing, but it's exciting that he was on there."
San Franciso Giants
On January 23, 2019, he inked a one-year contract with the San Francisco Giants, worth $1.5 million, and had an additional $3.5 million incentive.
He made a 6.10 ERA in 17 starts and a 2–9 record and later shifted to the bullpen on July 20.
Milwaukee Brewers
The Giants waived him to the Milwaukee Brewers for Mauricio Dubon on July 31, 2019.
San Diego Padres
This was his second stint with Padres, where Pomeranz inked a four-year contract with the San Diego Padres on November 27, 2019.
San Diego bound the free-agent left-hander in a contract worth $34 million. But, besides that, we all are profound with the fact that 2020, the year itself, was full of hustles due to the pandemic.
It was a short season for any players. However, he made 8.2 consecutive scoreless innings and gave up a three-run home run to Wilmer Flores on September 25, 2020.
You can also check the Fangraphs to get more on the Baseball player.
Drew Pomeranz | Career Stats
| | | | | | | | | | |
| --- | --- | --- | --- | --- | --- | --- | --- | --- | --- |
| Year | W | L | ERA | G | GS | SV | IP | SO | WHIP |
| 2021 | 2 | 0 | 0.00 | 4 | 0 | 0 | 4.0 | 9 | 0.75 |
| MLB Career | 14 | 11 | 3.60 | 53 | 25 | 0 | 130.0 | 136 | 1.27 |
Check out more Game logs of Drew on ESPN sites
Drew Pomeranz | Wedding, Wife, And Children
Moving to his personal life, there is nothing hidden about this young, handsome, and energetic man. He has a beautiful wife, namely, Carolyn Esserman. She was her long-time girlfriend too.
They tied the knot on November 19, 2016, and by looking at their Instagram Posts, we can say that they are happily living after.
Also, a piece of exciting news for the Drew fans out there. His wife announced via social media that they are expecting their first kid in February 2021.
Yes, from his social media account, we could also find out that he has been involved in social work.
He partnered with Padres Foundation, which aimed to provide meals to 400 frontline workers during this coronavirus pandemic.
Also, read about other baseball players, Andrew Romin and Aaron Barrett.
Drew Pomeranz | Net Worth And Salary
Looking at his persistence in his career, we got no doubt that he must be living an exotic, wealthy life. He is someone who has never given up, even after his injuries. He has faced every hustle like a giant.
Drew's recent contract with San Diego Padres, obviously his second stint, is worth $34,000,000 which comes up with a bonus amount of $8,000,000.
He adds up an annual average salary of $8,500,000 to his bank account. Observing his performance and persistence, we can reasonably assume what's going to happen with his earnings is the only escalation.
If we really have to configure, according to online sources, Drew Pomeranz has an accumulated net worth of $34 million as of [current year].
Net Worth of Drew Pomeranz in Different Currencies
Here is the net worth of Drew Pomeranz net worth in different currencies, including the Euro and Pound.
Currency
Net Worth
Euro
€

30,291,960

Pound Sterling
£

25,515,470

Australian Dollar
A$

47,300,800

Canadian Dollar
C$

43,049,950

Indian Rupee
₹

2,533,986,000

BitCoin
฿

584
Drew Pomeranz Quotes
Every outing is a learning experience.
I was 11 years old and had the same curveball I have now. So I was literally striking everybody out. I always threw hard, and I was bigger than all the kids, so I would throw hard and throw that curveball, and no one could hit me.
A change of scenery can help everything.
I just want to pitch well enough for us to win. In my mind, that's what it's all about.
My dad taught me really early so I could take a lot of pressure off my elbow. Because of the way I throw it, it doesn't crank up my elbow like everyone else's curveballs.
Repeating my mechanics was difficult. I was always trying to do something different to make it click.
If you don't feel right, you're going to try to tweak every pitch, every little thing, things that probably don't even need tweaking.
Drew Pomeranz | Social Media Presence
Twitter: 18.5k Followers
Instagram: 19.7k Followers
Facebook: 6.4k Followers
Similarly, you can also follow his wife, Carolyn Pomeranz, on her Instagram account to know more about the couple.
The Baseball player is also quite active on Fantasy, where you can get his latest news along with seasonal stats and records.
You might be interested in buying Drew Pomeranz's rookie card, click to follow!
Common Queries: