Tom Brady is like the NFL's folklore hero, and his marriage is one of the strongest that still prevails in the NFL.
Like Gisele Bundchen, aka Tom Brady's wife, and the athlete himself, both continue to be each other's biggest fans. Hence, let's dive into the dynamic duo's journey.
Gisele Bundchen stars as much more than Tom Brady's wife and isn't an unknown name in people's minds.
To elaborate, Bundchen features a one-woman empire and is one of the world's most powerful women. By profession, she is an established model, actress, activist, and businesswoman.
Additionally, Gisele has gained a lot throughout her life, from being one of the highest-paid models to motivating young girls worldwide.
Not to mention, Gisele was also an awkward teenager who walked with aspirations that unlocked the doors to her success.
Quick Facts
Full Name
Gisele Caroline Bündchen
Date of Birth
July 20, 1980
Birth Place
Horizontina, Rio Grande do Sul, Brazil
Nick Name
Gise, The Body, La Bundchen, The Hurricane Gisele, The Midas Queen
Religion
Catholic
Nationality
Brazilian
Ethnicity
German
Zodiac Sign
Cancer
Age
42 Years Old
Height
1.80 meters (5 feet 11 inches)
Weight
55 kg (121 pounds)
Hair Color
Blonde
Eye Color
Blue
Body Measurements
35-23-35
Father's Name
Valdir Bündchen
Mother's Name
Vania Nonnenmacher
Siblings
Her fraternal twin;
Patrícia Nonnenmacher Bündchen
Five other sisters;
Raquel Nonnenmacher Bündchen
Graziela Nonnenmacher Bündchen
Gabriela Nonnenmacher Bündchen
Rafaela Nonnenmacher Bündchen
Education
Centro Technologico Frederico Jorge Logemann
Former Partner
Leonardo DiCaprio (2000–2005)
Marital Status
Married
Spouse
Tom Brady (m. 2009)
Kids
Two sons;
John Edward Thomas Moynahan (Jak Edward Brady)
Benjamin Brady
A daughter, Vivian Lake Brady
Profession
Model
Actress
Activist
Businesswoman
Agency
IMG Models (Worldwide)
Model Management (Hamburg)
Active Years
1997–present
Net Worth
$400 million
Social Media
Instagram, Twitter
Last Update
May, 2023
Gisele Bundchen | Early Life
Bundchen (fully named Gisele Caroline Bündchen) was born on July 20, 1980, under Cancer's sun sign.
Likewise, she was born in Horizontina, the Rio Grande do Sul, Brazil to her parents, Vania Nonnenmacher and Valdir Bündchen.
Additionally, Gisele is the fraternal twin with her sister Patricia, and they are the middle child. Apparently, her father, Valdir, used to be a sociologist and writer in their native land.
Similarly, her mother, Vania, used to be a bank clerk pensioner. Furthermore, she grew up in a house with three bedrooms, which the eight used to share.
Gisele explained that they used to have six beautiful flamboyant trees with red flowers in their backyard. Indeed, she used to climb those trees as a child.
Altogether, raised in a Catholic family, Gisele's parents have been married for around four decades. Even for a heavenly creature as she seems, she was often teased for her height, calling her "Olive Oyl."
All in all, Gisele attended school in her native land, where she aspired to be a volleyball player.
Later, her mothers and sister kept her in a modeling course with her sisters Patrícia and Gabriela to help with her postures.
Introduction to Modeling
Gisele had an early exposure to the glamour industry at the age of 14. However, the story dates back as if destiny wanted her in it.
To elaborate, one of the modeling agents from Elite Model Management (one of the largest modeling agencies in the world) spotted her in a shopping mall.
As she was discovered in São Paulo, Bundchen was chosen for a national contest, Elite Model Look (then known as Look of the Year). Therefore, Gisele stood second in the competition while she was fourth globally.
Following it, she moved to New York, where she made her modeling debut through the 1996 New York Fashion Week. Afterward, Alexander McQueen chose her for the Spring 1998 ready-to-wear show, "Rain!".
Then, Gisele featured in her first magazine cover in 1997 via the Brazilian edition of the leading fashion magazine Vogue.
Then, she starred in other magazines as Missoni, Chloé, Dolce & Gabbana, Valentino, Gianfranco Ferré, Ralph Lauren, and Versace.
Additionally, she even appeared in her foremost British magazine, Vogue Paris.
Learn about Devin Goda Bio: Family, NFL, Partner, Model, Net Worth >>>
Modeling Campaigns
In 1999, Gisele switched her modeling agency to IMG Models, where she was credited for ending the heroin chic era of modeling.
Parallel to it, she commenced working with models such as Lauren Hutton, Naomi Campbell, Stephanie Seymour, Claudia Schiffer, and Lisa Taylor, to name a few.
By the age of 18, Gisele had five major shooting campaigns in hand. Later, she became "The Most Beautiful Girl in the World" in 2000.
The same year, she had already made 37 appearances in the international Vogue cover, and she started appearing in every Dolce & Gabbana fashion campaign.
Additionally, in 2008, Gisele was also featured on the cover of Vogue alongside the NBA player LeBron James.
Apart from it, she featured in three spring campaigns, Versace, Givenchy, and Salvatore Ferragamo. By 2012, she has had made 5,600 appearances in commercials in Brazil and had 120 Vogue covers.
The next year, she became the face of Chanel's makeup line, Les Beiges. Likewise, she is 2014's spokeswoman for Chanel No. 5 and appeared on Elle's 17 international editions.
After signing with Under Armour, she was featured in the 2015 Guinness World Record book as the model who earned the most money.
Altogether, as she became the industry's household name, she retired from runway modeling in 2015. She had done lingerie shots and became the one to wear the most expensive lingerie to that date.
Modeling for Victoria's Secret
Gisele, who remained the highest-paid model for 15 long years, inked a deal with Victoria's Secret when she was just 19 in 1999.
In an interview with PORTER magazine, she talked about the clauses she had when wearing the brand's often-revealed clothing.
Eventually, Gisele cleared her mind and decided to walk out of the company in 2007. And to come across this decision, she tried a weird method.
"I crumpled up two small pieces of paper [one that said yes and one that said no] and placed them inside an empty teacup," she mentioned. "I closed my eyes and set an intention: whatever piece of paper I chose would be for my highest and best self and be the right decision."
Also, in her book, Lessons: My Path to a Meaningful Life, she uttered, "For the first five years, I felt comfortable modeling in lingerie, but as time passed by, I felt less and less at ease being photographed walking the runway wearing just a bikini or a thong. Give me a tail, a cape, wings—please, anything to cover me up a little!"
Acting and Music Endeavors
Gisele Bundchen first starred in the 2004 remake movie "Taxi" beside Queen Latifah and Jimmy Fallon. Following it, she was a supporting actress (Role of Serena) in the 2006 movie The Devil Wears Prada.
Likewise, she also starred in Coração Vagabundo in 2008, followed by her own documentaries.
Apparently, her first documentary was in 2013 (Mademoiselle C.), then in 2018 (Tom vs. Time), and the recent one in 2020 (Kiss The Ground).
Apart from its major movie roles, Gisele has also featured in the television series MTV al Dente and The O.C. Later, she also voiced the Gisele character in Gisele & The Green Team.
In 2013, for H&M's charity contribution, Gisele released a cover of the Kinks' "All Day and All of the Night."
Furthermore, with the DJ Bob Sinclar and the French music producer's help, Gisele recorded a cover of Blondie's 1979 classic "Heart of Glass."
Overall, in 2018, Gisele wrote an autobiography called 'Lessons: My Path to a Meaningful Life.' Apparently, the book became New York's bestseller for over six months in the non-fiction category.
Gisele Bundchen | Achievements
To date, Gisele Bundchen has conquered many feats in her career. Indeed, Gisele has been an inspiration to many girls and is also known as the perfect face.
Apparently, many patients for plastic surgery ask to have similar hair and abdomen as of her.
Therewith, she had been given the title of the most beautiful hair in Hollywood and was also the most desired body. Furthermore, she is ranked No. 4 on Forbes Brasil's list of the 100 most influential Brazilian celebrities.
Not to mention, in 2012, Vogue Italia stated Gisele as the "King Midas of Fashion." Furthermore, Gisele was also the richest supermodel in 2007, and her black and white photo was auctioned for $193,000.
In 2011, she became on the FHM Australia list of 100 Sexiest Women in the World. Following it, she was No. 61 on its Most Powerful Celebrities list in 2012.
In the meantime, Forbes listed her fifth among the 10 Most Powerful Businesswomen in Brazil.
<< Read about Motivational quotes from Wilma Rudolph >>
Awards
Phytoervas Fashion Award (1998)
Vh1/ Vogue Fashion Awards (1999)
Harvard Medical School (2011 Global Citizen Award)
International Green Awards (2011 Best Green International Celebrity Award)
Green Carpet Fashion Award (2017 Eco Laureate award)
Gisele as an Activist
More than just a supermodel, Gisele has been working for her community and even worldwide.
For her work, her primary focus has been social stability and environmental causes. To date, she has worked in the Breast Cancer Campaign to make aware all young girls.
Furthermore, she has been supporting greenness by helping with projects in the Amazon rainforest and Atlantic Forest.
Furthermore, she supported the World Wide Fund For Nature with her T-shirt "Hotter than I Should Be" to raise awareness of climate change.
All in all, to dedicate the works Gisele has done, they have named a forest (Gisele Bündchen Forest) after her name Atlantic Forest. For it, they planted 25000 seedlings of 100 different tree species to honor her.
Likewise, we have highlighted her main events and work done for the environment.
Projeto Água Limpa (Clean Water Project): launched in 2008 by Gisele's family to promote the recovery of riparian vegetation and the region's micro basins.
Save the Good Water of Xingu: protect springs and headwaters of the Xingu River in Brazil.
THINK.EAT.SAVE—: 2013 United Nations campaign against food waste.
SOKO + The United Nations Trust Fund to End Violence Against Women: 2014 financial and physical support.
Years of Living Dangerously: 2016 documentary on climate change.
World Wildlife Day in 2016: Stood for Wild For Life campaign against the illegal trafficking of endangered wildlife.
Viva a Vida initiative: launched in 2020 by Gisele to plant 40,000 trees along the Xingu and Araguaia River in Brazil.
Goodwill Ambassador
Gisele Bundchen has been the Goodwill ambassador since September 2009 for the United Nations Environment Programme. To date, she has covered the project in Kenya and Rio de Janeiro.
For its work, she has also joined the Rainforest Alliance board of directors.
Gisele Bundchen | Personal Life
Besides being a supermodel or businesswoman, or activist, Gisele is also a beautiful mother of her kids and a loving wife.
However, before tying up with Tom Brady, Gisele did share a dating history and now let's see who comes listed on her ex-boyfriend's list?
João Paulo Diniz
As per online sources, Gisele dated a Brazilian businessman who was 17 years senior to him. The relationship was a casual one, and it lasted just for a few months.
During that time, Gisele was a rising star and recently bagged the VH1 Vogue Model of the Year award.
Scott Barnhill
The same year when she broke up with Jao Paulo, Gisele dated fellow model Scott Barnhill.
Soon after they parted their ways, Scot said to E! News: "We just recently split up, but you know how it is, life goes on. I am definitely working on it and moving on."
Rico Mansur
It was in 2002 when Gisele came across this Brazilian polo player Rico Mansur and dated for around 6 months.
Rico was engaged to model Isabella Fiorentino at that time, but he finished his relationship with Isabelle after meeting Gisele.
Leonardo Di Caprio
Gisele had first dated an actor, Leonardo Di Caprio, for five years, from 2000 to 2005. Unfortunately, their relationship didn't sail, and they had to break up. Let's take a glance between the two.
During her relationship with Leo, they were often present in People's annual Most Beautiful Couples List. Following it, the relationship was never easy for them both.
Either way or another, the media always had something to say about them, like stating their relationship was a marketing process.
However, they just shut down the rumors and were going strong when again, in 2002, words for their breakup sprouted.
Having these, they kicked such aside and were quite severe for each other until, in 2004, their wedding rumors surfaced.
As per the source, Leo had given a custom-made Neil Lane diamond ring to Gisele. Sadly, things took their turns, and the duo called it quit in 2005.
Afterward, they marked their own way as Leo started dating Bar Refaeli, while Gisele eventually dated her now-husband, Tom Brady.
Breakup with Leonardo Di Carpio
Finally, in 2018, Gisele revealed the reason for their break up through her 2018 book Lessons: My Path to a Meaningful Life.
Moreover, the tenure when she dated Leo was her breakthrough in her career, which had gradually started giving her panic attacks.
Therefore, she was more involved with cigarettes, wine, caffeine, and workload. Thus, she wanted to quit that lifestyle and wanted Leo with her.
However, Leo wasn't ready to call life quits as he didn't want to go down the same path.
That was when Gisele realized they had variations in their lifestyle and decided to end it.
"No longer numbing myself with smoking, drinking, and too much work, I was becoming more and more aware of things that I'd chosen not to look at. Was I alone in wanting to do some serious soul-searching while he stayed the same? In the end, unfortunately, the answer was yes."
-Gisele Bundchen in her Biography
Josh Hartnett
In 2006, Gisele stayed in a relationship with actor Josh Hartnett. Also, the two were caught kissing each other outside of a restaurant in New York City a week after Josh broke up with ex-girlfriend Scarlett Johansson.
Chris Evans
Moreover, Gisele was also rumored to be dating Chris Evans, but she denied her relationship with him.
"If everything that's written about me was true, I'd have about 10 kids, and I'd be married five times, one of them with some actor named Chris Evans, whose name I heard for the first time two hours ago," she told Arena magazine.
Tom Brady
Gisele and Brady have been one of the cutest duo, where both have been supportive of each other. Apparently, the pair first met on a blind date in 2006 via a mutual friend.
Moreover, their story is like "love at first sight," which had sprouted ever since their meeting.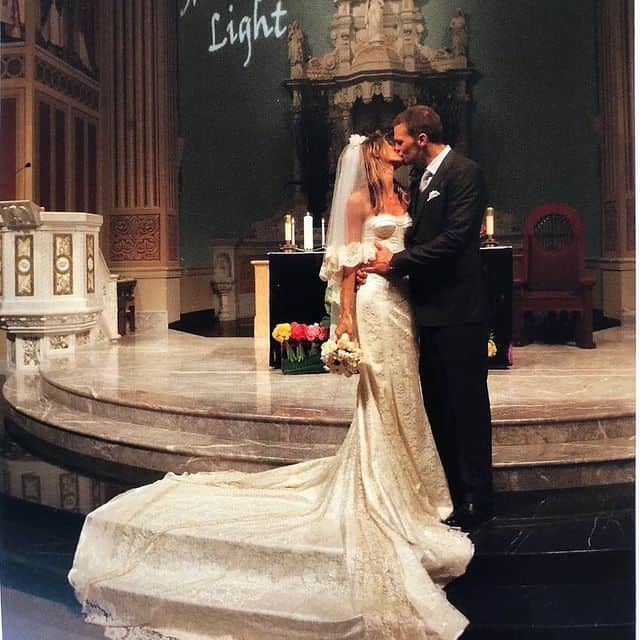 However, not every day between them has been "rainbows and sunshine" as they have gone through their own ups and downs. Actually, after knowing each other, they only started dating in 2009, which indeed started horribly.
Just two months into their relationship, Tom Brady broke the news that his ex-girlfriend, actress Bridget Moynahan, was pregnant with his child.
Of course, Gisele could feel the world rip apart yet again. However, she made a firm decision to trust Brady and stay with him.
Following it, Brady proposed to Gisele on a private plane from New Jersey to Boston the same year. Therewith, they got married just two weeks later in a small Catholic ceremony at St. Monica Catholic Church in California.
Additionally, they even hold a second ceremony on the beach of Santa Teresa, Costa Rica, where they own a house.
Wedding
February 26, 2009, has been a memorable date in Brady and Gisele's lives as they took their vows. Their simple wedding was just organized in ten days, where Brady wore a black suit, a white shirt, and a light gray tie.
Likewise, Gisele was adorned in a long, white strapless lace dress with a long train in a sublime.
Alongside their wedding, the duo also had a private reception for close friends as a barbecue.
During the event, Gisele was donned in a tailored ivory slip dress with dazzling details. Not to mention, Brady was in a white shirt, a light gray jacket, and a black tie.
A Family
Amidst the highs and lows, Tom Brady and Gisele have been going strong and happy with their growing family. As of now, the pair shares two children; a daughter and two sons.
Apparently, the eldest son of Tom Brady is from his former partner, Bridget Moynahan. However, as an angel, Gisele considers John Edward Thomas Moynahan (also known as Jack Edward Brady) as her own child.
Furthermore, she had stated she doesn't like being called a stepmom.
"I don't like the word 'stepmom.' I like the word 'bonus mom' because I feel like it's a blessing in my life. And, I feel so lucky that I got to have an extra wonderful little angel in my life."
-Gisele Bundchen
As a matter of fact, the duo had their first child in 2009 in their penthouse's bathtub. Their first child was born on December 8, and they named him Benjamin Rein Brady.
Following it, three years later, they had their second child (a daughter) in 2012 and named her Vivian Lake Brady.
Additionally, in 2015, the couple again faced another scandal regarding Tom Brady. Apparently, it was stated that they were having trouble in their marriage.
However, Gisele did share an important factor in the relationship, which is quality.
Click to know about Joe Flacco Bio: Net Worth, Jets, College, Wife, Super Bowl >>>
Body Measurements, Workout, and Diet
Gisele Bundchen is a heavenly woman with breathtaking features and figures. Indeed, as a supermodel and a public model, Gisele does healthily maintain her body.
As for her appearance, Gisele is fair-skinned with blonde hair and mesmerizing blue eyes.
As for her bodily measurements, Gisele measures 35-23-35 while standing at the height of 1.80 meters (5 feet 11 inches). Furthermore, she weighs 55 kg (121 pounds).
Gisele, herself has spoken about her health and diet plans that she follows every day. Infact, during her beginning career, she had no fixed diet regime, and she would be going for all kinds of foods and beverages.
However, she also decided to tune herself into plant-based healthy eating habits with the turn of life. According to her, she gives her prime focus to natural, satiating foods with minimal meat and dairy products.
Apparently, she also stated that she would fast until lunchtime two days of the week. Usually, her morning starts with a fresh cup of fruits or vegetable juices, while she goes for salad or soup for lunch.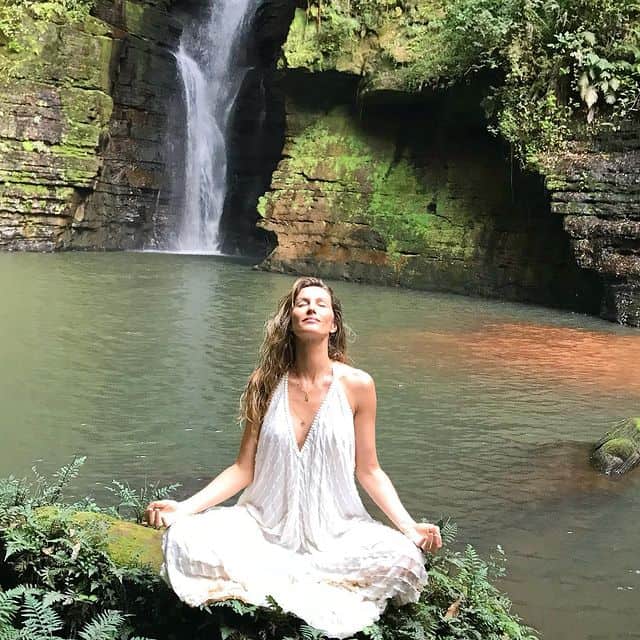 Likewise, Gisele believes among all the exercises, the most important one is yoga. Apparently, it is the best for a healthier physique and better mindset.
However, she does indulge herself in intense workouts like boxing and other gym routines.
The family also had a personal chef Allen Campbell previously. We don't know whether they followed the Keto diet or not, but yes, 80 percent of the diet consisted of vegetables. They don't take it if it's not organic.
The other 20 percent is lean meats: grass-fed organic steak, duck, and chicken, and as for fish, he cooked wild salmon.
Gisele starts her day with morning juice, which is usually comprised of a mix of fresh fruits and vegetables, turmeric, ginger, and coconut milk.
She intakes a wholefood-laden salad for lunch or a hearty soup with vegetables usually.
Gisele knows how to dazzle even after taking off her makeup
Well, the Brazilian model is a completely natural beauty no matter when she is on the ramp with full makeup or off-the ramp with little to no-make-up.
We as fans completely embrace her both the looks, the done-up night-out ones, or when she comes across with her bare-faced selfies.
Gisele has appeared on the cover of Vogue Italia totally makeup-free in 2018. She flaunted her flawless skin with undone brows and speckle of freckles.
"I've always felt better with less makeup; I just feel more like myself," she disclosed during a Chanel "Beauty Talks" video.
If Gisele is going to do a bit of makeup, she keeps it very simple. "I always like very little foundation," she mentioned during the same clip. "I don't even put foundation on my cheeks, I just put it a little bit here and around the mouth — that always gets red —and around the eyes."
Gisele and her hairstyles
Talking about Gisele and not talking about her hairstyle would be a sin, literally. We won't let that happen.
Gisele has a life-long commitment with her waves, she might take retirement from modeling and take a break from her professional, but her beautiful curly waves are not going anywhere.
Sometimes she styles her hair with a high ponytail and carries the smokey eye look like a perfectionist (that was during the Met Gala event), and sometimes she has these voluminous beach waves as her hairstyle.
Gisele also went with side bangs and a little blowout hairdo at times. A faux-bob hairstyle was also on her styling list. She designed her long hair in loose beach waves as well.
Is Gisele Bundchen, along with her husband Tom Brady, vaccinated?
Well, we are much acquainted with the fact that how covid-19 has demolished the world with its vivacious outspread.
In a vulnerable situation like this, the fans offer a willingness to know whether the most ruling public figures are ready to serve as an example and lead youth to get vaccinated?
Well, the answers are not clear yet because neither Tom Brady nor Gisele has spoken about vaccination yet. At the same time, this is also known to everybody that Brady's parents themselves had COVID last year.
Tom's dad had to stay for three weeks in the hospital, and he used to facetime every morning and made a call to the doctor every time to get an update. Also, Tom's kids used to make greeting cards in order to motivate him to fight.
All in all, Tom has had only one press conference in training camp so far that too, too hard for full seven minutes. And all he was asked about was a potential Super Bowl hangover and his offseason knee surgery,
To add on, in the only press conference that he had, Tom did not put up a mask on his face. And now the question exists, "Was it because he already got vaccinated, or he faced a $14650 fine?)."
Anyways, the Buccaneers must be trying hard to put their players at the forefront after they are vaccinated.
Although, they have implemented a colored wristband policy at least where they distinguish vaccinated players from unvaccinated ones while indoors (red for vaccinated, yellow for unvaccinated).
And guess what, Brady was not spotted wearing a wristband at the training camp either. Well, all this information drags our utmost attention to the point that probably, Tom, along with his wife, are not vaccinated.
But they are a health-conscious leading power couple. They might plan to get one soon.
Net Worth
Gisele and Brady both have successful careers and undeniably a whopping net worth. In 2011, Forbes named them the World's Highest-Paid Celebrity Couple.
Additionally, Gisele has been one of the top paid entertainers in the industry for many years.
Furthermore, Forbes has also ranked her third in the 16 Most Successful Female Entrepreneurs list. Not to mention, she was also the highest-paid model in the world from 2002 to 2017.
As of now, Gisele Bundchen is estimated to have a net worth of $400 million. However, Tom Brady is estimated to have a net worth of $250 million.
Apart from her modeling and other careers, Gisele has also launched her own line of skincare products. Her brand was Sejaa Pure Skincare, which focused on eco-friendly ingredients.
Also, thanks to her other modeling contracts like Carolina Herrera, Arezzo shoes, and Vivara jewelry that hyped up her career. Gisele also had endorsement deals with Chanel, Louis Vuitton, and Pantene.
She also rendered her name for other companies to monetize, one of them was a sandal line with Grendene.
House
Recently, Tom Brady and Gisele Bundchen bought a $17 million house on a private, high-security island in Miami. The duo shifted thereafter, selling their $40 million homes in the Boston suburb of Brookline.
Their Massachusetts house was 9,716-square-foot, designed by Richard Landry. Apparently, their home had five bedrooms with a rec room, playroom, gym, spa, wine room, and an eat-in chef's kitchen.
Charity
To date, either Bundchen alone or with her husband or with her family has been given to society. Having said this, Gisele has also been sharing part of her income the society's cause.
Back in 2006, Gisele became the face of American Express's Product Red-affiliated card. Then, Gisele had donated a part of her income to people with HIV/AIDS in Africa.
Additionally, she had joined hands with the former president, Bill Clinton, for the Children's Safe Drinking Water Program.
Below are the lists of her works to date.
Brazil's Zero Hunger program: $150,000 donations
St. Jude Children's Research Hospital: Gumuchian Fils' limited diamond necklace
The Luz Foundation: was launched in 2007 to empower girls.
Red Cross: $1.5 million donations in 2010.
Luz Alliance fund: a partnership with the Brazil Foundation with a donation of 1,000,000 to support hygiene and the impact of the COVID-19 pandemic.
Partnership with Wheels: Up 10 million donations alongside her husband, Tom Brady, to alleviate food insecurity.
You might be interested in Eli Manning Bio: NFL, Family, Career, Net Worth >>>
Social Media
Gisele Bundchen is an active social media user, as you can see her showering love for her family. Also, she updates her fans about what is going on in her life and work.
As for her accounts, Gisele has an Instagram handle going by her real name Gisele Bündchen (@gisele).
Her Instagram handle currently has 16.9 million followers. Furthermore, her Twitter account is also her real name Gisele Bündchen (@giseleofficial), which has 4.6 million followers.
Gisele Bundchen | FAQs
Is Gisele Bundchen an American?
Actually, Gisele is a Brazilian and an immigrant to the U.S. However, she is married to Tom Brady, an American; thus, she may have a green card. But still, it is not clear about it.
How many languages can Gisele Bundchen speak?
Gisele Bundchen can speak about five languages; English, Portuguese, Italian, Spanish, and French. She had also revealed she could speak German as well during school; however, she forgot it being out of touch with it.