Tomas Walsh is a popular field athlete from New Zealand. He is the shot-put national record holder for both indoors and outdoors.
Walsh is regarded to be one of the best shot putters in the shot put history worldwide. He made the Oceanian record, scoring 22.90 m (75 feet 1+1⁄2 inches), gaining the third position at the 2019 World Championships in Doha.
Walsh owns several medals for the sport. He was an Olympic bronze medalist in Rio 2016.
Tom also won gold and silver medals at the Gold Coast 2018 Commonwealth Games and the Glasgow 2014 Commonwealth Games.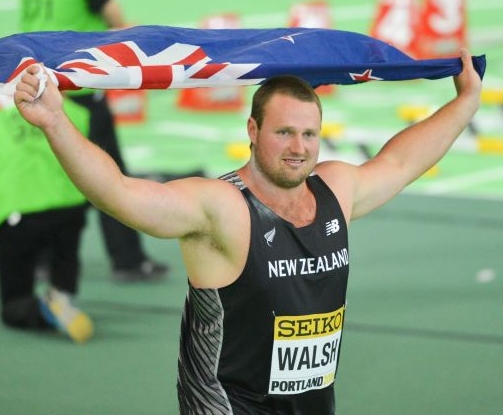 Similarly, he won a gold medal at the 2017 World Athletics Championship. He was also the winner of the 2016 IAAF World Indoor Championships, recording the biggest ever winning margin in the event.
The New Zealander was the bronze medalist at the 2014 IAAF World Indoor Championships. Likewise, he gained the fourth position at the 2015 World Athletics Championships.
He also represented New Zealand at the World Under-18 Championships in 2009, finishing with six.
Tomas Walsh's journey from hometown Geraldine to the Olympics is quite interesting. Today, we will be diving deep into his personal and professional life. Let's get started!
Quick Facts about Tomas Walsh
Full name
Tomas Walsh
Nickname
Tom
Birthdate
March 1, 1992
Birthplace
Timaru, New Zealand
Nationality
New Zealander
Horoscope
Aquarius
Age
31 years old
Father's name
Peter Walsh
Mother's name
Karen Walsh
Sibling
An elder brother
Brother's name
Bill Walsh
Marital status
Unmarried
Relationship status
In a relationship
Girlfriend
Dana Mulcahy
Children
None
Height
6'1″ (185 cm)
Weight
120 kg (265 lbs)
Body type
Athletic
Eye Color
Brown
Hair Color
Brown
Profession
Athlete
Sport
Track and Field
Event
Shot Put
Club
South Canterbury Athletic Club
Coached by
Dale Stevenson
Trained at
Christchurch, New Zealand
Personal best records

22.90 m (75 feet 1+1⁄2 inches) outdoors
22.31 m in indoor

Medals and Achievements

Bronze medalist at Rio 2016
Gold Medalist at the Gold Coast 2018 Commonwealth Games
Silver Medalist at the Glasgow 2014 Commonwealth Games
Gold Medalist at the 2017 World Athletics Championship
Winner – 2016 IAAF World Indoor Championships
Bronze medalist at the 2014 IAAF World Indoor Championships
Fourth at the2015 World Athletics Championships

National Team Appearance
For New Zealand
Other than athletics
A part-time builder
Net Worth
$1 – $5 Million
Social Media Handles
Instagram
Twitter
Merch
Track & Field Equipment
Last Update
December, 2023
Tomas Walsh – Early Life and Family
Tomas Walsh was born on March 1, 1992, to proud parents Peter Walsh and Karen Walsh. He was born in Timaru, New Zealand.
Likewise, Walsh grew up on the far north of Timaru alongside his elder brother Bill Walsh.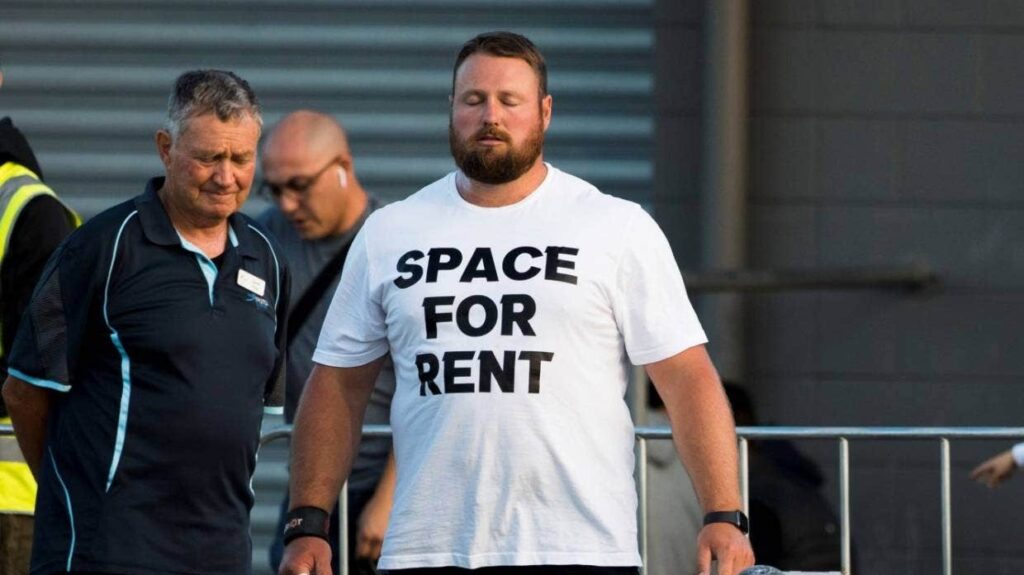 Not to mention, the Walshs were like any other typical Kiwi family.
Walsh: The Family of Athletes
Tomas's father, Peter Walsh, is also a field and track athlete. He was the winner of the New Zealand junior men's shot put title in the mid-1960s season.
He was also a member of the South Canterbury Rugby team who received the Ranfurly Shield in 1974.
The rugby story also runs in the Walsh family. Tomas's mother, Karen, wanted her younger one to become a professional rugby player.
Likewise, Karen adores Tomas playing rugby and cricket and had a love-hate relationship with athletics.
Tomas once said that his mother hates watching athletics because she feels like she is not in control.
He responded to his mother stating, "You just sit and watch me because I'm in control here," with a sweet chuckle right before he competed at the annual Allan and Sylvia Potts Memorial Track and Field Classic held in Hastings, England.
Tomas grew up playing rugby, cricket, hockey, soccer, croquet, and athletics. He had his hands on everything and did not specialize in the shot put until he was 19.
You might be interested in reading: Ann Calvello Bio: Parents, Husband & Death >>
Tomas Walsh – Professional Athletic Career
Early Years
When Walsh first thought of pursuing shot as a professional, Jacko Gill ruled over every national and junior world record. He remembers participating in World Juniors, where he bombed out the whole Gill was the winner.
The tit-for-tat rivalry started in his head against Gill, gathering all the energy to compete. Tom made his international debut at the 2009 World Youth Championship, finishing six.
Here's the best of Tom Walsh >>
Walsh could not qualify for the 2010 World Junior Championship, where Gill came out as a winner. They went on making new records while breaking records made by each other.
But Walsh didn't give up, and he won his first senior national crown in 2012.
He broke Gill's New Zealand senior shot put on December 12, 2013, recording 20.61 m (67 feet 7+1⁄4 inches) in Australia. He then improved his own record with 21.16 m (69 feet 5 inches) on March 22, 2014, also in Australia.
A Prolific Athlete
Walsh finished third in the men's shut at the 2014 IAAF World Indoor Championships his first senior international competition, his very first competition indoors.
He then recorded 20.41 m (66 feet 11+1⁄2 inches) in the qualifying round of the competition. Similarly, he recorded 21.26 m (69 feet 9 inches) in the final finishing of the competition, setting the Oceanian indoor record.
Walsh then recorded 21.23 m (69 feet 7+3⁄4 inches) at the 2014 IAAF Diamond League meet in Glasgow on July 11, 2014, improving his outdoor personal best record and also the record for New Zealand.
He then improved again to 21.24 m (69 feet 8 inches) on July 2, in the qualifying round at the 2014 Commonwealth Games, setting the Commonwealth Games record.
He won a silver medal behind O'Dayne Richards in the finals of the competition.
Walsh then defended his New Zealand shot put title, throwing 20.73 m (68 feet 0 inches) on March 8, 2015.
He then set a new record for Oceania with 21.37 m (70 feet 1+1⁄4 inches) on March 21 at the Melbourne Track Classic.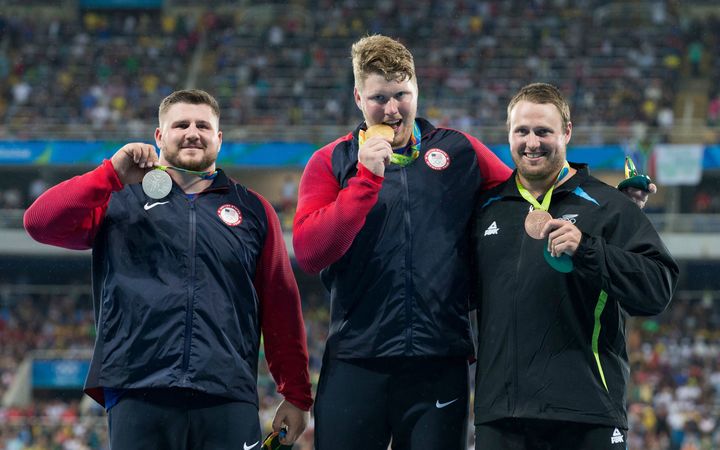 He then finished fourth with his personal best throw of 21.58 m at the 2015 World Championships held in Beijing. However, he did not win the bronze medal because of the 11 cm distance.
Rise to Prominence
Walsh then improved his personal best to 21.62m on September 8, 2015, winning the shot put competition at the Hanžeković Memorial in Zagreb.
He then won his very first Diamond League meet, throwing 21.39m in Brussels on September 11.
Similarly, he won a gold medal in the 2016 World Indoor Championships, throwing 21.78m. Here he broke his own New Zealand national and Oceania area indoor records thrice in the process.
He then won the bronze medal at the Rio de Janeiro Olympic Games with a throw of 21.36m. Likewise, he stood up as the winner at the 2017 IAAF World Championships, throwing 2.03m.
Walsh then retained his World Indoor title at the 2018 World Indoor Championships, throwing his then-personal best of 22.31m.
The record was surpassed as he threw 22.67m on March 25 of the same year at the Sir Graeme Douglas International Track Challenge in Waitakere City, New Zealand. He was then recognized as the top-10 World All-Time.
Similarly, Walsh made a new Commonwealth Games record with a throw of 22.45m at the 2018 Commonwealth Games in Gold Coast, Australia. It drove him to the shot put men's final.
Walsh's personal best till the date is his 22.90 m which he recorded at the 2019 World Championships in Doha. He earned third place in the competition.
You might also be curious to read about: Andre De Grasse Bio | Injury, Olympics & Net Worth >>
Tomas Walsh – Relationship and Girlfriend
Tom Walsh is in a relationship with a girl named Dana Mulcahy. Dana is very supportive of Walsh's athletic career.
She is from Timaru but now lives in Christchurch with Walsh.
Tomas once said in an interview that he feels fortunate to have a partner like Dana, who helps him keep up with his messy traveling schedule.
More on Personal Like
Walsh is a part-time builder. He engages in his building profession when he is not training or competing.
Tomas Walsh – Olympics 2021
He last competed in an overseas competition at the 2019 Doha World Championship. So it's almost been two years if we calculate its time with the 2021 Olympics in Tokyo.
Walsh acknowledges the fact that he would be competing against the best shot put guys in the world in the competition. It will be really tough, and he needs to be more than prepared if he intends to win.
He seemed grateful that Covid-19 did not disrupt life much compared to other nations and was excited to go overseas to compete against the best guys. He got into the competition well-vaccinated and with plenty of confidence.
We have quoted his thoughts on the Olympics happening in Tokyo:
"It's been a long time, so I'd be lying if I said there wasn't a little bit of doubt, but I think that's also healthy as a bit of doubt sharpens your focus and knowing they're throwing well and getting ready to go to Tokyo is a good thing."
The 2021 Olympics in Tokyo was scheduled from July 23, 2021, to August 8, 2021. We are hoping to see the best of Walsh in the Olympics this year.
Tom Walsh – Net Worth
Shot putter Tom Walsh earns through his profession as a builder as well. As a result, he lives a pretty decent life.
Tom Walsh's net worth is estimated to be around $1 Million and $5 Million.
Tomas Walsh – Social Media Presence
You can follow Tomas Walsh on his social media handles via these links:
You might want to read: Craig Ehlo Bio: Jersey, Shot, Wife & Net Worth >>
Common Queries about Tom Walsh
Is Tomas Walsh competing in the Tokyo Olympics?
Yes, Tom Walsh is competing in the Olympics Games 2020 in Tokyo. He aims to win a gold medal this time.
He won a bronze medal in Rio 2016.
What is Tomas Walsh – Nike issue?
Nike dropped Tom Walsh from their stable right when Olympic 2021 was just a few months away.
Walsh was seen competing in Auckland wearing his "Space for Rent" T-shirt. He responded to it as a nod to his status, considering what Covid-19 had done to the commercial world.