Tommy Brackens, often known as the "Human Dragster," is an American professional BMX racer.
He spent eight years competing in Bicycle Motocross (BMX). From 1980 until 1988, he participated in sports.
Brackens has also received sponsorship from several bicycle stores.
The article discusses the height, weight, early life, personal life, career, social media, and net worth of Tommy Brackens.
Tommy Brackens: Quick Facts
Before we go through the detailed information about the star Tommy Brackens, let us give a peek-a-boo at a few essential quick facts.
| | |
| --- | --- |
| Full Name | Tommy Lee Brackens |
| Birth Date | November 20, 1960 |
| Birth Place | Los Angeles, California |
| Residence | Los Angeles, California |
| Nationality | American |
| Ethnicity | Afro American |
| Hobbies | Racing |
| Nickname | The Human Dragster |
| Education | Not Available |
| Zodiac Sign | Scorpio |
| Father's Name | Not Available |
| Mother's Name | Not Available |
| Siblings | Not Available |
| Age | 62 years old |
| Height | 5 ft 10 in |
| Reach | Not Available |
| Weight | 79–82 kg (174–180 lb) |
| Eye Color | Black |
| Hair Color | Black |
| Profession | Retired BMX racer |
| Marital Status | Not Available |
| Children | Not Available |
| Net Worth | $1million – $5million |
| Social Media | Facebook |
| Last Update | March, 2023 |
Tommy Brackens: Bio
Brackens has reached the age of 62. Furthermore, the American BMX star stands 1.78 meters tall at 5 feet and 10 inches. However, Brackens' actual weight is unknown; it is estimated to be between 174 and 180 pounds (79 and 82 kg).
Tommy Brackens: Personal Life
Brackens was born in the magnificent city of Los Angeles, California, on November 20, 1960. Because of his ability to get the "Holeshot," he is known as "The Human Dragster."
Another reason for gaining that nickname is because of his ability to leap out in front of everyone at the start of a race. This nickname was given to him by Bob Hunt, an NBL broadcaster at the 1982 NBL Grand Nationals.
Tyson Fury: Early Life, Mental Health & Comeback
Tommy Brackens: Career
Brackens started off racing on a Redline race bike. Furthermore, he began riding BMX when he was only 17 years old.
Tommy was introduced to the sport by Anthony Sewell, a professional BMX rider. On the other hand, Anthony did not become a racer until Tommy did.
Furthermore, Turnell Henry and another buddy named James Stalworth influenced Bracken's career. Tommy finished second in his debut race, held in California, at the Valley Youth Center. Due to his inconsistency, Brackens never finished first in any association, amateur or professional.
In addition, Brackens came the closest to achieving that position in 1986, when he finished second in the Nationals.
Tommy Brackens Career as a pro
Brackens made his professional debut in December 1980, when he was just 20 years old. He also did it for monetary motives, despite being 19 years old and in the 16 Expert levels.
Tommy raced in his first professional race on January 18, 1981, at the American Bicycle Association (ABA) Northwest National in Seattle, Washington. He came in second place in the "A" Pro Trophy.
Brackens was also one of the first junior pros to graduate from the ABA's new junior pro "A" class, becoming one of the first later-to-be well-known pros to do so. Brackens competed in the NBA's pro class against seasoned veterans.
He also competed with Stu Thomsen, Scott Clark, Kevin McNeal, and others.
Tommy Brackens: Company
After quitting the sport, he founded Brackens Racing Products, a BMX bicycle brand. However, the company only survived two years. They started in 1988 and only lasted till 1990. Furthermore, after his firm failed in 1990, Brackens continued to work full-time at Huffy Service First.
On the other hand, Brackens returned for a bit of time to his Motorcycle Motocross racing beginnings.
Tommy Brackens: Product line
Brackens Racing Supplies has a wide range of products to choose from. Brackens, like Greg Hill, started his BMX frame and fork business in 1983. Bracken's product range included the 1988 KHS "Tommy Terminator" trademark frame and fork combo. Tommy Terminator was also released in January 1988.
Furthermore, it was founded in 1988 and has supported racers like Eric Carter and Kevin Hull. The company, however, only survived a few years. Brackens had to sell Brackens Racing Products to Power Source/Roost in late 1994.
Tommy Brackens: Magazine Coverage
Brackens has graced the covers of several BMX publications. He was featured four times in the magazines Minicycle/BMX Action and SUper BMX.
Brackens was also featured five times in the French publication BMX Plus and once in Picross Magazine.
Tommy Brackens: Racing Techniques
Early in his career, it was assumed by the public and the experts that Tommy lacked the "killing instinct" needed to completely dominate the top professional BMX riders.
He was also considered to have to lack a killer instinct due to his easygoing and good-natured disposition. Furthermore, because of his troubles negotiating corners, he was a power racer who lacked the technical components of racing.
Brackens' playing style made him reasonably easy to pass if he wasn't too far ahead of the competition. However, Brackens' ability to win a national championship was most certainly impeded by his technique.
Tommy Brackens: Injury
He sprained his wrist at the Pompano Beach National in May 1983. In addition, the ailment caused him to take a month off. Brackens was also hurt when his handlebars stabbed him in the leg muscle during practice prior to the Friday Pre Race.
Tommy was also forced to withdraw from the remainder of the competition, missing both the Saturday and Sunday nationals.
Rob Dyrdek: Career, Charity & Wife
Career post Injury
Brackens returned to motocross racing for a period. He proved throughout his BMX career that BMXers like practically all sorts of racing.
Tommy also dabbled in Outlaw Drag Racing, an illegal urban street race, thus matching his moniker, The Human Dragster. He also competed in GPV racing, which he did well into the new millennium's first decade.
Awards and Achievements
Brackens has been designated the "Most Improved Rider" by the National Bicycle Association. Furthermore, he won it in 1981.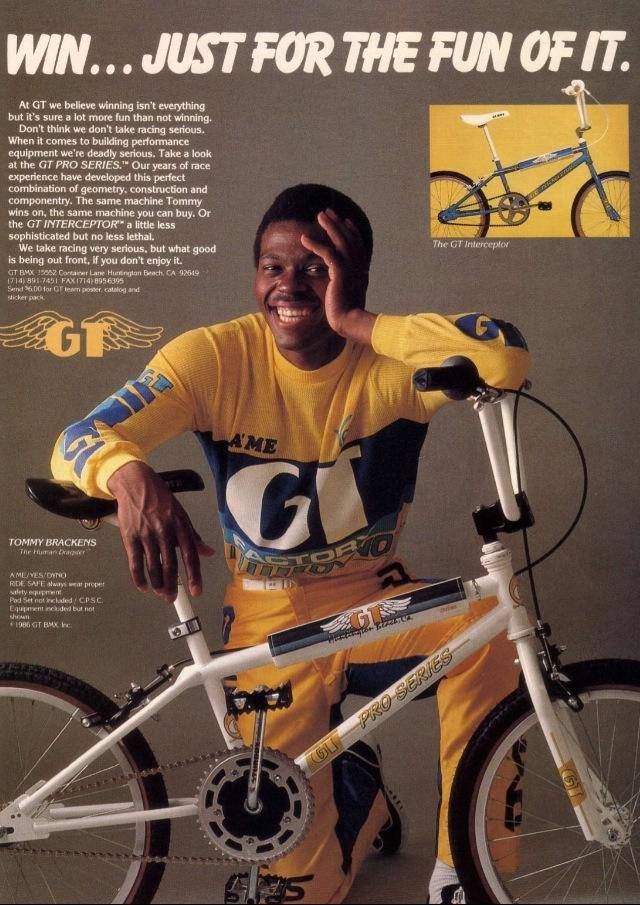 The American also took home the NORA Cup, or Number One Racer Award, from BMX Action in 1987.
Brackens is a member of the BMX Hall of Fame as well. He was inducted into the Hall of Fame in 1991.
Tommy Brackens: Net Worth
Brackens, an American BMX rider, has a net worth of $1 million to $5 million. His MX and BMX racing careers were the main sources of income for him.
In the mid-2000s, he was also certified for an ESPN X Video games GPV race in Saint George.
His popularity and income have only grown as a result of his appearance in video games. He has also received support from a number of bicycle stores, as previously noted.
All About Brad Jacobs: Curler, Net Worth & Wife
Social Media Presence
The Human Dragster isn't particularly active on all the social media platforms. He can be found on Facebook only. He posts images of himself and his passion for BMX on the network.
In addition, the BMX racer's Facebook page has over 1.5k fans.
Interesting Facts
Tommy Brackens was a former motocross (MX) racer who transitioned to BMX in 1977. (He returned to MX after his BMX career).

He was seen to have all the qualities to be a true top-level racer, despite being quiet, introverted, and personable.

His moniker was "The Human Dragster" because of his prowess at getting the "Holeshot," or leapfrogging the competition down the opening straight and into the first turn, practically at the drop of the starting gate.
Tommy Brackens: Frequently Asked Questions
Which of Brackens' skills was the most effective?
Brackens was recognized for his holeshot when racing. In motorsports, the term "holeshot" is used, and due to his skill, he also gained his nickname.
Did Tommy Brackens create his cruiser frames by hand?
The Brackens' BMX frames are made with hands. In 1988, he began introducing the frames. Furthermore, Tommy built it after a successful professional BMX career in Southern California. In addition, he co-founded the company with Craig Turner.
Which company was the first to support Tommy Brackens?
The City of Bicycles firm was the first sponsor of American racer Tommy Brackens.