Tony Boselli is the first Jaguar to be inducted into the Pro Football Hall of Fame. The former NFL player had a short football career, but he established himself as one of the franchise's most productive and famous players.
Boselli started his NFL journey after being drafted by the Jacksonville Jaguars as a second overall pick in the 1995 NFL Draft.
In his seven years of NFL career, he achieved a lot and was awarded several awards and honors. He was inducted into the College Football Hall of Fame and Pro Football Hall of Fame in 2014 and 2022, respectively.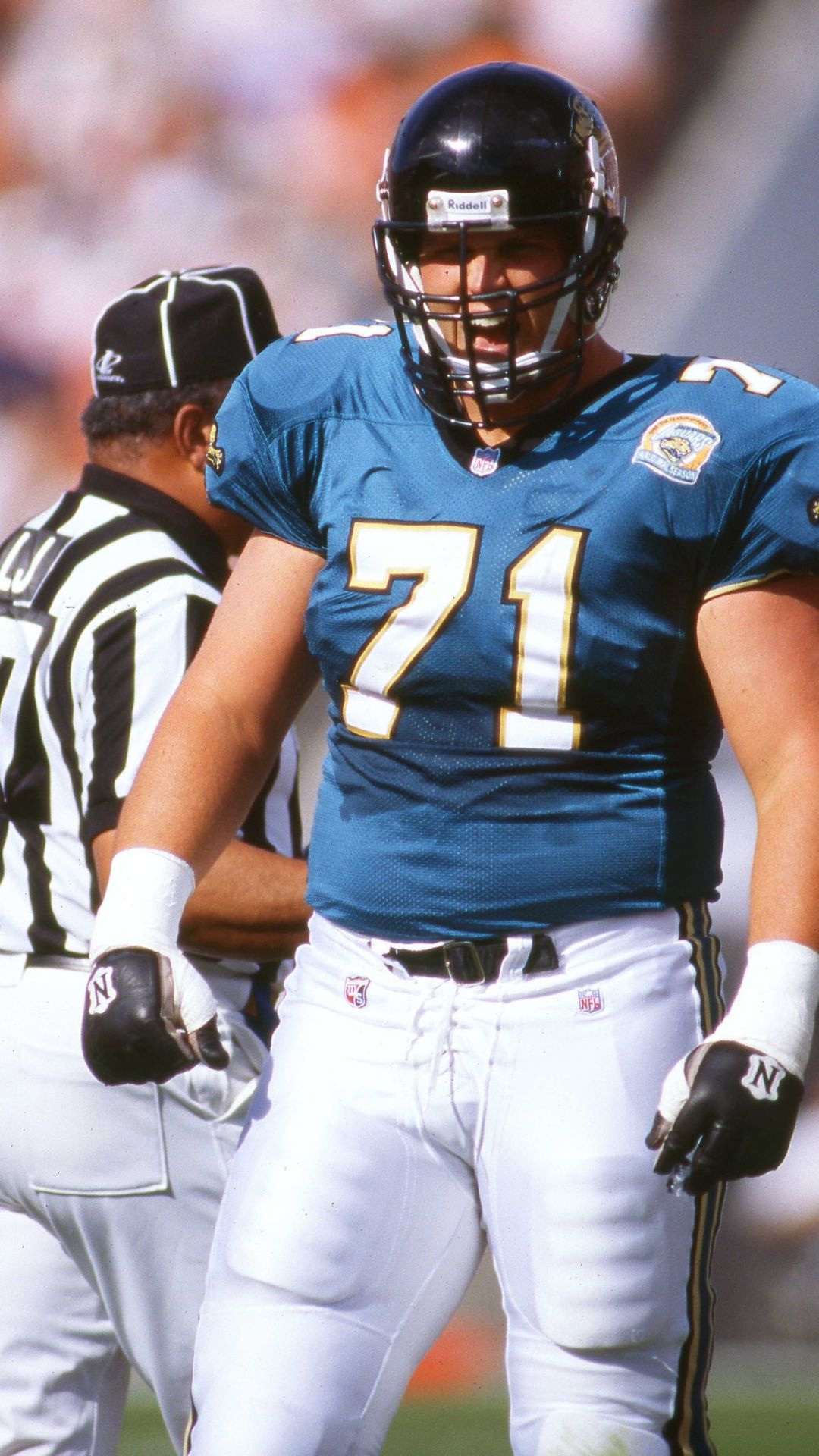 Houston Texans drafted Boselli as the first pick in the 2002 Expansion Draft, but he couldn't make his debut with the team.
So, why did Boselli not debut with the Texans and retire early? Make sure to read the whole article to find out.
Also, this article will uncover Tony's personal life, wife and children, net worth, career, and more. But before that, let's glance at his quick facts.
Tony Boselli | Quick Facts
Full Name
Don Bosco Anthony Boselli Jr
Name
Tony Boselli
Nickname
Tony
Date of Birth
April 17, 1972
Age

51 years old

Birth Place
Modesto, California, United States of America
Nationality
American
Ethnicity

White

Zodiac Sign
Aries
Height

6 ft. 7 inches/2.01 m

Weight

322 lbs./146 kg

Hair Color

Brown

Eye Color

Brown

Father's Name
Tony Sr Boselli
Mother's Name
Candy Boselli
Siblings
Jennifer Boselli (Sister) and Michael Boselli (Brother)
Education
Graduated
High School
Fairview High School
University
University of Southern California
Marital Status

Married

Wife

Angi Aylor

Marriage Date
June 23, 1995
Children
Five: Andrew, Adam, Ashli, Alexis, and Ansli Andrew Boselli
Profession

Professional Football Player

Position
Tackle
Playing Team

Jacksonville Jaguars (1995–2001)
Houston Texans (2002)

Jersey
71 (Houston Texans)
Debut Year
1995
NFL Draft
The second pick of the 1995 NFL Draft by the Jacksonville Jaguars
Retirement
2002
Hall of fame

Pro Bowl Hall of fame (2022)
College Football Hall of fame (2014)
Jacksonville Jaguars' Hall of Fame (2006)

Awards and achievements

PFWA All-Rookie Team (1995)
NFL 1990s All-Decade Team
Morris Trophy (1994)

Net Worth
$5 Million
Social Media
Twitter
Merch
Signed Jersey
Affiliation
Boselli Foundation
Last Update

June 2023
Tony Boselli | Early Life & Education
Tony Boselli was born in Modesto, California, on April 17, 1972, to parents Tony Sr. and Candy Boselli. Unfortunately, his parents divorced while he was in junior high school.
In Modesto, Tony's father worked as a sales agent. In 1974, he and his family relocated to Colorado so that his father and his uncle Bud Boselli could own McDonald's restaurants.
The Boselli brothers operated twelve McDonald's locations throughout the state in 1995.
As a result, Tony, Jr. was raised in Boulder, Colorado, along with his sister Jennifer and brother Michael Boselli.
Tony was a football enthusiast from his childhood days. Specifically, he looked up to Denver Bronco's quarterback John Elway. He began playing Little American football when he was six years old.
As for his education, he attended Fairview High School and graduated from the University of Southern California.
Jordan Cameron is one of the stellar NFL footballers with a short career but had the most impact. He was drafted by Cleveland Brown in the 2011 NFL Draft. Know more!
Tony Boselli | Age, Height & Weight
Tony Boselli was born on April 17, which makes him 51 years old as of 2023. People born in April are Aries.
Tony's full name is Don Bosco Anthony Boselli Jr., and he was born in Modesto, California. He identifies as an American of white ethnicity.
Also, Tony is 6 ft. 7 (2.01 m) tall and weighs around 322 lbs. (146 kg).
Tony Boselli | Career
College Career
Boselli attended the University of Southern California (USC) on an athletic scholarship from 1991 to 1994. During college, he was a member of the USC Trojans football team.
He was named to the first team of both the Pac-10 and the All-American teams. Likewise, he took home the Morris Trophy in 1994.
Likewise, Boselli was inducted into the College Hall of Fame in 2014 for his contributions and achievements.
Professional NFL Career
Tony Boselli was the first player drafted by the Jacksonville Jaguars in the 1995 NFL Draft. He played for the team almost his entire professional career.
Boselli was one of the Jaguars' most popular and productive players.
The Houston Texans subsequently selected him with the first overall choice in the 2002 Expansion Draft, but injuries prevented him from making his debut with the team.
After being placed on injured reserve for the whole season, he decided to retire at the end of the year.
Boselli has said that botched left shoulder surgery is to blame for the end of his career.
On October 8, 2006, he became the first player to be inducted into the Jacksonville Jaguars' Hall of Fame, the Pride of the Jaguars.
He also signed a one-day contract signifying his retirement as an official member of the Jaguars organization.
Coaching Career
Despite retiring from football, Tony's love for football hasn't decreased. He still stays connected with football. Though he doesn't play, he teaches others how to play.
He is on the coaching staff at the Episcopal School of Jacksonville, where he is in charge of the offensive line.
Broadcasting Career
Tony has dipped his hands in broadcasting.
During Fox's regional NFL telecasts in 2007, Fox recruited Boselli to work alongside Ron Pitts as a color commentator.
In his first season in the role, Boselli was dubbed a top-tier TV analyst.
Similarly, the NFL broadcasts on Westwood One had him on as an analyst and sideline reporter from 2009 through 2012.
Furthermore, he started working as a radio play-by-play announcer for the Jacksonville Jaguars in 2013.
Awards and Achievements
Three-time First-team All-Pro (1997–1999)
Five-time Pro Bowl (1996–2000)
PFWA All-Rookie Team (1995)
NFL 1990s All-Decade Team
Pride of the Jaguars
Three-time First-team All-American (1992–1994)
Three-time First-team All-Pac-10 (1992–1994)
Morris Trophy (1994)
Tony Boselli | Wife & Children
Tony Boselli is married to his long-term girlfriend, Angi Aylor Boselli. The couple had been dating since their college days and married on June 23, 1995, when Boselli was just twenty-three.
Tony's wife, Angi, is the former Miss California Teen USA. She attended the University of Southern California from 1990 until 1995 and obtained a degree in Public Relations.
Tony Boselli With His Wife and Children (Source: First Coast News)
The couple has been married for over a decade and has five children. Since 2005, Boselli has lived in Ponte Vedra Beach, Florida, with his wife and their five children: Andrew, Adam, Ashli, Alexis, and Ansli Boselli.
Tony's son, Andrew Boselli, attended Florida State University on an athletic scholarship and was a member of the Seminoles football team.
Tony Boselli | Net Worth
Thanks to his successful football career, Tony Boselli's net worth as of June 2023 sits at around $5 million.
Despite his short sports stint, Tony amassed considerable fortune to live a comfortable life and provide for his family.

The man still earns pretty decent from various pursuits, including coaching, broadcasting, and other business endeavors.
Aaron Donald is a well-known Los Angeles Rams defensive tackle. His defensive skills have earned him the honor of ACC Defensive Player of the Year.
Tony Boselli | Contract & Salary
Tony Boselli signed a rookie contract with Jacksonville Jaguars worth $16 million. He later extended his stay with the team with a four years contract worth $26 million.
In 2001, he was traded to Houston Texans and signed a contract of $21.5 million for four years but barely spent a year with them.
Investment and Business Ventures
Apart from his professional football career, Boselli has been involved in a wide range of business endeavors.
He invested in seven Mattress Firms with his former colleagues Mark Brunell and Bryan Schwartz.
But, he had already sold his stake in the business before relocating to Texas in 2002. In addition, he owns the entire Jacksonville area's supply of Whataburger franchises.
Tony Boselli | Charity & Social Works
In 1995, Tony and his wife, Angi, established the Boselli Foundation in Jacksonville to assist vulnerable youths in developing healthy self-concepts and achieving life goals.
But, they moved to Houston and later returned to the town in 2007.
The couple wanted to continue their charitable initiatives and established Boselli Foundation Youth Life Learning Center in 2007.
Youth Life Learning Center has offered a safe, nurturing, and stimulating after-school program for kids from low-income families for the past decade.
These programs include tutoring, character building, mentorship, academic enrichment, and improvement in reading and writing for the kids.
The Boselli Foundation has expanded its offerings to include a wide range of specialized consulting services and opportunities for the professional growth of the youth.
J.J. Watt is the leading NFL player who plays for the Houston Texans. Since his debut in the NFL, he has consistently been ranked among the league's best players. Know more!
Social Media Presence
Tony Boselli is an active user of Twitter, where 48.5K admirers follow him.
Boselli loves sharing his thoughts with his fans and admirers on Twitter.
He joined the platform in March 2009 and has made over seven thousand tweets.
Tony Boselli Popularity Overtime
Frequently Asked Questions (FAQS)
How good was Tony Boselli?
Tony Boselli is regarded elite left tackle of his era. Boselli was named to five Pro Bowls, was selected to the All-Pro first team three times, was named to the NFL's All-Decade Team during the 1990s, and gave up only 15.5 sacks in seven seasons.
What is Tony Boselli doing now?
Tony Boselli is involved in several projects, including his business ventures, foundation, and coaching. He works as a coach at Episcopal School and owns several food franchise businesses.
You Might Want To Read About NFL Player Rashaan Evans And His Life!