Tony Hawk is considered one of skateboarding's most influential pioneers because he invented nearly one hundred moves, which are still in use. In addition, the magnitude of Tony Hawk's business, entrepreneurship, and investment success inspires many.
Even if you are moderately aware of the professional skateboarding sport, Tony Hawk is a figure with whom you're most likely familiar. He is the most influential figure in the skateboard world despite it being a dark horse sport.
Illustrating the willingness and determination one should possess to survive and make it in this skeptical world.
"I believe that people should take pride in what they do, even if it is scorned or misunderstood by the public at large," stated a skateboarder.
The prior statement reflects the principle Hawk has adopted in his life to achieve his dream of being the best at skateboarding.
Not to mention, Hawk is one of the largest skateboarders in the world in terms of both fame and fortune.
Since its inception as a professional sport, its longevity and devotion to it have aided Tony in becoming the unrivaled king in the skateboarding community.
Tony is famous for his electrifying and breathtaking stunts and charisma; among his popular tricks are stale Dish, Madonna, 720, Ollie 540, and Kick foot Mctwist.
After releasing the NFT project, named Last Stunt, on December 16, 2021, Tony got backlash for it in 2022.
His injury is also a piece of present information about Tony hawk.
Here, let's learn a few more things about Tony Hawk. Below-mentioned is the quick facts you must take a glance at.
Tony Hawk | Quick Facts
| | |
| --- | --- |
| Full Name | Anthony Frank Hawk |
| Nickname | Grampa, Tony, The Birdman |
| Date of birth | May 12th, 1968 |
| Age | 55 Years Old |
| Birthplace | San Diego, California |
| Zodiac Sign | Taurus |
| Nationality | American |
| Ethnicity | Caucasian |
| Education | Torrey Pines High School |
| Father | Frank Peter Rupert Hawk |
| Mother | Nancy Hawk |
| Height | 6'3″ (1.91 m) (191 cm) |
| Weight | 78 kg (171 lb) |
| Website | Tonyhawk.com |
| Hair Color | Brown |
| Eye Color | Blue |
| Shoe size | 13 |
| Profession | Skateboarder/ Entrepreneur |
| Debut year | 1982 |
| Marital Status | Married (2015) |
| Wife | Cathy Goodman |
| Ex-Wife | Cindy Dunbar (1990-1993), Erin Lee (1996-2004), Lhotse Merriam (2006-2011) |
| Children | Riley Hawk, Spencer Hawk, and Keegan Hawk (sons), Kadence Clover Hawk (daughter) |
| Net Worth | $140 million |
| Salary | Unavailable on the internet |
| Foundation | Tony Hawk Foundation (The Skatepark Project) |
| Social Media | Instagram, Twitter, Facebook, Tiktok |
| Website | TonyHawk.com |
| Merch | Pro Skater (PS4), Skateboard |
| Last Update | May 2023 |
Tony Hawk | Early Life & Family
Anthony Frank 'Tony' Hawk is an American Skateboarder, Entrepreneur, and Owner of Birdhouse, a skateboard company. On March 12, 1968, he was born to Frank Peter Rupert Hawk and Nancy Hawk.
Though Tony has traveled worldwide, he resides in San Diego, where he was born and raised.
Tony grew up with three siblings. He was the youngest kid, with two older sisters and an older brother.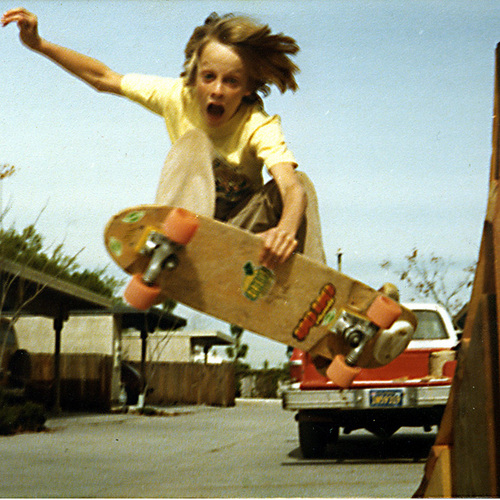 Similarly, his brother Steve Hawk, former editor of the surfer's magazine, was, in fact, the one who gifted Tony his first-ever skateboard, which he kept for a long time before donating it to the Smithsonian.
Education
Hawk attended Torrey Pines High School in San Diego, California. Although his priority lay towards skateboarding, he was a talented student nonetheless.
Thanks to the fact that he was tremendous in school, the Birdman only had to attend four classes during his senior year.
As a result, Hawk would finish his classes before recess and pass the remaining time of his days on a skateboard.
If Interested To Know More Click Here Mark Gonzales: Godfather Of Street Skateboarding >>
Tony Hawk | Age & Body Measurements
As of March of 2023, Tony Hawk is 55 years old as he was born on May 12, 1968. The former athlete still skates four times daily as part of his exercise.
Looking at his appearance, Tony is a tall but fit guy. Standing 1.90 m tall, Tony weighs about 171 lb pounds which is still impressive for someone his age.
Tony Hawk | Professional Career
Tony Hawk is nicknamed Birdman after his surname and for his ability to perform aerial tricks seamlessly.
Besides being a professional skateboarder and a businessman, he has also appeared in different movies, other media, and video game series.
Likewise, he is also part of the first generation of professional skateboarders, and despite that, Hawk still is the biggest Pro Skateboarder in the world.
Through his Tony Hawk Foundation, aka The Skatepark Project, he has been involved in different philanthropic activities that provide contributions and technical aid to build new skate parks, especially in underprivileged and low-income areas.
In June 2018, his foundation received U.S. $5.8 million for assisting 596 skatepark projects, and in 2015, they received the Robert Wood Johnson Sports award.
His mother described him as "high-strung" even as a child and stated that he would be "hard on himself and always wanted to do so many different things."
Similarly, Hawk began skateboarding at the crisp age of 9, and adding to this; his parents were very supportive of his new hobby, which later transformed his life.
Young Tony entered competitions at 11 and experimented with different daredevil stunts with his crazy and unique creativity.
Tony was a "gifted" child and tested with an intelligence quotient of 144, which helped him become a professional skateboarder at age 14 and develop various skateboarding skills.
Moreover, Athletes For Hope is another organization founded in 2007 by him and multiple other athletes to inspire the world with their professional athletic actions.
Gifted Child And Famous 900 Trick
In his early days, Tony was involved in freelance video editing since his hobby wasn't paying the bills.
During those days, corporate sponsorship was looked upon negatively, but he got them for the fact to stabilize his income source.
During his 20s, there wasn't as much money involved in skateboarding unless you participated in a tournament. Still, Tony loves the fact that a local pro can earn a steady living nowadays.

Nonetheless, he was signed by the professional skateboarding team Powell Peralta and starred in the famous Bones Brigade videos at an early age.
Tony has participated in countless tournaments and X games. For 12 consecutive years, he was officially the National Skateboard Association world champion. Despite this, he is most proud of the fact that he did a 900 at the age of 43.
Life As A Skateboarder
Tony mentioned in an interview during the early 90s; skateboarding wasn't considered as hip as it is today. He wasn't considered cool among the skateboarding community as he was primarily a ramp skater.
But Tony, aka the Granpa, is a transition skater because he is an expert in ramps with radius. He developed this expertise as a kid when there was a deficit of skate parks, and he had to skate around in a dried-up swimming pool in his neighborhood.
Because Tony is a professional athlete in an extreme sport, he has had many death-defying stunts. He has successfully jumped between two seven-storied buildings for a project with MTV.
Tony has had countless minor injuries but only 3/4 significant concussions in his career. Due to the nature of the sport, he has chipped his teeth innumerable times and has a few fake teeth.
Due to his love for this sport, Tony Hawk rallied behind the idea of including skateboarding as an Olympic sport. He attended some initial meetings with ISC but did not get involved in the politics of it.
Due to this, skateboarding will likely be included as a game in the upcoming Olympics.
Entrepreneurship
According to his interview with podcaster Joe Rogan, Tony launched Birdhouse in 1992 after realizing that his career as a pro skater was near its end.
Instead, it helped him start a new chapter in his career as a pro skater, which in hindsight, is the reason he is the undisputed king of the skateboard.
Tony also launched a video game series, Tony Hawk's Pro Skater, in 1999.
Along with its updates, upgrades, and new versions, the game has sold more than a million copies worldwide.
In an interview with Vogue, the professional skater mentioned he launched his videogame series so he wouldn't have to depend upon the tournament prizes for his income.
Acting
Due to the rise in his popularity and connections, he made his way to the top of his game.
Tony has had a chance to feature and cameo in various Hollywood movies such as Lords of Dogtown, Sharknado 5, Parental Guidance, and TV shows such as The Suite Life of Zack and Cody, CSI: Miami, and The Simpsons.
More TV series was coming on the way, Breaking In, The High Fructose Adventures of Annoying Orange, The Cleveland Show, and Sesame Street.
He was also an active member in the 2020 third season of the U.S. version of The Masked Singer. However, Tony got eliminated after one week as the Elephant.
RIDE Channel
In January 2012, Tony launched the Youtube channel "Ride Channel," where he would conduct twenty-two different shows with some of the best people in the skate industry.
A show called hand in hand was rolled, and it featured musicians, artists, and people who have been inspired by skating.
In a show called "Tony's Strange life," he has interviewed different personalities, not just people who belong to the skateboarding field.
Emojis
According to New York magazine, in 2018, Hawk gathered with Jeremy Burge to plan the design of Emokipedia's skateboard Emoji.
Before the assembly, Tony Hawk criticized the company's initial design, saying that it was a skateboard you would buy at a department store in the '80s.
Later they invented the design based on Hawk's own skateboard, which had 60 mm wheels.
Amusement Park Rides
There is a series of amusement park rides called Tony Hawk's Big Spin, built-in three Six Flags parks in 2007 and 2008. The ride was actually promoted as the "Tony Hawk Experience."
As the name suggests, we can imagine what kind of adrenaline it must have given, the feel of full adventure. Six Flags canceled its license, and the rides were renamed Pandemonium in 2010.
Subsequently, the ride at Six Flags Discovery Kingdom was moved to Six Flags Mexico in 2012 to make places for a new ride called Superman: Ultimate Flight. Also, a water park ride called Tony Hawk's Halfpipe was launched in Bowie, Maryland, at Six Flags America.
Hawk also launched a show tour featuring freestyle motocross, skateboarding, and BMX in 2002. It was first initiated in Las Vegas and went on to 31 cities around the U.S.
Tony Hawk | Life & Three Failed Marriages
Tony Hawk married Cindy Dunbar, his high school girlfriend, in April of 1990. A year after their son's birth, Riley Hawk, on December 6, 1992, Hawk and Dunbar divorced in 1993.
Then Hawk married his second wife, Erin Lee, in 1996. After eight years of marriage and two sons with Erin, Spencer Hawk, and Keegan Hawk, they decided to part ways and divorce in 2004.
As of now, Tony hawk has three sons and a daughter. His daughter Kadence Clover Hawk was born in 2008, two years into his marriage with Kadence's mother, Lhotse Merriam, in 2006.
His third and final marriage lasted five years until their divorce in 2011. Finally, on June 27, 2015, the skater married his fourth wife, Cathy Goodman.
Their wedding ceremony was held in Limerick, Ireland. Cathy has two children from her previous relationship.
Tony Hawk | Net Worth
The man with many talents, Tony Hawk's net worth is estimated to be $140 million as of May 2023.
Birdman has gathered a fortune of this size throughout his 39-year career through various projects.
His grand house in San Diego and his car collection, including his Tesla Model S, with a value of around $75 K, indicate where he spends his fortune.
Moreover, the success of his skateboard company, Birdhouse, has massively contributed to his prosperity.
With 64 gold medals, 8 of them from the games, his talent and victories in several such tournaments have helped him shape up a large chunk of that $140 million.
Along with it, the sales of his video game series containing ten main installments have undoubtedly subsidized an enormous amount of that net worth.
His features and cameos in famous Hollywood movies and TV series are also factors that have aided him in assembling such a large sum.
Along with his experiences in life, Hawk wishes to teach his kids about perseverance and belief in oneself, and he believes in creating your path in life.
Not to mention, Tony Hawk bought his first house of his own at the age of seventeen.
Latest Update | Is Tony Hawk In The Olympics?
Skateboarding made its most awaited debut in the Olympic world on July 25, 2021, with men's street heats kicking off the sport's four-day competition at Ariake Urban Sports Park under the blazing heat of Tokyo.
Most eyes were on Nyjah Huston of the United States and hometown favorite Yuto Horigome, who competed on a concrete course requiring efficient technical skills.
Tony Hawk, who now is a TV commentator, tried out the new waterfront bowl in Ariake this week and was surprised to see the International Olympic Committee adding skateboarding to its frame.
"As a kid that was mostly criticized for my interest in skateboarding, I never imagined it would be part of the Olympic Games. It's surreal to now be in Tokyo bearing witness to this milestone in the most unprecedented circumstances," Tony stated.
"I know in the end it will help to grow skateboarding's profile internationally, exposing our passion to a mass of people that had never seen it before or simply refused to embrace it," Tony added.
Tony is not competing in the event, but he did make an appearance at the inaugural Olympic skateboarding event as The Faction's "Skate and Destroy."
Moreover, Tony shared clips and pictures of his run on Instagram, showing how professionals make their way.
Trivia
The Smithsonian National Museum of Natural History currently houses Tony's initial Bahne skateboard.
At the age of 12, Dogtown Skateboards became his first sponsor.
In March 2021, the skater landed his final-ever ollie 540 at 52.
After breaking his femur, Tony still walked the red carpet at the 2022 Oscars using a cane.
17 years later, Tony Hawk repeated the stunt at the age of 48 after landing the world's first 900.
Tony Hawk co-founded D/CAL, a brand consultancy and creative ad agency, in 2018.
Click Here To Know Everything We Know About Skateboarder Steve Caballero>>
Tony Hawk | 2022 Controversy
Birdman's NFT project, named Last Stunt, was declared on December 16, 2021, yet just grabbed the eye of web-based entertainment all the more as of late, at the beginning of 2022.
Many fans were surprised when they learned that the skateboarder had joined the NFT bandwagon.
several variations of this requested by several people pic.twitter.com/pxkjGBpaz3

— tony hawk logos (@tonyhawklogos) February 4, 2022
One tony Hawk fan account roasted Tony by posting one which read: "F**k Tony Hawk For Doing NFTs."
Another user wrote, "Finding out tony hawk is doing an NFT from a Tumblr meme might be one of the most disappointing experiences I've had in the last five years."
Injury
On March 21, 2022, Hawk made his femur fracture public for the first time via Instagram.
In a new Instagram post shared on November 21, 2022, in which several x-rays from the last few months are laid out side by side, Hawk wrote,
"I got confirmation of the news that I have been dreading for a while now: my femur never fully connected at the fracture site (non-union and varus angulation, as they say in the biz) and has only grown further apart on one side of my leg."
He further explained, "I was too cavalier in my approach to skating shortly after my injury. I ignored all warning signs – pain, mostly – and ended up shifting the bone placement that never allowed it to fuse properly."
He was very open and honest about everything and was lamenting the inability to turn the clock back to set everything right.
Hawk will need surgery, which is scheduled for sometime in December.
"I am thankful to get a "do-over" of sorts and hopeful that I can make a fuller recovery this time by having more patience and fewer expectations," he added.
"The silver lining to this disappointing news is that I could do a lot of skating (and some advanced tricks) without a solid bone to stand on; I should be able to do much more with a fully formed femur.
It's going to be a slow, delicate process in the coming months, but I plan to emerge stronger, wiser, and more thankful than ever."
Trend Graph
Tony Hawk is a prodigy in skateboarding and is immensely popular among his fans,
His graph illustrates a high rise due to his NFT backlash and his injury in 2022.
Social Media
View this post on Instagram
FAQs
Can Tony Hawk still skate?
Though Tony retired in 2003, he is still equally famous and respected by his fans worldwide.
Why was Tony Hawk so famous?
As one of the famous skateboarders, Tony Hawk is also skilled. He is the first to land a 900 trick, among many other things.
Who is the wealthiest skateboarder?
With a hefty net worth of $140 million, Hawk is the richest skateboarder among other professional skateboarders.
What is Tony Hawk's worst injury?
Tony has encountered a lot of injuries, and among all of them, the worst injury was a broken pelvis in November 2003 after a stunt for MTV's Wildboyz.
For More Skateboarders, Click Here Tony Alva Bio: The Godfather of Modern Skateboarding >>