When most people think of skateboarding, two names come to mind: Tony Hawk and Rodney Mullen. Apart from these two men, there are a few other skateboarders whose names are well-known. But many people overlook or don't really know about Mark Gonzales.
Mark Gonzales is the godfather of modern street skating, and his influence cannot be understated.
Gonzales invented modern street skating, and you can largely thank him for the skateboarders you see riding down the street, flipping their boards, or jumping over trash cans.
While Gonzales didn't invent as many tricks as Mullen or Hawk, his creativity and approach to street skateboarding were unlike anything anyone had ever seen before.
Today's article is dedicated to the godfather of street skating, Mark Gonzales, and we will uncover his beautiful skateboarding journey.
In addition, we will also uncover his career, personal life, net worth, early life, education, and many more.
But, before we dive into the details, let's start with his quick facts.
Mark Gonzales | Quick Facts
Full Name
Mark Gonzales
Nick Name
Gonz, The Gonz, The Mexican Guy
Known As
Godfather of modern street skateboarding
Birth Date
June 1st, 1968
Age
55 Years Old
Birth Place
South gate, California, USA
Religion
Christian
Nationality
American
Ethnicity
White
Eye Color
Hazel Gray
Hair Color
Blonde
Body Type
Athletic
Zodiac Sign
Gemini
Height
5 feet 6 inches/1.7 m/170 cm
Weight
155 lbs./70 kg
Shoe Size
7.5 (US)
Siblings
One Brother
Education Qualification
Graduated
Profession
Professional Skateboarder, Artist, Entrepreneur
Skateboarding Debut Year
1985
Major Achievements

Most Influential Skateboarder of All Time (2011)
Legend Award by Transworld Skateboarding (2006)

Tricks
The Gonz Gap, Handrail skating
Marital Status
Married
Wife's Name
Tia Gonzales
Children
One Daughter
Hobbies
Skateboard, Painting
Net Worth
$10 Million
Social Media
Not Available
Affiliation
Krooked Skateboards
Merch

In Times of Terror, Wage Beauty

Last Update
June 2023
Mark Gonzales | Early Life & Education
Mark Gonzales was born and raised in South Gate, California, the United States, on June 1, 1968.
Gonzales was baptized and had his first communion when he was a child, but he does not consider himself religious.
He is a private person who loves keeping his personal life low-key. Thus, not much information about his early life and education is available.
Mark Gonzales | Age, Height, & Weight
Mark Gonzales was born in June 1968; thus, he is 55 years old as of 2023.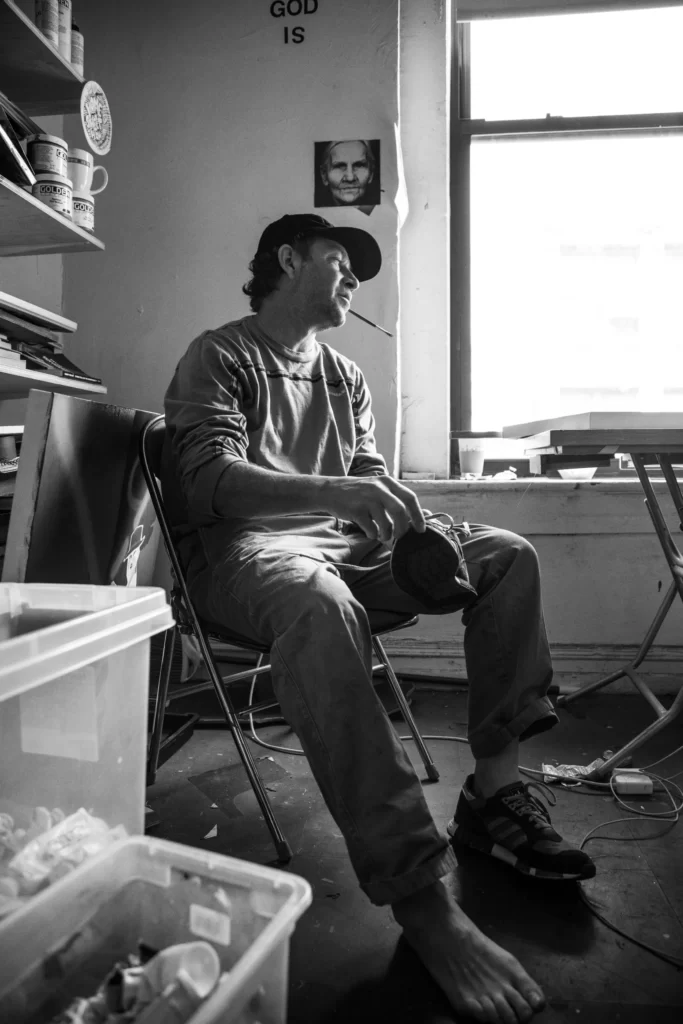 He was born in South Gate, California, and is of Mexican descent. Also, he has beautiful hazel grey eyes and blonde hair.
As for his body measurements, he is 5 ft. 6 inches tall (1.7 m ) and weighs about 155 lbs. (70 kg).
Tony Hawk is the most famous skateboarder of all time and a pioneer of modern vertical skateboarding. He has won twelve world skating championships in a row. Know More!
Mark Gonzales | Career
Mark Gonzales is a multi-talented individual, and his talent shines through his rainbow-like career. He is a professional skateboarder, visual artist, and entrepreneur, all packed into one.
How did Mark Gonzales get into skateboarding?
Mark Gonzales first witnessed skating on TV. He used to watch pro skaters Russ Howell and George Orton skate at Paramount skatepark.
The sport amused him, and he soon started skating when he was 13. Mark got his first skateboard as a Christmas gift.
It was a yellow plastic skateboard, but it was enough for him to imitate what he watched on the TV.
He used to skate with his skate mates, primarily consisting of his friend, Paul, and brother.
Professional Skateboarding Career
In 1985, Mark turned pro after he won his first street event in Oceanside. When Gonzales was 16 years old, he was featured on the cover page of Thrasher Magazine.
He was recruited by Alva Skates company but later left the company to become a Vision team member.
A year later, he established San Francisco's The Embarcadero as one of the most popular skate places in the world. He ollied between a wave-shaped wall and the platform at the port. Later, it was given the nickname "The Gonz Gap."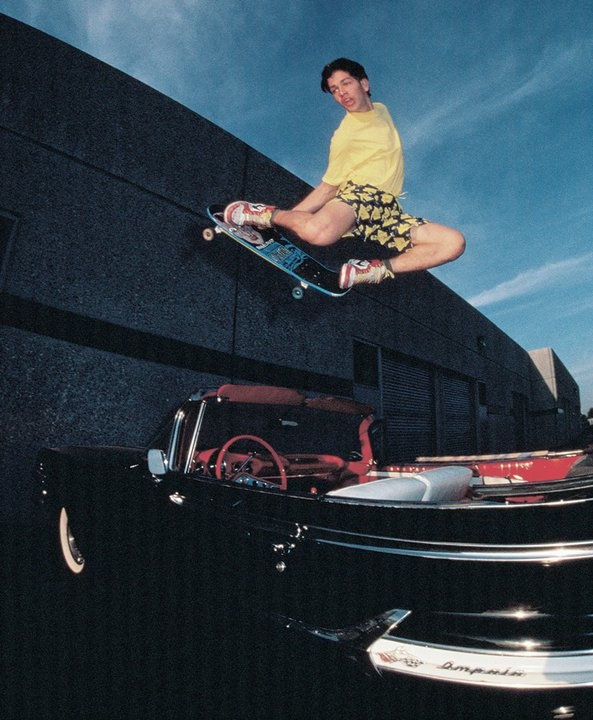 Likewise, Mark was showing his extraordinary skating skills people had never seen before. He was the first sidewalk surfer to ride handrails in 1986.
In 1987, Gonz changed how skaters saw a skateboard when he introduced switch stance riding to the sport. A four-block-long, 4-foot-tall gap in San Francisco known as the Wallenberg Set was originally ollied by Gonz.
His influence on current street skating is undeniable, and he is regarded as the godfather of modern street skateboarding.
Skateboarding Company
In 1989, Mark Gonzales and Steve Rocco co-founded Blind Skateboards. Mark came up with the logo design, which is still used today.
Mark later left the company in 1993 and founded ATM Click Skateboards and 60/40 Skateboards.
He later founded Krooked Skateboards and Deluxe Distribution in 2002.
Filmography Career
Mark's street skateboarding was first featured in Spike Jonze's 1991 skateboarding film "Video Days."
Since then, his outstanding skill has been featured in several other videos, including Non-Fiction (1997), Kicked Out of Everywhere (1999), and Real to Reel (2001).
In 2007, Electronic Arts (EA) released "Skate," a video game featuring Mark. The same year, Gonz also appeared in the music video for "West Coast" by Coconut Records.
Career As A Creative Artist
Aside from being a skater, Mark is an inborn poet and novelist. Some of his published works include Social Problems, High-Tech Poetry, Broken Dreams, and Broken Poems.
Gonzales writes poetry daily, and his work is well-received.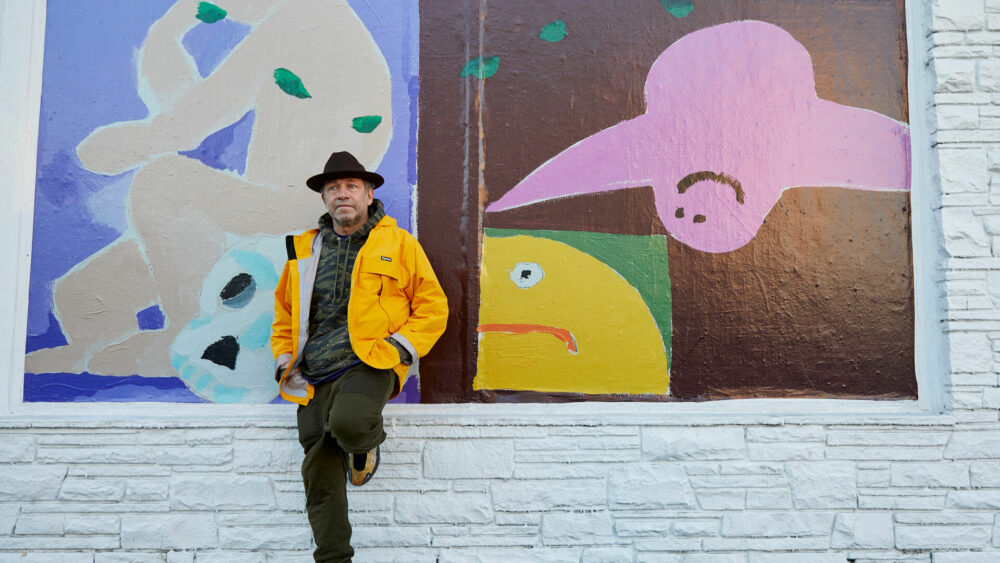 Similarly, he has had several exhibitions to showcase his talent and work.
Maurizio Cattelan in 1994, Mark Gonzales in 2000, Museum Het Domein, Sittard (solo) in 2002, and Bay Area Now 3 in 2004 were among his many shows.
In 2011, Gonzales designed the logo for London's Supreme (brand).
Rodney Mullen is regarded as the Godfather of Skateboarding for his tips and tricks in street skateboarding. Know More!
Mark Gonzales The Godfather of Modern Street Skateboarding
It wasn't until the early '80s that modern skateboarding emerged from the banana board-riding. There were basically two "disciplines": transition and freestyle.
Tony Hawks and Rodney Mullen were experts in these two disciplines. But then skateboarding required skating parks. However, it wasn't feasible in every area.
Gonzales' ability to use a wide range of everyday objects, including stairs, ledges, benches, and rails, in a way that made them look like they were specifically designed for skateboarding set him apart from the rest of the pack.
Mark Gonzales was the first to skate on the handrail, which most people had never thought of. He later founded companies to manufacture skateboards for street skating.
After that, the skateboarders did not require to skate in skate parks. All they needed was a skateboard, and they could skate through anything.
That's how he gave birth to modern street skateboarding and is regarded as the godfather of modern street skateboarding.
Mark Gonzales | Personal Life and Social Media
Mark Gonzales is married to Tia Gonzalez. The couple has been blessed with one daughter. Unfortunately, not much information about them is available.
However, it is known that Gonzales is a family person who loves spending time with his wife and children. He lives by the beach in Massachusetts.
Mark Gonzales With His Wife (Source: Celebrity Net Worth)

Also, Mark enjoys Thai food. His favorite is Pad Thai. Apart from food, Mark loves watching movies and videos.
His all-time favorite movie is Mr. Smith Goes to Washington (1939). Aside from skateboarding, he loves wrestling and painting.
Social Media Presence
Interestingly, Mark does not own a smartphone and has no interest in social media.
Mark says the world has shifted to a virtual world now that they have forgotten about the world we live in.
He says he wants to break free from the smartphone and live in his world. He is more in tune with the city's pulse and people in the real world than on social media.
Mark Gonzales | Net Worth & Salary
Mark Gonzales's net worth is estimated to be $10 million as of June 2023.
Most of his fortune can be attributed to his professional career as a skateboarder, musician, artist, and owner of a skateboarding company.
Aside from that, a good chunk of his fortune can be credited to his brand deals.
During his prime, he was sponsored by brands such as Adidas, Krooked, Spitfire, Independent, and Supreme.
Frequently Asked Questions (FAQS)
Does Mark Gonzales own Blind?
Gonzales founded Blind Skateboards in 1988 as a distribution company for Steve Rocco's World Industries skateboard company.
However, he is not associated with the company in any way, and Dwindle Distribution owns the company now.
Is Mark Gonzales a Korean brand?
No, Mark Gonzales is not a Korean brand. It is an American brand but has immense popularity in South Korea. It has a Korean website and several stores in South Korea.
What size wheels does Mark Gonzales ride?
Mark Gonzales rides Pro Classic 53mm Skateboard Wheels by Spitfire. Spitfire sponsors Mark and most of the skateboards he rides.
Stacy Peralta is a skateboarding legend and visionary, best known as a member of the Z-Boys and the founder of Powell-Peralta. Know More!