Anthony Allen Kemp, commonly known as Tony Kemp, is an American professional baseball player who currently plays for Oakland Athletics in Major League Baseball.
Kemp's professional career started in the 2013 MLB Draft. However, he had already achieved huge success before entering MLB.
He won SEC Baseball Player of the Year in 2013, playing for the Vanderbilt Commodores baseball team.
The left-handed batter plays as a second baseman and outfielder. He is one of the shortest players in the MLB. However, his height couldn't stop him from winning many individual and team trophies.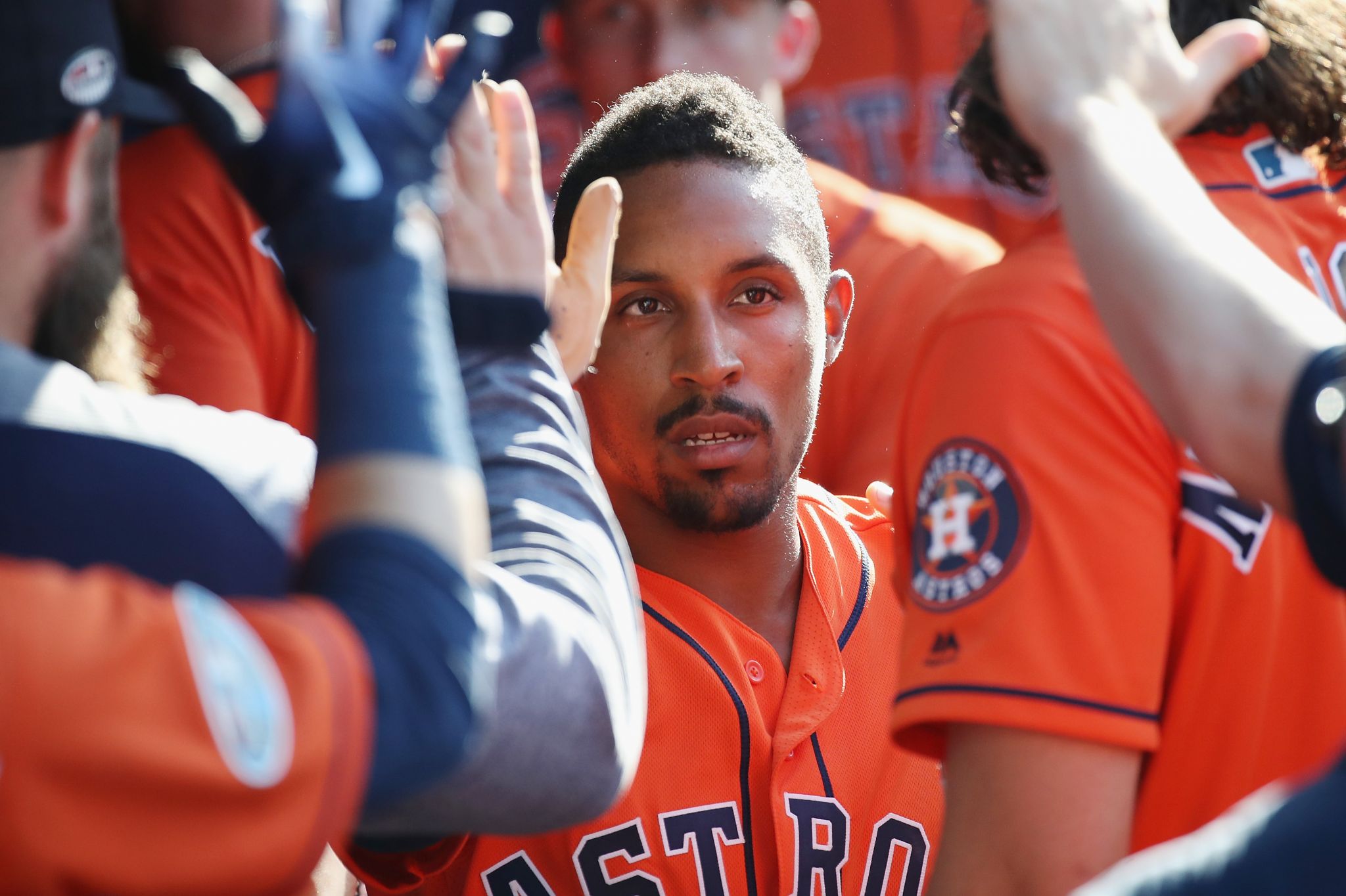 This article is specially prepared for those who want to learn more about Tony Kemp's personal and professional life.
So, today we will discuss his early life, physical attributes, career before and after joining MLB, salary, net worth, and more.
First, take a quick look at some facts about Tony Kemp:
Quick Facts about Tony Kemp
Full Name
Anthony Allen Kemp
Birth Date
October 31, 1991
Birth Place
Franklin, Tennessee, United States
Nick Name
Tony
Education
Centennial High School

Vanderbilt University

Nationality
American
Ethnicity
Mixed
Religion
Unknown
Zodiac Sign
Scorpio
Father's Name
Rick Kemp
Mother's Name
Catherine Kemp
Siblings
Two (Corey & Ashley)
Age

31 years old

Height
5 feet 6 inches (1.68 m)
Weight
160 lbs. (72 kg)
Hair Color
Dark Brown
Eye Color
Brown
Build
Athlete
Relationship Status
Married
Wife
Michelle Chieng
Children
Unknown
Sport
Baseball
League
Major League Baseball
MLB Debut
May 17, 2016
Position
Second baseman & Outfielder
Current Team
Oakland Athletics (#5)
Bats
Left
Throws
Right
Former Teams
Houston Astros, Chicago Cubs
Salary
$ 507,500
Net Worth
$1.5 Million
Shoes
Undefined
Social Media
Twitter
Last Update
March, 2023
Tony Kemp | Early Life and Education
Tony Kemp was born on October 31, 1991, as Anthony Allen Kemp. He grew up somewhere in Franklin, Tennessee, the United States with his parents, Rick Kemp and Catherine Kemp.
Moreover, he has an older brother and sister named Corey and Ashley Kemp.
Like many other families in the USA, Kemp's family was also a baseball fan. He started playing baseball at a very young age.
Naturally, he wasn't the best among his friends, but any other kids couldn't match his hard work, dedication, and competitiveness.
Tony has not revealed much info regarding his academic life. However, we found out that he went to Centennial High School in Franklin, Tennessee. He graduated from Centennial in 2010.
After High School, he joined Vanderbilt University on a scholarship. Eventually, he reached new heights in baseball during his time at Vanderbilt.
Josh Rutledge Bio: Age, Height, Career, Wife, Net Worth Wiki
Tony Kemp | Age & Physical Attributes
As of the time of writing this article, Tony is 29 years old. Additionally, his birthdate of October 31 places him under the zodiac sign of Scorpio.
People with the sun sign of Scorpio are believed to be calm, passionate, and ambitious, which features can be found on Kemp.
Most baseball players are around 6 feet tall. However, Tony Kemp is counted among the current shortest player in MLB.
He is 5 feet 6 inches (1.68m) tall. Furthermore, he is 160 lbs. (72 kg) according to the latest available data.
Moreover, Anthony Allen Kemp is an American National and belongs to a mixed ethnic group. However, the information regarding his religion is not publicly available. We will soon update this along with other missing details.
Tony is a humble and helpful guy who has short dark brown hair and a pair of majestic brown eyes. Many fans love his dashing personality as well as his helpful nature.
Tony Kemp | Career
Amateur
Kemp started his playing journey at Centennial High School in his hometown, Franklin. As soon as his high school education ended, he pursued his career in college baseball.
He joined Vanderbilt University and started playing for the Vanderbilt Commodores baseball team.
He started his college baseball career in a stellar fashion and produced many match-winning performances in 2011.
Kemp and his friends made the record by taking the Vanderbilt baseball team to the College World Series for the first time.
Tony played with other MLB stars Kevin Ziomek, Conard Gregor & Spencer Navin at Vanderbilt.
After the end of the 2011 season, he was honored with the Southeastern Conference Freshman of the Year.
Most Importantly, he got a spot in the All-SEC First team after a record-breaking season. In the summer of 2012, he joined Cotuit Kettleers to play in the Cape Cod Baseball League.
In his junior year, Vanderbilt went 56-12, including 26-3 in SEC, the conference record. Kemp was one of the standout Vanderbilt players that season.
He batted at an average of .391 (team-high) with 34 stolen bases and six triples.
Kemp later said that it was his best season at Vanderbilt. He likes to credit his success to assistant coach Larry Day and hitting coach Travis Jewett. After the end of the season, he won the SEC Baseball Player of the Year.
Moreover, he was also named first-team All-American and first-team All-SEC.
College Stats
| | | | | | | | | | | | | |
| --- | --- | --- | --- | --- | --- | --- | --- | --- | --- | --- | --- | --- |
| Year | Team | LG | Games | Plate Appearances | At Bats | Runs | Hits | Home Runs | Runs Batted In | Stolen Bases | Caught Stealing | Strikeouts |
| 2011 | Vanderbilt | SEC | 65 | 310 | 252 | 58 | 83 | 0 | 34 | 17 | 5 | 32 |
| 2012 | Vanderbilt | SEC | 63 | 297 | 241 | 55 | 63 | 1 | 31 | 21 | 4 | 42 |
| 2012 | Cotuit | CCBL | 35 | 139 | 108 | 27 | 37 | 3 | 29 | 18 | 5 | 18 |
| 2013 | Vanderbilt | SEC | 66 | 317 | 266 | 64 | 104 | 0 | 33 | 34 | 14 | 32 |
Houston Astros
After a fantastic season with Vanderbilt, Houston Astros selected Anthony Allen Kemp in the fifth round of the 2013 MLB Draft. After signing his first professional contract, he started to play for the Corpus Christi Hooks of the Double-A Texas League.
(1) Tony Kemp on Twitter: "Thank you for allowing your student-athletes to hear the message! I'm sure @ChocolateB35 delivered a great one ?" / Twitter
His impressive performance got him a mid-season promotion to the Class AAA Pacific Coast League (PCL) club Fresno Grizzlies. After the end of the season, he got an appearance in the All-Star Futures Game – 2015.
He started the new season with the Grizzlies before getting the call from the first team in May. On 17 May 2016, he got his most-awaited MLB debut.
Then he completed the rest of the season, alternatively playing for both Astros and Fresno Grizzlies.
Once again, he started the 2017 season with Fresno. The injury to Teoscar Hernandez in April opened his way back to the Houston Astros. That season, Kemp played 17 games for the Astros, batting .216 with 4 runs batted in.
Kemp was in the 40-man playoff roster of the Astros. He didn't share any playoff action in the Houston Astros' World Series Win. Nevertheless, he won his first championship title.
Kemp continued to amaze his fans with one after another impressive performance in 2018. He played 97 games in MLB, batting .263/.351/.392 alongside 30 RBI. Mainly, he played in left field.
Ian Kinsler Bio: Age, Height, Career, Wife, Net Worth Wiki
Moreover, he experienced some upsetting performances in the 2019 season. He batted .227/.308/.417 with 7 home runs (career-high) and 17 RBIs. Eventually, the Astros traded him to Chicago Cubs after the completion of the season.
No Involvement in Sign-Stealing Scandal
In 2020, the Houston Astros' sign-stealing scandal created a storm in the baseball world. Eventually, questions were asked to Tony Kemp regarding his involvement in the 2017 cheat scheme.
Kemp admitted that he knew about the plan but didn't take part in it. He said, via Susan Slusser, "I was up and down in 2017, and once I played there in September when the system was already in place.
I just tried to play hard and not really concern myself with it."
Chicago Cubs
On 31 July 2019, Chicago Cubs signed Kemp to send Martin Maldonado to the Houston Astros. Sadly, he couldn't get the expected success at Cubs.
(1) Tony Kemp on Twitter: "Playoff Giveaway ❗️Retweet this tweet for a chance to win 2 signed broken bats. The winner will be chosen before Game 1 of the ALDS. Good luck! https://t.co/zvXQyHUUmG" / Twitter
Oakland Athletics
After a struggling season with Cubs, Oakland Athletics signed Tony Kemp in an exchange deal, sending Alfonso Rivas the other way. Currently, he is settling well with Oakland Athletics.
Here's a clip of Tony Kemp's sensational diving catch:
Visit the website of Baseball Cube to see an overview of Tony kemp's baseball career.
Tony Kemp | Personal Life
If you wonder whether the outfielder is married or not, you have come to the proper place because we will provide you with all the information regarding his private life. A Tennessee-born player is a married man.
Tony Kemp is married to Michelle Chieng since 2017.
The couple converted the long-time relationship into marriage on November 9, 2017, at a dreamy ceremony in Montego Bay, Jamaica. And now the inseparable couple is together living a happy life.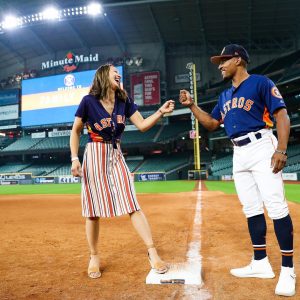 Tony first met Michelle 16 years ago and took her on a date to watch the movie, "The Incredibles." In an interview, Tony once said that he wanted to have his first kiss that day but was unsuccessful because the light was turned on.
However, the couple officially started dating seven-year from that moment. Also, Michelle shared on her Instagram in June 2018 that the married couple went to watch the movie "The Incredibles 2" together.
Talking about Kemp's kids, he has not yet published any news regarding his children. As of November 2020, there are no public reports or gossip about Mrs. Kemp's pregnancy.
We will be the first to let you know if any new news comes up on this topic.
Tony Kemp | Charity Works and Protest against Racism
Besides baseball, Kemp is very active in Social Work. Lately, he and his wife used their Social Media fame to raise money for different charitable organizations.
In May 2020, Kemp united with his former University, Vanderbilt, to help the people in need after the Covid-19 pandemic. He signed some special bobbleheads and placed them on the auction.
After that, Tony and Michelle donated the raised fund to non-charitable organizations like Almeda County Food Bank, Nashville Soup Kitchen, and more.
He told MLB, "Giving back to the community is something Michelle and I have always been passionate about. I hope everyone is staying safe and healthy."
Besides that, Tony has also raised a voice against the growing problem of racism. After the death of George Floyd in police custody in May 2020, Tony felt, in his own words, depressed.
He realized he needed to do something to help end the problem.
On June 5, 2020, he wrote on Twitter, "If any of you need to talk or want to be more informed, don't hesitate to ask me." He talked with his followers about the growing problem, the educational gap between rich and poor, and many more issues.
Later Kemp stated, "I am not much of an activist; I think that this is a matter of right and wrong. For me, it was very therapeutic to stretch out to some people and educate some."
Tony Kemp | Net Worth & Salary
Kemp entered into the MLB from the 2013 MLB Draft. Over the years, he has worked hard to be a regular in the team.
He has garnered a respectable Net Worth from his playing career. Further, the current salary of the Oakland Athletics' player is USD 507,500.
According to online sources, Tony Kemp has a net worth of around $1.5 Million.
Besides his salary, the baseball star earns from sponsorship & endorsement deals. Tony now lives a luxurious and happy life with his wife.
Kemp likes to travel to new countries with his wife, which he updates regularly on his Instagram.
Brock Holt Bio: Age, Career, Wife, Net Worth, Instagram Wiki
Tony Kemp | Social Media Presence
Twitter (@tonykemp): 44.2k followers
Instagram (@tonykemp6): 51.4k followers
Common Queries about Tony Kemp
Are Tony Kemp and Matt kemp related?
The baseball players Tony Kemp and Matt Kemp are not related by blood.
How much is Tony Kemp's batting average?
Tony Kemp has a batting average of 0.263.
Who is better, Tony Kemo or Jose Altuve?
Both Tony Kemp and Jose Altuve are phenomenal baseball players. They have their own distinct sets of cons and pros. One might be better than the other in a specific area while the other one may shine on another area.