Jose Altuve, nicknamed 'Astro Boy Tuve', is a Venezuelan professional baseball second baseman. He is the shortest active baseball player devoted to the Houston Astros of Major League Baseball (MLB). Altuve was also the American League Most Valuable Player (AL MVP) winner in 2017.
An eight-time MLB All-Star, Altuve has been voted the starting second baseman for the A.L. in the All-Star Game five times.
In 2022, Altuve's team, the Astros, became the World Series Champion for the 2nd time with a 4-1 Game 6 victory over the Phillies.
Jose holds the record for becoming the first Astro to win the batting title by hitting .341. No matter his size, he runs with a determination as high as possible.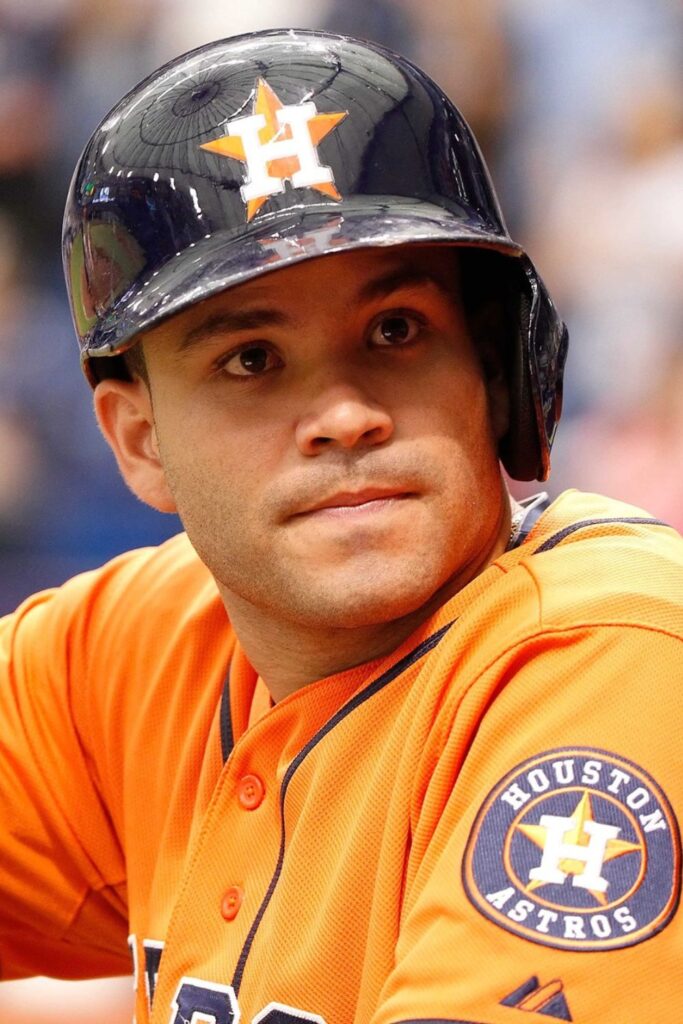 On August 17, 2022, Altuve announced he would again play for Venezuela in the 2023 World Baseball Classic.
As part of an era that has seen the Astros win two World Series titles and four pennants in six seasons, Altuve is widely regarded as one of the greatest Astros in franchise history and one of the best second basemen of his generation.
Before getting into details about the six-time All-Star baseballer's life and career, here are some quick facts about him.
Quick Facts
| | |
| --- | --- |
| Full Name | Jose Carlos Altuve |
| Date of Birth | May 6, 1990 |
| Birth Place | Maracay, Venezuela |
| Nick Name | Astro Boy Tuve |
| Religion | Christianity |
| Nationality | Venezuelan |
| Ethnicity | White |
| Education Qualifications | High school |
| Horoscope | Taurus |
| Father's Name | Carlos Altuve |
| Mother's Name | Lastenia Linares |
| Siblings | Carlos Altuve, Jr. |
| Age | 33 Years Old |
| Height | 5 ft 6 inches / 1.68 m / 168 cm |
| Weight | 165 pounds / 75 kg |
| Hair Color | Black |
| Eye Color | Black |
| Tattoo | Yes |
| Profession | Baseball player |
| Position | Second baseman |
| Affiliation | Houston Astros of Major League Baseball (MLB) |
| Active Years | 2011-present |
| Marital Status | Married |
| Wife | Giannina Elizabeth Cimetta Sandoval(Nina Altuve) |
| Kids | 2 Daughters (Melanie Andrea Altuve) |
| Net Worth | $20 million |
| Social Media | Instagram, Twitter |
| Merch | Jersey, Rookie card |
| Last Update | June, 2023 |
Jose Altuve | Appearance, Nationality Height, And Weight
As Jose was born in Venezuela, his nationality is Venezuelan. The right-handed batter is 1.68 m tall.
Furthermore, he weighs 165 pounds and has a slightly oval, chubby face with black eyes and hair.
Jose Altuve | Early Life And Family
Early Life
He was born on May 6, 1990, in Maracay, Aragua, Venezuela (about 70 miles west of Caracas).
His native house is nearby Torreon de El Limon (Tower of El Limon monument). It is the last vestige of an old sugar mill near Maracay's center.
In an interview on September 11, 2014, Altuve expressed his love for baseball and thanked his family.
As the story goes, when Jose's mother, Lastenia Linares, was in labor, his father, Carlos Altuve, was nearby watching a Tigres de Aragua baseball game.
Mr. Carlos Altuve was at Maracay's José Pérez Colmenares Stadium, visible from the hospital room. This wholesome situation showcases the drive for baseball games.
Family Members
Jose Altuve has a cute nuclear family consisting of his mom, dad, and younger brother.
His mother, Lastenia Linares, likes to stay out of the limelight; however, Jose always provides her with silent support.
Mrs.Altuve attends Jose's games at times as his most devoted fan.
Altuve's father, Carlos Altuve Sr., is an engineer who is retired now.
Although Mr. Carlos isn't a professional baseball player, his love for the game is immense. Hence, he used to teach baseball to Jose in their backyard.
Jose is privileged to have a supporting younger brother, Carlos Jr. The siblings are close to each other, and Carlos is always present in his elder brother's matches.
Carlos Jr. resides in Venezuela and earns his living as a sports coach. Formerly, he trained students at the Mariners' academy.
Jose Altuve | Initial Career
Having trained for baseball since an early age, his father had frequently told him, "You've got to make it to the major leagues."
At the young age of 9, he crossed paths with his fellow future major leaguer Salvador Pérez, who became a catcher for the Kansas City Royals.
He would be kicking rocks down Calle Los Acuarianos in his Caña De Azúcar neighborhood all his childhood days.
Additionally, those moments would be during his way to the field for a pick-up soccer game or a marathon catch-and-pepper session with Carlos Sr.
Jose Altuve | Minor Leagues
At 16, Altuve played second base for the Venezuelan 16-and-under national team.
When he attended the Houston Astro's (the first MLB team to open a baseball academy in Venezuela) tryout camp in Maracay, however, he got rejected due to his height.
Walking home disappointedly, his father encouraged him to go again the next day.
Hence, Altuve went the other day, presented his birth certificate, and applied for the trial.
Although Altuve was small, he had excellent hand-eye coordination and was consistently putting the bat on the ball.
Therefore, the impressed team officials signed the contract as an undrafted free agent on March 6, 2007. Initially, the agreement with him was $15,000.
Jose Altuve | Stepping Stones
Altuve's official career commencement was in the 2007 season in the Venezuelan Summer League, where he hit .343. Following it, Jose moved to the U.S. in 2008 and hit 248 in 40 games.
Right then, he was playing from the side of the Greeneville Astros in the Rookie-level Appalachian League.
Afterward, he returned to Greenville in 2009 and had 324 with 21 stolen bases in 45 games.
He earned a spot on the league All-Star team and the honor of MVP (Most Valuable Player).
Furthermore, he played in 21 games for which he was promoted to the Tri-City ValleyCats of the Class A-Short Season New York-Penn League.
Altuve began the year 2010 playing with the Lexington Legends of the Class A South Atlantic League, hitting 308.
The score totaled 39 steals and 11 home runs, earning him a spot on the league's All-Star team.
Later, he moved up to the Lancaster JetHawks in the Class A-Advanced California League and hit .276.
Houston Astros Minor League Player of the Year
Altuve returned to Lancaster in 2011, hitting .408 with 19 steals in 52 games. He was promoted to the Corpus Christi Hooks of Class A. A during that duration. Texas League.
He had a hit of .361, giving him an overall line of .389 with 24 steals, 26 walks, and 40 strikeouts in 357 minor league at-bats that year.
Simultaneously, Jose Altuve bagged the title of the second baseman on Baseball America's 2011 Minor League All-Star Team and the Houston Astros Minor League Player of the Year.
This crucial moment gave him to the major league club in mid-summer, bypassing the Class AAA level.
Major League Club | Walkthrough
The Year 2011
Houston Astros made Altuve's first MLA debut in the major league on July 9, where he represented the Astros at the 2011 All-star Future game.
Similarly, on July 27, he claimed the Astros record for most consecutive games with a hit to start a career, tying down Russ Johnson.
Jose Altuve | Titles
Following it, he became the first player after Adam Everett in 2003 to hit an inside-the-park home run.
Not to mention the first Astro player to get his first Major League home run since pitcher Butch Henry in 1992.
He was also the first Astros player to lead off a game with an inside-the-park home run since Bill Doran in 1987.
Gameplay And Batting Average
All along the year, Altuve batted .346 over in his first 21 games. He ended the year with .276 on average, including 2 home runs, 7 stolen bases, and a .358 slugging percentage in 221 at-bats.
Per the play in Venezuela, for Navegantes del Magallanes, based in Valencia, Carabobo, in the Venezuelan Winter League, he scored .339 with .381 on a based .455 slugging percentage.
The year 2011 ended with 391 in minor, 234 with Houston, and 273 with Magallanes. In the end, Altuve's cumulative year-end count was 282.
The Year 2012
Altuve was the Astros' representative at the All-star game, played at Kauffman Stadium in Kansas City, Missouri. This was Altuve's first career selection.
On May 1, Jose faced the tallest player in Major league history, New York Mets reliever Jon Rauch (6 feet 11 inches).
Their height difference (18-inch) is believed to be the biggest between pitcher and batter.
On the contrary, Eddie Gaedel (height difference = 3-foot-7-inch) had one plate appearance for the St. Louis Browns during a publicity stunt in 1951.
The Year 2013
Jose Altuve was hitting .280 with 21 stolen bases, 15 doubles, and 28 RBI.
At the same time, he signed a 4-year extension with an added deal of a $750,000 bonus.
The extension included two club options for 2018 and 2019 worth $6 million and $6.5 million, respectively.
The Year 2014
On June 29, Altuve became the first MLB player since Ray Chapman (1917) to steal two or more bases in four consecutive games.
Therefore, through his stolen bases in a game against the Detroit Tigers, Jose was named to the 2014 All-Stars game.
At the same time, Jose has titled the first MLB player since 1993 to have 132 hits and 40 stolen bases before the All-Star Break.
Similarly, Altuve is the only player in Major League history to represent the American and National Leagues in the All-Star Game while still being a team member.
On September 16, Altuve broke Craig Biggio's franchise to hit 210 in a single season.
He was the first Astro player to win the batting title with 47 doubles, 2 home runs, and 59 RBI.
In 158 games, he had .225 hits, a .341 batting average leading to Major League, and 56 stolen bases leading to the American League.
Jose Altuve | Titles
During the 2014 off-season, Jose traveled to Japan to participate in the 2014 Major League Baseball Japan All-Star Series.
He won the first Silver Slugger Award of his career as the top hitter among American League second basemen.
He was also titled the GIBBY/This Year in Baseball Award winner as the Breakout Everyday Player of the Year.
Likewise, for his best individual performance, he was passed his first iteration of the Luis Aparicio Award, annually given to the Venezuelan.
The Year 2015
Altuve got more than 600,000 votes to be a starter for the MLB All-Star Game, edging Kansas City's Omar Infante. Hence, he was the third Astro to be voted for starter, following Biggio and Jeff Kent.
On September 11, Jose surpassed Biggo's title for the fastest Astro player to reach 800 hits.
Altuve also became the first player in Astro and Venezuelan history to accumulate multiple 200-hit seasons leading American League second basemen in fielding percentage (.993).
He reached his career-high with 15 home runs, .459 SLG, 86 runs scored, and 66 RBI.
Altuve's first MLB playoffs came through the Al Wild Card game vs. New York on the season's final day.
Altuve drove in Jonathan Villar in the seventh inning versus Yankee reliever Dellin Betances for the contest's last run, defeating the Yankees 3-0.
Then, the Astros faced the Royals in the American League Division Series (ALDS) but were eliminated in five games.
However, Jose was awarded his first Rawlings Gold Glove Award for second base on November 10 and his second consecutive Silver Slugger Award.
The Year 2016
Starting with June, in 26 games, he had 420 hits, including 6 doubles, 4 home runs, 15 RBI, 6 stolen bases, and 1.112 OPS. This gave him the title of 'Player of The Month' for the first time in his career.
Accordingly, he got an All-star selection for the fourth time and as a starter for the second time.
On August 16, after a three-hit night versus the St. Louis Cardinals, Altuve collected his 1,000th hit, setting the Astros' franchise record for the fewest games to do so (786).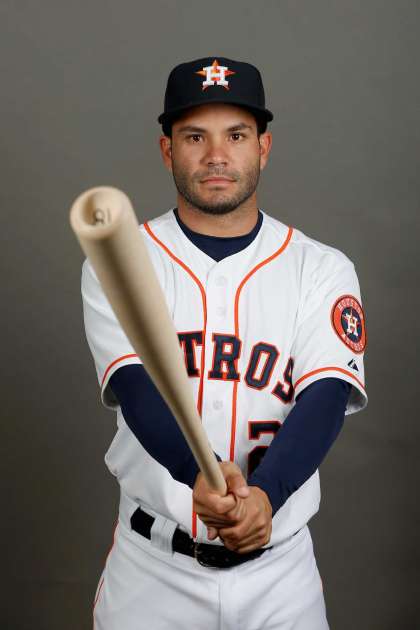 This game made him the second-fastest active player, following Ichiro Suzuki (696 games).
Additionally, he marked his second batting title with 42 doubles, career-high 24 home runs, and a career-high 9 RBI.
In 161 games, his AL-leading totaled a .338 batting average and 30 stolen bases. At the end of the season, he placed third between Mike Trout and Mookie Betts in the AL MVP voting.
Jose was bestowed with The Sporting News Player of the Year, the MLBPA Players Choice Awards for Major League Player of the Year, AL Outstanding Player, and even the Majestic Athletic Always Game Award.
The Year 2017
Jose Altuve served as the Astros' number 3 hitter during the season, setting a club record for hits in consecutive plate appearances with eight.
It was during two games with the Baltimore Orioles and Philadelphia Phillies on July 23–24.
He became the ninth player in MLB history to record five consecutive multi-hit games during the week of July 3–9.
From July 2-23, Altuve carried 19 games hitting streak with accumulated 48 hits, 10 doubles, one triple, four home runs, 21 RBI, and 1.251 OPS.
Astros' average record of .485 surpassed Richard Hidalgo's .476; thus, Altuve won his second A.L. Player of the Month Award.
End of Season (2017)
In total, Jose had played in 153 games with an MLB-leading ending with 30 infield hits, 39 doubles, 32 stolen bases, 24 home runs, and 84 RBI.
Then, he set the batting average against right-handers at .344.
Hence, Altuve became the fifth hitter since integration in 1947 to record four straight 200-hit seasons.
He also became the first hitter in Major League history to solely lead his respective league in hits for four years in a row while also collecting his third career batting title.
Until September 19, Jose led MLB in Wins Above Replacement (WAR, 8.3) for the first time and received MLB's Lou Gehrig Memorial Award for 2017.
This had him with 1,250 career hits at the end of 2017.
Game 1 of the ALDS
It was against the Boston Red Sox, where Altuve became the tenth player to hit three home runs in a single postseason game for the first time in his career.
After the first two games in Houston, the Astros faced the New York Yankees in the American League Championship Series (ALCS).
After that, the Astros advanced to their second World Series in franchise history to face the National League pennant-winning Los Angeles Dodgers.
Game 2 of the World Series
Altuve and his teammates got five home runs that accounted for the most hit in extra innings of any single game in Major League history.
The World Series lasted for seven games, and the Astros prevailed for the first title in franchise history.
Before the game 2 world series, Altuve was presented with Hank Aaron Award as the "most outstanding offensive performer" in the American League as the first Houston player.
Next, he got the Sporting News Major League Player of the Year for the second consecutive season.
Jose Altuve | Titles
In the Astros' 18-game championship run, Altuve scored 22 hits, 14 home runs, 14 RBI, and nine extra-base hits.
Altuve was named the Babe Ruth Award winner for the same gameplay as MVP of the 2017 postseason.
He was the first Venezuelan after Johan Santana and the first Astro to receive Baseball America's Major League Player of the Year award.
Altuve also received Players Choice Awards for Major League Player of the Year, AL Outstanding Player, and Silver Slugger Award at second base.
Altuve was granted the baseball MVP and was the shortest player to receive A.L. Most Valuable Player Award.
He was also selected for the 2017 Associated Press Male Athlete of the Year.
The Year 2018
Sports ranked Jose Altuve as the #2 player in baseball. On March 16, Astro and Altuve dealt with contract expansion of span 2020-24 seasons worth $151 million.
On April 17, he reached 1000 games of his career and broke his club record of eight base hits.
Now, he has a base hit of each 10 consecutive bats, and the streak includes three doubles, one triple, and a home run.
Consequently, on July 8, with 4,849,630 votes, Altuve started the American League's second baseman in the All-Star game. It was his sixth-star selection.
Jose Altuve | Knee Injury
On July 29, Altuve suffered from a knee injury. He was placed on the disabled list for the first time in his MLB career.
So on October 19, he officially underwent surgery to repair a patella avulsion fracture in his right knee.
Altuve ended 2018 with a .316 average, 13 home runs, and 61 RBI. He was also awarded his fifth career Silver Slugger Award and his fifth consecutive award.
The Year 2019
On April 9, Altuve became the 16th player in Astro history to hit 100 home runs.
Likewise, on April 12, he was also the first Astro to hit a home run in five consecutive games. He also got his second career grand slam in a 10-6 win over the Seattle Mariners.
Again on May 12, Jose was kept on the disabled list due to a left hamstring strain, because of which he missed 35 games until his return on June 19.
Later on July 2, he got his 142nd career three-hit after his victory over the Colorado Rockies.
On July 14, Jose had his third grand slam yielding the Astros a record-breaking ninth grand slam in a single season.
Following it, Astro had a contest with the St. Louis Cardinals on July 28, when Altuve had one of the three hits in a 6-2 win that afternoon.
Jose Altuve finished this season with 31 home runs and 74 RBIs in 500 at-bats. He also set the record for the most career postseason homers by a second baseman.
"That's what I like about baseball: it allows every guy to develop and play the game.
There's not a rule that you have to be 6 foot or you have to be strong to play or to be a good player."
-Jose Altuve
The Year 2020-21
On July 27, 2020, Altuve hit his 300th double in his MLB career, and On October 15, 2020, Altuve became the Venezuelan with the most RBI in the playoffs.
On July 4, 2021, after finishing as the runner-up A.L. second baseman in fan voting, Altuve was named to his seventh All-Star Game.
In Game 6 of the 2021 World Series, Altuve made his 73rd postseason start as part of the infield unit of Alex Bregman, Carlos Correa, and Yuli Gurriel.
The Year 2022
On July 8, Altuve was named the starter at second base for the American League in the MLB All-Star Game, which was his eighth selection overall.
Altuve's leadoff home run on September 19 versus the Rays started the Astros' scoring in a 4–0 win to clinch a fifth A.L. West division title over the previous six seasons.
He was also nominated for the AL Hank Aaron Award in the same year.
The year 2022 was fruitful for Altuve and his team as the Astros advanced to the World Series and defeated the Philadelphia Phillies in six games to give Altuve his second World Series title.
Jose Altuve And Aaron Judge
Several media outlets and experts accused the Houston Astros of cheating in the 2017 World Series Finale.
Moreover, they were fined $5 million for the tactics they used to win the championship title.
The Astros owner even fired their general and field manager after the incident.
Furthermore, in 2020, MLB concluded that the Houston team used a camera system illicitly to steal signs.
There were many fallouts to this news. Nevertheless, the Astros weren't stripped of their title.
Following the news, Yankees' Aaron Judge admitted that he deleted a congratulatory Twitter post dedicated to Jose Altuve.
Wait… what….? https://t.co/z4i9MHTAVr

— Aaron Judge (@TheJudge44) November 12, 2019

In the post, Judge congratulated Jose on winning the 2017 American League's Most Valuable Player Award.
However, he quickly deleted the tweet after pitcher Mike Fiers accused the Astros of cheating.
In a recent interview, Aaron said, "I had a lot of respect for them. The way they played, what they did. And to find out that it wasn't earned. They cheated. It didn't sit well with me, and I didn't feel like the post I did mean the same anymore."
Jose Altuve | Stats
| | | | | | | | | | | | |
| --- | --- | --- | --- | --- | --- | --- | --- | --- | --- | --- | --- |
| Team | AB | R | H | T.B. | 2B | 3B | HR | RBI | BB | IBB | SO |
| MLB Career | 1291 | 5177 | 766 | 1610 | 2373 | 308 | 28 | 133 | 556 | 377 | 38 |
Jose Altuve | Personal Life, Wife, And Kids
For many athletes, physical stature additionally serves as a plus point. However, Jose Altuve gave the best performance despite his physical attributes, widening the human body's borders.
Houston Astro player Altuve married his high school love, Nina Altuve, on November 20, 2006.
Nina Altuve's full name is Giannina Elizabeth Cimetta Sandoval, and she attended the same high school as Jose.
The duo married when both were teenagers (Jose was 16 and Nina was 14).
Despite such an early age marriage, they built a healthy, happy family. Now, the couple has a four-year-old daughter, Melanie Andrea Altuve.
Jose calls his daughter "a little princess" and says to help him inspire the game.
In November 2019, Jose and Nina announced through Instagram that they were expecting a second baby.
The couple's younger daughter was born in 2020 during the COVID-19 shutdown. Her name hasn't been disclosed.
Meanwhile, Altuve had spoken about his Christianity practice in faith day events.
Jose Altuve | Contract, Net Worth, And Salary
The professional right-handed batter had signed a 7-year contract worth $163 million with the Astros. Furthermore, the baseballer's net worth estimation is over $20 million.
Besides that, he has earned over $51 million in salary after playing ten seasons with the Astros. In 2020, he made over $9 million after serving the Houston team.
Likewise, the second baseman is set to earn $26 million from 2021 to 2024. Hence, he is expected to make over $104 million by then.
Jose Altuve | Social Media Presence
The baseballer is quite active on social media platforms. Hence, he has an Instagram handle with 1.4 million followers and a Twitter account with 224.7K followers.
However, the 2017 World Series Champion hasn't used Twitter since 2018.
View this post on Instagram

The player has shared several photos of him playing for the Astors. Moreover, the athlete has depicted his life as an MLB player through his account.
Jose Altuve | Popularity
The baseball champion has been in the news for his philanthropy and personal life.
The above graph demonstrates the total Google search interests in Jose Altuve.
Jose Altuve | FAQs
Who is Jose Altuve's idol?
Venezuelan designated hitter and catcher Víctor Martínez is Jose Altuve's idol.
How tall is Jose Altuve?
The baseballer is 5 feet 6 inches / 167.64 cm / 1.67m tall.
Where is Jose Altuve from?
The six-time All-Star is from Venezuela. Furthermore, he was born in a beautiful Venezuelan city called Maracay.
What is Jose Altuve's tattoo like?
The baseballer has a tattoo dedicated to his first and only child. Jose has tattooed his daughter's name 'Melanie, ' on his collarbone,' inside a heart.
What happened to Jose Altuve?
Astros manager Dusty Baker removed Altuve in the first inning of a July 14 win over the Los Angeles Angels when a pitch hit him on the left leg.
The Astros moved so that each league would have 15 teams, allowing three 5-team divisions in each league. This also meant inter-league games would have to be played daily since there is an odd number of teams in each lea
gue.