Josh Rutledge is a former baseball infielder who played in Major League Soccer from 2012 to 2017. Colorado Rockies picked Joshua up in the Major League Draft 2010. Playing in Major League baseball is a massive achievement, but Rutledge got the same success during his high school and college career.
Joshua Rutledge, nicknamed Rutty, started his playing career at Cullman high school. He played for the Cullman for four years while achieving many successes along the way. The most notable among those achievements is his Class 5A State Championship.
After that, he played for the University of Alabama, where he led the batting average. In terms of performance, he reached a new height during that time. Then, he played for some other teams before joining MLB.
After entering Major League Baseball, Josh spent the first two years in Californian League, Northwest League, and Class AA clubs. He played for Colorado Rockies for two more seasons before moving to the Boston Red Sox in 2015.
"No matter how hard you work, God has different plans prepared for you." This quote sums up his time at Boston Red Sox. Due to injuries and other unfortunate events, Josh retired in 2018 after a season with San Francisco Giants. Now, he works as a financial advisor.
Josh is married to CNN, ESPN, and SEC Network reporter Laura Mckeeman. Further, Laura is a beauty pageant titleholder of Miss Florida 2012.
Today, we will dive a little deeper into the unknown side of Josh's life. We will also take a detailed look at his net worth, education, career, and social media presence. Before that, here are some quick facts about Josh Rutledge.
Josh Rutledge | Quick Facts
Full Name
Joshua Alan Rutledge
Birth Date
April 21, 1989
Birth Place
Birmingham, Alabama
Nick Name
Rutty
Religion
Not Available
Nationality
American
Ethnicity
White
Education
Cullman High School
Zodiac Sign
Taurus
Father's Name
Tony Rutledge
Mother's Name
Cheryl Rutledge
Siblings
Michael Rutledge
Age (as of 2020)
31 years old
Height
5 ft. 11 in.
Weight
84 kg
Hair Color
Black
Eye Color
Dark Brown
Build
Athlete
Marital Status
Married
Wife
Laura Rutledge
Children
One (Reese Katherine Rutledge)
Sport
Baseball
Position
Infielder
Current Teams
Not Available
Former Teams
Colorado Rockies, LA Angels of Anaheim,

Boston Red Sox & San Francisco Giants

Preferred Hand
Batted: Right

Threw: Right

Salary
$90k
Net Worth
$1.5 Million
Shoes
Not Available
Social Media
Instagram
Early Life – Education & Childhood
Joshua Alan Rutledge was born on April 21, 1989, somewhere in Birmingham, Alabama. He was born to his father, Tony Rutledge & mother, Cheryl Rutledge. Joshua has an older brother.
His brother, Michael helped the Cullman High School to win the 2002 State Championship.
Josh grew up idolizing his brother, Michael. He and his brother used to play baseball together on holidays. Also, he learned the necessary skills of baseball from his brother, Michael.
Moreover, Josh grew up attending the school in his hometown, Birmingham. For High School education, he attended Cullman High School. After four years of schooling and baseball, Josh graduated from Cullman in 2007. Then, he joined the University of Alabama for further education.
You can check out the biography of Josh's wife, Laura Mckeeman.
Josh Rutledge | Age, Height & Ethnicity
According to milb.com, Josh Rutledge is 5 feet 11 inches tall. Also, he has an athletic body figure of weight 84 kg (186 lb.). Sadly, we couldn't find any information regarding the measurement of his body.
Born in the late eighties, he is 31 years old by writing this article (2020). Added to that, his birth sign is Taurus. Joshua Rutledge, nicknamed Rutty, has short black hair and a couple of dark brown eyes. The former shortstop is an American National and comes under a white ethnic group.
Josh Rutledge | Personal Life: Wife & Daughter
Josh Rutledge is married with reporter and host Laura Mckeeman.
After being in a relationship for a few years, the couple tied the knot on 7th December 2013. The couple wants to keep their relationship story secret, so we couldn't tell when they met. Now the couple is living together and looks inseparable.
Josh Rutledge hit .309 vs. lefties, .346 with runners on base & .319 with runners in scoring position, last year. pic.twitter.com/ZiQ2nWD0mx

— Los Angeles Angels (@Angels) December 11, 2014
Laura Mckeeman is mainly a reporter, and she also hosts ESPN, CNN, and SEC Network programs. Before marrying Josh, Laura won the title of Miss Florida in 2012. Added to that, she graduated from Florida University in broadcast journalism.
Josh and his girlfriend turned wife Laura, welcomed a little daughter, Reese Katherine Rutledge, into their family on October 2, 2019. Reese came to bring more happiness into the Rutledge family.
The indivisible couple currently inhabits Atlanta, Georgia, with their gorgeous daughter. However, Josh's wife, Laura, has to travel frequently due to her profession.
Here you can check out his former Red Sox teammate Brock Holt.
High School & College Career
Josh Alan Rutledge started playing in competitive Baseball tournaments during his time at Cullman High School. He impressed the high school coach soon after joining the Cullman in 2004.
Joshua did good in the junior and Sophomore years, but his breakout season came in 2006. He ended the year with a batting average of .436 and 33 runs batted in (RBIs) and 5 home runs. With the excellent team effort, Cullman ended up as a Class 5A state championship runner-up.
In 2007, he surpassed all of his previous year's stats. He batted at .454 while gathering 12 home runs and 69 RBIs. With his impressive contribution, Cullman High-School won the State Championship.
He got the Class 5A Player of the Year Award title from Alabama Sports Writers Association and Birmingham News.
After joining the University of Alabama, Josh played for the Alabama Crimson Tide Baseball team. In 2008, he played 61 games and recorded a batting average of .369 with 62 runs scored and 16 stolen bases.
His 28-game hitting streak from March to May placed him on the third position in the School's all-time list. Further, he batted at an average of .406 in thirty Southeastern Conference games.
Moreover, he hit .305 with 44 runs batted in and 5 home runs. That performance got him a place on All-SEC first team in 2009.
He also played for the Yarmouth-Dennis Red Sox and Cape-Cod Baseball League in the Summer of 2008 & 2009.
Professional Career
Colorado Rockies And Contract-Signing
Joshua Rutledge got his selection into Major League Baseball from the 2010 MLB Draft. He was selected in the third round (overall: 107th) by Colorado Rockies. On June 25, 2010, he signed a contract with the Rockies worth $295,000.
In his first season, he was sent to the Tri-City Dust Devils of Northwest League, where he played 11 games. In 2011, he played for the Californian League club Modesto Nuts. He hit .348 with nine home runs and 71 RBIs, winning two Player of the Week awards.
After his inspiring time at Modesto, Rutledge was promoted to the Double-A Texas League club Tulsa Drillers. Josh batted .308 while securing 13 home runs and 35 RBIs for Drillers.
Following the shortstop Troy Tulowitzki injury, he was named the Colorado Rockies' main team in 2012. Finally, he played his first MLB game on July 13. Despite injuring his quadriceps, Rutledge finished his first Major League season, batting at .274 with 8 home runs and 37 RBIs.
Due to injuries and some bad performances, his playing time reduced in the following season. In 2014, he also played in other infield positions, leaving shortstop to his teammates.
That's 10!

Josh Rutledge puts the #RedSox into double digits with an RBI single! pic.twitter.com/xhH3zVlBON

— Red Sox (@RedSox) May 6, 2017
Learn More About Basketballer Justin Anderson Bio: Age, Height, Career, Girlfriend Wiki.
Los Angeles Angels of Anaheim
After a struggling season, Colorado Rockies traded Joshua to LA Angels of Anaheim in exchange for Jairo Diaz. After a few months, he was sent to the Triple-A club Salt Lake City Bees.
In his 81 games, he batted at an average of .286, collecting six home runs and 34 RBI. After a rough year, he finally got to play regularly at Salt Lake City.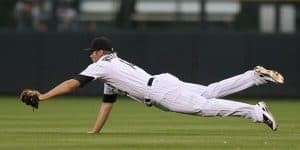 Boston Red Sox
After the 2014/15 season, Josh was traded to the Boston Red Sox for cash $8.3M and Shane Victorino. Two days later, he was outrighted to Triple-A Pawtucket. He played with Pawtucket until March 2016.
The Boston Red Sox then called him to the camp of their Minor League. Unfortunately, he suffered a serious injury to his left knee. Due to the injury, he missed the last 104 games, including 5 playoff games.
After his recovery, he was once again outrighted to Pawtucket, but he declined it. Instead, he chose a free agency to return to Colorado Rockies on November 4.
Surprisingly, after a month, Red Sox picked Josh from the Rockies in the Rule 5 MLB Draft. Sadly, Josh had a forgettable season with Red Sox. He was suffered from several injuries throughout the season and missed the Boston Red Sox playoff Roster.
Once again, he missed the last 88 games of the normal season and 5 more playoff games due to a concussion.
San Francisco Giants
Josh was sent to Pawtucket once again, but he filed for free agency and joined San Francisco Giants. Rutledge signed a minor league (MiLB) contract on December 21, 2017, to join the spring training.
After the end of the season, Josh Rutledge announced his retirement from his professional baseball career.
Post-MLB
Rutledge left MLB in July 2018. He now works as a financial advisor for The RiverFront Group of Wells Fargo Advisors.
Read More About Athlete Draymond Green Bio: Age, Height, Career, Wife, Net Worth.
Josh Rutledge | Stats
| | | | | | | | | | |
| --- | --- | --- | --- | --- | --- | --- | --- | --- | --- |
| Year | WAR | AB | H | HR | BA | R | RBI | SB | OBP |
| Career | -0.9 | 1101 | 284 | 20 | .258 | 156 | 111 | 24 | .310 |
Josh Rutledge | Net Worth, Salary, And Earnings
The 31 years old Rutledge played in the Major League for almost six years. Certainly, he has earned a pretty decent amount for his hard work and dedication to the job.
While playing for Boston Red Sox in 2017, his average salary was around $600,000. Moreover, he earns around $90,000 as a Financial Advisor.
Regarding his net worth, the exact figure is still unknown. However, according to many online sources:
Josh Rutledge's Net Worth is around $1.5 Million.
Furthermore, Josh's wife, Laura, is well established in the reporting field. Her Net Worth is estimated to be around $0.5 million. The hard-working Rutledge couple is living a luxurious and happy life.
You might want to know about baseball player Ian Kinsler.
Josh Rutledge | Social Media Presence
Rutledge is quite active on social media platforms. If you are a Rutledge fan, you surely can't miss the posts and photos he uploads. He has a verified Instagram account with 6,414 followers.
Josh Rutledge posts quite frequently and has uploaded a total of 88 photos. Don't forget to give him a follow to learn more about him. However, he does not have a Twitter or Facebook handle.
Common Queries:
Who does Josh Rutledge play for?
Currently, the baseballer does not play for anyone as he retired in 2018. Before retiring, he played for San Francisco Giants in the minor league.
How tall is Josh Rutledge?
The athlete is 5 feet 11 inches tall.
What is Josh Rutledge doing now?
Josh Rutledge is working as a financial advisor for The RiverFront Group of Wells Fargo Advisors now.