An alumnus of Clemson, Travis Etienne Jr. is an American football running back who currently plays for Jacksonville Jaguars (2021- Present). He is the round-one 25th pick in the 2021 NFL Draft.
After missing out his entire rookie season due to injury, Etienne Jr. made his NFL debut with the Jaguars, wearing jersey number #1 in the 2022-23 season.
With his four-year deal, the Jennings, Louisiana-born's playing career with the Jaguars runs through the 2024-25 season.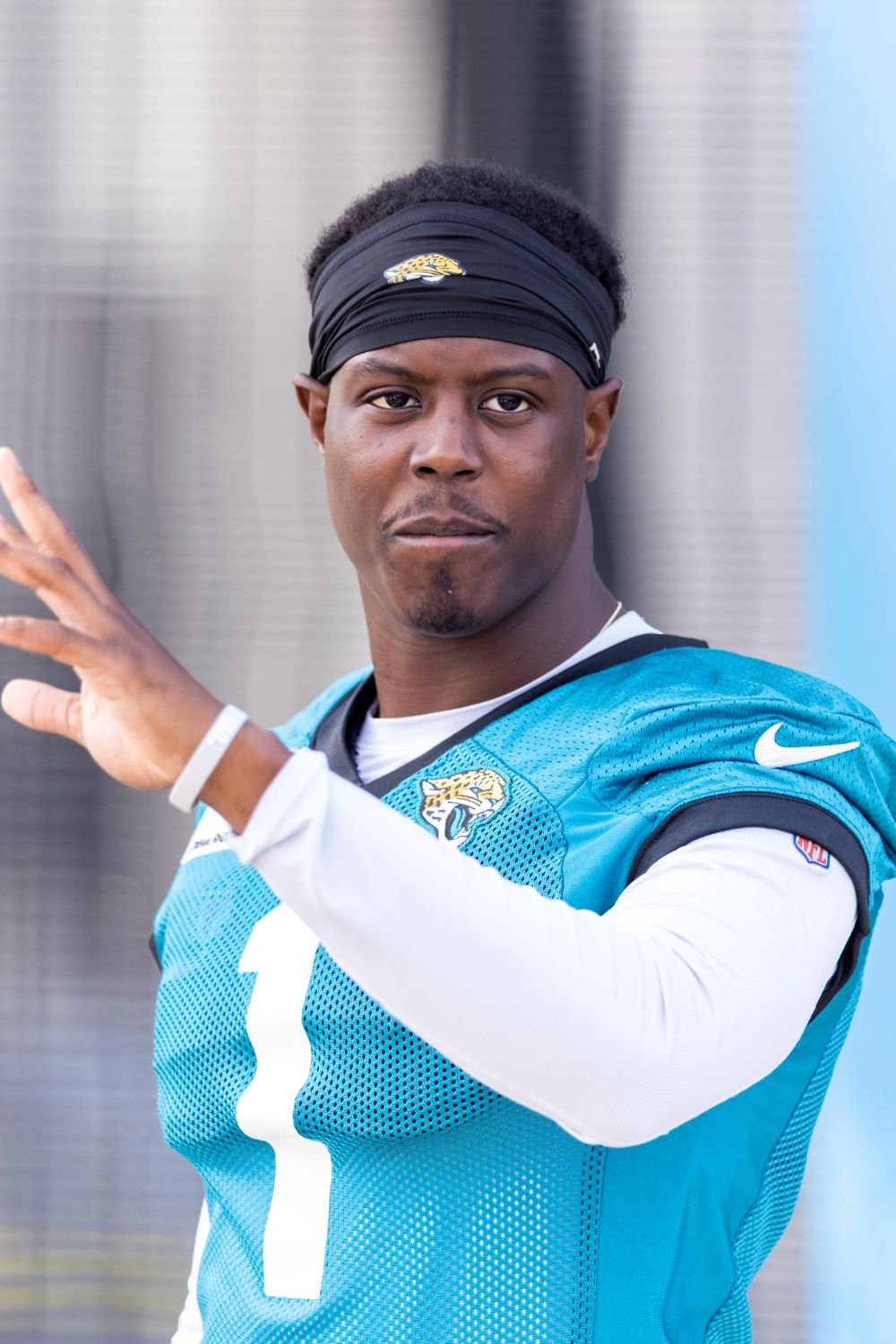 The enthusiasm for athletics runs through his siblings, too- in fact, his younger brother Trevor is a college footballer at the University of Florida.
In this article, we cover the NFL star's career journey & achievements from the CFP National Championship to ACC Player of the Year and All-American honors. Also, further insights on Etienne Jr.'s family & relationship here.
Travis Etienne Jr. | Quick Facts
Full Name
Travis Etienne Jr.
Nick Name
Travis
Date of Birth
January 26, 1999
Age
24 Years Old
Birth Place
Jennings, Louisiana
Nationality
American
Ethnicity
Mixed
Zodiac Sign
Aquarius
Chinese zodiac
Rabbit
Height
5 feet 10 inches (1.78 m)
Weight
95 kg (210 lbs)
Hair Color
Black
Grandmother's name
Cynthia Beverly
Father's Name
Travis Etienne Sr.
Mother's Name
Donnetta Lyons Etienne
High School
Jennings High School
University
Clemson University
Relationship Status
Not known
Girlfriend
None
Children
None
Profession
NFL Player
Position
Running Back
Jersey Number
1
Leagues
NFL
NFL Draft
Round: 1, Pick: 25 (2021)
Religion
Christianity
Food Habits
Nonveg
Tattoos
Yes
Career Highlights and Awards

CFP national champion (2018)
2 × ACC Player of the Year (2018, 2019)

Team
Jacksonville Jaguars (2021- Now)
Net Worth
$1.5 Million (approx.)
Social Media
Instagram, Twitter, TikTok, Website
Merch
Signed College Jersey, Signed Rookie Card
Last Update

February 2023
Travis Etienne | Parents, Early Life & Education
Born on January 26, 1999, in Jennings, Louisiana, the NFL player's full name is Travis Etienne Jr. He is 24 years old.
An American, Travis has Louisiana Creole ancestry. He grew up with his three siblings (two elder sisters & a younger brother) in a supportive family.
Etienne's father, Travis Etienne Sr., works in the oil industry, while his mother, Donnetta, is a nurse.
The American football star's mother was born on September 28th, 1974, and is 48 years old.
Reportedly, Etienne's mother was very strict about morale. But also, she would grant her kid anything they wanted as long as they kept good grades & did their chores.
Travis, along with his younger brother Trevor and elder sisters: Danielle & Shanea Lyons, attended Jennings High School.
There, he made a reputation of himself as a prominent player. He rushed 2,459 yards for 39 touchdowns during his senior year, totaling 8,864 total yards with 115 touchdowns in his high school career.
Afterward, the Jaguars player enrolled at Clemson University for his collegiate career.
Siblings Are All Athletes | Younger Brother Plays College Football
The Etienne family is full of compassion for sports. Not to mention, the NFL player's siblings are athletes too.
Both his sister ran tracks & played basketball in high school- they even won state championships.
Travis' sister Shane (the eldest one), born on June 30, 1991, is a registered nurse now. Moreover, she is the mother of two daughters: Brook (b. May 30, 2012) and Kollyns (b. Nov 20. 2018).
His other sister Danielle (birthday on October 25), has 2 daughters & a son.
Travis Etienne's younger brother Trevor Etienne (birthday on July 9) is a college footballer for the Gators at the University of Florida. The 5 feet 9 inches (1.75 m) tall running back wears jersey number #7 with the Gators.
According to 247Sports, Trevor signed a letter of content with Florida on February 2, 2022, and enrolled there on May 9.
Even more, as a freshman, he played for the Gators in the 2022 Las Vegas Bowl in a loss against Oregon State.
Travis Etienne | Grandmother Introduced Him To Football
Etienne is very close to his grandmother, Cynthia Beverly. In fact, his path to playing college football at Clemson began with a little encouragement from his grandmother.
According to Sports Illustrated, it was Cynthia who first introduced Etienne to the game, often handing him a football to keep him occupied while his parents were at work.
When Clemson head coach Dabo Swinney came to recruit Etienne, he met his grandmother and earned her approval.
This ultimately played a crucial role in Etienne's decision to join the Clemson program.
Collegiate Career Of Travis Etienne
A four-star prospect by the 247Sports, Travis Etienne Jr. chose Clemson University over the offers from Oregon Ducks, Texas A&M, LSU, and Iowa State.
After signing a letter of intent on February 1, 2017, he enrolled there on July 20 & played four years with Clemson Tigers through the 2020 season.
In December 2020, Travis graduated with a degree in sports communication.
His college career stats stood at 4,952 rushing yards for 70 touchdowns and 1,155 receiving yards with 8 receiving touchdowns. He also made 706 kick return yards & 44 punt return yards.
Freshman Year
Travis Etienne made an immediate impact in his freshman season at Clemson University in 2017. He led the team in rushing with 766 yards on 107 carries and 13 touchdowns. This impressive debut set the stage for an even more successful sophomore season in 2018.
Sophomore Year
As a sophomore, Travis helped lead Clemson in the victory to the 2018 CFP National Championship over Crimson Tide. He was named the ACC Offensive Player of the Year and the ACC Player of the Year.
In that winning game, he recorded 1,658 rushing yards and an FBS-leading 24 rushing touchdowns. Further, he added two receiving touchdowns for a total of 26 from scrimmage, leading FBS.
Etienne's strong performance earned him first-team All-American honors from Sporting News and ESPN and consensus second-team All-American honors.
Similarly, in the 2018 ACC Championship Game against Pitt, Travis was named the MVP of the game, showcasing his exceptional talent and leadership on the field.
Junior Year
Travis Etienne continued his impressive career at Clemson University in his junior and senior years, setting numerous records and earning numerous accolades.
In his junior year, the player had a career-high 205 rushing yards and three touchdowns in the season's first game. Later, he topped that performance with 212 rushing yards and two touchdowns on nine attempts in a November game against Wofford.
Similarly, Travis also became the first Clemson running back to have three career 200-yard games.
At the end of the regular season, the player was named ACC Player of the Year and ACC Offensive Player of the Year for the second consecutive year.
Moreover, he was also named first-team All-ACC. Travis finished the season with 1,614 rushing yards and an ACC-leading 19 rushing touchdowns.
Senior Year
Despite projections that he would enter the NFL Draft, Travis announced in January 2020 that he would go back to Clemson for his senior year.
In his senior season, Etienne set the FBS and NCAA records for touchdowns, scoring in 46 of 55 career games. He also scored at least one touchdown in 46 games, breaking Donnel Pumphrey's record for most in FBS history.
Travis set ACC career records for total touchdowns (78), rushing touchdowns (70), and total points scored (468).
With his 4,952 career rushing yards, the American player broke the ACC career rushing record previously held by Ted Brown.
Travis Etienne | NFL Draft & Debut With Jaguars
After opting out from the 2020 NFL Draft to complete his senior year at college, Etienne Jr. went for the 2021 NFL Draft and became the round-one 25th overall pick of the Jacksonville Jaguars.
The Jaguars got that pick option from LA Rams from previous trade that sent away their 2016 draft pick Jalen Ramsey.
In the Jaguars, Travis reunited with his former Clemson teammate and quarterback, Trevor Lawrence, the top pick of the 2021 NFL Draft. Other notable picks of the team in that draft were Tyson Campbell and Walker Little.
View this post on Instagram
However, his rookie season was cut short due to a Lisfranc injury in the preseason game against the Saints on August 23, 2021.
After missing the entire 2021-22 season, Travis Etienne Jr. made his NFL debut with the Jaguars in a season opener loss to Washington Commanders on September 11, 2022. He had four carries for 47 rushing yards in the game.
In week 7, Travis recorded his first career touchdown, adding 14 carries for 114 yards and one lost fumble in a 23-17 loss to the New York Giants.
This marked the first time in Travis's NFL career that he recorded a touchdown and over 100 yards in a game. After a trade involving Jaguars running back James Robinson, Travis was named the starting running back in Jacksonville.
Travis Etienne | Height & Body Measurements
Travis Etienne is widely regarded as one of the top running backs in the 2021 NFL Draft, and it's easy to see why when you look at his impressive physical measurements.
At 5'10" (1.78 m) and 215 pounds, Travis is a compact and powerful runner who can withstand the rigors of the NFL. His hands, measuring in at 9 3/8 inches, show that he has the ability to catch the ball effectively out of the backfield.
However, it's not just Etienne's size that sets him apart – his impressive speed and explosiveness are sure to make him a standout at the next level.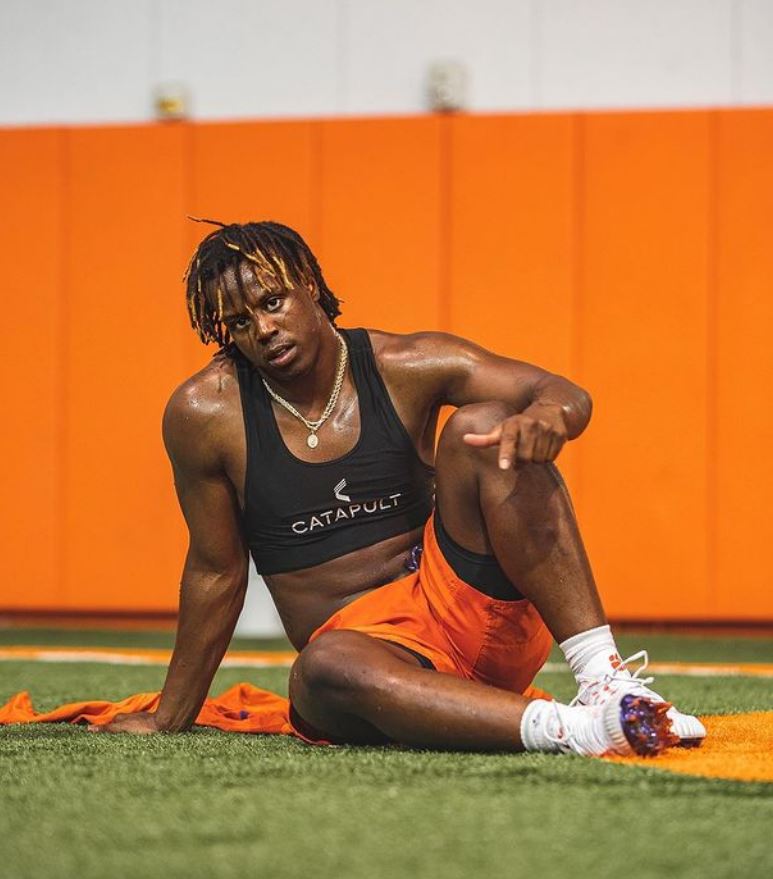 The player's 40-yard dash time of 4.41 seconds, recorded on his pro day, clearly indicates his speed and ability to break away from defenders.
Similarly, his vertical jump of 33.5 inches shows that he has lower body strength and explosion to power through tackles and break big plays.
His combination of size, speed, and power make him a formidable player on the field that NFL teams will definitely want to keep an eye on.
Travis Etienne | Relationship & Dating Details
The Jaguars running back Travis Etienne Jr. gets media attention as one of the top prospects & a rising NFL figure. So, the curiosity of fans about his personal life, specifically his dating profile & girlfriend, is no surprise.
But Travis seems to expert in keeping his relationship talks under wraps.
There is no publicly available information on whether or not Etienne is dating or married.
Some sources suggest that he is currently single and focused on his budding football career. On the other hand, others speculate that he might be keeping his personal life private to avoid any distractions.
Keeping his love life aside, his close relationship with his family members & commitment to NFL is no secret at all.
Travis Etienne | Net Worth & Salary
Considered one of the top prospects, Etienne's career got a sure shot after the Jacksonville Jaguars picked him in the 2021 NFL Draft. No doubt, the Clemson alumnus is already on the list of NFL's up-and-coming stars.
As of February 2023, Travis Etienne has an estimated net worth of $1.5 million.
The hefty sum of money is all thanks to his rookie contract with the Jaguars. The running back signed a four-year deal worth $12.89 million (i.e., $12,898,105)on July 19, 2021.
This deal is fully guaranteed- which means if the Jaguars were to waive Etienne, they would have to pay him all.
In the 2021 season, Travis Etienne earned a base salary of $660,000 and a signing bonus of $1.685 million while carrying the cap hit of $2.345 million.
For the 2022-23 season, the NFL player's salary was $1.246 million, totaling $2.931 million with a signing bonus. Through the deal's end (2024-25 season), he receives a signing bonus of $1.685 million every season.
The top-7 earners in the 2022-23 roster of Jacksonville Jaguars are:
Rayshawn Jenkins ($9.9 million)
Roy Robertson-Harris ($9 million)
Evan Engram ($8.9 million)
Marvin Jones ($8.7 million)
Brandon Scherff ($7.6 million)
Christian Kirk ($7.5 million)
Josh Allen ($7.2 million)
Travis makes $1.832 million in base salary in the 2023-24 season while carrying the cap hit of $3.517 million and the dead cap value of $3.37 million.
Frequently Asked Questions (FAQS)
What is Travis's ethnicity?
Travis Etienne has Louisiana Creole and Haitian ancestry.
Does Travis Etienne have tattoos?
Yes, the NFL player has many tattoos carved on his body. For instance, he has a cross sign and the words "Love You" on his back. The cross sign reflects his faith in God.
How is Travis Etienne doing now?
Travis Etienne is playing with the Jacksonville Jaguars as a running back. He made his NFL debut with the Jaguars in the 2022 season after missing out entire 2021 season due to a Lisfranc injury.