When it comes to the list of successful quarterback players in the town, Josh Allen rises at the top, proving himself as one of this generation's most successful quarterback players.
The talented quarterback player turned pro in 2018 after joining the Buffalo Bulls team. All thanks to his exceptional skills and resilience.
The superstar played quarterback from his college days at Reedley College and had four years of professional career with the Buffalo Bills.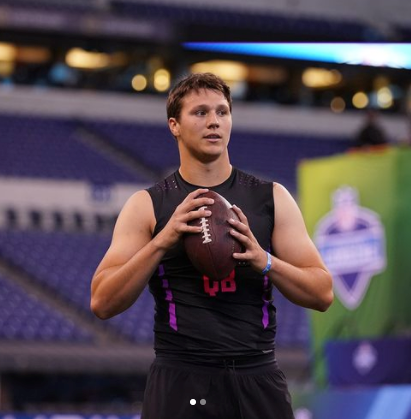 Allen's career is not limited to the quarterback, but he is also a spokesperson for the John R. Oishei Children's Hospital in Buffalo. He often makes appearances, visits patients, and supports fundraising activities.
Quick Facts
Full Name
Joshua Patrick Allen
Birth Date
May 21, 1996
Birth Place
Firebaugh, California, United States
Nickname
Josh Allen
Religion
Christianity
Nationality
American
Ethnicity
White
Education

Firebaugh High School
Reedley College

University of Wyoming

Horoscope
Gemini
Father's Name
Joel Allen
Mother's Name
Lavonne Allen
Siblings
Yes (3)
Age
27 years old
Height
6'5″(1.96 m)
Weight
237 lb (108 kg)
Build
Athletic
Eye Color
Dark Brown
Hair Color
Dark Brown
Profession
Quarterback Player
Active Years
2018-Present
Current Team
Buffalo Bills
Marital Status
Unmarried
Girlfriend
Brittany Morgan Williams
Kids
No
Net Worth
$14 Million
Salary
$5 Million
Merch
Paperback, T-shirt
Social Media
Instagram, Twitter
Last Update
June,2023
Josh Allen: Early Life, Family, and Education
On May 21, 1996, Allen was born in a beautiful place, Firebaugh, California, United States. He is taken to proud parents, Joel Allen and Lavonne Allen.
Joel's grandfather migrated to Ellis Island from Sweden and, in the end, settled in Firebaugh, California. In 1975, he established a 2000-acre cotton farm near Firebaugh, California.
Suddenly his grandfather died in 2013, and Joel Alen took over the business. After that, Joel and Lavonne started working on the farm.
The couple also motivated Josh and his siblings to work on the farm. Josh also used to help his parents in household activities, even washing the dishes.
Josh grew up along with his siblings. He has a younger brother, Jason Allen, and sisters, Nicala Allen and Makenna Allen.
Allen's younger brother Jason is very private in his life, so he hasn't disclosed any information regarding his professional career activities. However, Makenna Allen has been engaged in Basketball activities since 2020.
The information regarding Nicala Allen is still unknown at the moment.
Talking about the educational background of the quarterback, he attended Firebaugh High School. He joined Reedley College and later went to the University of Wyoming to get a degree.
Josh Allen: Age, Height, and Nationality
As of 2023 Allen is 27 years old. He is born under the sun-sign Gemini. Gemini people are interested, intelligent, and great thinkers.
Moving to other physical appearances, Allen is blessed with his height. He has a height of 6'5″ (1.96 m).
Likewise, one of the very diet-conscious players weighs around 237 lb (108 kg). He regularly exercises and follows the necessary diet plans for maintaining his weight.
Josh possesses a pair of Dark Brown eyes and dark brown hair when it comes to looks. Regarding nationality, he belongs to the American race with a White ethical background. Likewise, he follows the Christianity religion at the time of birth.
<<<Antonio Brown Bio: Bucs, NFL & Career>>>
Josh Allen: Professional Career
Early Career
Allen started his career in football after joining Reedley College. He ranked as No. 9 among all California junior college teams in total offense during his college days.
After receiving 26 touchdown passes, he was ranked as No. 7 among all California junior college quarterbacks in 2014.
As a freshman, he could rank in the 20th position in California JUCO quarterbacks. While playing for the college, his height increased to 6'5″, weighing 210 pounds.
His coaches thought he would now receive many scholarships offers with a height of 6'5″ and 210 pounds.
However, Josh did not receive any offers; instead, he emailed every coach, offensive coordinator, and defensive coordinator. But, despite mailing, he did not get offers from big and renowned colleges.
The quarterback then received the offer from Eastern Michigan and Wyoming. Allen withdrew the proposal from Eastern Michigan and selected Wyoming at that time.
After joining Wyoming, he played for two games in the first year. Sadly he suffered from an injury and missed the entire season game with Wyoming.
After returning from the injury in 2016, he continued the overall season with the team.
Professional Career
Upon completing his college career at Wyoming, he was drafted by the Buffalo Bills. He signed a four-year contract with the Bulls on July 25, 2018.
He started his professional career at the Bulls with A.J. McCarron and Nathan Peterman through the offseason and training camp.
Josh made his debut in the Bulls after playing against Baltimore Ravens. However, the team lost the match 3-7.
During his first year with the Bulls, he played with various professional teams like Los Angeles Chargers, Minnesota Vikings, Tennessee Titans, Jacksonville Jaguars, New England Patriots, etc. After the 2018 season, he entered 2019 with the Bulls team again. He was also named a team captain at the beginning of the 2019 season.
When playing against New England Patriots, Josh suffered a helmet-to-helmet hit from Jonathan Jones.
Despite having the injury, he returned the same week to play against Tennessee Titans. He played with various strong football teams during the 2019 season with the Bulls team.
To name a few of them: Pittsburgh Steelers, Cleveland Browns, New England Patriots, Miami Dolphins, and more.
In the early 2020 season, Josh was suspected of suffering from Covid-19. So a group of 77 NFL players tested for Covid-19. But later on, the result was revealed false due to mishandling by the laboratory that performed the testing.
After Covid
The quarterback player started the 2020 season with a win over New York Jets, Miami Dolphins, and Los Angeles Rams.
Likewise, he also became the first Bulls to throw for more than 400 yards when he threw 415 yards against Miami Dolphins.
In 2021, Allen extended the contract with the Bulls for six more seasons. He signed a six-year extended career with the Bulls on August 6, 2021.
<<Anthony Joshua Net Worth | Houses, Charity & Foundation>>
Josh Allen: Net-Worth and Salary
Allen has a fantastic career in football, due to which he has accumulated heavy net worth. Their considerable net worth has changed their lifestyle of living.
As of 2023, Allen's net worth is estimated at around $14 Million. His net worth has increased significantly in 2018 and will grow more in the coming days.
Likewise, according to different news sources, his salary is expected to be around $5 Million.
Josh started his career in football with the Buffalo Bills. After signing with the Bulls for four years, he received $21 Million as full guaranteed money.
Similarly, he extended the contract with the Bulls team in May 2021 worth $258 million with $150 million guaranteed. It is also expected that the deal could be up to $288 million with $43 million per season.
Likewise, the quarterback is also associated with various brands such as Microsoft Surface, Hyundai, and Tommy Armour golf. He earns good amounts of money after being associated with brands.
Not to mention, Josh is also an active investor and entrepreneur. He is a shareholder of a Buffalo-based golf ball manufacturer. Likewise, he also owns his brand of cereal called Josh's Jaqs.
In addition, Allen owns a big House in Orchard Park, New York. He purchased the House in 2018 worth $659900.
The House has 4 big bedrooms and a big parking area with varieties of car collections of the quarterback.
Also, he is seen traveling to various cities to spend quality time with his partner. Besides traveling, Josh swims and performs adventurous activities in his free time.
Josh Allen: Love Life and Wedding
Allen is very public when it comes to his personal life. The fans of the quarterback player are always curious to know about the happenings of Josh. So Josh shares his life activities with his fans through his social media.
Josh is not married yet. However, he is in a love relationship with Brittany Morgan Williams. They are one of the most favorite coupes in the NFL.
Both Josh and Brittany have known each other since their childhood. The couple attended the same high school and has been close since then. However, they started dating only in 2017.
Brittany has always been supportive of her boyfriend. She attends every match and has constantly been rooting for him from the beginning of his career.
Williams has always been active in the media field. During high school, she used to be a member of the Dolce Dance Studio. After that, she worked as a cheerleader for the Fresno State Dance Team.
As of 2021, Brittany is a Pirate Instructor, where she teaches to work out for the lower body, abs, and many more.
The couple has been dating for more than five years but has not married yet. And, if possible, we might hear their wedding bells very soon.
Social Media Presence
<<<Nick Vigil Bio: Stats, Net Worth, Stats & NFL>>>
Frequently Asked Questions (FAQs)
What are the Jersey Numbers of Allen?
Allen wears jersey number 17. Since he is involved only in the Buffalo Bulls team, so he has a single jersey number.
How many years has Josh Allen been in the NFL?
Josh started his career in football after joining his college. However, he has been in a professional NFL career since 2018.