An embodiment of knowing what you want, and doing just that, is precisely what Cindy Brunson is.
Popularly known for her work as a sports anchor and reporter in ESPN's flagship program SportsCenter, she is currently working as a part of Pac-12 Networks' broadcast team.
A figure who has inspired many sportswomen and fellow anchors and newscasters with her strong opinions and supportive nature, Brunson is a woman who will not hesitate to speak her mind.
Brunson is also no stranger to letting people know what she believes in, as often seen in her social media posts.
A firm believer in 'Perception becomes a reality,' Cindy Brunson seems always to get it right. At 45, Brunson still has the energy and enthusiasm of a person in their early 30s, and her books tell the same.
This confident, bold, and charming lady has left a mark in sports entertainment and broadcasting, and she doesn't look close to stopping any time soon.
Today, we will disclose more than Cindy's professional life in this article. So read till the end to find out exciting facts about her.
Let's start by looking at some of the quick facts.
Quick Facts:
| | |
| --- | --- |
| Full Name | Cindy Brunson |
| Birth Date | June 10, 1975 |
| Birth Place | Tacoma, Washington, U.S. A |
| Nick Name | Not available |
| Religion | Not available |
| Nationality | American |
| Ethnicity | Biracial |
| Education | Washington State University |
| Horoscope | Gemini |
| Father's Name | Not Available |
| Mother's Name | Not Available |
| Siblings | Not Available |
| Age | 48 years old |
| Height | 5'9″ (1.78 m) |
| Weight | Not Available |
| Shoe Size | Not Available |
| Hair Color | Brunette |
| Eye Color | Brown |
| Body Measurement | Not Available |
| Build | Slim |
| Married | Yes |
| Spouse | Steve Berthiaume |
| Children | None |
| Profession | Anchor/Reporter |
| Net Worth | $2 million (2018) |
| Broadcasting Affiliations | Pac-12 (Current), ESPN (Former) |
| Social Media | LinkedIn, Twitter, Instagram |
| Shoes | Not Available |
| Last Update | November, 2023 |
Cindy Brunson | Early Life, Family, and Education
Born on 10th June 1975 in Tacoma, Washington, Brunson attended the Edward R. Murrow College of Communication. She enrolled in Curtis Senior High School in University Place, Washington.
Brunson became aware of her interest in sports broadcasting at 12 when she saw American newscaster Robin Roberts on ESPN talking about sports.
But before she even pursued her career, she would experience prejudice for being a girl interested in sports.
Her mother would appoint her as the 'beverage girl' to take the drinks to her Father and his friends, who would be hollering in the living room watching football games on Sundays, something she found 'lame.'
So, she decided to grab an encyclopedia and memorize the referee's signals. And the following Sunday, she went to the living room and said, 'That was not a hold! I can't believe the ref threw that flag'.
After that, Brunson and her Father became regular attendees of the home Seahawks, Sonics, and Mariners games.
And it only made sense that she would follow the path that would take her even closer to her dream career.
By enrolling and graduating from Washington State University with a Bachelor's Degree in Arts and Broadcast Communication, and a minor in Political Science.
Don't forget to check out: <<Craig Berube Bio: Wife, Family, Net Worth, Stats & Career >>
How old is Cindy Brunson? Age, Height, and Nationality
Cindy Brunson is 48 years old. She was born on June 10, 1975, under the sun sign Gemini.
Moreover, Brunson stands at an astounding height of 5 feet 9 inches (1.78 m). Similarly, she has short Brunette color hair and stunning brown eyes that look beautiful with her wide broad smile.
Being a television personality, Cindy always stays in shape and looks presentable in front of the camera.
Cindy Brunson | Early Career
By 23, Cindy Brunson had already made her career debut with KATU in Portland, Oregon, where she worked as weekend sports and news anchor/reporter.
During her work with KATU, she covered the Portland Trail Blazers (National Basketball Association), the University of Oregon, and Oregon State's football team, to name a few.
But before working for KATU, she was a weather anchor and news reporter at KHQ-6 in Spokane, Washington.
Cindy Brunson | Professional Career
ESPN
After working with KATU for a year, she got signed full-time by ESPN as an ESPNEWS anchor, where she would become one of the most popular SportsCenter faces.
Cindy worked for ESPN for the next 12 years, during which some of her most notable works would be as an anchor for SportsCenter, host for Hot Take, and analyst for College Basketball Live.
Despite getting the big break with ESPN, many hurdles would follow Brunson as a woman broadcaster, where she, very early on, got to learn about the ignorance and fickleness of some viewers.
The day after she anchored the show for the first time, she got misogynistic messages from viewers, three telling her to 'go back to the kitchen and the rest commenting on her looks.
With the advice from Stuart Scott, a longtime SportsCenter anchor, who only played back the racist messages he had gotten, Brunson decided to perceive them as motivators and kept the first 'get back in the kitchen' message for her reminder.
Likewise, her diligence paid off, as her ESPN time helped her become one of the most familiar faces amongst the sportscasters in ESPN SportsCenter.
Later Years
Brunson has been a part of some of the most incredible moments in sports.
In one of the interviews with CougFanCom, Brunson admitted that Tiger Woods' weekend car accident outside his Florida home was one of the most incredible things she got to cover in the world of sports.
Besides this, Brunson was the anchor when ESPNEWS covered the Florida Marlins rookie Aníbal Sánchez's no-hitter on September 6, 2006.
Likewise, she has also anchored on SportsCenter when Barry Bonds hit his 755th and 756th career home runs, surpassing Hank Aaron for most all-time.
After anchoring her final sports broadcast with Bram Weinstein, Brunson officially departed from ESPN on December 29, 2012.
Cindy Brunson | Arizona Diamondbacks and Pac-12 Networks
In April 2013, Brunson joined Fox Sports Arizona's broadcast team as the Arizona Diamondbacks' Live pregame and postgame host and reporter.
She has worked as a Play by Play Commentator and Analyst for Phoenix Mercury since May 2013.
Likewise, Cindy has also been working as a commentator since 2014 on Pac-12 Networks.
She has served as a College Football and Men's College Basketball Sideline reporter and Women's College Basketball Play-by-Play announcer.
Also, in November 2019, she was hired by the Texas Tech Athletic Department to enhance the Lady Raider's television coverage.
Don't forget to check out: <<Erik Kuselias Bio: CBS, Radio Show, Wife, Son & Net Worth >>
Cindy Brunson | Personal Life and Marriage Interests
Cindy Brunson married her longtime boyfriend, Steve Berthiaume, in June 2009.
Like his wife, Steve is also an American television sportscaster serving as a play-by-play broadcast announcer for the Arizona Diamondbacks.
He is also a former anchor on ESPN and former sportscaster for SportsNet New York.
Brunson and her husband have a similar career background; Steve ran the cross-country track and worked as an announcer for the basketball team in Massachusetts, where he grew up.
Steve, a graduate of Emerson College, covered the University of Connecticut men's and women's basketball and their involvement in the NCCA tournament during his work at WTIC-HV in Hartford, Connecticut.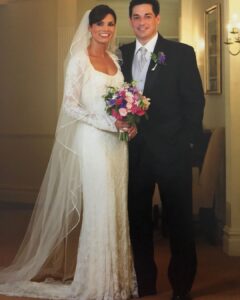 Similarly, Brunson then worked at the now-defunct CNCCI network and then to ESPN in February 2000.
He started at ESPNEWS later and worked as an anchor for SportsCenter. Brunson co-anchored her first SportsCenter broadcast in February 2001 alongside Berthiaume.
Despite leaving ESPN to become chief sportscaster for the new SNY network in 2006, Steve returned to ESPN SportsCenter on March 28, 2007, to work closer to Cindy.
Later, Brunson did the same in 2013 for Steve as she went on to join the Arizona Diamondbacks after the baseball broadcast team hired Steve to serve as a play-by-play broadcaster for FOX Sports Arizona, replacing Daron Sutton in 2012.
The two of them have been working in the same broadcasting network since.
Cindy Brunson | Women in Sports
Cindy Brunson has proven to be a trailblazer throughout her career who has paved the way for women in broadcasting, which male personalities and voices have long dominated.
From being a new face in sportscasting who the viewers did not accept to now being one of the most familiar faces in sports broadcasting.
Cindy has truly inspired many people with her grace and attitude. She has truly set an example for up-and-coming female sportscasters.
But Brunson had to overcome strong prejudices such as 'women cannot understand sports' and that female sportscasters are 'just another pretty face' to establish credibility in sports broadcasting.
And despite making it look effortless, Brunson admits that her work requires a lot of preparation and homework.
A woman in sportscasting requires her 'to learn everything you can about sports you don't know, an advice Brunson gave to Beth O'Donnell and her classmates.
Brunson admits that she cannot give anybody an excuse to tell her to 'get back into the kitchen,' so she has to be good just like other women.
Cindy Brunson | Salary and Net Worth
Cindy has had a successful career as a sports anchor and reporter. She has an estimated net worth of around $2 million.
Sadly, her current salary and income are not disclosed. Cindy has worked on numerous networks and hosted many shows too.
Being one of the popular television anchors and reports, Brunson has undoubtedly gained a hefty amount from her career.
Cindy Brunson | Personal Interests
Inspired by Al Gore's documentary, "An Inconvenient Truth," Brunson decided to sign up to be a Climate Reality Leader at the Climate Reality Leadership Corps session held in Pittsburgh in October 2017.
She is now associated with The Climate Reality Project. Furthermore, she is also a part of The Association for Women in Sports Media since May 2013.
Likewise, she is also part of the National Association of Black Journalists. Moreover, Cindy is also an alumna of the Murrow College of Communications at Washington State University.
She credits her college for putting her in a 'position to succeed' and helping her 'television broadcast dreams become a reality.'
Similarly, Cindy is notorious for her love of coffee; her husband even claimed that she drinks around two pots of coffee a day during an interview with Fox Sports Arizona.
Brunson is also an avid fan of the Seattle Seahawks and Seattle Mariners.
Don't forget to check out: <<Nick Wright Wife Danielle Wright: Bio, Kids & Net Worth >>
Cindy Brunson | Social Media Presence:
Twitter: 24.5K Followers
Instagram: 785 Followers
Cindy Brunson | Some FAQs
Do Cindy Brunson and Steve have children?
Cindy and Steve do not have any children as of now. However, they own a rescue dog – Jon Show, named after the popular TV show, Game of Thrones.
What is Cindy Brunson's Nationality?
Cindy Brunson holds American Nationality and belongs to mixed ethnicity.
Which college did Cindy Brunson attend?
Cindy Brunson attended Washington State University for her college education. She graduated with a Bachelor of Arts degree in broadcast communications.
What is Cindy Brunson doing now?
Cindy Brunson is currently working as part of the Pac-12 Networks broadcast team. She works as a women's basketball play-by-play announcer.
Likewise, she also works as a sideline reporter for football and men's basketball sideline reporter.