When you dare to dream and cling to that, you don't see days and nights turning it into reality. Similarly, Tyler Shough is referred to as the hottest quarterback for Oregon; Ducks works harder to achieve his ambitions, expanding his capacities.
For those, who don't know him, Tyler Shough is an American football quarterback who used to play for the Ducks. Lately, he has remained in the news for declaring his entrance to the transfer portal with three years of eligibility remaining.
Prior to that, Tyler was enrolled in sports activities at Hamilton High School. Having ingrained with mental toughness from the very beginning, he was well-acquainted with dealing with life struggles.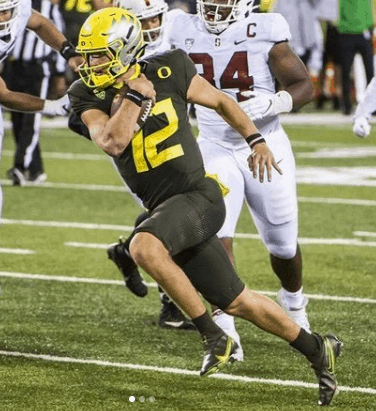 Not everything was smooth and sailing for this young sportsman; he saw his mother battling cancer at a very tender age when he almost had no birth and death concepts in this world.
That event must have shaken him insides but helped him develop his resilience.
Stay tuned to this article if you want to explore his side of the story and unveil his journey from the untold beginning to date.
But before that, Let's take a sneak peek into QB Tyler Shough's quick facts.
Tyler Shough | Quick Facts
| | |
| --- | --- |
| Full Name | Tyler Shough |
| Birth Date | September 28, 1999 |
| Birth Place | Chandler, Arizona, United States |
| Nick Name | Not known |
| Religion | Christianity |
| Nationality | American |
| Ethnicity | White |
| Education | Hamilton High School |
| Horoscope | Libra |
| Father'sName | Glenn Shough |
| Mother'sName | Dana Shough |
| Siblings | Five (younger brother-Brady Shough) |
| Age | 23 years old |
| Height | 6 feet 4 inches (1.93 meters) |
| Weight | 100 kg (220 lbs) |
| Shoe size | Not known |
| Hair Color | Dark Brown |
| Eye Color | Brownish |
| Body Measurement | Not known |
| Build | Athlete |
| Marital Status | Unmarried |
| Girlfriend | Jordan Wormdahl |
| Position | Quarterback |
| Profession | Football Player |
| Net Worth | Not known |
| Salary | Not known |
| Team played for | Oregon Ducks football (#12 / Quarterback) |
| Bowl Games | 2020 Rose Bowl; 2021 Fiesta Bowl |
| College | Oregon (2018-2021) |
| Social Media | Twitter, Instagram |
| Merch | Texas Tech Red Raiders Hoodie |
| Last Update | February, 2023 |
Tyler Shough | Early Life
Starting with the basics, Tyler was born on September 28, 1999, to his parents, Glenn and Dana Shough, in Chandler, Arizona. He was his parent's fourth of five children. His younger brother's name is Brady.
And as per sources, one of his elder brothers died when he was young, while the reasons remain unknown. Moreover, Shough is an American by nationality and is of white ethnicity.
Bringing upon his parents, Glenn is a retired police officer who teaches criminal justice with driver's education. Dana is a retired educator. Tyler's parents first encountered each other at Arizona State University.
And later, his mom went on, attending Northern Arizona University for a Master of Education.
Moreover, Tyler's elder sister went to Hamilton High School in Chandler, Arizona, where he and his younger brother Brady would play football.
24 Hour Rule
The 24-hour rule was the basic foundation ingrained in him by his father. This was their thing. Likewise, it was not just a policy but a sentiment.
Not to mention, his father, Glenn, had a big influence on Tyler's tough mentality, who successfully implanted these core values from a young age.
According to Glenn Slough, "Football is a unique sport where you play only once a week and rest of the time you have to reflect on your performance. And then you are all set to move on and start working on your next opponent."
As simple as that. All you need is sheer focus and belief in yourself.
Ventell Bryant Bio: NFL, Girlfriend, Panthers & Net Worth >>
Dana Shough, Cancer Survivor
Tyler had a childhood that was not easy. But, being brought up in a well-managed family, he was all taught to deal with the adversities and face life and its hurdles.
Similarly, Tyler's mother, Dana, was diagnosed with stage four breast cancer in 2006. This surely taught him to accept and adapt to the situation and move on. After all, one cannot afford to run away from the problems.
Dana confessed about some of the heart-touching moments in her life in an interview with East Valley Tribune in 2016.
She just had a head-shaving party, and the day after, she had to take Tyler to kindergarten. There she left her hat in the car and turned around to get it.
The very moment Tyler asked her not to put that hat on and said, "You look beautiful without it." According to Dana, that was the most defining moment. After that, she said, "You know what? What I do right now in front of this little boy and show how comfortable I am is going to define his character?"
This incident surely ingrained toughness in Tyler's attitude that he carried with him all his life. As a result, he has an idea of what it is like to make serious sacrifices and commitments.
However, with god's grace and everyone's pure blessings, his mom survived cancer after undergoing the clinical trials of Herceptin with chemotherapy. But unfortunately, it took eleven years for the remission.
A quick, interesting fact, Dana grew up in Springfield, Oregon, where her father Don Denley helped construct the University of Oregon's Autzen Stadium.
Also, the same stadium where Tyler happened to play his collegiate career years later after joining Oregon.
Tyler Shough | High School Career
He attended Hamilton high school, joining the varsity team, becoming the starting quarterback as a junior in the football program for the 2016 season.
His performance grabbed an honorable mention in Arizona's 6A Premier League, named in the 6th toughest football region in the nation.
However, the team ended their season with a 7-5, recording the 6A quarterfinals, the worst in the school history until 2018's gloomy performance.
Also, he headed the team to an 8-4 record, making it to the 6A state quarterfinals bagging himself a first-team 6A Premier League and all-CUSD awards in 2017.
Moreover, Shough, who had a 4-4 grade point average, was titled to the Semper Fidelis All-American program as the Arizona recipient on March 31, 2017.
Not to mention, he was among 100 student-athletes (50 males and 50 females on a four-day tour of Washington D.C. from 50 states as part of U.S. Marine Corps activities.
Scout ranked him as the 16th best at quarterback and 183rd overall nationwide. He was a consensus 4-star prospect and number 10 pro-style quarterback by both 247sports and Scout in the 2018 class from Arizona.
To add on, Cody Bellinger, the future Major League Baseball player, was his friend while they were students at Hamilton.
Hazing Scandal
The Hamilton football team faced its greatest hustle for the 2017 season. It was not an injury or losing some valuable players. But it was the hazing scandal that ruined and disrupted the team's image and character completely.
Steve Bells elected Shough before the Hamilton coach was reassigned to home by the Chandler Unified School district in spring.
As per sources, Tyler was not involved in the scandal, but also he took an initiation to call the players for the meeting and gave a talk about it.
The act was much appreciated by the interim head coach Dick Baniszewski. Not only that, but Dick calls him" focused and unselfish."
According to Baniszewski, "he is one of the most truly all-rounded student-athletes he has coached."
Tyler Shough | College Career
Commitment to Oregon Ducks
He received multiple athletic scholarship offers from Alabama, California, Georgia, Florida State, Michigan, South Carolina, and Indiana.
Tyler initially committed verbally to North Carolina in 2017. But later, he switched his words and joined Oregon University.
Tyler changed his heart after his surprising visit with the Ducks. He did not deny that his focus always remained on UNC, but he had his family in Oregon on the top.
And it was quite convincing for him to choose Oregon over other Universities, Adam Gorney of Rivals.com.
Subsequently, he signed an early letter of intent to Oregon in December 2018. Unfortunately, Tyler got redshirted for the first year at his college.
But yes, before getting redshirted, he performed in three games playing eighteen snaps.
Later as a true redshirt freshman, Tyler got a chance to serve his team as the backup quarterback behind Justin Herbert during the 2019 season.
Also, he completed the season playing off the bench in eight games and scored 144 yards and three touchdowns.
Read about Joe Thuney Bio: Football, Career, NFL, Family & Net Worth >>
2020 season
Going into the 2020 season, Tyler filled in the position vacated by Justin Herbert to NFL. However, Herbert remained in touch with Tyler via phone calls and text messages regardless of playing in the NFL.
2020 was all hit by coronavirus pandemic, many got killed because of the virus, and many battled and survived.
Oregon and the other Pac-12 Conference member schools scheduled their games in November with strict rules regarding testing, positivity rate, and contact tracing.
Tyler finally got a chance to move back into his position and perform well, throwing for eight touchdowns and just two interceptions in the first three games, won by Oregon. He also started the Pac-12 Championship Game against USC.
However, his role diminished when Anthony Brown, a graduate transfer from Boston College, popped in with his elaborated playing experience.
Furthermore, he was also selected to the Fiesta Bowl with Oregon held in Glendale, Arizona. Oregon's were paired up against Iowa state led by quarterback Brock Purdy, who again was friends with Shough from six.
He accomplished 63.5% of his throws with 13 passing TDs and six interceptions for the year. Following that, Tyler chose to enter the NCAA Transfer portal with three years left of eligibility.
Leaving Oregon
In February of 2021, the athlete announced that he was leaving Oregon University to join Texas Tech University. He was a perfect fit in the team and finished 8-of-15 for 106 yards in the team's spring game.
On week now game against the Houston Cougars, he was the starter. However, head coach Matt Wells recently revealed that Tyler broke his collarbone while playing against the Texas Longhorns.
College Stats
Year
Passing
Rushing
Cmp
Att
Pct
Yds
Y/A
TD
Int
Rtg
Att
Yds
Avg
TD
Career
182
274
66.4
2,575
9.4
22
9
165.3
84
296
3.5
4
Tyler Shough | Personal Life
Coming to the personal aspects of his life, many would surely ponder on this handsome young man's relationship status. Keeping the curiosities in mind, we researched quite a bit on the internet.
And all we ended up finding out was that Tyler is already booked. By that, we mean he is not married, though, but yes, he is happily in a romantic relationship with his girlfriend Jordan Wormdahl.
Like Tyler, even Jordan is an athlete. She plays for the Oregan Ducks soccer team. They must have probably met at the University of Oregan and must have started dating since then. Jordan is available on Instagram as @jordan.wormdahl.
Here is an Instagram post of Tyler, where he has been wishing his girlfriend a happy birthday and also mentioned himself as a huge fan of her.
Other than this, there are no such rumors, hearsay, hook-up stories about him. This surely indicates that Tyle is a one-woman-man.
Keeping his relationship talks aside, Tyler is also a fun-loving and adventurous person. He is often seen roaming around with his best buddy's family on a spontaneous or planned trip.
Here's the screenshot of an Instagram story from his profile where he has been doing the double black flip dare.
Tyler Shough | Net Worth
He is still an aspiring player whose eyes are on the sky and feet are on the ground. However, with his phenomenal performance, there is no doubt that he will also be reaching the heights of success one day.
There are no such details on his net worth and salary given on the internet. So he still has a long way to go. And all we can do is shower him with some good wishes and blessings.
Frequently Asked Questions (FAQs)
Does Tyler still play for Oregon?
No, Tyler recently announced his decision to transfer. With three years of eligibility remaining on February 12, 2020. Although, he had mentioned via his tweet that, "Once a Duck always a Duck."
Moreover, he is the eighth scholarship player at Oregon who has declared a transfer decision. Additionally, he graduated in three years with two degrees.
Tyler Shough | Social Media Presence
Tyler is fairly available on Instagram and Twitter about his social media presence. When it's about delivering information on professional topics, Tyler tweets it.
And if we have to take a glance at his personal life, his Instagram handle will do the honors.
On the other hand, Tyler has updated only seven posts on his Instagram account, which strictly shows that he is not fond of using Instagram.
Feel free to give this fresh young quarterback a follow in the links below.
Instagram– 16.9k Followers
Twitter– 9,248 Followers
Read about Lieke Martens Bio: Football, FC Barcelona, Family & Awards >>
Tyler Shough | FAQs
What is Tyler Shough's career statistic like?
Throughout Tyler's career, he has played fifteen games during which he has maintained nine passing interceptions, 22 passing touchdowns, and 2,575 passing yards. Likewise, he has four rushing touchdowns, a 3.5 rushing average, and 296 rushing yards.