Many athletes are frequently active in improving their communities and participating in raising numerous awareness regarding various issues. Tyrus Thomas is undoubtedly one of those athletes.
Tyrus Thomas is an American former basketball athlete who has played for various teams like Chicago Bulls, Charlotte Bobcats, Iowa Energy, Memphis Grizzlies, and Eisbaren Bremerhaven in NBA and Basketball Bundesliga.
After being drafted in the 2006 NBA Draft as a fourth overall pick, he played professionally from 2006 to 2016.
Following his ten years of career as a professional athlete, he now works as a coach and mental health advocate.
Furthermore, one of Thomas's significant awards of his career was winning the NCAA Atlanta Region MVP honors in the NCAA Tournament after combining 30 points against Texas and Duke.
Likewise, outside his awards regarding basketball, Thomas received a national Nobel Price called the Jefferson Award in 2010.
Moreover, let's get to know more about Tyrus Thomas in-depth. First, here are some of T-Time's quick facts.
Quick Facts
Full Name
Tyrus Wayne Thomas
Birth Date
August 17, 1986
Age
36 Years Old
Birth Place
Baton Rouge, Louisiana
Nickname
T-Time
Religion
Not Available
Nationality
American
Education
McKinley Senior High School, Louisiana State University
Horoscope
Leo
Father's Name
Willie Thomas
Mother's Name
Jessica Thomas
Siblings
Travis Johnson, Brandy Johnson
Height
6'10" (2.08 m)
Weight
225 lbs (102 kgs)
Build
Athletic
Shoe Size
Not Available
Eye Color
Brown
Hair Color
Black
Marital Status
Divorced
Spouse
Jamie Patrice Thomas
Children
One
Profession
Former Basketball Player
Draft
2006
Number
24, 12, 13
Position
Power Forward, Center
Former Teams
Chicago Bulls
Charlotte Bobcats
Iowa Energy
Memphis Grizzlies
Eisbaren Bremerhaven
Net Worth
$25 million
Awards and Achievements
SEC Co-Defensive Player of the Year- 2006
Second-team All-SEC- 2006
SEC Freshman of the Year- 2006
NBA All-Rookie Second Team- 2007
SEC All-Freshman Team-2006
2010 Jefferson Award
Social Media
Not Available
NBA Merch
Not Available
Last Update
May 2023
Early Life, Family & Education
Tyrus Thomas was born on August 17, 1986, in Baton Rouge, Louisiana, to his parents, Willie Thomas and Jessica Thomas. Not much information is available regarding Thomas's parents other than their names.
Likewise, Thomas has two siblings named Travis Johnson and Brandy Johnson.
According to Thomas's birthdate, his zodiac falls under the sun sign of Leo. People with Leo as their sun sign are mostly known for their generous, loyal and confident nature.
Age, Height, and Body Measurements
Furthermore, Tyrus turned [calculate years datestring="08/17/1986″] Years Old in 2023.
He has an athletic body frame and is blessed with an impressive height of 6'10" (2.08 m) and weighs 225 lbs (102 kgs).
Thomas's body stats make him one of the greatest assets for any basketball team. Likewise, he has brown eyes and black-colored hair.
Education
High School
Moving on to Tyrus's educational background, he attended McKinley Senior High School, located in Baton Rouge, Louisiana, for his high school.
During Thomas's freshman year in high school, he only possessed 5'10" as his height, because of which he was not eligible enough to be part of the varsity basketball team.
Later, as a junior, Tyrus reached the height of 6'6″ and started playing for his school's basketball team.
Although he was good at basketball, he didn't have recruiting hype and was never part of the top 100 prospects.
Moreover, after committing to Louisiana State University, Tyrus didn't initially get a scholarship.
However, after one of the recruits was cut off from the scholarship list, Thomas got to Louisiana State University with a scholarship.
Furthermore, as a senior in high school, Tyrus reached the height of 6'7″ and had an average of six blocks per game, 12 rebounds, 16 points. This achievement of his made him part of the All-Second Team title.
Career And Profession
Before diving into Tyrus Thomas's professional career, let's look into his career at Louisiana State University first.
College Career
As Thomas's arrival in college was delayed, he became a redshirted freshman going into Louisiana State University in 2005-2006.
For the team, Tyrus was given the position of starting power forward because of his leaping ability.
Not only his power forward was better, but Thomas also got impressively better in shot blocks, rebounds, and dunks.
Because of Tyrus's impressive skill play, he won the SEC Freshman of the Year honors with an average of 9.2 rebounds, 3.1 blocks, and 12.3 points in 32 games. His shooting from the field was also over 60%.
NCAA Tournament
Furthermore, during the 2006 NCAA Tournament, Tyrus was still recovering from a sprained ankle injury sustained while playing against Kentucky on February 26, 2006.
The injury caused Thomas to miss the SEC Tournament and last the two NCAA regular-season games.
However, the injury did not affect him much, and he continued to play during the regular season.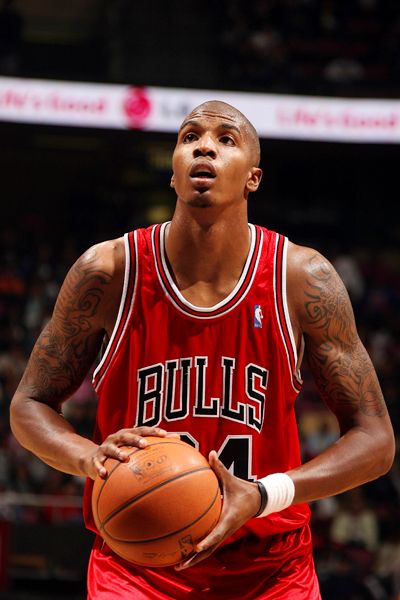 Tyrus's performances during the 2006 NCAA Tournament developed with every game that he played.
Because of his performances, Louisiana State University reached the #4 seed first time after 1986.
Moreover, Thomas's minutes were somewhat restrained by his injury during the first-round tournament against the #13 seeded team Iona and the second-round game against Texas A&M, the #12 seeded team.
Soon Tyrus was back on form during the Louisiana State University's Atlanta Regional semi-final game against the overall top-seeded team Duke.
During the match with Duke University, Tyrus registered 13 rebounds, nine points, and five blocks even after playing for 25 minutes because of an early foul.
Likewise, Tyrus showed even impressive dominant skill play while playing against the #2 seeded team, Texas. During the game, Thomas registered 13 rebounds, three blocks, and 21 points.
While playing against Duke and Texas, his performances made him win the Atlanta Regional's Most Valuable Player honors.
Professional Career
Now let's look into Tyrus Thomas's journey as a professional basketball player. Tyrus announced his plan to enter the 2006 NBA draft on April 17, 2006. As a free agent, all of his college eligibility stats were removed.
Moreover, Portland Trail Blazer drafted Tyrus in the 2006 NBA draft as the fourth overall on June 28, 2006.
Similarly, he was later traded by the Blazers to Chicago Bulls in exchange for LaMarcus Aldridge, the second overall pick during the draft night.
Chicago Bulls
As a rookie, Tyrus appeared in 72 games representing the Bulls in those games, and he had four starts with an average of 1.1 blocks in 13.4 minutes, 3.7 rebounds, and 5.2 points per game.
Furthermore, during the 2006-2007 season, he had a season-high of 11 rebounds and a game-winning 0.2 seconds tip-in while playing against Denver Nuggets on March 22, 2006.
Later, he registered 27 career-high points and eight rebounds while playing against Cleveland Cavaliers on March 31, 2006. Thomas's performances earned him the NBA All-Rookie Second-Team title.
Moreover, Thomas competed in the Sprite Rising Stars Slam Dunk Contest and became the first player from the Chicago Bulls to appear in the Slam Dunk Contest after Scottie Pippen in 1990.
Rest Of The Seasons With Bulls
Likewise, during Thomas's sophomore year, he played in 74 games with 27 starts. During those 74 games, his average was 6.8 points, 1.2 assists, 1.0 blocks, and 4.6 rebounds per game.
Furthermore, while playing the 2007-2008 season's second game against the Philadelphia 76ers, Tyrus recorded 12 rebounds, three blocks, and 21 points.
Similarly, Thomas ended the season strongly with a 14-rebound, 20 points play while playing against the Cleveland Cavaliers, a 24-point play while playing against the Boston Celtics, and a 26-point game while playing against the Toronto Raptors during the season finale.
Moving on to the 2008-2009 season, Tyrus recorded his career-best season in 79 games and had 61 starts.
During those 79 games, his average was 6.4 rebounds, 10.8 points, 1.2 steals, 1.9 blocks, and 1.0 assists.
Moreover, after Tyrus's career-best season, he only played in four games for the Chicago Bulls in the NBA 2009–2010 season as he fractured his forearm on November 6, 2009, during practice.
The team kept him out from playing for four to six weeks. He returned to play off the bench on December 26, 2009, behind Taj Gibson, a rookie player at the time.
Charlotte Bobcats
Furthermore, after representing the Chicago Bulls in the NBA 2009–2010 season, the Bulls traded Tyrus to the Charlotte Bobcats in exchange for a future first-round draft pick and Ronald Murray.
On July 12, 2010, the Bobcats re-signed Tyrus with a five-year deal worth $40 million.
However, the General Manager of the Bobcats, Rich Cho, used the amnesty provision and waived Tyrus out of the team on July 10, 2013, as he didn't bring the best play and attitude expected from him.
While representing the bobcats, Thomas registered his career-high and franchise record of 9 blocked shots on January 25, 2012, while playing against the Washington Wizards.
Iowa Energy And Memphis Grizzlies
Moreover, after being waived by Charlotte Bobcats, an NBA Development League team, Iowa Energy acquired Tyrus on January 13, 2015. During the time, Thomas signed a 10-day contract with the NBA's Memphis Grizzlies on January 22, 2015.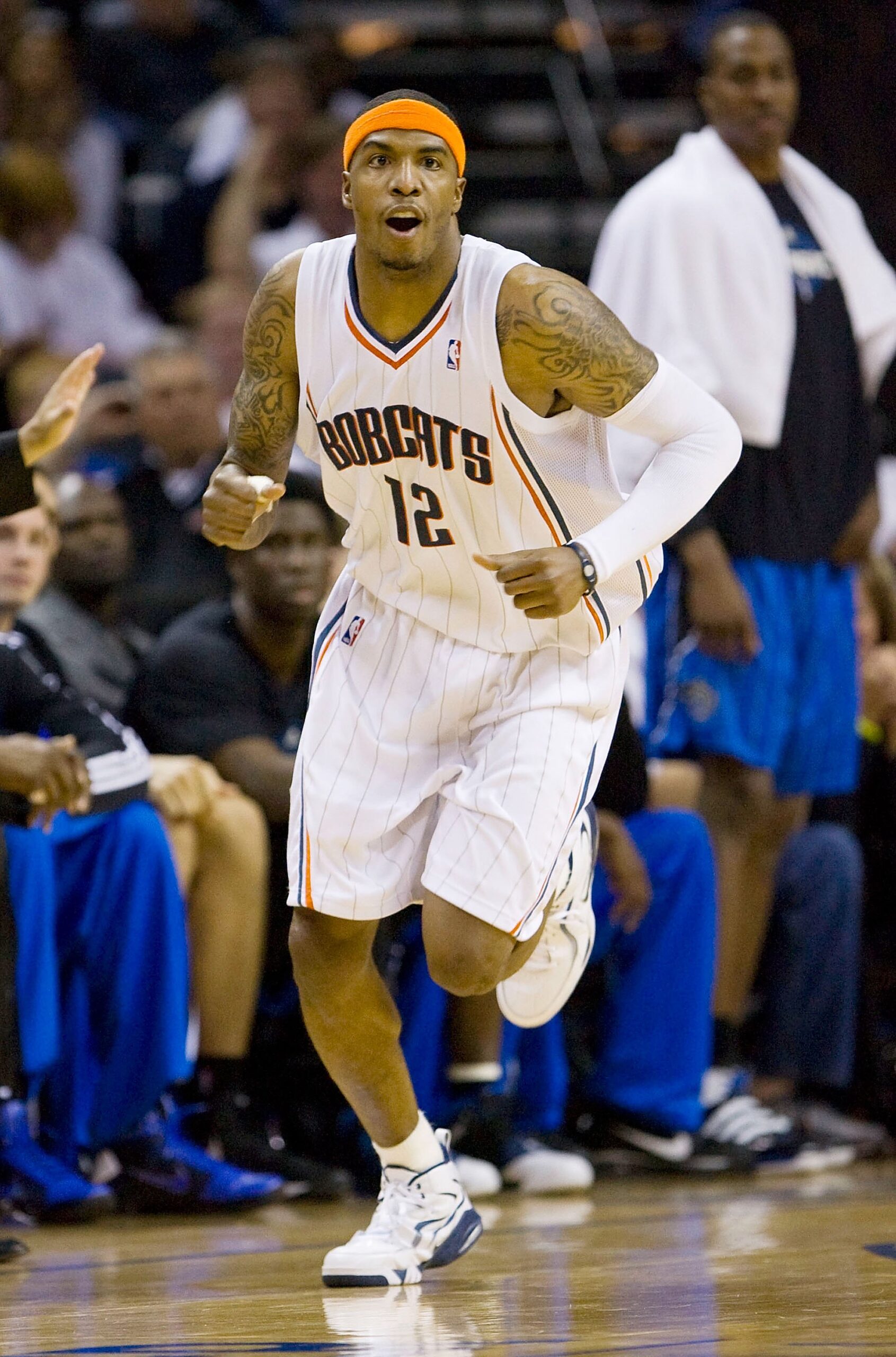 However, the Grizzlies didn't offer a second 10-day contract upon the first contract's expiration on February 1, 2015. Thus, he returned to Iowa Energy after two days.
Germany
Tyrus didn't have much luck in the NBA or the NBA Development League.
Thus, he decided to sign a one-year contract with a German basketball team called the Eisbaren Bremerhaven, which competes in the Basketball Bundesliga on September 4, 2015.
Furthermore, he parted ways from the team upon his contract expiration on February 26, 2016. With Bremerhaven, his average in Bundesliga was 3.4 rebounds and 3.6 points per game.
After his last game at the Bundesliga, Tyrus didn't appear in any games later in NBA or any other tournaments.
Although not much information is available regarding his retirement, we can reasonably assume that he chose to retire from playing professional basketball after his last appearance.
What Is Tyrus Thomas's Net Worth?
Tyrus Thomas was known for his extraordinary abilities as a power forward during his professional career. NBA players' salaries range from $20 thousand to $35 million.
Although Thomas has never revealed anything regarding his career earnings concerning Tyrus's skills, we can state that-
The presumable net worth of Tyrus Thomas falls around $25 million.
Social Media Presence
Thomas is known for being active in improving the betterment of the community. In 2007, he founded the Tyrus Thomas Foundation, a non-profit association dedicated to helping children's lives in Louisiana and other areas.
The association funds recreational and educational programs that target at-risk children.
The foundation distributed more than 2008-09 $30 million in 2006, and for Hurricane Katrina relief, they raised around $44 million.
Moreover, in Chicago, Tyrus won the Chicago Bulls 2009 Charles Lubin Award and 2008-09 CDW/Blackberry Bulls Community Player of the Year honors for his community assistance.
What Happened at Baton Rouge Protests?
Upon returning from Germany in 2016 to his hometown, Thomas got involved with the protests that were happening due to Alton Sterling's death, which police officers shot on July 5, 2016.
The situation worsened, and Tyrus stepped into the case when three police officers were dead, and three were wounded because of the protests.
He planned for his community's betterment and was frequently involved in meetings with council members, police officers, and community leaders.
Tyrus has not revealed anything about his life after his last appearance in the Bundesliga. According to his social media, Thomas now works as a coach and is active as a mental health advocate.
Wife And Children
Tyrus married Jamie Patrice in 2011. Although there isn't much information regarding the couple's relationship, it is well presumed that they have already split.
According to Thomas's Instagram, he has a son, but his son's name, age, or mother is unavailable.
What Happened to Tyrus Thomas's Wife?
During a party hosted by Chris Paul and Kaya Jones, Tyrus Thomas's wife and six other people were arrested by the police after a fight broke out.
Reportedly, Jamie Patrice had multiple charges under her name, including an assault with a deadly weapon after she supposedly hit a security guard with her car twice in the club's parking lot and driving while impaired.
The Club's Authorities had to forcefully bring Patrice out of the car after refusing to exit her vehicle.
Social Media Presence
Here are the handles of the former athlete's social media platforms.
Instagram- @iamtyrusthomas
Twitter- @iamtyrusthomas
Interesting Facts About Tyrus Thomas
Apart from basketball and social service activities, Tyrus Thomas is known for his comprehensive tattoo work.
Thomas got his first tattoo when he was only a minor after being introduced to it by his mother.
Frequently Asked Questions (FAQS)
What is Tyrus Thomas' college statistic?
Tyrus Thomas maintains a college statistic of 32 goals, with an average of 12.3 points, 9.2 rebounds, and 1.3 assists. In the meantime, he has a field goal percentage of 60.8% and a free-throw percentage of 65.7%.
What happened between Tyrus Thomas and Paul Silas?
Back in April 2012, head coach Paul Silas and Tyrus Thomas got into a heated argument after the team's loss to the Boston Celtics. According to Adrian Wojnarowski of Yahoo! Sports, Paul Silas shoved Thomas after a postgame screaming match.
Later, both of them were fined for their actions.