LaMarcus Aldridge is an American professional basketball player who last played as a center/power forward for the Brooklyn Nets of the National Basketball Association (NBA).
The Dallas born was drafted in the 2006 NBA draft by the Chicago Bulls, and since then, he has played for Portland Trail Blazers, San Antonio Spurs, and Brooklyn Nets.
Despite growing up as a football enthusiast, he became one of the greatest basketball players.
Like him, his father and brother were huge football fans but played basketball.
Aldridge stands out among several names contributing to the game's thrills, changes, and excitement. His attitude and skillsets tell much about his basketball brain and proficiency.
This article delves into his early childhood, family, and professional life. Let's have a deep dive into some more facts about LaMarcus Aldridge.
Quick Facts
Full Name
LaMarcus Nurae Aldrige
Known As
LaMarcus Aldrige
Birthdate
July 19, 1985
Birthplace
Dallas, Texas
Nationality
American
Religion
Christianity

Horoscope
Cancer
Age

37 Years Old

Father's Name
Marvin Aldridge
Mother's Name
Georgia Aldridge
Sibling
1
Sibling's Name
LaVontae Aldrige
Education
University of Texas, Austin
Relationship Status
Unmarried
Girlfriend
Chelsy McDaniel
Children
2
Height
6'11″/2.11 m/211 cm
Weight
113 kg/250 lb.
Build
Athletic

Eye Color
Black
Hair Color
Black

Profession
Professional Basketball Player

Position
Power forward / Center
Playing For
Brooklyn Nets
NBA Draft
2006
League
NBA
Career Highlights and Awards

Big 12 Defensive Player of the Year (2006)
Third-team All-American – NABC (2006)
Second-team Parade All-American (2004)
McDonald's All-American (2004)
Big 12 All-Defensive Team (2006)
First-team All-Big 12 (2006)
NBA All-Rookie First Team (2007)
3 times All-NBA Third Team (2011, 2014, 2016)
2 times All-NBA Second Team (2015, 2018)
7 Times NBA All-Star (2012–2016, 2018, 2019)

Salary
$2.6 million (Previous Salary)
Net Worth
$40 million
Social Media
Instagram, Twitter
Merch
Rookie Card
Last Update

March 2023
Early Life, Family & Education
LaMarcus Aldridge was born to Marvin and Georgia Aldridge, both football fans, on July 19, 1985. His father, a high school basketball player, and his older brother, LaVontae, also instilled a passion for the game.
In addition, Aldridge's cousin, Marlon Hairston, is a midfielder for the Columbus Crew SC of Major League Soccer.
His father had drinking difficulties, which resulted in him being kicked from the house.
In fourth grade, Aldridge started playing competitive basketball. LaVontae Aldridge, Aldridge's older brother, taught him the fundamentals of basketball.
Aldridge went to the University of Texas at Austin. He declared his name for the NBA draft in 2004 but later withdrew his name.
Shaquille O'Neal convinced Aldridge to attend college rather than pursue the pro ranks straight from high school.
However, when his second year with the Longhorns ended in April 2006, Aldridge entered the 2006 NBA draft forgoing his two years of college.
Career
High School & College Career
Aldridge enrolled at the Seagoville High School, where he was a second-team Parade All-American and the TABC Class 4A Player of the Year.
He was considered a five-star recruit by Rivals.com and was ranked as the nation's no.4 best center and no.16 player in 2004.
Going into his college, Aldridge played for the University of Texas and played two seasons. He ended his college career playing 53 games, recording 13.5 points, 0.6 assists, 1.8 blocks, and 8.2 rebounds per game.
NBA
Portland Trail Blazers (2006–2015)
The Chicago Bulls drafted Aldridge second overall in the 2006 NBA draft, but his right was traded to the Portland Trail Blazers for their pick, Tyrus Thomas and Viktor Khryapa.
In 2007 Aldridge suffered from plantar fasciitis and was ruled out for a week. After returning, he was able to play effectively, despite having some trouble with his foot.
Earlier in the same year, he was diagnosed with Wolff-Parkinson-White syndrome and missed eight games.
The 2008-09 season was a struggle for him, but he eventually gained momentum and finished the season averaging 18.1 points and 7.5 rebounds.
In October 2009, Aldridge signed a 5-year/$65 million contract extension with the Blazers. His 2008-09 season ended with similar stats to the previous season.
On February 7, 2011, he scored 42 points against the Chicago Bulls. He became the only Blazer to win the NBA Player of the Month honor on March 2.
The 2011–12 season was delayed until Christmas because of the lockout. In 2012, Aldridge was named a reserve for the Western Conference All-Star Team.
The former Blazers power forward recorded 8 assists in a 95-87 loss to the Atlanta Hawks.
He ended the season averaging 21.1 points, 9.1 rebounds, and 2.6 assists per game and was named an All-Star for the second time in his career but missed the playoffs.
In the 2013-14 season, his eighth NBA season, Aldridge had a solid start racking up five consecutive double-doubles.
On November 23, 2013, Aldridge was fined $45k for his involvement in an altercation with then-Warriors center Andrew Bogut.
The small forward became the Trail Blazers' all-time rebound leader with 10 rebounds against the Orlando Magic on March 20, 2015.
Aldridge was named to the All-NBA Second Team after averaging 23.4 points per game and making a league-high 659 field goals.
San Antonio Spurs (2015–2021)
Aldridge joined the San Antonio Spurs on July 9, 2015, and inked a four-year/$80 million contract. Although the Spurs had retired the number 12 for Bruce Bowen, Aldridge was allowed to wear the number 12.
The center recorded 26 points and 14 rebounds in the Spurs' 129–100 triumph over the Golden State Warriors in their season opener on October 25, 2016.
Then, on December 25, he had his greatest game in a 119-10 win against the Bulls as he logged a season-best 33 points, his second-highest scoring effort as a Spur.
Aldridge signed a 3-year/$72.3 million contract with the Spurs on October 16, 2017, with only $7 million guaranteed in the final year.
In a 97–78 defeat to the Philadelphia 76ers, the former Spurs got his 7,000th career rebound, making him the NBA's only player with 16,000 points and 7,000 rebounds since joining the league in 2006.
The power forward had 21 points and 19 rebounds in a 112–108 victory over the Minnesota Timberwolves in their season opener on October 17.
Then, in a 143–142 overtime win over the Los Angeles Lakers on October 22, he scored 37 points and 10 rebounds.
Aldridge picked up his 8,000th career rebound in a contest against the Warriors. Since 2006, he became the first NBA player to score 18,000 points and grab 8,000 rebounds.
He scored a season-high 39 points in a victory over the Oklahoma City Thunder on November 7, 2019.
The former Spurs underwent an arthroscopic subacromial decompression and rotator cuff debridement on his right shoulder and missed the remainder of the 2019-20 season.
In the 2020-21 season, he missed eight of the final 11 games due to hip and quadriceps injuries. He finished the season averaging 13.7 points and 4.5 rebounds per game.
Brooklyn Nets (2021–2022)
Aldridge agreed to join the Brooklyn Nets on March 28, 2021. In a 111–89 win over the Charlotte Hornets on April 1, he made his Nets debut, scoring 11 points, nine rebounds, and six assists.
The power forward announced his retirement on April 15, citing health problems related to an abnormal heartbeat. But he was back after five months from retirement.
On September 3, 2021, Aldridge was back with the Nets after clearing all the medical tests. He recorded 23 points against the Philadelphia 76ers on October 22.
On October 29, he reached 20,000 career points after scoring 21 points against the Indiana Pacers.
Relationship And kids
The 37-year-old basketball player from the United States is potentially single and likes to keep his personal life away from the media.
LaMarcus admitted that he had a relationship with Chelsy McDaniel. During that period, they could never be on the same page and eventually broke up.
Aldridge had his first son, Jaylen Lea Aldridge, with his McDaniel in 2009.
In 2011, he had his second son, LaMarcus Jr. There is no information about the mother of his second child.
Net Worth
LaMarcus Aldridge's earnings are calculated based on his contracts while playing for various teams in the NBA.
The center/power forward is estimated to have a net worth of around $40 million as of 2023.
His rookie contract with the Blazers was worth $8.36 million. After his contract extension with the Blazers on July 9, 2015, Aldridge pocketed a maximum of $15.25 million in the 2014-15 season.
The former Blazers center signed a $50 million deal with the Spurs and earned $24.37 million in the 2019-20 season.
In the 2021-22 season with the Nets, he earned around $2.6 million. With this, his career earning totaled about $213 million.
In addition, he had a slew of endorsement deals and affiliations with major corporations that enabled him to amass massive sums of money.
Besides, Aldridge has featured in two episodes of Portlandia: season 2 episode 8, "Trail Blazers," and season 4 episode 7, "Women and Women First 10th Anniversary."
Awards & Achievements
Big 12 Defensive Player of the Year (2006)
Third-team All-American – NABC (2006)
Second-team Parade All-American (2004)
McDonald's All-American (2004)
Big 12 All-Defensive Team (2006)
First-team All-Big 12 (2006)
NBA All-Rookie First Team (2007)
3 times All-NBA Third Team (2011, 2014, 2016)
2 times All-NBA Second Team (2015, 2018)
7 Times NBA All-Star (2012–2016, 2018, 2019)
Physical Features
The center/power forward has got an athletic body. To be precise, Aldridge has a towering height of 6 feet 11 inches (2.11 meters) and weighs around 113kg (250 pounds).
Further, Aldridge likes to keep his black hair and beard well-trimmed.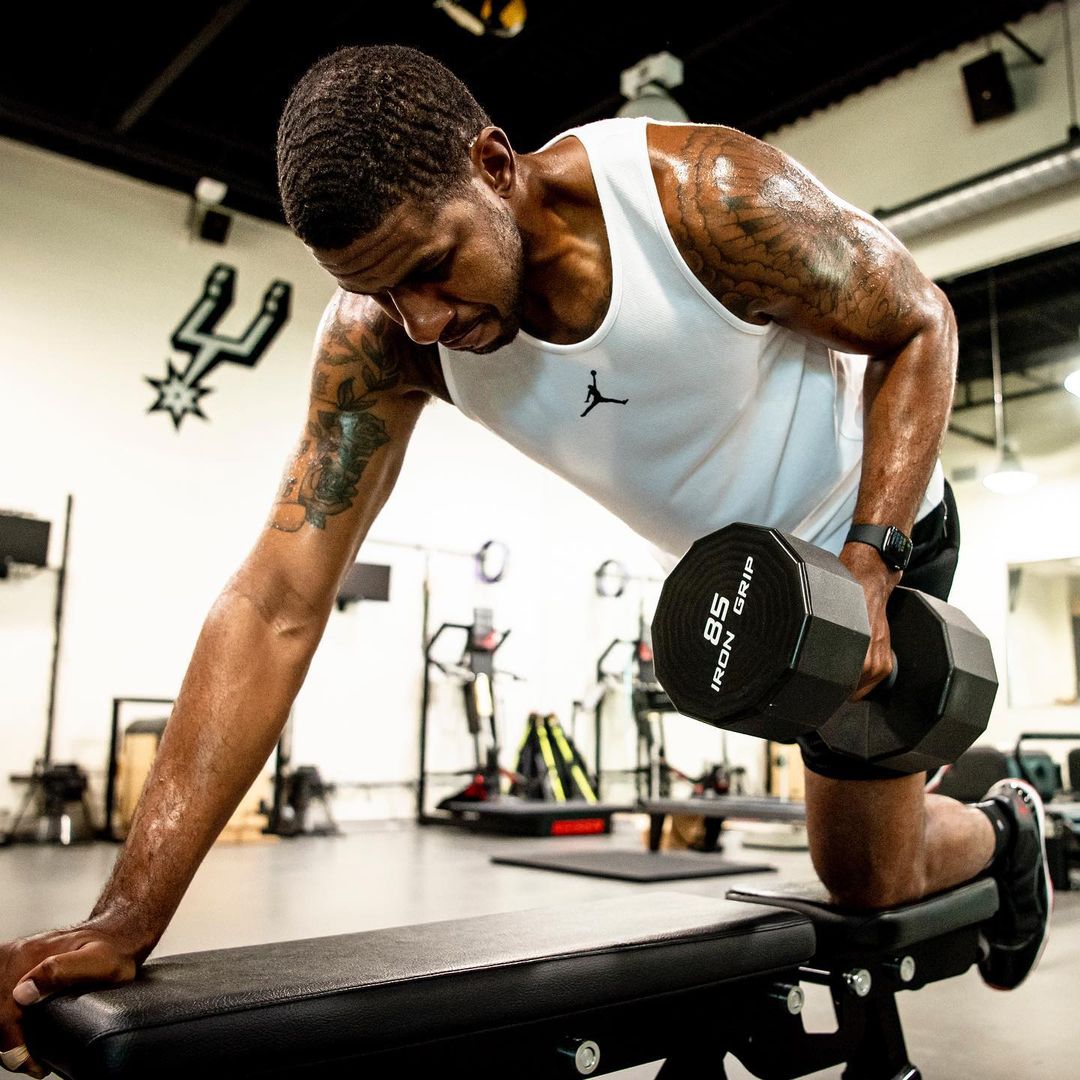 Aldridge is a fan of tattoos and has several on his body. He has a flower tattoo on his right arm.
Health Condition
LaMarcus Aldridge was born with a heart condition. He had mentioned that his heart was not beating when he was born, so the doctors had to do all the medications to keep him alive.
Aldridge was diagnosed with Wolff-Parkinson-White syndrome, a cardiac condition, in 2007. As a result, he missed the rest of the 2006–07 regular season to monitor and cure his situation.
In 2007 Aldridge suffered from plantar fasciitis and missed a week of the game. Aldridge had surgery to repair issues related to his cardiac ailment before the 2011–12 season.
In March 2017, he was ruled out for an indefinite period due to minor heart arrhythmia.
On April 10, 2021, Aldridge had heart issues while playing against the Lakers. He announced his retirement but returned with the Nets after five months.
Due to hip and quadriceps problems, Aldridge missed several games in 2021. In January 2022, he suffered an ankle injury in a game against the Warriors.
Aldridge struggled with injuries since the beginning of his career but never gave up on playing basketball despite having a heart condition, as his passion was greater than the pain.
Social Media Presence
LaMarcus is a social media guy who keeps his fans updated by posting regularly on his social media handles.
He is available on Instagram under the handle @aldridge_121 and Twitter @aldridge_12.
Instagram: 372k followers
Twitter: 733.8k followers
Popularity
Being drafted as the 2nd overall pick and making several records, LaMarcus has gained several fans along his NBA journey.
The above graph gives brief information about the popularity of LaMarcus Aldridge based on Google searches in the United States over a year.
Frequently Asked Questions (FAQs)
Is LaMarcus Aldridge still playing basketball?
Aldridge briefly resigned after 15 seasons because of a heart problem but returned to play with the Nets after five months of retirement.
Is Aldridge a Hall of Famer?
No, the 7-time NBA All-Star is yet to be inducted into the Hall of Fame.
Does LaMarcus Aldridge have a ring?
LaMarcus Aldridge has not won any championships in his career.