Terry Pegula has amassed a total net worth of $6.8 Billion. With his wife, Kim Pegula, he took his ventures from the oil industry to the sports industry.
Billionaire Terry Pegula is an esteemed personality and the owner of the Buffalo Sabres and the Buffalo Bills.
Along with his wife, he operated Pegula Sports and Entertainment, which was dissolved in 2023.
Furthermore, Terry recently made headlines for inappropriate racist remarks and has a lawsuit filed against him.
Terrence Michael Pegula is a 72-year-old businessman from Carbondale, Pennsylvania.
He has made a fortune from gas drilling, hydraulic fracturing, and various other investments.
The Buffalo Bills president comes from a humble background; his father was a simple truck driver and coal miner.
But Terry always had big dreams, and he attained them through his expertise in science.
Terry attended Penn State University, where he completed a Bachelor of Science and specialized in petroleum and natural gas engineering.
Terry Pegula Net Worth: His Involvement In Sports Alongside Wife Kim Pegula
After working for Getty Oil for some time, Pegula founded his own natural gas drilling company, East Resources. He then sold the major assets of the company to Shell plc and other companies.
Similarly, he has other sorts of investments in real estate and music labels, craft beer, and consulting services. However, his most significant ownership is in the sporting world.
According to Forbes, Terry Pegula sits on top of a massive net worth of $6.8 Billion as of 2023.
Terry Pegula And Wife Kim Pegula: One Buffalo
Kim Pegula is the second wife of Terry and also an essential partner in his business ventures. The two got married back in 1993 and have an age gap of 18 years.
Kim is of Asian heritage and has been with Terry since his days at East Resources.
In 2011, Terry made his first investment in his sports venture by purchasing the Hockey Western New York LLC, and with that, he became the owner of Buffalo Sabres.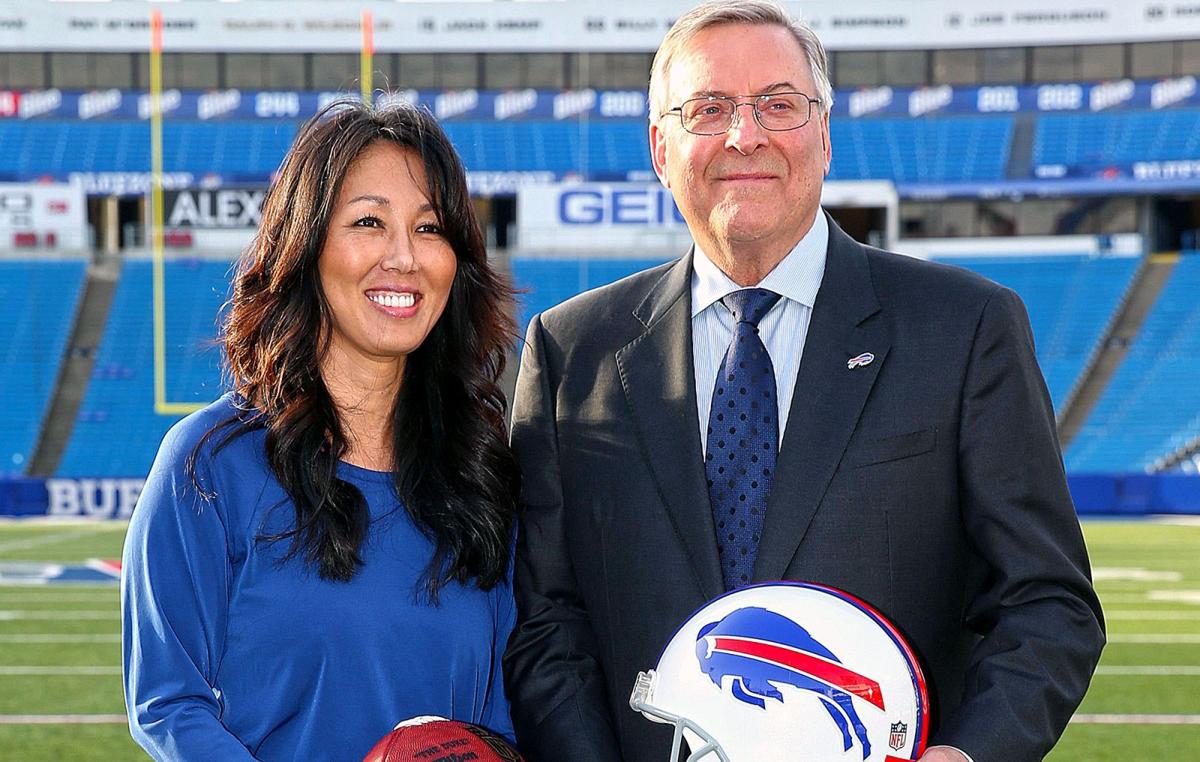 Furthermore, in 2014, the American businessman made another big purchase, this time in the NFL.
He bought the Buffalo Bills after outbidding investors like Donald Trump and Jon Bon Jovi.
In addition to the two big teams, the Pegulas have also invested in other teams. For instance, the Buffalo Bandits in Lacrosse, the Rochester Americans of the AHL, and the Buffalo Beauts of the National Women's Hockey League.
Moreover, using their marketing campaign's name, Terry launched a "One Buffalo" craft beer partnering with Southern Tier Brewing Company.
Terry Pegula Recent Controversy
The Bill's Boss is grabbing headlines for some distasteful remarks he made, specifically toward the African community.
Journalist Jim Trotter has filed a lawsuit against Terry Pegula, alleging him of making racist comments. The suit also includes the name of the Dallas Cowboys owner, Jerry Jones.
Moreover, Trotter claims Pegula said, "If the Black players don't like it here, they should go back to Africa and see how bad it is."
The statement came in 2020 when there was a country-wide protest against racial injustice and police discrimination against the Black community.
Terry Pegula has since denied all the allegations and said, "Racism has no place in our society, and I am personally disgusted that my name is associated with this complaint."
Frequently Asked Questions (FAQs)
1. What Is The Net Worth Of Terry Pegula?
The American businessman is reported to have a net worth of around $6.8 billion.