Marcos Giron's parents Andres, and Rosanna Giron, separated when he was 21. The former couple comes from a Spanish heritage.
The tennis player has previously talked about how his parent's separation affected him during an interview. But the athlete continues to share a strong bond with both of them.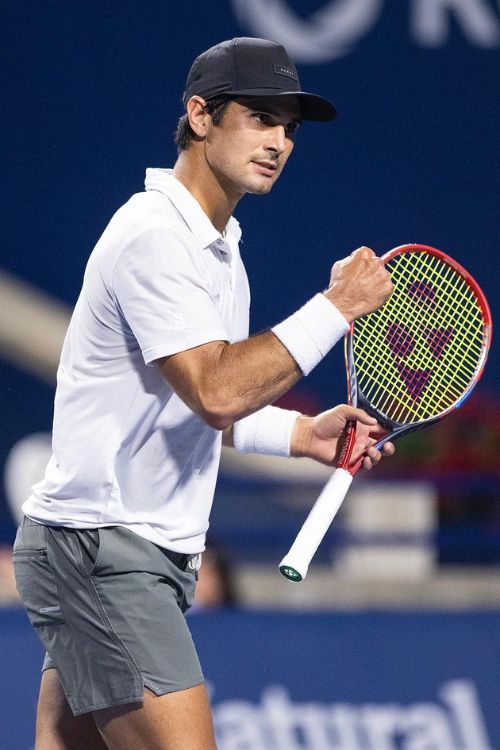 The American tennis player also has a sister, Gabriela, who has always supported his tennis career. The former UCLA graduate turned professional in 2014 but is yet to win his first title.
And he had the chance of doing so in the Canadian Open after upsetting world No.6 Holger Rune, but couldn't keep up the momentum. The world No.70, Marcos lost out to fellow American Tommy Paul 6-3 and 6-2.
Marcos Giron Parents, Andres, And Rosanna Giron
Marcos Giron's parents, Andres and Rosanna Giron raised two kids in Thousand Oaks, California. But Andres and Rosanna have already gone their separate ways.
In an interview with Behind The Racquet, Marcos shared that his parent's divorce had affected him severely. At the time, Marcos was 21 and said he had always lived a happy-go-lucky life, but receiving a call from his mom saying the divorce was finalized shattered him.
During the time, Marcos was also dealing with his hip injury and was about to go in for an MRI scan before he received the call. His parents' divorce made Marcos question the point of even having a relationship.
After the divorce, his parents were immediately separated, and Marcos divided his time between both his parents. The tennis player has shared a few pictures with his parents on Instagram.
Earlier this year, on Father's Day, Marcos shared an appreciation post for his dad and grandpa. He shared a voice message with encouraging words from his grandfather, who lives in Argentina.
Andres Giron Is A Board Certified Physician
Marcos Giron's father, Andres Giron, has more than two decades of experience in the medical field.
Andres is affiliated with Los Robles Regional Medical Center and works as a specialist for cardiovascular & pulmonary disease. Andres graduated from the University of Buenos Aires and completed his post-graduate training at VA Medical Center-Georgetown University.
On the website US News, Andres has received excellent ratings. He has received five stars for Provider's Follow-Up and Amount of Time Dedicated To The Patient.
Marcos had previously shared a family picture in 2014, which could be right before his parent's divorce. He captioned the post, "Tourist time in NY with the Fam," a picture clicked on top of the Empire State Building.
Marcos has also shared an appreciation post for his sweet mother. He shared a couple of pictures of his mom and captioned the post, "To my OG biggest fan. The real MVP. Happy Mother's Day."
Marcos Giron Sister, Gabriela Giron
Marcos Giron's sister, Gabriela Giron, was one of the people the tennis player leaned into after his parent's divorce.
In his interview, Marcos shared that his sister Gabriela and his girlfriend were the ones who helped him get through the crucial time. The two have a strong sibling bond, with Marcos saying his first tennis memory is with his sister at Cal-Lutheran University.
Gabriela is available on Instagram with the username @gabigailsaunters but hasn't shared a single post where she has shown her face. She loves to take pictures of the places she travels to and also that of her her husky, Walter.
But her friends have tagged her in a few posts, where we can see her enjoying her outings. One of the posts also shows Gabriela with her brother, with her friend clicking a selfie. Whenever she has time, Gabriela attends her brother's tennis matches and has previously shared a photo at his game.