Trent Frederic parents, Gaye and Bob Frederic have gained recent attention as their son has risen to fame as an NHL player.
Trent Frederic is a professional ice hockey forward for the Boston Bruins in the NHL, hailing from St. Louis, Missouri, and was a fan of the St. Louis Blues.
Frederic played three sports in his childhood, all of which were coached by former professionals. His favorite players growing up were Keith Tkachuk and David Backes.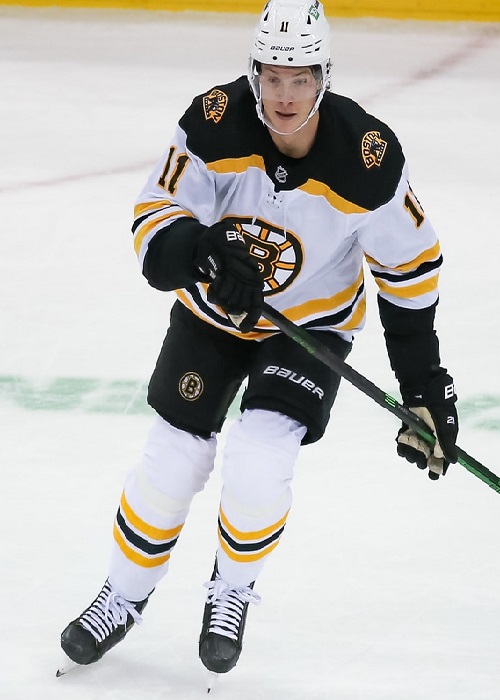 He was recruited by the USA Hockey National Team Development Program in 2013, where he spent two years playing in international tournaments.
He then committed to joining the Wisconsin Badgers college ice hockey program for their 2016-17 season.
During his two seasons at Wisconsin, Frederic scored 15 and 17 goals, respectively. Nevertheless, the Badgers lost the Big Ten Conference championships both years.
Frederic left Wisconsin after his sophomore year and signed with the Boston Bruins.
He had 11 scoreless outings before being sent back down to the Providence Bruins of the AHL. While there, he managed to accumulate 32 AHL points by the time the 2019-20 season ended due to the COVID-19 pandemic.
Trent Frederic Parents: Gaye And Bob Frederic
Gaye and Bob Frederic are the parents of Trent Frederic, a professional ice hockey player in the NHL.
They played a significant role in Trent's early development as an athlete, given their background as former professional coaches.
As the parents of professional athletes, they have unique insights into the challenges and rewards of raising a child in the world of competitive sports.
Gaye and Bob Frederic are active members of the St. Louis community, given their deep roots in the area and Trent's status as a local sports hero.
Trent Frederic Siblings
Trent Frederic has two older brothers named Grant and Gene and one elder sister K.C. (real name unrevealed).
The Frederic family consists of two hockey players, as elder brother Grant also plays hockey.
While Trent played with the US national team, Grant played for the Green Bay Gamblers, and the two would often face each other.
Grant played four years of college ice hockey for the Miami RedHawks before signing with the Adirondack Thunder of the ECHL in 2020.
Trent Frederic has credited his older brother Grant for playing a significant role in his development as a hockey player.
On the other hand, brother Gene played football for the University of Memphis, while his older sister K.C. played volleyball for Oregon State University.
The entire family actively supports each other in their sports careers and other endeavors, with a shared passion for athletics.
According to Trent, they would travel to Florida, visit the beach, and engage in a large-scale football game. It was quite competitive, and if someone lost, there would be a fight at the conclusion.
As a result, he played football, baseball, and hockey growing up due to his competitive nature and the influence of his family.