Yainee Alonso is the wife of six-time MLB All-Star and San Diego Padres third baseman and shortstop Manny Machado. They tied the knot in December 2014 after dating for almost two years.
By now, most of you would have heard about Manny's professional career, and he is currently playing for the San Diego Padres of Major League Baseball (MLB).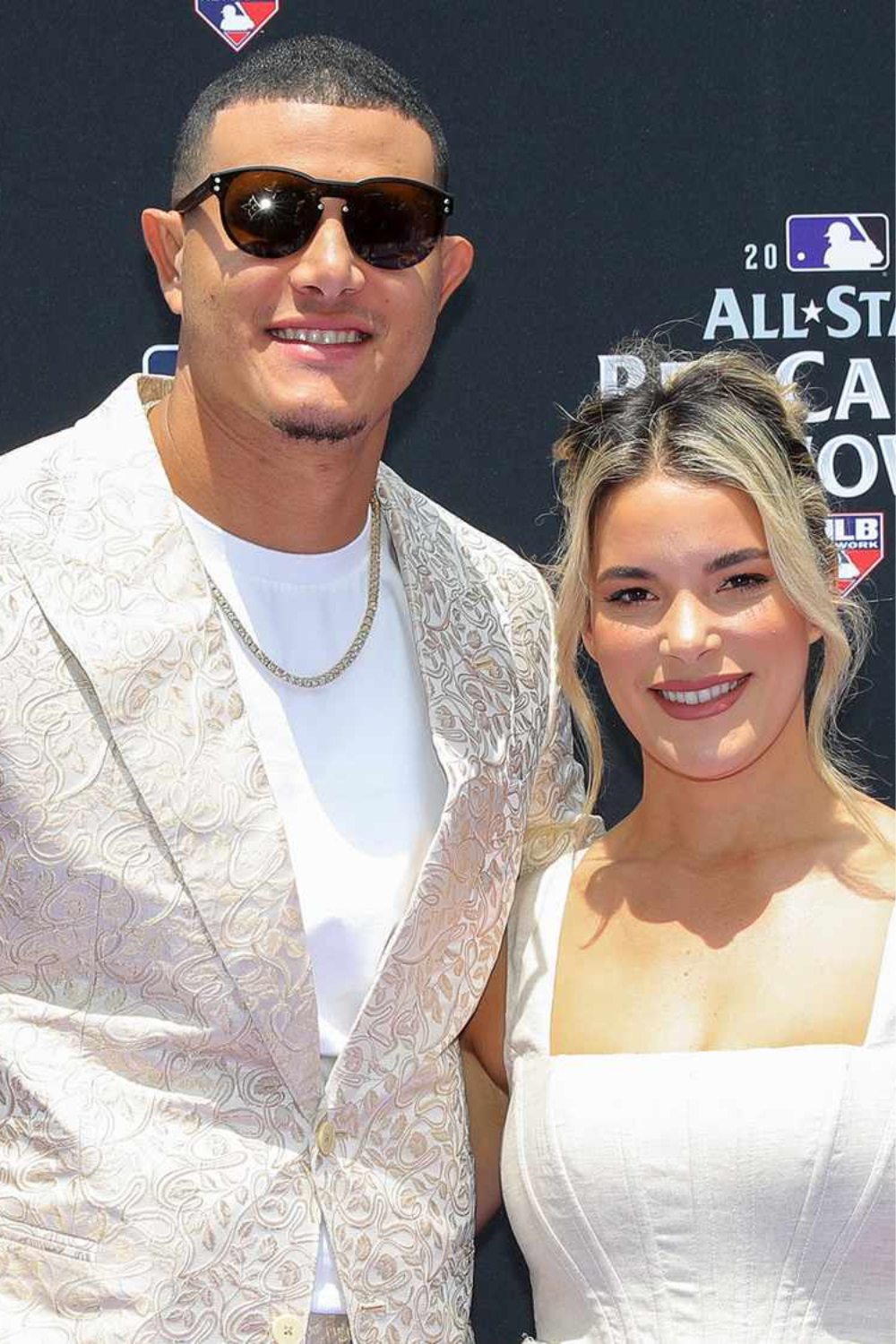 However, not many would have heard about Machado's lesser know better half, Yainee.
Thus, this article's main motive is to inform our dear viewers about Alonso's early life to her present days as Mrs. Machado.
As of 2022, Yainee Alonso's husband is estimated to have a net worth of around $50 million.
You will also find details on her age, nationality, horoscope, net worth, family, and social media. So, let's start by having a look at some quick facts.
Yainee Alonso | Quick Facts
| | |
| --- | --- |
| Full Name | Yainee Alonso |
| Birth Date | November 24, 1990 |
| Birth Place | Havana, Cuba |
| Nick Name | Not available |
| Religion | Christian |
| Nationality | Cuban-American |
| Ethnicity | N/A |
| Education | University of Miami |
| Horoscope | Sagittarius |
| Father's Name | Luin Alonso |
| Mother's Name | Damarys Alonso |
| Siblings | Brother: Yonder Alonso |
| Age | 32 Years Old |
| Height | 5'9″/1.75 m/ 175 cm |
| Weight | 58 kg/128 lb. |
| Shoe Size | N/A |
| Hair Color | Blonde |
| Eye Color | Dark Brown |
| Body Measurement | N/A |
| Build | N/A |
| Married | Yes |
| Boyfriend | No |
| Spouse | Manny Machado (2014 – Present) |
| Children | No |
| Profession | N/A |
| Business | N/A |
| Net Worth | $50 million (Manny Machado) |
| Salary | N/A |
| Social Media | Manny Machado's Instagram |
| Shoes | Not Available |
| Last Update | March, 2023 |
Yainee Alonso | Early Life, Family & Brother
Yainee Alonso was born to her parents, Luin Alonso and Damarys Alonso, on 24 November 1990, in Havana, Cuba.
Although born in Cuba, Yainee spent most of her childhood in the U.S. after her parents migrated to the country.
Other than that, there is not much information about her childhood. However, we did find out that Yainee went to the University of Miami, where she graduated with a degree in psychology.
Additionally, she was also a cheerleader for the Miami Hurricanes cheerleading team.
Yonder Alonso
Yainee Alonso grew up alongside her elder brother Yonder Alonso. Yonder is the former professional baseball first baseman of Major League Baseball (MLB). His father taught him how to play baseball at a young age.
Furthermore, Yonder has played for Cincinnati Reds, Oakland Athletics, San Diego Padres, Seattle Mariners, Cleveland Indians, Chicago White Sox, and Colorado Rockies in his baseball career.
In April 2021, he joined the MLB Network's roster of on-air personalities as an analyst.
Yainee Alonso | Career ( Manny Machado)
Yainee is a pre-med graduate however there is nothing on the internet regarding her career. Hence, we are sad that you guys will have to wait until Alonso reveals what she does for a living.
On the contrary, as expected, there is a vast amount of detail on her husband, Manny Machado's career.
Manny is one of the best players in the MLB, with six All-Stars (2013, 2015, 2016, 2018, 2021, and 2022), two time All-MLB First Team (2020, 2022), and two Gold Glove Awards (2013, 2015) to his name.
Moreover, Alonso's beau made all the headlines in 2019 when he signed a 10-year $300 million contract with the San Diego Padres.
Although many people might disagree with the deal, we, on the other hand, wholeheartedly believe that Machado deserves every penny because of his outstanding performances year in and year out.
During his eight-year stint in the MLB, Manny has played for Baltimore Orioles, Los Angeles Dodgers, and San Diego Padres.
Likewise, Yainee's spouse has a batting average of .279 with 207 home runs and an RBI of 598.
Yainee Alonso | Age, Height & Horoscope
At the time of writing, Alonso is [calculate years datestring="11/24/1990″] years old.
But, judging by her looks, Alonso might as well call herself a teenager because the beautiful blonde has not aged a bit.
Likewise, the [calculate years datestring="11/24/1990″]-year-old is Cuban-American. She was born in Havana, which is the capital of Cuba, but moved to the U.S as a six-year-old kid.
Yainee is 5 feet 9 inches (1.75 m) tall and weighs around 58 kg (128 lb.).
Moving onto her horoscope, this Cuban bombshell was born on the 24th day of November. As a result, she is Sagittarius.
Moreover, people who fall under the sign of Sagittarius tend to be optimistic, honest and intellectual.
Yainee Alonso | Net Worth & Salary
Talking about Yainee's net worth, there is not much information regarding her salary and fortunes. However, her husband, Manny Machado, who plays as a third baseman and shortstop for the San Diego Padres, has an incredible net worth of $50 million.
Moreover, on February 21, 2019, Machado signed a 10-year $300 million deal with the Padres.
In doing so, Manny broke the record for the largest free-agent contract in U.S. sports history.
Sadly, the record lasted two weeks as Bryce Harper signed a 13-year $330 million in March 2019.
As per the deal, Yainee's husband brings home around $30 million every year. As a result, we believe that the couple will live their life king-size for the rest of their lives.
Learn About Vince Carter Net Worth: Stats, Contract, Age, Retire, Salary, Kids Wiki>>
Yainee Alonso | Manny Machado & Marriage
Currently, Alonso is happily married to her beau, Manny Machado. Moreover, the couple met through Yainee's brother, Yonder, who also plays in the MLB.
Manny approached his wife's brother for permission to date her. Now, that's what we call a gentleman.
After that, the two lovers spent a while getting to know each other before tying the knot in a spectacularly lavish ceremony in December 2014 in France.
Since then, the love between the pair has grown significantly, as Manny often post pictures of themselves in exotic locations on his social media.
Not to mention, back in 2016, Manny tattooed Yainee's face on his right arm. Indeed, what a way of depicting love!
Does Manny Machado And Yainee Alonso Have A Kid?
Sadly, Manny Machado and Yainee Alonso don't share any children. However, it seems like the duo wants to wait for the right time to raise their child.
Well, whatever the reason, we here at Playersbio fully respect their decision and wish them good fortune in their future endeavors.
If there is any information regarding it in the future, we will surely update you guys about it here.
Yainee Alonso | Social Media Presence
Currently, Yainee Alonso is not active on social media accounts like Facebook, Instagram, and Twitter.
Therefore any new updates and information can only be found on her husband's official Instagram account @machados13.
Instagram: 778k followers
View this post on Instagram
Yainee Alonso | Popularity
Being married to a popular MLB player automatically get you enormous attention from the sports followers. Yainee also got popular after getting married with Manny Machado.
The above image show the fluctuating popularity of Yainee in the United States over a year.
Yainee Alonso | Some FAQs
Are Yainee Alonso and Yonder Alonso related?
Yes, Yainee Alonso and Yonder Alonso are siblings. For those who don't know, Yonder is the former professional baseball first baseman of Major League Baseball (MLB).
Who is Manny Machado's wife?
Yainee Alonso is the wife of professional baseball third baseman Manny Machado.
Also Check Out Rece Mitchell Bio: Drake, Net Worth, Lou Williams, Sister, Baby, Age Wiki>>