Yuta Watanabe is a legend in his own right who came from Japan and rose to prominence in the NBA with players like Rui Hachimura.
The defensive connoisseur Yuta Watanabe is a Japanese professional basketball player for the Brooklyn Nets.
Watanabe is the first Japanese-born student-athlete to ensure an NCAA Division I basketball scholarship. Further, he was named the Atlantic 10 Defensive Player of the Year in 2018.
Indeed, his resilience, hustle, and basketball IQ are the defining traits during the games. Also, Watanabe has been praised for being continuously in motion and consistently on both courts' ends.
Discover more captivating information about the Japanese professional basketball player Yuta Watanabe. Before that, look at the quick facts illustrated below.
Quick Facts
Full Name
Yuta Watanabe
Birth Date
October 13, 1994
Birth Place
Yokohama, Japan
Nick Name
The Chosen One
Religion
Unknown
Nationality
Japanese
Ethnicity
Asian
High School

Jinsei Gakuen, Japan
St. Thomas, Oakdale, Connecticut

College
George Washington (2014–2018)
Horoscope
Libra
Father's Name
Hideyuki Watanabe
Mother's Name
Kumi Kubota
Siblings
Yuki Watanabe (Sister)
Age

28 Y

ears Old
Height
6'9"/2.03 m/203 cm
Weight
98 Kg/215 lb.
League
NBA
Hair Color
Black
Eye Color
Brown
Body Type
Athletic
Profession
NBA Player
Professional Career Teams

Memphis Grizzlies (2018–2020)
Toronto Raptors (2020–2022)
Raptors 905 (2022)
Brooklyn Nets (2022–Present)

Draft In
2018/Undrafted
Jersey No.
18 (For Toronto Raptors)
Active Years In Basketball
2018-Present
Sexual Orientation
Straight
Marital Status
Engaged (May 26, 2022)
Girlfriend
Akiko Kuji
Kids
No
Net Worth
Between $1 Million-$5 Million
Position
Small Forward/Power Forward
Social Media
Twitter, Instagram, Facebook
Merch
Signed Poster
Last Update

June 2023
Early Life & Family
The Japanese defensive star Watanabe was born in Yokohama, Kanagawa, Japan. Watanabe grew up in Miki, Kagawa. Yuta holds Japanese nationality and belongs to the Asian ethnicity.
His family has a vast history in basketball. His mother is Kumi Kubota; she played basketball for the Chanson V-Magic and Japan's women's national team.
Likewise, his father, Hideyuki Watanabe, played professionally for the Kumagai Gumi Bruins. Watanabe's sister, Yuki, had played with the Aisin AW Wings.
In 2018, his sister retired from basketball and took up coaching as her career path for the junior high school team.
In childhood, he considered Los Angeles Lakers his favorite NBA team and adored Kobe Bryant.
Age, Height & Weight
Watanabe was born on October 13, 1994, and is 28 years old.
His height is 2.03 m, and he weighs about 215 lb. Indeed, Watanabe has maintained an athletic body and strength.
Basketball Career
High School Career
Yuta Watanabe enrolled at Jinsei Gakuen High School in Kagawa. Watanabe headed the basketball team to the All Japan High School Basketball Tournament runner-up position there.
In 2013, he attended St. Thomas More Preparatory High School in Oakdale, Connecticut, where he averaged 13 points and six rebounds.
He assisted the team in surpassing a 26-8 overall record and helped to reach the National Prep Championship game.
In January 2014, Watanabe scored 12 points against Suffield Academy in his first annual National Prep School Invitational appearance. Similarly, he scored 20 points and six rebounds in a 70-61 win against Canarias Basketball Academy from Spain.
He was named to the National Prep School Invitational All-Tournament Team. Also, he earned New England Preparatory School Athletic Council, Class AAA First Team All-League honors.
Additionally, he earned "the Chosen One" by The Japan Times.
Therefore, Watanabe was rated a 77- three-star recruit by ESPN Recruiting Nation and valued with a three-star rating by Scout.com.
College Career
In 2014, Watanabe attended George Washington University as a freshman.
Watanabe became the first Japanese-born player to be provided an NCAA Division I basketball scholarship.
After enrolling at George Washington, renowned newspapers like The New York Times and The Washington Post published his featured profiles.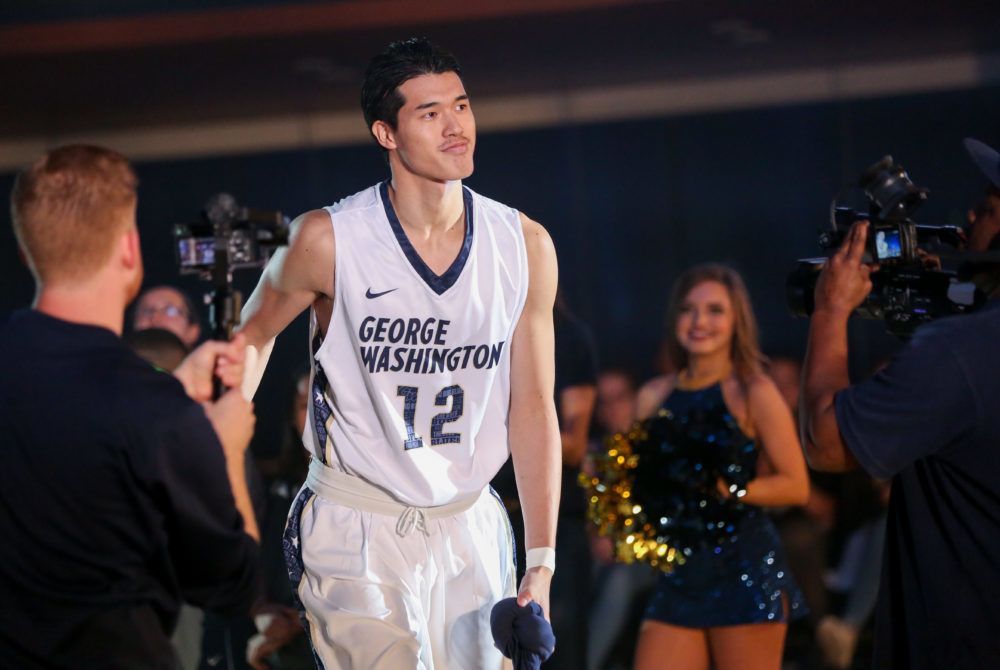 In November 2014, Watanabe debuted for George Washington and scored eight points, seven rebounds, and a block in 20 minutes of action against Grambling State. Indeed, it was the team's most prominent 92-40 wins since 1999.
Thus, in December 2014, Watanabe was named Atlantic 10 Rookie of the Week, where he averaged 9.0 points and 4.7 rebounds and helped the team to victory in the 2014 Diamond Head Classic crown.
As a freshman, Yuta scored a career-high 21 points and seven 3-pointers against Massachusetts on March 7. At the same time, Watanabe earned his second Atlantic 10 Rookie of the Week honor.
Therefore, he became the first player to earn multiple Rookie of the Week awards in the same season since Lasan Kromah amassed three in 2009-10.
Junior Team
In November 2016, Watanabe scored his first double-double and added 13 points and 12 rebounds in a 77-75 win against Siena.
Further, he became a second-leading scorer at George Washington, averaging 12.2 points per game. Thus, he was named to the Atlantic 10 All-Defensive Team.
Senior Team
Yuta Watanabe scored a career-high 13 rebounds against Rider in November 2017.
Likewise, he scored a career-high five steals against Morgan State on November 29. Then, Watanabe scored career-high 31 points in a 72-56 victory over Fordham in the final game.
Thus, he was named the Atlantic 10 Defensive Player of the Year. Indeed, he became the first Colonial to win the award.
Moreover, he earned the Atlantic 10 All-Third Conference Team and Atlantic 10 All-Defensive Player of the Year.
In summary, Watanabe's career with George Washington was remarkable; he was rewarded and appreciated for his abilities and performance.
Professional Career
Memphis Grizzlies
Watanabe was undrafted in the 2018 NBA Draft, then played for the Brooklyn Nets in the 2018 NBA Summer League.
Later, he signed a two-way deal with Memphis Grizzlies. He debuted in October 2018, averaging 2 points and 2 rebounds off the bench against Phoenix Suns.
Therefore, he became the second Japanese player to play in the NBA after Yuta Tabuse. Moreover, Watanabe spend most of his season playing in the G League with Memphis Hustles.
In the 2020-21 season of the NBA G League, Watanabe averaged 14.2 points, 7.2 rebounds, 2.6 assists, and 1.1 assists in 32 of 33 games.
In January 2020, Watanabe scored a team-high 28 points on 12 of 19 field goal shooting and 2-of-4 from three and added 7 rebounds, 4 blocks, 2 assists, and 2 steals in the Memphis Hustle's 130-126 victory against Iowa Wolves.
Therefore, Watanabe was named Midseason All-NBA G League for the Western Conference.
Toronto Raptors
Watanabe signed a contract with the Raptors to recruit their pre-season roster on December 19, 2020.
He debuted for Toronto Raptors on December 31, recording four rebounds, an assist, a block, and a steal in nine minutes of action in a victory against the New York Knicks.
Then, in January 2021, he scored a career-high 12 points on 80.0 percent shooting from the field from off the bench and added 6 rebounds, 2 assists, and 2 steals against the Sacramento Kings.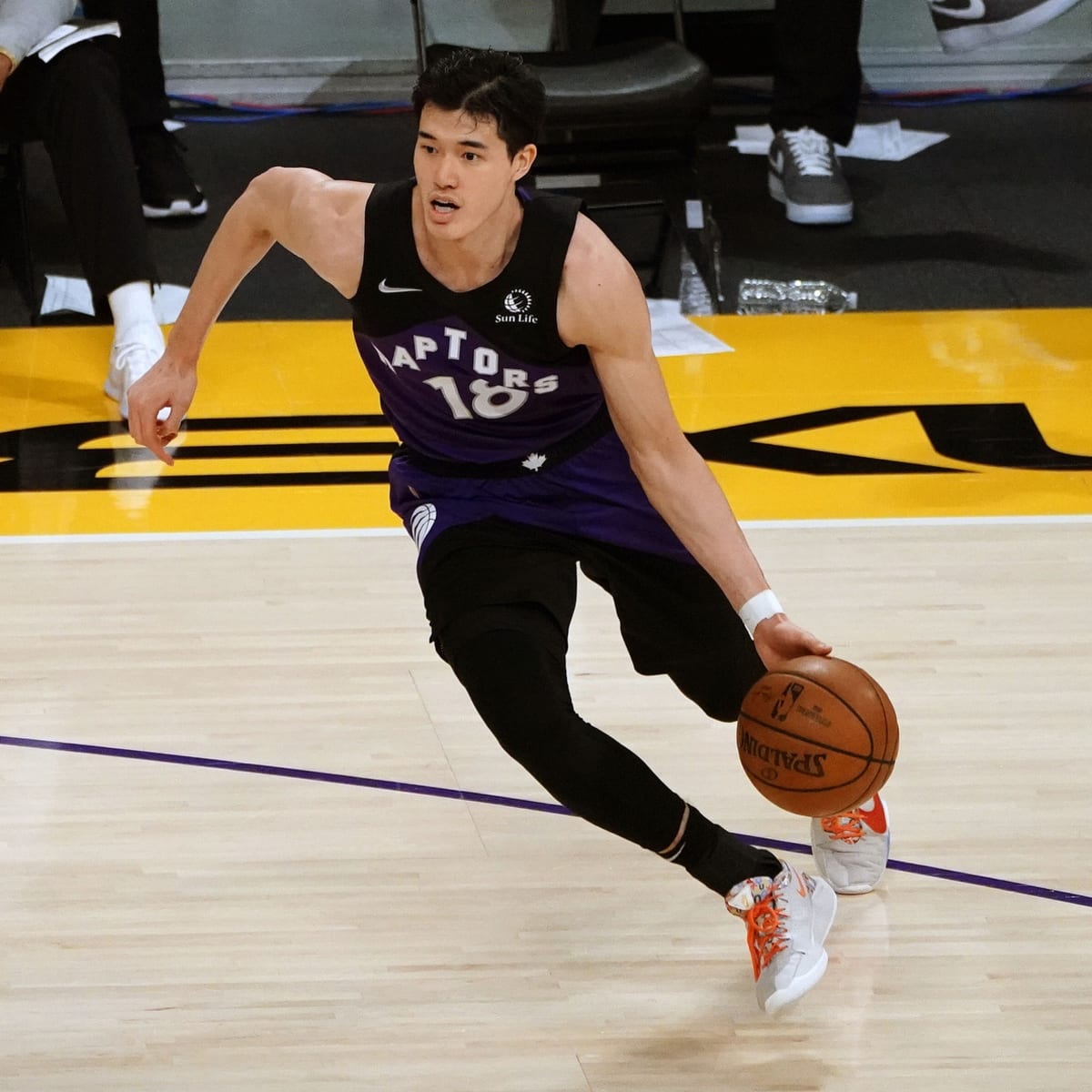 On February 9, 2021, he suffered a left ankle injury during a workout. After missing four games, he returned on February 18, recording 2 rebounds and a block against Milwaukee Bucks.
In April 2021, Watanabe scored career-high 21 points on 7-of-11 shooting from the field and 2 of 4 from three and added 6 rebounds, 2 assists, and 1 block in a 113-102 victory over the Orlando Magic.
Watanabe missed about 18 games of the season due to a left calf sprain. He made his comeback and scored three points and two blocks in 14 minutes of action against the Memphis Grizzlies.
Later, in December 2021, he scored a double-double and added 26 points and 13 rebounds against the Cleveland Cavaliers.
National Team Career
At 18, Yuta Watanabe made his senior debut for Japan at the 2013 East Asia Basketball Championship and assisted the team in winning the bronze medal.
During that time, he had scored 22 points and 14 rebounds in a 101-53 win against Macau.
Similarly, at the 2013 FIBA Asia Championship, he appeared in four games and averaged 5.2 points, 1.2 rebounds & 0.5 assists per game and helped them achieve ninth place.
Therefore, Watanabe was named to the 12-man roster for the 2016 FIBA Olympic Qualifying Tournament, where he scored 7.0 points, 4.0 rebounds, and 1.0 assists.
Accordingly, he was selected to compete at the 2019 FIBA Basketball World Cup. He averaged 15.6 points, 5.6 rebounds, and 1.6 assists per game.
Awards & Achievements
The following are achievements earned by the Japanese player:
Atlantic 10 Defensive Player of the Year (2018)
Third-Team All-Atlantic 10 (2018)
Atlantic 10 All-Defensive Team for two consecutive years (2017, 2018)
East Asia Basketball Championship in 2013 Men's Basketball- Bronze
Engaged To Akiko Kuji
Yuta Watanabe's fiancee is Akiko Kuji. The couple got engaged on May 26, 2022, after their first meet at the 2019 Basketball World Cup.
Akiko Kuji is a Japanese freelance announcer, fashion model, tarento, and actress born on July 13, 1994, in Ōshū, Iwate, Japan.
She spent 18 years in Iwate Prefecture, where she graduated from Mizusawa High School and Aoyama Gakuin University Department of Economics.
After Akiko entered the industry, she was selected as the Asahi Kasei Group Campaign Model 2014. She debuted as an actress on television in July of the same year in the drama "Kin Kyori Renai: Season Zero."
In 2014, she became an exclusive magazine model for non-no until April 2017. She joined Fuji Television in April 2017 as an announcer, working there until April 30, 2022, when she left the station to become a freelance announcer.
On May 1, 2022, Akiko rejoined the agency Incent and returned to the entertainment industry as a fashion model and actress.
Yuta's Match Video Goes Viral And Leaves Internet Speechless!
Yuta Watanabe went notoriously viral during the Nets game against the Pacers (116-125) on October 29th, 2022.
Due to his mistake during the game, as he accidentally dunked the ball into his basket, giving the Pacers two points.
Despite the embarrassing moment, Watanabe admitted his mistake and apologized to his teammates and coach.
Yuta Watanabe scored… on the wrong basket 😅 pic.twitter.com/dSZ3DvWSes

— Bleacher Report (@BleacherReport) October 30, 2022
Although the Nets lost the game, his coach and teammates praised him for his effort and energy. He vowed to learn from the experience and move on.
Trivia
Yuta likes reading, listening to music, and anime; his favorites are Naruto and Dragon Ball Z.
In April 2021, in an interview with The Athletics, Kevin Durant complimented Watanabe's adaptability, dedication, and talent.
Watanabe had the best-selling NBA jersey in Japan in 2022, ahead of Stephen Curry, LeBron James, and Rui Hachimura.
Social Media Presence
The outstanding basketball player Yuta Watanabe has many followers on social media platforms.
Thus, the number of followers is as of March 2023.
Instagram: 414K Followers
Facebook: 15K Followers
Twitter: 232.7K Followers
Yuta usually uploads well-curated thoughtful captions about his life.
In his recent post, he showed gratitude towards his parents and was thankful for facing a hard time with calmness and composer.
Net Worth & Salary
One of the famous basketball players, Yuta Watanabe, has a net worth of $1 million-$5 million as of 2023.
After playing the 2022 preseason with the Nets on Exhibit 9 contract, Yuta signed a one-year non-guaranteed deal with the team on August 28, 2022.
It is a non-guaranteed deal that sees his annual earnings of $1,968,175 while carrying a cap hit of $1,836,090, representing 1.48% of the league's cap space.
Similarly, his estimated salary in 2020-2021 is $1,762,796. Previously, his 2019-20 salary with the Grizzlies was $79,568.
Search Graph
Yuta Watanabe, a rising star in the NBA in his own right from Japan, rose to prominence in the NBA with other Japanese players like Rui Hachimura.
The graph illustrates the search rate of this defensive player for the past 12 months.
Frequently Asked Questions (FAQS)
Can Yuta Watanabe speak English?
The Net's forward, Yuta Watanabe, is now fluent in English. However, he struggled with English earlier, but he always spoke the language of basketball well.
What is Yuta Watanabe's position?
The Japanese professional basketball player Yuta Watanabe plays the small forward position for the Brooklyn Nets.