Zack Wheeler's wife, Dominique Wheeler, tied the knot with the Phillies pitcher in 2019. The couple has since welcomed two kids.
Wheeler and Dominique were first seen together in 2016 and have since taken their relationship to the next level, living a happy settled life. The business graduate has been a huge part of Zack and his career.
The MLB pitcher made his MLB debut in 2013 with the New York Mets and played with the organization for five seasons. He then moved to Philadelphia Phillies in 2020.
With teammates Kyle Schwarber and Trea Turner, Wheeler has been enjoying fine form this season. At age 33, he has now shown he has a lot left in his tank.
Zack Wheeler Wife, Dominique Wheeler
Zack Wheeler's wife, Dominique Wheeler, is a graduate of LIM College and runs the website Zack Wheeler 45.
Dominique Wheeler(nee Rizzo) was born on January 16, 1996, and is six years younger than her husband. She holds business administration and marketing degrees from LIM College.
She previously worked as a sales associate at Bloomingdale's and BCBG Maxazria before joining as a style intern at Cosmopolitan Magazine in 2016. Since 2018, she has worked as a self-employed make-up artist.
Dominique is available on Instagram with the username @nikawheelz and has given her 77.8k followers a glimpse of her family life with the baseballer and her two babies.
Zack And Dominique Wheeler Relationship Timeline
The Phillies pitcher and his better half Dominique Wheeler have been married for three years. In these three years, the MLB power couple has welcomed two kids and is living a blissful married life.
They have overseen many ups and downs, and Dominique has been the rock of Zack's life throughout his MLB carer.
Dominique And Zack Become Instagram Official
The MLB couple first went public with their romance at the end of 2016.
Dominique shared a photo of her sitting alongside Zack at a basketball game in Madison Square Garden. Zack was a bit late to the Instagram party as he shared the first photo with his then-girlfriend in July 2017.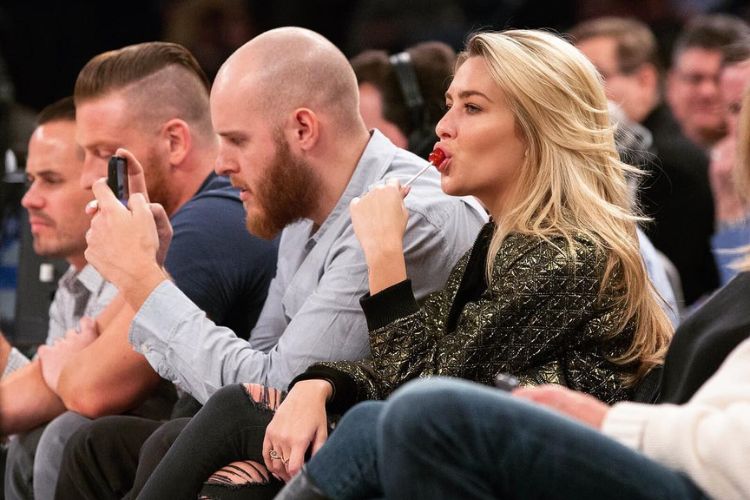 At the time, he kept Dominique's identity a secret by not tagging her in the photo. He captioned the post, "Enjoying some off time with this lovely lady of mine."
And after that post, Dominique became a regular attendee at Zack's games and was even seen rocking the Mets' gear with the pitcher.
The businesswoman shared several date night pictures of her and Zack throughout 2017 and 2018. They had their family day portrait taken in 2018 at the Mets Stadium.
The Couple Announce Their Engagement
After a few years of dating, the MLB pitcher went down on one knee on November 24, 2018.
He shared a selfie of him and Dominique beaming, with Dominique placing her hand on Zack's chest to show her engagement ring.
The couple then had a professional photoshoot post-engagement, with Dominique sharing the series of photos on March 20, 2019, on Instagram, along with a lengthy caption.
Dominique Rizzo Became Mrs. Wheeler In 2019
On the last day of 2019, the couple tied the knot in a ceremony attended by close friends and family members.
She shared a series of pictures from the ceremony, including the one in which they exchanged their vows and sealed it with a kiss. And only a few months after their marriage, the couple has surprise news for their followers.
Dominique And Zack Are Parents To Two Babies
On March 15, 2020, Dominique shared a photo of them traveling to Disneyland. But it was to be noted that she took the opportunity to break the news that she was five months pregnant.
Dominique continued to share the picture of her growing baby bump on her Instagram before giving birth in August 2020.
The couple welcomed their first child Wesley Wheeler to the world, who has been seen attending his dad's games with his mom.
Last year in March 2022, Dominique shared the news she was going to be a mother for the second time. This time as well the couple had their picture taken at Disneyland.
This time around, it was a baby girl whom the couple named Bambi. Bambi was born on June 2022, with Dominique sharing the news on her Instagram in a unique fashion.
Since then, Bambi and Wesley have been seen several times at Citizens Bank Park and were seen cheering for their dad during the World Series against the Houston Astros.