Bradley Beal is an American professional basketball player for the Washington Wizards of the NBA.
The "Big Panda" has played basketball since high school. He is a three-time NBA All-Star and was selected in the 2013 NBA All-Rookie First Team.
The Washington Wizards selected him in the 2012 draft in round 1 as 3rd overall pick.
Ever since that day, Beal has been with the Wizards.
Unearth further informative details about the competent guard, Bradley Beal, beneath. Also, briefly peek at the intriguing quick facts about the player below.
Quick Facts
Full Name
Bradley Emmanuel Beal Sr.
Known As
Bradley Beal
Nickname
Big Panda
Birth Date
June 28, 1993
Birth Place
St. Louis, Missouri, United States
Residence
Washington, United States
Religion
Christianity
Nationality
American
Ethnicity
African-American
Education

Chaminade College Preparatory School
University of Florida

Horoscope
Cancer
Father's Name
Bobby Beal
Mother's Name
Besta Beal
Siblings
4 (Byron Beal, Brandon Beal, Bruce Beal, Bryon Beal)
Age

30 Y

ears Old

Height
6 ft 4 in / 193 cm / 1.93 m
Weight
94 kg / 207 lb
Eye Color
Brown
Hair Color
Black
Body Type
Athletic
Profession
Basketball Player
Marital Status
Married
Spouse
Kamiah Adams
Children
Three (Braylon Elias Beal, Bradley Emmanuel Beal II, And Braxton Ezekiel Beal)
Playing Career
2012-Present
Net Worth
$40 Million
Jersey Number
3-Washington Wizards
Social Media
Facebook, Instagram, Twitter
Merch
Funko Pop, Trading Card
Last Update

September 2023
Early Life & Family
Beal was born Bradley Emmanuel Beal in St. Louis, Missouri, on June 28, 1993, to parents Bobby Beal and Besta Beal.
His father, Bobby Beal, is a former college football player who played for Kentucky State University as an outside linebacker from 1978 to 1982.
Likewise, his mother, Besta Beal, is a college basketball player who played for the same Kentucky as her husband from 1978 to 1982.
Beal's parents met one another at KSU, which became the first meet-up of their beautiful, long relationship.
And today, they are still together with the same old love for each other. They maintain a house of success and fame with five kids; all five sons are over 6 feet tall and follow in their parent's footsteps.
Showing A Family Resemblance
As both parents retain the remarkable past in sports, the former athletes inaugurated their kids to sports from the early days.
They assisted them in developing a fondness for sports, and today, they are the proudest parents to catch a glimpse of their children playing and excelling at several sports.
Bradley shared his upbringing with his four brothers; he is the middle child among the five Beal brothers.
His two older brothers, Brandon and Bruce, and his two younger brothers, Byron and Bryon, are crucial to Bradley's thriving career.
All four Beal brothers played/playing college football. Brandon played the tight end role at Northern Illinois, and Bruce played the offensive lineman position at Alabama State.
Bryon and Byron played offensive linemen and defensive line at Lindenwood University, respectively.
Therefore, the Beal family is fortunate to have each other's back and are delighted to share a lasting companionship.
Age & Body Measurement
Bradley Beal was born in 1993, and according to his birth year, he is 30 as of 2023.
About his physical stats, he stands at a regular height of 1.93 m, and his body weight is around 207 lb.
Basketball career
High School Career
Beal enrolled at Chaminade College Preparatory School in St. Louis, Missouri.
He partook in the 2010 FIBA Under-17 World Championship and won the league by averaging 18 points per game.
At the end of his senior year, he was labeled the 2011 Mr. Show-Me Basketball, which identified him as Missouri's top high school basketball player.
Therefore, Beal was also named the 2011 Gatorade National Player of the Year.
College career
Beal enrolled at the University of Florida after accepting an athletic scholarship in November 2009.
During his first game at Florida, he logged 14 points. At the same time, he was named SEC Freshman of the Week.
Beal won the other five additional SEC Freshman of the Week honors, was named SEC All-Freshmen Team, and was a first-team All-SEC selection in 2012.
Professional Career
Beal was drafted with the third overall pick by the Washington Wizards in the 2012 NBA Draft.
The player was named the Eastern Conference Rookie of the Month in December 2012 and January 2013.
At the end of the 2012-13 season, as he appeared in 56 games, Beal was named to the NBA All-Rookie first team.
In November 2013, Beal chipped a career-high 37 points against the Grizzlies and was finalized as runner-up in the three-point shooter at the 2014 NBA All-Star Weekend.
During the 2014-15 season, he recorded a playoff career-high of 28 points, and subsequently, he recorded a new playoff career-high of 34 points against the Hawks.
He missed the 2015-16 season due to injuries. Beal played a career-low 55 games and 35 starts, but he recorded a career-high 17.4 points per game.
Long-Established With Washington Wizards
Bradley Beal re-signed with the Wizards on July 26, 2016.
Later, Beal attained 501 career three-pointers, making him the only three Wizards to make 500, enlisting with Gilbert Arenas and Antawn Jamison.
He joined Vince Carter and Kevin Durant as the only three players at 23 in NBA history to record at least 23 points and shoot above 40 percent from three-point range.
Beal scored a season-high 51 points during the 2017-18 season win over Portland Trail Blazers. He posted five three-pointers and made a career-high 21 field goals.
Likewise, in January 2018, he was named an NBA All-Star for the first time.
National team career
Beal was one of the appointed team members on the 2020 U.S. Olympic team. But the tournament got delayed due to the COVID-19 pandemic.
He partook in three exhibition games and was sidelined from Tokyo Olympics after he tested coronavirus positive.
Injury
Earlier in Beal's NBA journey, he missed half of the 2012-13 season because of a right leg injury.
During the 2014-15 season, he was ruled out for six to eight weeks as he underwent an MRI that resulted in a non-displaced fracture of the scaphoid in his left wrist, henceforward instructing surgery.
He injured his right toe and was later ruled out after a test revealed reasonable stress in his right fibula in the same season.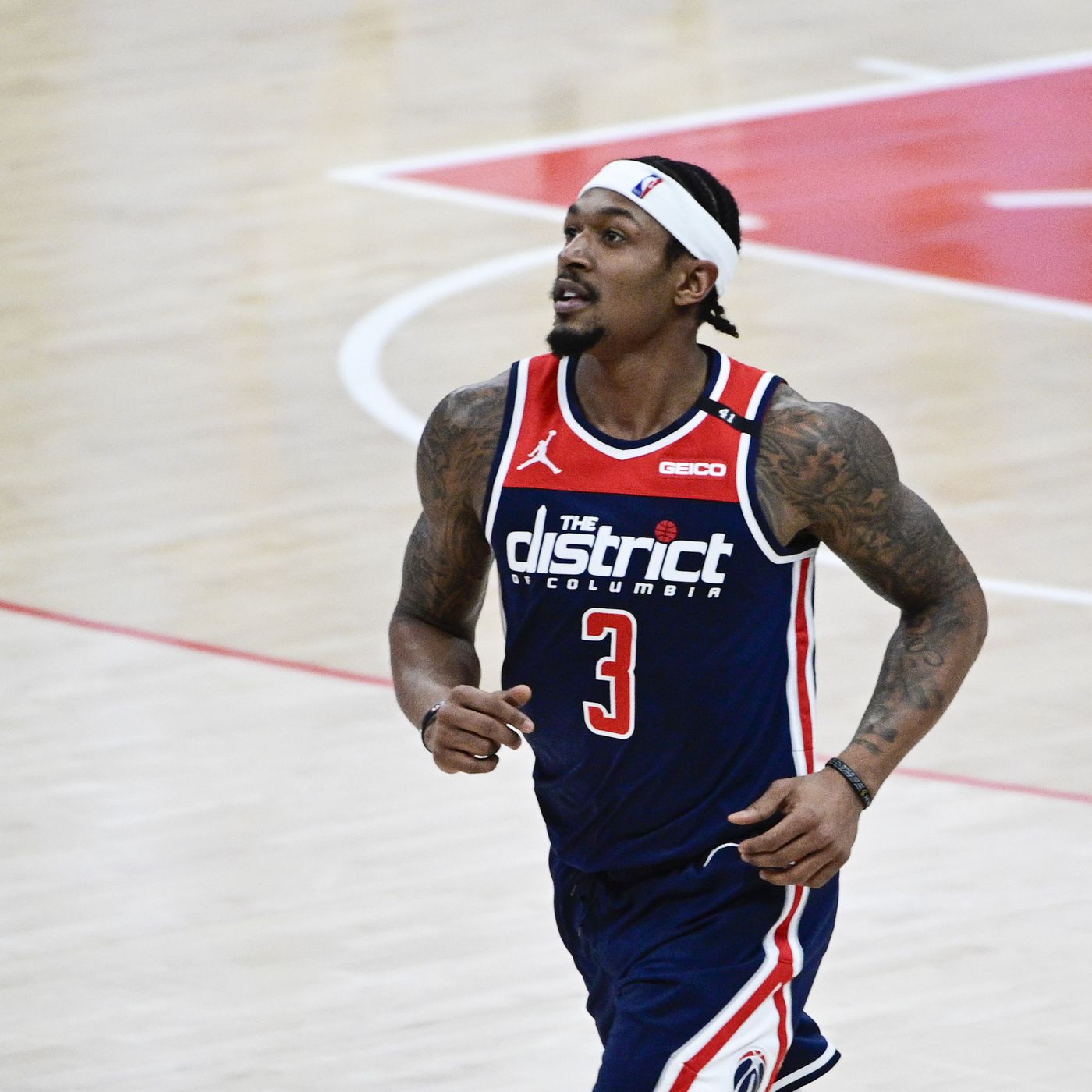 Thus, this led to missing him for around eight games.
The player had an injury-plagued during the 2015-16 season, while he missed three games due to a shoulder injury.
Beal underwent season-ending surgery on his left wrist in February 2022.
He declined the $36.4 million option to become a free agent on June 30, 2022, and signed five years $251 million contract with the Wizards on July 6.
Bradley was ruled out for the game against the Nuggets on 22 March 2023 due to a sore left knee, which his team lost.
As per a source, Spencer Dinwiddie disapproved of the narrative of wanting to be the first option over Bradley Beal with the Wizards.
Bradley will not be playing a game against San Antonio Spurs because of his knee. His next chance to play for his team will come against the Raptors on 26 March.
In his place, Deni Avdija could remain in the starting lineup.
Awards & Achievements
NBA All-Star three times (2018, 2019, 2021)
NBA All-Rookie First Team (2013)
All NBA Third Team (2021)
First-team All-SEC (2012)
First-team Parade All-American(2011)
Gatorade National Player of the Year (2011)
McDonald's All-American (2011)
FIBA Under-17 World Cup MVP (2010)
Mr. Show-Me Basketball (2011)
Net Worth & Salary
The dominant basketball player, Bradley Beal, has a net worth of $40 million as of 2023.
Addressing his salary, in the 2021-22 season, his estimated income with the Wizards was $33.72 million.
He was the highest-paid player of the Wizards and the 19th-best-paid NBA player in 2022.
In 2019-20, he earned $27,093,018 with the Wizards, and in the 2018-19 season, he earned $25,434,262.
Moreover, he has a major endorsement deal with popular sportswear Nike, which helps to fortify his salary.
Who Is Bradley Beal's Wife?
Beal is married to gorgeous Kamiah Adams.
Kamiah is best recognized for being part of the VH1 reality show Love & Hip Hop: Hollywood season.
The show aired from September to December 2015.
Kamiah is the daughter of Jeremiah and Karina Adams, born in Brussels and raised in Compton, California.
Kamiah's mother refers to white American ethnicity, whereas her father is Puerto Rican and African-American.
She graduated from Millikan High School in California and later attended Cerritos College.
Bradley and Kamiah first met in a bar in Los Angeles in 2015 with the help of their friend, John Wall.
Since that day, they became good friends; friendship, the first pace of love, indeed had to amend into a relationship. They gradually started to date one another.
After five good years of dating, the two got engaged and had the wedding ceremony held intimately.
The couple officially tied the knot in 2020, even though the event was postponed due to the Covid-19 pandemic.
Therefore, the couple is living happily ever after and is delighted to be the parents of three children, Bradley II Beal, born in 2018 (5); Braylon Deuce Beal, born in 2019 (4); and Braxton Beal, born in 2022 (1).
Social Media Presence
Bradley Beal is an active social media user with a considerable fan following. He posts many pictures of him playing basketball and appreciation posts for his wife and children.
Instagram: @bradleybeal3 (1.3 million followers)
Facebook: Bradley Beal (856k followers)
Twitter: @RealDealBeal23 (683.5k followers)
Popularity Graph
Frequently Asked Questions (FAQS)
How does Bradley Beal know rapper Nelly?
Cornell Iral Haynes Jr., best known by his stage name, Nelly, is a family friend of Beal. He used to walk Beal to school in the past.
To whom did Bradley Beal sell his home?
Beal sold his 12,000 square foot French Provencal-style McLean, Virginia, home to the pizza entrepreneur Steve Salis for $3.5 million in August 2020.
Why is Bradley Beal nicknamed Big Panda?
Beal is nicknamed Big Panda, which is deemed one of the unique nicknames for overeating.