Adam Copeland is one of the most popular wrestlers in the history of WWE, known by the ring name "Edge."
Edge made his WWE debut in 1996; however, in the beginning, he was not favored by the audience favorite. As per his WWE gimmick, he was portrayed as one troublesome, apt, and wicked man.
But now, it is the complete opposite, and today, Edge is loved by all the WWE fans.
Nonetheless, Edge's journey from being one wicked and hated character to being one of the most loved WWE superstars was not easy. A lot of stress, injuries, and breaks followed by.
To know more about Edge, stick with us till the last of this article. Today, apart from his career, we will discuss his early life, personal life, net worth, etc.
But before we start our article, it is time to have an instant glance at the quick facts.
Quick Facts
Full Name
Adam Joseph Copeland
Ring Name(s)

Edge
Adam Copeland
Adam Impact
Conquistador Uno
Sexton Hardcastle

Place of Birth
Orangeville, Ontario, Canada
Nick Name

Rated R Superstar
The Ultimate Oppurtunist

Date of Birth
October 30, 1973
Nationality
Canadian
Age
50 years old
Follows
Christianity
Ethnicity
White
Sun Sign
Scorpio
Father's Name
Not Available
Mother's Name
Judy Lynn Copeland
Sibling(s)
Neil Copeland
Education

Humber College
Orangeville District Secondary School

Hair Color
Blonde
Eye Color
Hazel Green
Height
6 ft. 3 inches (191cm)
Weight
98 kg (216 lbs)
Body Measurements

Chest-44 inches
Waist-35 inches
Biceps-17 inches

Profession

Professional Wrestler
Actor

Affiliation
WWE
Net Worth
$14 Million
Salary
$1 Million
Sexual Orientation
Straight
Relationship Status
Married
Wife
Beth Phoenix
Ex-Wife

Alannah Morley (2001-2004)
Lisa Ortiz (2004-2005)

Children

Ruby Ever Copeland

Lyric Rose Copeland

Merch
Action Figure
Social Media
Instagram, Twitter
Last Update
November 2023
Adam Copeland: Early Life and Education
In Orangeville, Ontario, Canada, on 1973 October 30, Adam Joseph Copeland was born. The wrestler was raised by a single mother, Judy Lynn Copeland.
Judy used to work nights and days so she could manage her sons (Edge and Neil) expenses and give them a better life. He doesn't even know what his father looked like or who he was.
Joseph used to attend many wrestling events from the age of ten. When Adam was ten, he even met his future colleague, "Christian," in an event. Then, at the age of seventeen, Adam went to see Wrestlemania VI in his hometown.
At that time, he was a big fan of Hulk Hogan, and he was supporting and cheering for Hogan at that event. However, that Wrestlemania event made him more serious about wrestling, and he decided to be a wrestler someday.
But unfortunately, Adam could not enjoy his teenage phase, as he had to lift the burden of his family due to a financial crisis. So, even though he loved wrestling, he had to give up wrestling to focus on work and bring home some money. But he did not let the passion of wrestling die inside from him.
At first, to get primary education, Adam went to Orangeville District Secondary School, and after graduating from there, he joined Humber College. In Humber, apart from studying, he was also given wrestling training.
After winning an essay competition and as a reward, he earned himself free gym class in Sully's Gym.
Adam graduated with a degree in radio broadcasting. The initial day was tough due to an unmanaged work schedule, but Edge later managed to make time for his training.
Adam Copeland: Career
Even though the early days were rough, Adam managed to make time for his training and eventually made his way to local Independent shows.
At that time, he was given the ring name Sexton Hardcastle and he, with his childhood friend Christina used to train together.
The team of Christian and Edge was later named Hard Impact. He got better with every match and started gaining fame. As a result, in 1996, Adam was offered to be a part of WWF.
The man who recommended Edge's name to WWF was no other than the legendary Bret Hart. Bret saw Edge wrestle once, and he immediately saw the capability of Edge, so he helped him get a developmental contract.
You can also read about The Top Ten Wrestlers of All Time>>
WWF (now WWE) and Tag Team Matches
Edge made his WWF debut in 1999 as a tag team partner of Christian. At first, Edge was shown as a loner, a psychopath character who would assault anyone.
Later, he allied with Gangrel and Christina and named it the Brood. But the audience did not like this storyline much, so Edge was again introduced as a solo wrestler.
In 1999, Edge won his first-ever title in WWF, WWF Intercontinental Championship. But sadly, after one day of winning the title, Edge lost his title to Jarrett.
At that time, Edge's feud with Hardy Boyz was making many headlines, so WWE decided to continue the feud and made Christian his partner.
After two unsuccessful attempts of winning the tag team title again, Hardy Boyz finally won the title in the third attempt at Survivor Series. Nonetheless, this victory gave both the wrestlers good fame, and everyone started taking them seriously.
Single Matches
After Christian betrayed Edge, the best friends became enemies and demeaned each other.
Even though Edge couldn't win the Intercontinental Championship against Christian, he defeated Christian in the second attempt at No Mercy and won the title.
Later after WWF became WWE, he was drafted to SmackDown, which ended the feud here. In SmackDown, Adam started having problems with Kurt Angle.
From 2001 to 2003, Joseph was involved in many feuds from Ray Mysterio to Kurt to Chris Benoit, but all these matches could not give him feedback as expected. That was when Adam was always paired with someone who was hindering his singles career.
First Major Victory
In 2004, Edge was drafted to WWE, and that is when he decided he would be focused on single matches.
Everything was average until he appeared in WrestleMania 21, but after his WrestleMania victory, his life changed. That victory, i.e., that Money in the bank win, gave him a direct opportunity to fight for World Championship.
However, Edge was very clever; he took his time and did not cash his Money in the Bank briefcase for a long time. But the main drama started when Edge started dating his rival's girlfriend, Lita.
But finally, after a long verbal and physical feud, Edge won the feud, and the girl too. Soon after that, in 2015, when John Cena defended his WWE title, he was very tired, and that is when Edge took his chance and cashed his Money in the bank.
That night not only did he win the WWE title, but a new era of fame also came for him. After that clever move, Edge gained himself the name of "The Ultimate Opportunist."
To regain the title, John Cena tried his best. And from there, this rivalry made many headlines.
Even though Edge lost in the end but at that point, he had already made his name on the list of one of the best WWE superstars, so either way, it was a win-win situation for Edge.
World Heavyweight Championship
After breaking his partnership with Randy Orton, Edge challenged Mr. Kennedy for his Money in the Bank briefcase, and guess what, Edge won.
But this time, it did not take long for Edge to cash in the bank. After 24 hours of winning the title, he cashed the contract and won his first-ever World Heavyweight title. But later, Edge had to vacant his title due to injury.
After his return, as wicked was as Edge is, he again hit a masterstroke. At that time, Vickie Gurrero was the general manager of SmackDown, and to make things in his favor, he proposed to her.
Then, with the powers of his girlfriend, he was given title opportunities again and again. As a result, Edge had carried 31 titles in WWE, the most out of any Superstar in history.
But they separated shortly, and it did not affect Edge at all. Everything was going fine; in 2010, he even won the world championship against Alberto. But that is when his life took a U-turn, and he had to decide to retire.
In 2011, Edge was a world champion, and due to spin injury, he was a bit medically unfit to wrestle; it was a life-threatening injury. So, he retired, making a lot of fans sad.
Adam Copeland: Comback
After retirement, Edge was seen in WWE every once in a while. The wrestler even got inducted into the Hall of Fame. But in 2020, Edge made his comeback in WWE after almost ten years during the Royal Rumble match.
The crowd went insane and started cheering for Edge; not only did he make his comeback, he even won the royal rumble after defeating thirty contestants. After that, he was seen fighting with Randy Orton, Seth Rollins, and Roman Reigns.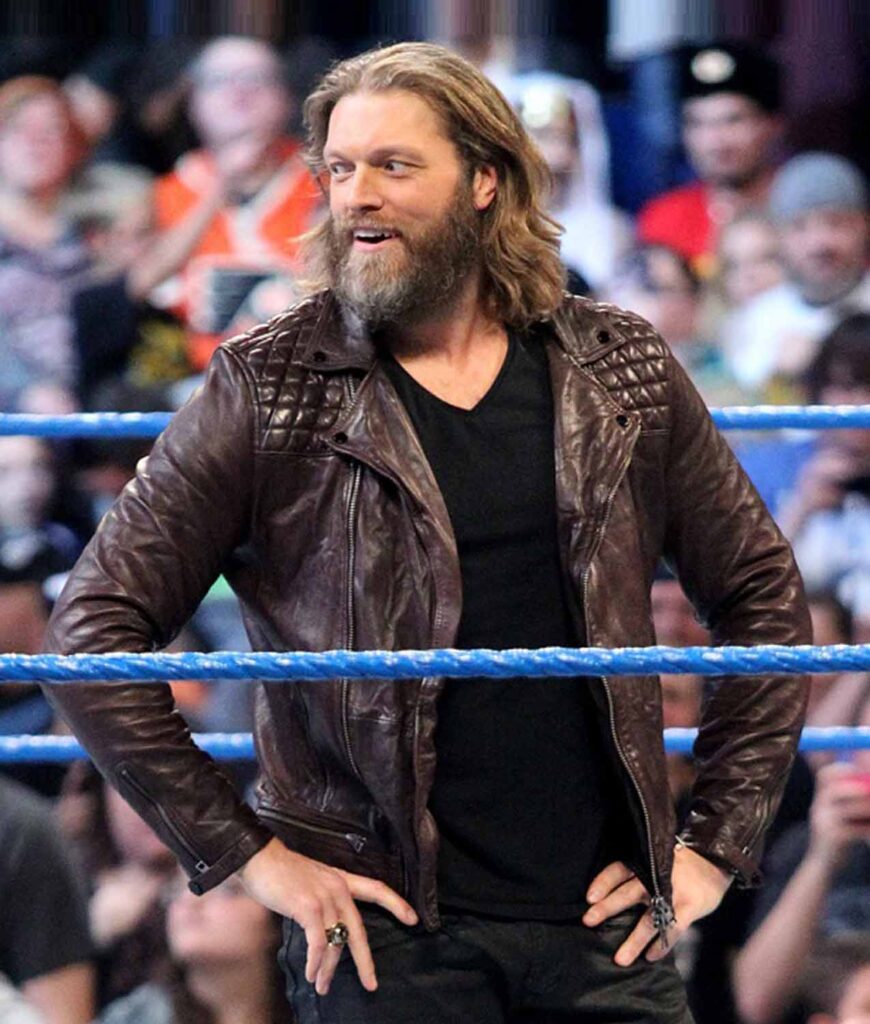 He even teamed up with his wife Beth against Miz and Maryse. Henceforth, the Copeland couple won that match. Edge has not won major events after his return, but let's hope his second innings would be as good as his first one.
Acting Career
Like most wrestlers, Edge also tried his luck in Hollywood, and fortunately, it worked out for him. Adam has been featured in many movies and tv shows throughout his acting career. Edge made his Hollywood debut in 1999 from Beyond the Mat.
After that, he was featured in Highlander: Endgame (2000), Bending the Rules (2012), Dumb Luck (2015), and Interrogation (2016).
Nonetheless, what gave him fame and recognition as an actor are the very famous series The Flash and Vikings. Weakest Link, Deal or No Deal, Ghost Eyes, etc., are some other series he has been part of.
Adam Copeland: Net Worth
Adam's main source of income has been his wrestling and acting career. As a result, he has earned quite a good amount of wealth.
He is expected to have a hefty net worth of $14 million. Undoubtedly, Adam lives a lavish life.
You can also read about the Top 30 Richest Wrestlers In The World>>
Books
Adam even has a book written on him, Adam Copeland on Edge, released in 2004. While most writers write their autobiography through other writers, Edge decided to write his life story himself.
Adam Copeland: Personal Life
Today, Edge is happily married to Beth Phniox, but his love life has been in chaos in the past. After two unsuccessful marriages, Adam finally found the love of his life.
In 1998, Adam fell in love with a girl named Alannah Morley and married her in 2001. But this marriage could not work out, and after three years of getting married, this couple got a divorce in 2004.
But, the same year, he got married to Lisa Ortiz, but soon after their marriage, many rumors arose of Edge cheating on his wife with Lita.
Nonetheless, after the unstoppable flow of rumors Edge and Lisa started having problems in their marriage, and just after a year of getting married, they divorced.
Besides, when Lita left WWE, the love story of Lita and Edge ended there, and a new love story of Vickie and Edge started, but it was just a part of the WWE gimmick.
For a long, Adam stayed single until he realized his love for Beth, who also happened to be his colleague. In 2013, Beth and Edge welcomed their first child Lyric Rose Copeland and again, in 2016, they welcomed their second child Ruby Ever Copeland.
And in 2016, Edge and Beth finally got married and made their relationship official.
Controversy
Adam's life has not been simple; Adam has gone through childhood trauma to love failures in adulthood. But the biggest problem came in 2007 when a reputed magazine mentioned Edge's name and claimed that Edge takes steroids to enhance his game.
To his explanation, Adam admitted to having taken steroids but only because, after his neck injury, he felt it was affecting his game and had no choice other than to take steroids.
But Adam even claimed he did not violate any rule of WWE, and the doctor prescribed everything.
You can also read about Pat McAfee>>
Social Media Presence
Frequently Asked Questions (FAQs)
Are Edge and Matt Hardy friends?
No, not after Edge dated his then-girlfriend Lita and betrayed him. At first, they were good friends, but later, after the rumors of Adam and Lita together began to arise, Matt was furious.
And WWE added fuel to the fire by firing Matt, using this rumor in their favor, and showing Lita and Edge's love story angle.